Axios'

@JimVandeHei

: Red states were slow to respond to the Coronavirus because "They were listening to President Trump, they were watching Fox News and listening to Rush Limbo [sic]"

pic.twitter.com/ETdoXprumL

— Tom Elliott (@tomselliott) April 2, 2020
It is time to end the quarantine on our economy because we are back to normal with the Blue Staters smearing the Red States again.
The lie they tell this time is those Red State rubes were slow to shut down.
The fact is the mayors of New York City and New Orleans encouraged people to hug one another. In New York the message was go to Chinatown to celebrate the Lunar New Year. In New Orleans, the Mardi Gras rolled on.
I am not second-guessing them or even knocking their decisions. But I rolled my eyes when Jim VandeHei of Axios said, "Red states were slow to respond to the corona virus because they were listening to President Trump, they were watching Fox News, and listening to Rush Limbaugh."
That is just not true. Governor Jim Justice shut down West Virginia upon the report of the first case. We were the last to report a case.
It was not because he is some genius. He is not. He saw what happened elsewhere and did not make the same mistake they made.
This has nothing to do with One State/Two State, Red State/Blue State, and everything to do with human nature. We have gone from denial to panic. I am following the rules. I am avoiding Walmart, because there are more people, in favor of Dollar General.
But I do not like shutting down of America's economy, especially when Red China appears to be up and running, even if millions die. Millions dying is the price of communism.
Getting back to the smug, J.B. White in Jacksonville is shaking his head too.
— J.B. White (@RattlerGator) April 2, 2020
Those maps are: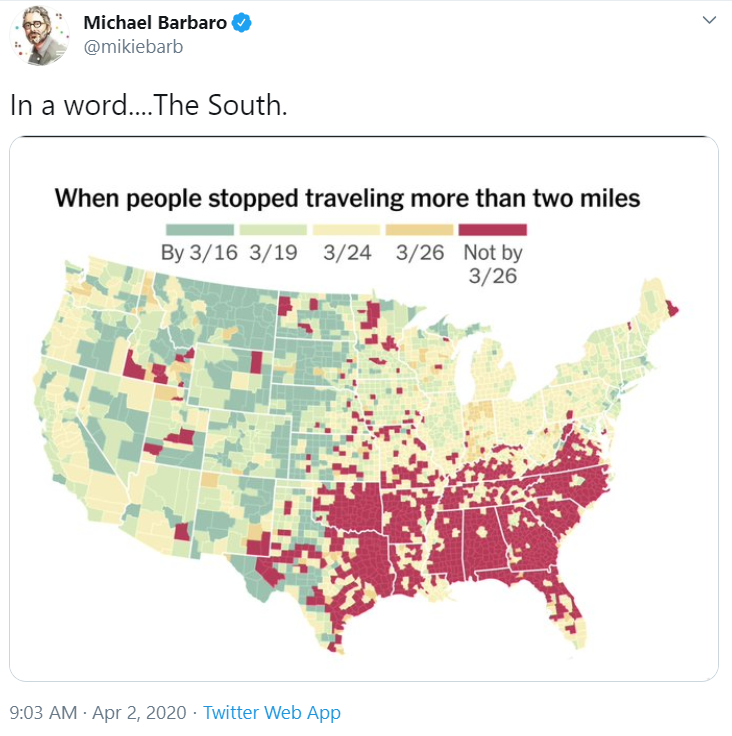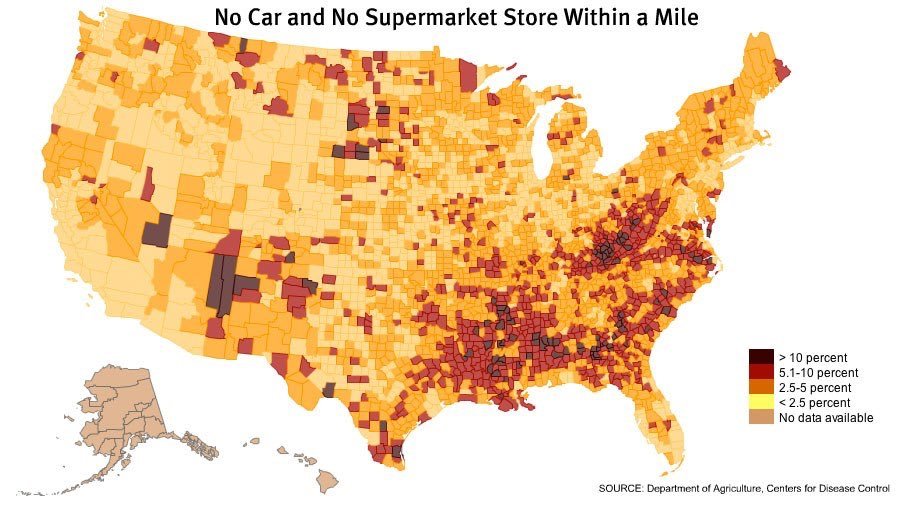 But having supermarkets nearby is not necessarily a good thing as the places where the supermarkets are the places where the virus hangs out.
It turned out people were not hoarding. They were stocking up so that they did not have to go to the store when the virus hit. This is intelligent and rational.
This virus hit the Blue States first because they are ports of entry for goods and people, which makes them ports of entry for deadly viruses, such as communism.
The people in the Red States are by and large refugees (going back generations in many cases) from Blue States.
COVID-19 can be treated and cured. Eventually there will be a vaccine. Unfortunately, the same is not true about smug.