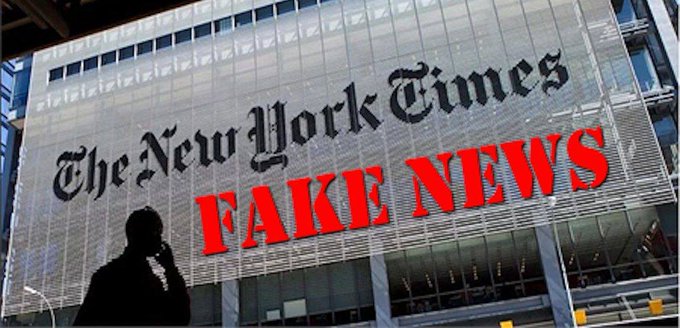 The Daily Beast reported
, "A group of 74 journalism and communications professors have written an open letter to Fox News accusing the network of purveying misinformation to its older viewers, including the president."
Those professors should send a similar letter to the New York Times for misinforming the public about the antimalarial drugs that are treating COVID-19 with great success. Management at the Times have become anti-vaxxers in their opposition to this cure.
The newspaper is doing this in its continued effort to end the Donald John Trump presidency, a campaign that had it lying about the Russian collusion, the Ukraine telephone call, and sundry other falsehoods promoted by the Democrat Party.
The Times Fake News campaign against chloroquine and hydroxychloroquine began March 19.
It reported, "President Trump on Thursday exaggerated the potential of drugs available to treat the new corona virus, including an experimental antiviral treatment and decades-old malaria remedies that hint of promise but so far show limited evidence of healing the sick.
"No drug has been approved to treat the new corona virus, and doctors around the world have been desperately administering an array of medicines in search of something to help patients, especially those who are severely ill.
"The malaria drugs, chloroquine and hydroxychloroquine, are among the remedies that have been tried in several countries as the virus has spread around the world, killing at least 9,800.
"Doctors in China, South Korea and France have reported that the treatments seem to help. But those efforts have not involved the kind of large, carefully controlled studies that would provide the global medical community the proof that these drugs work on a significant scale.
"In a White House briefing Thursday, Mr. Trump said the anti-malaria drugs had shown 'tremendous promise.'"
***
President Trump said, "I think it's going to be very exciting. I think it could be a game changer, and maybe not."
Calling that claim exaggerated is itself exaggerated. It could be, maybe not is known in politics as riding the fence.
Throughout the piece, the Times writers acted as if they knew more about treating COVID-19 than a president who was briefed by intelligence officers and top-notched virologists. Washington reporters are foreign to the notion that the president has more and better information than they do.
The next day, March 20, the paper cast more shade in a story, "Trump's Embrace of Unproven Drugs to Treat Corona Virus Defies Science. Doctors and patients also worry that the president's rosy outlook for the treatments will exacerbate shortages of old malaria drugs relied on by patients with lupus and other debilitating conditions."
But Dr. Fauci said in the story, "The president feels optimistic about something, has feelings about it. I am saying it may be effective."
The only difference between the two was the level of optimism. Investigating a potential cure does not defy science; it is science.
Nevertheless, the Times campaign against a cure continued. On March 24, the paper reported, "Man Fatally Poisons Himself While Self-Medicating for Coronavirus, Doctor Says. An Arizona man and his wife ingested a fish tank cleaning additive made with the same active ingredient as chloroquine phosphate, which President Trump has referred to as a 'game changer.'"
The president did not tell anyone to take fish tank cleaner. The wife who said she did this because President Trump promoted antimalarial drugs turned out to be a major donor to Democrat causes.
On March 25, the paper ran a column by four doctors, "No, These Medicines Cannot Cure Corona Virus."
They weren't virologists. They were psychiatrists. They had no idea what would cure COVID-19.
Their column said, "Despite warnings from his scientific advisers, he told the world that anti-malarial medications like hydroxychloroquine and chloroquine could revolutionize the treatment of COVID-19. But whether the president knows it or not, these medications can have very serious psychiatric side effects."
They also said, "Doctors have known for decades that chloroquine and related medications like hydroxychloroquine and mefloquine can cause psychiatric side effects even after just one dose. While some patients experience mild anxiety, insomnia and nightmares, others have severe symptoms like personality changes, paranoia, hallucinations and even suicidal thoughts."
But all drugs have side effects. People weigh the pros and cons. Doctors do prescribe these medications to battle malaria, lupus, and arthritis.
The Times continued its campaign against this cure. On March 31, it ran a column by four more doctors, "Covid-19 Has Closed Stores, but Snake Oil Is Still for Sale. Pitches for treatments with no scientific proof erode trust and threaten lives."
Without any scientific evidence, the Times was rejecting this cure.
Meanwhile in Marseilles, France, Dr. Didier Raoult was using these drugs to fight COVID-19 -- and winning.
On Thursday, just 3 days after the Times dismissed this cure as snake oil,
the New York Post reported
, "An international poll of thousands of doctors rated the Trump-touted anti-malaria drug hydroxychloroquine the best treatment for the novel corona virus.
"Of the 6,227 physicians surveyed in 30 countries, 37 percent rated hydroxychloroquine the 'most effective therapy' for combating the potentially deadly illness, according to the results released Thursday.
"The survey, conducted by the global health care polling company Sermo, also found that 23 percent of medical professionals had prescribed the drug in the US — far less than other countries.
"'Outside the US, hydroxychloroquine was equally used for diagnosed patients with mild to severe symptoms whereas in the US it was most commonly used for high risk diagnosed patients,' the survey found."
***
Other countries are using it because they do not suffer the ignorance spewed by the New York Times.
But science prevails under President Trump. The FDA has approved the use of these drugs to combat COVID-19.
The Department of Health and Human Services announced
it " accepted 30 million doses of hydroxychloroquine sulfate donated by Sandoz, the Novartis generics and biosimilars division, and one million doses of chloroquine phosphate donated by Bayer Pharmaceuticals, for possible use in treating patients hospitalized with COVID-19 or for use in clinical trials. These and other companies may donate additional doses, and companies have ramped up production to provide additional supplies of the medication to the commercial market.
"'President Trump is taking every possible step to protect Americans from the corona virus and provide them with hope,' said HHS Secretary Alex Azar. 'Scientists in America and around the world have identified multiple potential therapeutics for COVID-19, including chloroquine and hydroxychloroquine. The President's bold leadership and the hard work of FDA and HHS's Assistant Secretary for Preparedness and Response have succeeded in securing this large donation of medicine. We'll continue working around the clock to get American patients access to therapeutics that may help them battle COVID-19, while building the evidence to evaluate which options are effective.'"
It is science. The president -- a nephew of an MIT physics professor -- embraces science.
The New York Times embraces panic and disinformation. If we are going to shut down Fake News, as 74 journalism professors demand, let us start with the Times. The shade it cast on this cure was a threat to public health.