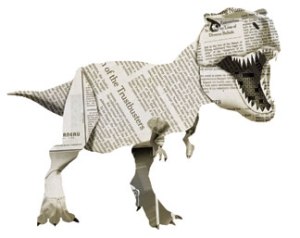 Mini Mike's Bloomberg News service is losing customers who won't survive COVID-19. Bloomberg reported, "Long-Struggling Local Newspapers Pushed to Brink by Corona Virus." Sir William Osler, the father of modern medicine, called pneumonia the "friend of the aged" because in the 19th century it took so many suffering people who could not be saved home to The Lord. COVID-19 is the friend of the ink-stained wretches of the Fourth Estate.
I am saddened, having spent four decades plying the trade.
But newspaper executives had a quarter-century head start on transitioning to the Internet. Thomson Newspapers, a chain of more than 100 newspapers, got out of the business more than two decades ago. Purchasers of those papers thought they knew better and paid top dollar for them. Fools.
In Charleston, the morning newspaper bought the afternoon paper with the intent of closing it and being the only newspaper in town. 13 years later, the owners lost everything in bankruptcy court. Buyer beware.
This is however Trumpenfreude in that 243 daily newspapers endorsed Hillary and only 20 endorsed President Donald John Trump. I get that newspapers are entitled to their opinions. That is my business, after all. I point this out because by 12 times as many newspapers endorsing her over him, newspapers showed how out of touch they are with we the people.
He won, remember? It was advice not taken.
As with all Trumpenfreude, the president has nothing to do with the downfall. Creepy Porn Lawyer Michael Avenatti's greed got the better of him, which led to his conviction for tax evasion, extortion, fraud, and embezzlement.
Bloomberg reported
, "Local papers are slashing staff and publishing less frequently as the already-battered businesses try to weather the COVID-19 storm. Many either won't survive or will have to drastically reduce their operations."
The ads are going, going, gone.
Dean Ridings, chief executive officer of America's Newspapers, a national trade association, told Bloomberg News, "I'm hearing 40% to 60% drops in revenue over the last 30 days. The advertisers are the local mom and pops, the retailers, the restaurants, who are understandably canceling their advertisements."
Ads keep popping up on cable TV, local TV, and of course, the Internet. Radio likely is suffering as so many people no longer are in their cars traveling to and from work.
Zero Hedge said
, "Traditional print media was already on the ropes long before the crisis, in competition with exploding alternative forms of digital news and independent platforms, but the corona virus pandemic and accompanying shutdown of the economy could prove the final death blow."
Newspaper efforts to go online has largely been dinosaurs trying to do ballet. Paywalls? Really? They want people to rent their cows when milk is free? Old bad habits die hard.
The industry says newspapers are irreplaceable. If true, they would not be dying. Well, they had a good run.
But it is sad, especially for those 20 newspapers that broke away from the herd and endorsed Donald Trump. If you wish to support them online,
the list is here
.