— Dave Gutcher (@GutchersPrint) April 22, 2020
Gradually it is dawning on people that the big losers in COVID-19 are fracking, airlines, hotels, restaurants, newspapers, and New York City. The first three are resilient because they have weathered many a business cycle but he latter three are devastated.
One industry in peril that does not get mentioned is the automotive industry, particularly those who service vehicles.
Automobiles are sturdier and last longer. My car is 10 years old and I see no reason for it not to go another 10 years, especially as I have averaged less than 10,000 miles annually in the last 6 years.
Projecting my experience on those working from home, I see fewer oil changes, fewer tire purchases, and fewer automobile repairs.
I also see fewer car companies. The American market is stagnated.
COVID-19 hastens the newspaper industry's demise. Local ads are all they have left and most local businesses are closed. The local newspaper's free shoppers was reduced to one piece of paper. There was a page one and flip it over it was page two. Four press releases a recipe, crossword puzzle, Soduku, and three tiny ads. The inserts may have covered the cost of mailing.
There are plenty of stories about this because the media loves bemoaning its problems.
Not being mentioned is the return of New York City to the 1970s. I have written about this, as well as the COVID-19 collapse of newspapers. Instead of linking those posts, let me re-post them here, starting with New York City, whose reduction will actually harm the country..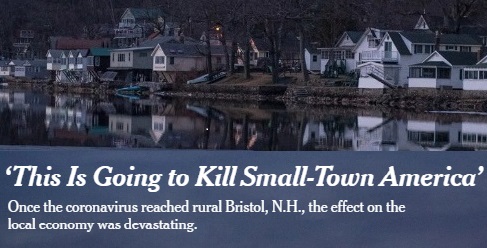 The New York Times sent intrepid reporter David Gelles into deepest, darkest New England to report on the impact of the COVID-19 shutdown on Bristol, New Hampshire, a town of 3,300 people.
Gelles wrote of its Freudenberg factory, "which employs 350 people and makes bonded piston seals and other components for carmakers around the world, has an outsize impact on Bristol's economy."
The plant is shuttered temporarily.
If the Times wants a story on a town so devastated by COVID-19 that it is unlikely to recover in 10 years, it should send David Gelles to New York City. Manhattan is a ghost town.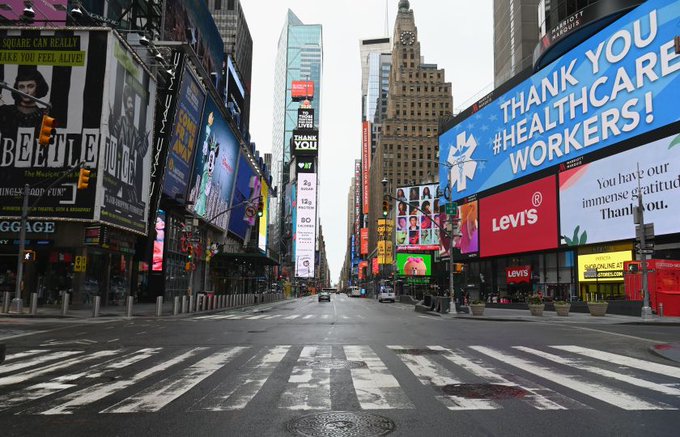 The streets are empty in a city of 8 million. This is not their fault. Yes, they could have acted sooner but this punishment does not fit the mistake.
In Bristol, Gelles wrote, "On April 3, the bad news started to spread around town. Freudenberg announced it was firing more than 100 people, shutting down its manufacturing of bonded piston seals and looking for additional buyouts. With car sales around the world essentially halted, automakers were suspending operations, and suppliers like Freudenberg were suddenly without revenue to pay workers in places like Bristol."
Tourism is its backup plan.
Well, you can see how good that is now. West Virginians feel their pain. Our chemical factories, steel mills, and aluminum plants were devastated by first Japan, then NAFTA, and now Red China.
The New York Times, however, supported all this and supports the shutdown because it believes another depression will wipe out capitalism in America. The Times overlooks the fact that it is a capitalist operation. No ads, no Times.
Let us look at New York.
The financial center of America is now the epicenter of COVID-19 of America. Wall Street is now telecommuting. Is there any reason to stop once the all-clear signal sounds?
The trillions of dollars invested in stocks and bonds can be bought and sold online. Why bother having a presence in Manhattan where the rents are high? Brokers are still needed, but they can relocate to less congested places that are less susceptible to Chinese viruses.
Other corporate headquarters also will re-locate. Why would a CEO risk his health to live there? The Times story on Bristol, New Hampshire, did not say whether anyone in the town had COVID-19. I suspect no one does. The story said many people have their second homes there. They may wish to make them their primary homes.
Then there is Times Square and tourism. Visit New York City? Are you crazy? Why would anyone from Twin Oaks, Ohio, want to risk getting the next COVID-19 there?
This is not 9/11 where everyone rallied behind New York. Rudy Giuliani is not the mayor now, some communist named de Blasio is. New York was a victim in 2001. Now many Americans blame New York City for this shutdown.
Then there is real estate. Most residents are renters. Decades of rent control have led to a crazy quilt of uneven rents and subleases. A three-month rent holiday devastates not only landlords but people who are renting out their apartments. This is just the beginning of the woes of landlords as people flee. No money, no maintenance, and more people will leave.
Restaurants will feel the pain. People in New York have learned to cook. While the New York Times sent a reporter to Bristol, New Hampshire, the Los Angeles Times sent Stephen Battaglio to Manhattan.
Melissa Fleischut, president and chief executive of the New York State Restaurant Association, told the paper, "I think people were afraid after 9-11, but they weren't afraid to go out and eat. As long as the pandemic continues to go on, I think the prospects for the majority of restaurants to come out on the other side is slimming. I think it is an altering event — a moment of change for the industry for sure."
Her job is to cheerlead her industry. She can't.
The Los Angeles Times noted, "Nearly half of restaurants in New York are closed even with the provision that they can serve food and alcoholic beverages for takeout and delivery."
I doubt they will re-open.
The demise of fine restaurants will affect the elitists. Do you really think a stuffed shirt like John Podhoretz will take his kids to McDonald's. Oh, they will keep their condos. There is no market for them anyway. But they will spend their money in Palm Beach, Palm Springs, and wherever else rich folks go.
The rest of the service industry also will suffer. Fewer offices means fewer maintenance crews. It also means fewer packages sent by FedEx and the like. The people who make the city run face layoffs.
Tax revenues will fall. City services will falter.
Manhattan will be like it was in the 1970s again, only there is no young Donald John Trump on the horizon to reverse the fleeing, and there is no Rudy Giuliani to fight the crime.
This is tragic. 8 million people will suffer for a far longer time than most people realize. If you think I get any joy out of this, you are wrong. I have seen economic devastation in West Virginia, and yes, it catches up with the local paper.
The New York Times is wrong. COVID-19 will not kill small-town America. Bristol will come back. Car factories will re-open. They will need Freudenberg parts.
No, COVID-19 is killing the biggest town in America.
The New York Times fancies itself as a world newspaper, but it is still a New York newspaper. Its local ads help pay the bills. The paper's managers should get their noses out of the air and realize that the biggest crisis is not the president they dislike but that their city is about to suffer an economic collapse that has not been seen by an American city since at least the depression and perhaps the civil war.
New York needs leadership. The Times could provide it. Instead of trying to save the world, it should try to save its city and itself.
***
Then there is the story unfolding of newspapers folding.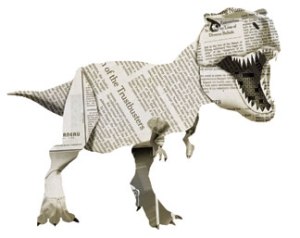 Mini Mike's Bloomberg News service is losing customers who won't survive COVID-19. Bloomberg reported, "Long-Struggling Local Newspapers Pushed to Brink by Corona Virus." Sir William Osler, the father of modern medicine, called pneumonia the "friend of the aged" because in the 19th century it took so many suffering people who could not be saved home to The Lord. COVID-19 is the friend of the ink-stained wretches of the Fourth Estate.
I am saddened, having spent four decades plying the trade.
But newspaper executives had a quarter-century head start on transitioning to the Internet. Thomson Newspapers, a chain of more than 100 newspapers, got out of the business more than two decades ago. Purchasers of those papers thought they knew better and paid top dollar for them. Fools.
In Charleston, the morning newspaper bought the afternoon paper with the intent of closing it and being the only newspaper in town. 13 years later, the owners lost everything in bankruptcy court. Buyer beware.
This is however Trumpenfreude in that 243 daily newspapers endorsed Hillary and only 20 endorsed President Donald John Trump. I get that newspapers are entitled to their opinions. That is my business, after all. I point this out because by 12 times as many newspapers endorsing her over him, newspapers showed how out of touch they are with we the people.
He won, remember? It was advice not taken.
As with all Trumpenfreude, the president has nothing to do with the downfall. Creepy Porn Lawyer Michael Avenatti's greed got the better of him, which led to his conviction for tax evasion, extortion, fraud, and embezzlement.
Bloomberg reported
, "Local papers are slashing staff and publishing less frequently as the already-battered businesses try to weather the COVID-19 storm. Many either won't survive or will have to drastically reduce their operations."
The ads are going, going, gone.
Dean Ridings, chief executive officer of America's Newspapers, a national trade association, told Bloomberg News, "I'm hearing 40% to 60% drops in revenue over the last 30 days. The advertisers are the local mom and pops, the retailers, the restaurants, who are understandably canceling their advertisements."
Ads keep popping up on cable TV, local TV, and of course, the Internet. Radio likely is suffering as so many people no longer are in their cars traveling to and from work.
Zero Hedge said
, "Traditional print media was already on the ropes long before the crisis, in competition with exploding alternative forms of digital news and independent platforms, but the corona virus pandemic and accompanying shutdown of the economy could prove the final death blow."
Newspaper efforts to go online has largely been dinosaurs trying to do ballet. Paywalls? Really? They want people to rent their cows when milk is free? Old bad habits die hard.
The industry says newspapers are irreplaceable. If true, they would not be dying. Well, they had a good run.
But it is sad, especially for those 20 newspapers that broke away from the herd and endorsed Donald Trump. If you wish to support them online,
the list is here
.