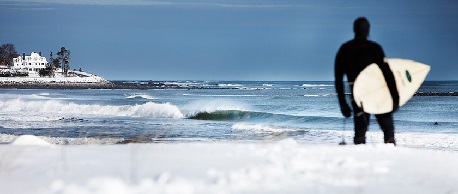 The headline said, "Police cracking down as surfers make waves amid beach closures."
The dateline was Manchester, New Hampshire.
The once-conservative Union-Leader reported that police are enforcing the draconian and unconstitutional edict by Governor Sununu (the Son King) that because of the COVID-19 panic, no one can go on the beach.
There is no proof -- scientific or otherwise -- that walking on the beach gives you COVID-19. But the state that has abandoned its motto: "Live Free Or Die."
The story said
, "Rye Police Chief Kevin Walsh has threatened to charge surfers who continue to defy no-parking rules, as well as the executive order issued by Gov. Chris Sununu last month. He said they could be charged with a violation under a town ordinance and face a $62 fine."
Too bad.
They surf in snow in New Hampshire.
Rather than ignore a few diehard surfers who harm no one, Chief "Wiggums" Walsh is out Barney Fife-ing on tickets.
The story said, "Rye has issued 223 parking tickets since March 1. Most recently, Walsh said 18 tickets were issued from April 13 to April 18, and 20 were handed out on April 19 alone."
People who are sworn to defend the Constitution are ignoring it, which is far worse than a few sons of beaches who ignore the ban on surfing.
Hampton Selectman Chuck Rage is chairman of the Hampton Beach Village District and is working on plans to reopen the beach.
Rage said, "I feel for those guys. We've had some of the most incredible surfing out there."
If everybody had an ocean across the USA that everyone would be surfing like Californ-I-A -- because surfing is freedom, something too many people have forgotten.