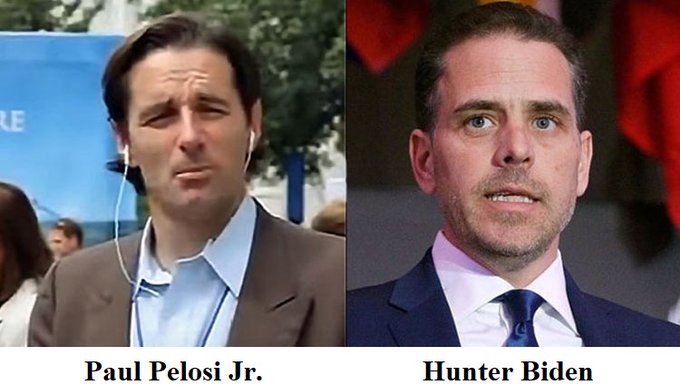 The New York Times reported, "Nancy Pelosi Endorses Joe Biden."
What's in it for Paul Pelosi Jr.?
Because to Democrats, it is all about the children. Their children. We know what is in it for Hunter Biden, 50. When his dad was vice president, he got a million dollar-a-year no-show job in Ukraine and split $1.5 billion from Red China with John Kerry's stepson.
Biden's only known talents are for snorting cocaine and impregnating strippers. But daddy was the second-most powerful man on the planet, so tribute was paid.
But what's in it for Paul Pelosi Jr.? He's 51. Maybe Uncle Joe can make him energy secretary. For a while, he was president of Natural Blue Resources, some sort green energy thing. It turned out to be a scam.
The Washington Times reported on July 17, 2014
, "The Securities and Exchange Commission (SEC) charged a company cofounded by Paul Pelosi Jr. with fraud on Wednesday after learning that two convicted criminals were running the business.
"Paul Pelosi Jr., the son of House Minority Leader Nancy Pelosi (D., Calif.), was the president and chief operating officer of Natural Blue Resources Inc., an investment company he cofounded that focuses on environmentally-friendly ventures.
"The SEC charged four individuals with fraud, including former New Mexico Gov. Toney Anaya, and suspended trading in the company's stock. Pelosi owned over 10 million shares in the company in 2009."
The company agreed to
a cease and desist order in 2018 to end the case
. There was no admission of guilt. The company's stock simply became as worthless as Hunter Biden.
Paul Pelosi Jr. also wound up in Ukraine where he promoted soccer
.
ABC reported she said Joe Biden
will be "a president with the values, experience and the strategic thinking to bring our nation together and build a better, fairer world for our children."
Especially the children of the politicians.