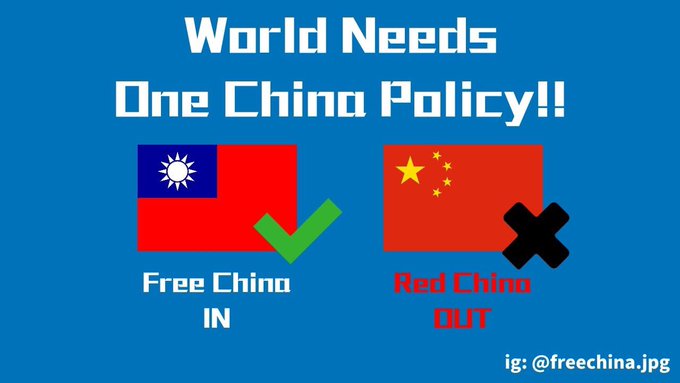 Red China lied about COVID-19 and helped its spread. Many people are upset with Red China right now and a few politicians say Red China must pay. No one says how.
Allow me.
1. Resume calling it Red China because that is what it is. Red China is the largest communist nation in world history. Communism did not die on December 25, 1991. The Soviet Union did.
2. Restore the Two Chinas policy. Make Taiwan the equal to Red China again.
President Trump has moved in that direction
. Giving Red China Taiwan's place in the United Nations was a huge mistake.
3. End the trade agreement. Red China lied. The trade deal died.
4. Raise the tariffs to a minimum of 100% on all products and services and 1,000% on products related to defense.
5. Quarantine all cargo ships delivering goods from Red China for 14 days.
6. Quarantine all travelers from Red China for 14 days. Who knows what new diseases they carry?
7. Revoke all student visas from Red China and deport them immediately.
8. Order American companies to end all operations in Red China including air travel and retail stores.
9. Ban companies from licensing deals with Red China.
10. Make Red China sell American companies it owns such as Smithfield bacon.
This will disrupt the economy?
What economy?
We are all in our houses for fear of spreading a virus that Red China unleashed upon the world. America made a big mistake in electing the Bushes, Clinton and Obama. The 4 of them allowed the communists to take over our economy. Americans are dying because of their complicity.
The bottom line must be to cut off all ties to Red China because it is an evil communist nation.
Gavin Clarkson wrote in the Washington Examiner to push for litigation based on Red China not informing the World Health Organization of its disease.
He wrote
, "a Florida law firm has filed a class-action lawsuit against China in federal court alleging liability under several legal theories, including negligence, infliction of emotional distress, ultrahazardous activities, and public nuisance. While the legal theories put forward are certainly valid, that lawsuit will have to overcome the Foreign Sovereign Immunities Act. While FSIA immunity can be surmounted, I have proposed a simpler mechanism to #MakeChinaPay for its damages to America."
And Clarkson said, "The Department of the Treasury should electronically confiscate all U.S. Treasurys currently held by China and make it illegal for China to buy, hold, or sell U.S. Treasurys going forward. These prohibitions would apply to any subsidiary or agent of China's Communist Party. Treasury bonds are no longer held in paper form but are recorded electronically at the Depository Trust Corporation, so this can be done with just a few keystrokes."
Litigation and confiscation are nice. We should pursue those avenues and others. Clarkson is running for the U.S. Senate in New Mexico.
But bear in mind, that is a lengthy process that can be undone by some future Obama who loads a plane with trillions and sends it to Beijing in the middle of the night.
Ending business as usually -- indeed, turning the clock back 50 years to before Nixon visited Red China -- is the first step. We used Red China to get the USSR. President Bush should have ended NATO and cooled our relationship with Red China, especially in light of Tienanmen Square.
Had we, America would be a net exporter of goods instead of the World's Wimpy promising to pay you Tuesday for a hamburger today.