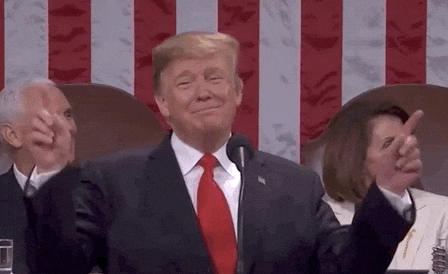 Donald John Trump is still our president.
ITEM 1
: A reader sent me a note, "Facebook is NOT ALLOWING the sharing of your recent post re a coalition of Southern governors. I copy/pasted the post to Gab."
The banned post -- Mocking the South for re-opening -- shows
Facebook has no room for facts
.
ITEM 2
: Another reader explained
the Live Science story
, "Trial of Chloroquine to Treat COVID-19 Stopped Early Due to Heart Complications."
He said, "Chloroquine has been used to treat malaria for over 50 years. The dose at which toxicity occurs is well known and symptoms include heart problems."
The tested dosage was 1,200 milligrams daily.
The recommended dosage is 800 mg (620 mg base) orally followed in 6 to 8 hours by 400 mg (310 mg base), then 400 mg (310 mg base) once a day for 2 consecutive days; alternatively, a single dose of 800 mg (620 mg base) has also been effective.
So basically the study proved that if you give a patient more than the recommended dosage, you will have problems.
ITEM 3
:
CNBC reported
, "A doctor who was removed as head of the federal agency that is helping develop a vaccine for the coronavirus said he was ousted because he called for resistance to widespread adoption of a drug promoted by President Donald Trump as a treatment for COVID-19.
"Dr. Rick Bright also said that he believed he was removed from his post because he insisted that 'the billions of dollars allocated by Congress to address the COVUID-19 pandemic' be invested 'into safe and scientifically vetted solutions, and not in drugs, vaccines and other technologies that lack scientific merit.'"
Bright told the New York Times, "Rushing blindly towards unproven drugs can be disastrous and result in countless more deaths. Science, in service to the health and safety of the American people, must always trump politics."
Huh?
The antimalarial drugs have been around for 70 years. We know the side effects and what the maximum dosage should be. Doctors around the world are using it to treat patients.
Small wonder they canned him. He suffers TDS.
ITEM 4
:
Christian Toto reported
, "Crenshaw Destroys Maher: Why Late Night Avoids Conservative Guests."
It was a nice piece about Congressman Dan Crenshaw, the Moshe Dayan of the Republican Party.
Toto wrote, "It wasn't pretty. Still, Maher deserves credit for inviting the representative on his show in the first place. And that's what's most important about the exchange. Maher previously invited Andrew Breitbart, Buck Sexton, Steve Bannon and Ben Shapiro on his program."
Here is why conservatives trump lightweight liberals: our ideas are tested. The liberal media is so pervasive that 1. conservatives are aware of the liberal argument, and 2. liberals never hear the other side and are not prepared for the counter argument.
Bubbles can suffocate a person.
ITEM 5
:
International Business Times reported
, "Trump's Hydroxychloroquine Caused More Deaths, Study Reveals."
This was Fake News that Matt Margolis destroyed.
He reported
, "It was a small, non-peer-reviewed study, not a clinical trial."
"The patients were not representative of the entire population."
"The most severe cases disproportionately received the drug."
"Other studies and anecdotal reports suggest it helps."
"The study concluded that controlled trials are still needed."
The media lies because President Trump promoted this regimen and they hate him more than life itself. I got censored by Facebook. Why not these liars?
If President Trump cured cancer, the media would run stories saying don't use it because it might give you acne.
ITEM 6
:
The Washington Examiner reported
, "Joe Biden's presidential campaign spent nearly $11,000 on gourmet ice cream that is also a favorite of House Speaker Nancy Pelosi's.
"The presumptive Democratic presidential nominee's campaign spent $10,600 on Jeni's Splendid Ice Creams between May 2019 and March 2020. The ice cream was listed as donor gifts, according to Federal Election Committee data.
"Pelosi has taken a lot of heat since last week when she joined James Corden on his late-night comedy show and showcased her freezer packed with ice cream. Among the selection were pints of Jeni's Splendid."
Sundaes will never be the sa-aa-ame!
ITEM 7
:
John Nolte reported
, "Until there's a vaccine, the corona virus isn't going anywhere, so what could be safer than seeing a movie at the drive-in from the confines of your own automobile? Man alive, I miss the drive-in. I've missed the drive-in for going on 30 years. I bet Hollywood's missing the drive-in right about now. We could all be going to the new James Bond movie tonight. Oh, that's right, some of you don't know what I'm talking about. Believe it or not, between Memorial Day and Labor Day — at least up in the Midwest where winter happens — we used to watch movies from the comfort of our own cars."
Who watched the movies?
ITEM 8
:
Newsweek reported
, "Nearly 2,500 employees at one of Michigan's largest health care systems learned on Tuesday they would be furloughed, due to particularly dire financial circumstances related to the novel corona virus outbreak.
"Beaumont Health, which has 38,000 employees serving eight hospitals in southeast Michigan, announced that most of the 2,475 members who were temporarily laid off filled administrative roles unrelated to the care of patients afflicted with COVID-19, the illness caused by the corona virus strain, according to a Stamford Advocate report.
"The company also permanently eliminated 450 positions and initiated salary cuts to top executives."
Let the record show that we bankrupted hospitals across the nation because New York City feared COVID-19 would overrun hospitals.
Allow elective surgery and save the American medical industry. Colonoscopies save lives.
ITEM 9
:
Fox News reported
, "President Trump said Wednesday that he's instructed the U.S. Navy to 'shoot down and destroy' any Iranian gunboats harassing American ships, in the wake of a tense encounter in the Persian Gulf."
This is not a good development.
Iran and Red China seem to want World War III.
ITEM 10
:
The Hill reported
, "Presumptive Democratic presidential nominee Joe Biden has committed to choosing a woman as his running mate. But an Obama family confidante on Tuesday said there's "no chance" that woman will be Michelle Obama.
"Valerie Jarrett, a former Obama White House senior adviser, took a hatchet to the recent speculation that the former first lady would consider joining the Democratic ticket with Biden, who served as her husband's vice president.
"'The reason why I'm being so unequivocal is that there just simply has never been a time when she's expressed an interest in running for office,' Jarrett said in an interview with The Hill. 'She's not demurring here. She's not being hard to get. She doesn't want the job.'"
Translation: Jarrett won't give her permission to run.
ITEM 11
:
The Hill reported
, "Democrats are pushing Joe Biden to select his running mate sooner rather than later, saying this would give him more time to raise funds and unite the Democratic Party ahead of the general election fight against President Trump.
"Presumptive Democratic nominees typically announce their pick before the party's convention. But with the corona virus pandemic sidelining the campaign and pushing back the Democratic convention from July to August, Democrats say an early pick could boost Biden."
And by boost, they mean boot him off the ticket.
He served his purpose. Now to get him to exit, stage left.
ITEM 12
:
Weasel Zippers reported
, "Cuomo Asked About Protests Over Lockdown: "'If You're Running Out Of Money, Become An Essential Worker.'"
Flashback to Babylon Bee on April 2
, "Man Glad To Know Job That Fed His Family, Paid His Rent Is 'Non-Essential.'"
Who cuts the governor's hair?
ITEM 13
:
The Atlanta Journal-Constitution reporte
d, "A little more than a week after endorsing Republican President Donald Trump for re-election, Democratic state Rep. Vernon Jones announced Wednesday that he would not complete his term — triggering a special election.
"'Turn the lights off, I have left the plantation,' the controversial ex-DeKalb County CEO said in a statement. Jones said he was not switching political parties but would work for Trump's re-election.'"
The money quote was "I intend to help the Democrat Party get rid of its bigotry against black people that are independent and conservative. I endorsed the white guy that let blacks out of jail, and they endorsed the white guy that put blacks in jail."
Jones is not alone.
ITEM 14
: Will Biden pick the one politician in America that makes him look smarter?
Stacey Abrams is literally trying to bully Biden into picking her for his running mate by insinuating he's racist if he doesn't! 😆

pic.twitter.com/W4lNQ7Ptfd

— Mark Dice (@MarkDice) April 22, 2020
Racist?
One year ago, she said
, "You don't run for second place."
ITEM 15
:
Axios announced
, "Axios is among the small businesses that qualified for a PPP loan to protect existing jobs and help weather the coronavirus crisis.
"Why it matters: We are in the somewhat unique position of being both a media company, which covers government and business, and a job-creating small business with a national presence. So we wanted to be fully transparent about our thinking."
Funny how it is a big, bad, independent press until the government starts handing out money.
ITEM 16
:
The Mix Net reported,
"Ellen DeGeneres has had a reputation for being a relatable, kind, and generous person. At least, that's how she portrays herself on her talk show. But, that facade has crumbled during the corona virus pandemic. The crew of her talk show are claiming they are being stiffed as Ellen continues cashing checks.
"The money grab, of course, is not Ellen's first misstep recently. Just the other week, Ellen was lambasted for comparing being quarantined in her mansion to being in prison.
"As millions of Americans have lost their jobs and don't know how they will pay for food or their rent or mortgage on a family home, Ellen is living large in a multi-million dollar Beverly Hills mansion. Rightfully, the award winning host was hit with accusations of entitlement and being out of touch."
Gee, someone with a mansion is out of touch with the rest of us.
Go figure.
We need a Newsweek cover story of her, with the headline, "Yep, I'm Rich."