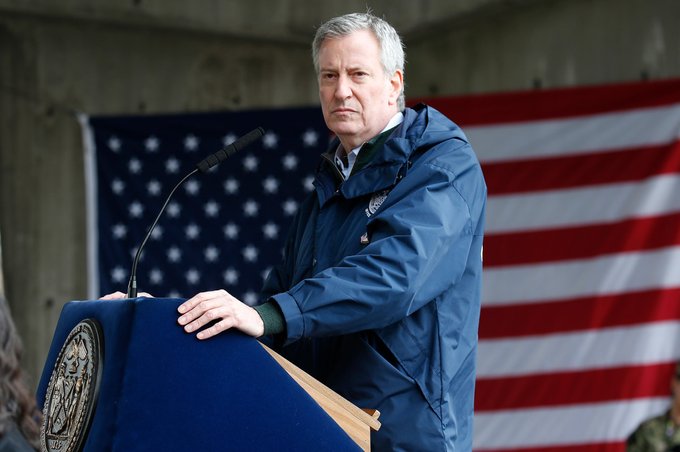 The easily offended should skip to Item 2.
ITEM 1
:
The New York Post reported
, "De Blasio's social distancing tip line flooded with penis photos, Hitler memes."
The story said, "The inundation of off-color texts was so large the city had to temporarily shut down the service."
Snitches get stitches.
These snitch replies had me in stitches.
But did anyone think to send a picture of Hitler's penis?
ITEM 2
:
The Wall Street Journal reported
, "Tech entrepreneur Bill Gates and his wife Melinda Gates have paid $43 million for an oceanfront home near San Diego, Calif., in one of the largest deals recorded in the area.
"The Del Mar property was most recently on the market for $48 million and the deal closed in late March, according to listings website Realtor.com. The Gateses bought the home from Madeleine Pickens, the former wife of Texas billionaire T. Boone Pickens. When reached by phone, Ms. Pickens said she wished the new owners well."
Another global warming propagandist buys beachfront property.
ITEM 3
:
The Associated Press reported
, "Tony Award-nominated actor Nick Cordero has had his right leg amputated after suffering complications from the corona virus, his wife says.
"Amanda Kloots on Instagram wrote late Saturday that Cordero 'made it out of surgery alive and is headed to his room to rest and recover.'
"Cordero had been treated with blood thinners to help with clotting in his leg, but his doctors had to stop the treatment because it was causing internal bleeding."
He's 41. Pray for his recovery. There is hope. They can do amazing things now with prosthetics.
ITEM 4
:
The New York Post reported
, "New York state just issued a drastic new guideline urging emergency-services workers not to bother trying to revive anyone without a pulse when they get to a scene, amid an overload of corona virus patients.
"While paramedics were previously told to spend up to 20 minutes trying to revive people found in cardiac arrest, the change is 'necessary during the COVID-19 response to protect the health and safety of EMS providers by limiting their exposure, conserve resources, and ensure optimal use of equipment to save the greatest number of lives,' according to a state Health Department memo issued last week.
"First-responders were outraged over the move."
Sick.
In West Virginia, DNR is the state's Department of Natural Resources. In New York, DNR is the state's health policy. We are backward and unsophisticated. I'm glad.
ITEM 5
:
The Washington Free Beacon reported
, "Michigan Democrat Governor Gretchen Whitmer has handed over control of the state's new contact-tracing operation to one of her own campaign vendors and one of the left's biggest technology firms. The move has sparked concern that she is using the corona virus to strengthen the Democrat Party's data operation, potentially at the expense of public health.
"The Whitmer administration announced Monday that it had awarded a contract for contact tracing in the state to Every Action VAN, an arm of the Democratic data behemoth NGP VAN. The liberal firm works with all of the major Democratic campaign committees and hundreds of labor unions across the country, according to its website, and will 'help organize remote phone banking and track information and contacts' for Michigan, a state press release said.
"The group is run by Stuart Trevelyan, a longtime Democratic campaign operative who worked in the Clinton White House and is currently assisting presumptive Democratic nominee Joe Biden's campaign with voter outreach and fundraising, according to Federal Election Commission reports. Whitmer's own gubernatorial campaign paid NGP VAN nearly $5,000 in 2019, according to state campaign finance records. Every Action is a branch of the firm that works with nonprofit organizations."
Fox News reported
, "Michigan Gov. Gretchen Whitmer's administration acknowledged Tuesday that normal protocols were bypassed when a contract for corona virus contact tracing was awarded by the state to Great Lakes Community Engagement, which is operated well-known Democratic consultant Michael Kolehouse -- who has previously written on social media that President Trump should 'get Corona virus ASAP' and that someone should 'do the country a favor and cough on that man,' Facebook posts reviewed by Fox News show."
Instead of shunning Kolehouse, Democrats rewarded him.
Always bear in mind that their jokes become policy.
ITEM 6
:
Fox News reported
, "North Korean leader Kim Jong Un appeared to be handling state affairs as usual, South Korea's government said Tuesday after unconfirmed rumors described him as in fragile condition after surgery.
"The presidential Blue House said no unusual activity has been detected in North Korea and it had no information about the rumors on Kim's health.
"Speculation often surfaces about North Korea's leadership based on attendance at important state events. Kim, who is in his mid-30s, missed the celebration of his late grandfather and state founder Kim Il Sung on April 15, the country's most important holiday."
Kim Jong Un still alive. Franco still dead.
CNN covers North Korea
about as well as it covers the United States.
ITEM 7
:
CNBC reported
, "The Senate on Tuesday passed a $484 billion package to bolster small businesses and hospitals ravaged by the corona virus pandemic and expand testing for COVID-19.
"After the unanimous Senate vote, the bill heads to the House, which aims to approve it by Thursday.
"The measure injects another $310 billion into a key loan program designed to keep employees on small company payrolls. The initial $350 billion in the so-called Paycheck Protection Program, created as part of the $2 trillion rescue package passed last month, dried up last week. It is unclear how many firms have actually received the money.
"The bill passed Tuesday allocates $60 billion for small lenders as part of the small business aid program. It puts another $60 billion toward Small Business Administration disaster assistance loans and grants. It includes $75 billion in hospital relief and $25 billion for corona virus testing."
Another half-trillion goes down the rabbit hole to cover the mistake of shutting down the country.
How easily they spend trillions nobody has. The stimulus will do more to retard economic growth than the pandemic panic did.
ITEM 8
:
CNBC reported
, "Trump says corona virus hospital ship USNS Comfort will leave New York City."
They never needed the ship. The story said, "As of Friday, 71 of the USNS Comfort's 500 beds were occupied."
15% occupancy.
Well, at least the crew got some experience to go along with their training.
ITEM 9
:
The Detroit Free Press reported
, " A strip club business that operates in Las Vegas has filed a lawsuit against the U.S. Small Business Administration after not receiving money from the $2 trillion federal coronavirus aid bill.
"Little Darlings owner Jason Mohney has struggled obtaining emergency funding from the Coronavirus Aid, Relief, and Economic Security Act after Congress grouped the business into the category of operations of a prurient sexual nature, the Las Vegas Sun reported.
"Mohney argues the exclusion is discriminatory toward a class of workers who perform a legal and legitimate service through the Flint, Michigan-based company, which operates 200 exotic dance clubs in Las Vegas and multiple other cities."
Ivy League colleges are getting relief
. Why not strip joints? Single moms got bills to pay too.
ITEM 10
:
The Federalist reported
, "Chris Cuomo, Recovered From COVID, Stages Weird 'Official' Emergence From Basement After Admitting He Left His House On Easter."
Correction, he said he had COVID-19.
He may have staged the whole thing to goose his ratings. He ain't very smart.
ITEM 11
:
The National Pulse reported
, "The Chinese Communist Party-employed journalist who lied about where he was from during a press conference with President Trump could now face $16,000 in fines.
"The National Pulse exposed Ching-Yi Chang on April 9th, after he told President Trump he was from Taiwan. In truth, he works for Dragon Television, owned in turn by Shanghai Media Group, one of the largest state-owned media groups in China.
"Now, according to Taiwan's Liberty Times, Ching-Yi could be facing punitive action from Taiwan."
The Taiwan government's Mainland Affairs Council is reviewing the case. Imagine that: holding journalists accountable for their lies.
ITEM 12
:
The Associated Press reported
, "The Trump administration on Tuesday ordered Chevron Corp. to wind down operations in Venezuela by December 1, barring the California-based oil giant in the meantime from drilling or exporting, as the U.S. increases pressure on President Nicolás Maduro to give up power.
"Chevron is the last major U.S. oil company to do business in crisis-wracked Venezuela, investing in the South American nation's oil fields and machinery over the last century with an estimated value of $2.6 billion, which analysts say Maduro's government will likely take over."
December?
How about doing it by the end of the month?
Still, well done.
ITEM 13
:
ESPN reported
, "The New England Patriots have agreed to trade Rob Gronkowski to the Buccaneers in a deal that reunites the retired tight end with Tom Brady in Tampa Bay.
"Gronkowski's agent, Drew Rosenhaus, said Tuesday on SportsCenter that the five-time Pro Bowler has been 'really invigorated' physically since he retired from football nearly 13 months ago."
We will see this year if Belichick or Brady was the most important person on the Patriots. My money is on the coach.
ITEM 14
:
Breitbart News reported
, "Tuesday, during an interview with nationally syndicated talker Hugh Hewitt, Attorney General William Barr touched on constitutional protections in a time of crisis related to what powers the executive branches of both state and federal governments have.
"Barr acknowledged that amid this corona virus pandemic, some 'temporary and reasonable restrictions' were acceptable. However, he did argue those had to be targeted, adding it was a view 'a better job' was needed to be done regarding those restrictions."
The Constitution is bigger than any Made in China disease.
ITEM 15
:
The Hill reported
, "A panel of doctors and experts convened by the National Institutes of Health advised against combining two drugs that have been floated as possible cures for COVID-19, warning of potentially harmful effects.
"The COVID-19 Treatment Guidelines Panel advised against combining hydroxychloroquine, an anti-malarial drug, and azithromycin, an antibiotic also known as 'Z-Pak,' outside of clinical trials.
"The panel said there is not enough clinical data to recommend either for or against the use of hydroxychloroquine for the treatment of COVID-19.
"If hydroxychloroquine is used, clinicians should monitor patients for adverse effects, the panel said, especially heart problems.
"Hydroxychloroquine and azithromycin has been promoted as a potential treatment for COVID-19 by President Trump, leading to shortages of both drugs."
The drug is a game changer.
Just like the president said it would be.
ITEM 16
:
Yahoo reported
, "Hours after President Donald Trump announced Monday night he would be temporarily suspending all immigration, Fox & Friends co-host Ainsley Earhardt questioned on-air what that meant for her and others like her, given her au pair is foreign-born.
"Earhardt, recently divorced and a now operating as a single mom, reflected on how the immigration ban could affect farmers in America on work visas, then said, 'Many families here — including mine — we have au pairs and we rely on them. I go to work at 3 o'clock in the morning so I need her there and I need her in my house so that she can help me with my daughter.'"
He's not deporting anyone.
He's banning immigrants from coming into the country.
It is too bad we cannot ban idiots from hosting TV shows.
ITEM 17
: Every time I want to tell him to stop taking questions from the press, he makes me laugh.
President Trump: "I want Harvard to pay the money back, okay? If they won't do that, then we won't do something else."

pic.twitter.com/CZV6ibUiQG

— The Hill (@thehill) April 21, 2020
He makes our troubles lighter.
ITEM 18
:
Forbes magazine reported,
"When Congress passed the CARES Act to provided relief from the corona virus impact, it sent about $14 billion to institutions of higher education to address the unique impact the virus has had on college campuses. Half of the money sent to institutions must be in the form of emergency grant aid directly to students to address living expenses such as housing, food, health care, and more.
"Colleges and universities had been waiting for the Department of Education to release guidance to detail how exactly schools could allocate the grant money, including who is eligible. Today, Secretary Betsy DeVos and the Department released new guidance to address that and more.
"In the guidance, DeVos chose to limit the students eligible for the grant aid to those eligible for federal student financial aid — meaning U.S. citizens and some noncitizens. This means that undocumented immigrants participating in the Deferred Action for Childhood Arrivals program — also known as DACA — created in the Obama Administration will not be eligible for these emergency grants."
Good for her.
The rule of law should prevail.
And DACA is not a law.
FINALLY
: Let us all pray for commenter Douglas DC and his wife. She is ill and COVID-19 kept them apart. They finally got to see one another on Tuesday.