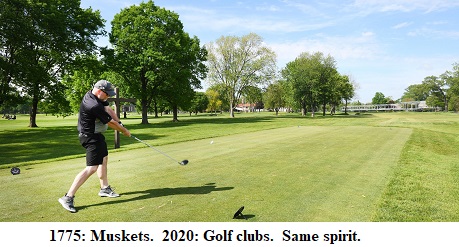 Donald John Trump is still our president.
ITEM 1
: On the 245th anniversary of the shot heard 'round the world, they yelled Fore in Lansing, Michigan, over a different kind of shot that defied a tyrant.
City Pulse reported
, "The Country Club of Greater Lansing is again allowing its members to play on its course along Moores River Drive after a brief shutdown. And that's despite guidance today from the state's top law enforcement official that said otherwise.
"'We cannot rely on the superfluous statements made by each respective office and must only rely on the text of the order itself,' according to an email from the Country Club to its members sent earlier this week, again allowing golf to be played. 'If the governor intended the order to specifically ban golf, she would have included such specific language in the order.'
"The governor's orders state that public courses must close; It doesn't mention private clubs. However, a spokeswoman for Attorney General Dana Nessel said today that it's inaccurate to claim that private club members can continue to play on private courses amid the pandemic. 'Bottom line is that golf courses may not be open,' she explained to City Pulse this morning.
But that's precisely what the Country Club of Lansing is now allowing to take place this week."
May not?
Whitmer is the governor of the state, not its governess.
I get that we made need some restrictions to stop the spread of the Red Chinese disease. What I do not understand is why being outdoors far from the maddening crowd risks anyone's health.
ITEM 2
:
The Daily Wire reported
, "California authorities tried to stop skateboarders by dumping literally tons of sand into at least two area skateparks in an effort to enforce so-called 'social distancing.' However, the effort was for naught, it seems.
"Young residents in California responded to the government's extreme social distancing enforcement action by grabbing a few shovels, buckets, and brooms and turning at least one sand-filled skatepark into a park for both skating and dirt biking."
The Burgermeister Meisterburgers have met their Kris Kringle. He's younger, smarter, and more determined than they are.
ITEM 3
:
News Busters reported
, "Joy Behar Compares Lockdown Protesters to Terrorists; 'Leave Your Guns at Home.'"
She is one of the many television celebrities who supported the resistance but were appalled that there were Tea Party protests. Now they hate people golfing or walking on the beach.
PJ Media reported
, "PATTON OSWALT: Americans Are Only 'Risking Viral Death' by Protesting Because They Miss Fuddruckers."
Yes, and his point is ???
This is our country. Americans are willing to accept reasonable, temporary measures aimed at protecting the public's health. But skateboarding is not a crime.
ITEM 4
:
QNS reported
, "A letter to Governor Andrew Cuomo to shut down the city's subways and buses as a measure against the spread of COVID-19 was not met with agreement by the parties involved on Sunday morning.
"City Councilman Robert Holden's office penned the letter that Holden and three other City Council members signed — Eric Ulrich and Peter Koo of Queens, and Mark Gjonaj of the Bronx.
"The lawmakers said that the striking number of transit workers deaths, as well as the prolific spread of the disease being something unique to New York City, should be considered. They also called on the city to suspend all parking regulations."
Until New York City the epicenter of COVID-19 in the USA shuts down its death-trap transportation, America will golf, take a walk on the beach, and skateboard without worrying what the celebrity scolds say.
ITEM 5
:
Karen Townsend reported
, "It's starting to happen slowly but surely – Texas is re-opening for business. Governor Abbott issued a series of executive orders Friday meant to provide guidance in cautiously re-opening businesses in the state. Life isn't getting back to the pre-corona virus days but it's a start.
"Governor Abbott announced the establishment of a strike force to find ways to safely and effectively bring the state back to life. This strike force is comprised of business people, elected officials, and medical professionals. It is broken into four key work groups including economic revitalization, health care, education, and fiscal accountability and federal liaison. The medical team will further develop the state's plan for testing and tracking COVID-19 cases."
Is testing necessary? Just take people's temperatures. Social distancing and masks should reduce or slow the spread, which was the whole point of the quarantine.
Georgia and Tennessee also are opening back up.
Governors serve the people, not the other way around.
ITEM 6
:
Fox News reported
, "Kim Jong Un, the North Korean dictator, is recovering Tuesday from a cardiovascular procedure, according to a South Korean media reports.
"The Daily NK, an online news periodical based in Seoul, which is run mostly by North Korean defectors, reported that Kim was recovering from his April 12 surgery at a resort county villa on the east coast. The report said Kim has been in bad health because of heavy smoking, obesity and overwork.
"Sources told Fox News that the White House is aware of the reports of Kim's health, but there is no confirmation."
We should send him a nice parting gift.
ITEM 7
:
NBC reported
, "Shake Shack, one of several large restaurant chains that got federal loans through the corona virus stimulus law meant to help small businesses, said Sunday night that it is giving all $10 million back.
"The New York-based burger company is among more than a dozen companies with annual revenues in the hundreds of millions that are reported to have received money from the Paycheck Protection Program, or PPP. The loan program set aside $349 billion in the stimulus law called the CARES Act to help small businesses keep their workers on the payroll. Less than two weeks after it started, the program has already run out of money.
"In a statement Sunday night on LinkedIn, Danny Meyer, Shake Shack's founder and CEO of its parent company, Union Square Hospitality Group, and Randy Garutti, Shake Shack's CEO, said the company pursued the loan because the law stipulated that it was open to any restaurant location with no more than 500 employees — which describes Shake Shack's 189 individual U.S. restaurants."
The nearest Shake Shack is in Cary, North Carolina. Road trip?
ITEM 8
:
Dan Wetzel reported
, "Why stripping China of the 2022 Olympics isn't going to happen."
The story said, "While trying to lead the charge to punish China might serve as a salve for some people's anger, it's unlikely the IOC would agree to do it, leaves plenty of unanswered questions and may be needlessly antagonistic at a time when the United States can't afford to alienate China, especially over something as unimportant as a future sporting event.
"Start with the effectiveness. Olympic host sites are determined by the votes of International Olympic Committee members, not the governments of the world. IOC members are private citizens. To pull an Olympics would require intense IOC will and the organization has never shown even the faintest concern about politics, honesty, human rights, environmental decency or pretty much anything else.
"Generally, the country that wines, dines and even bribes the most members gets to host the Olympics. There is also the likelihood that many, or even most IOC members, don't blame China for the pandemic. They may be more of Trump's current mind that as frustrating as this is, mistakes happen."
OK. The IOC is about as wholesome as WHO.
They won't cancel the COVID-19 Olympics but we can boycott it. Maybe the Jamaican bobsled team will medal this time.
ITEM 9
:
Yahoo reported
, "A key benchmark of US oil prices plunged to a 21-year low on Monday, amid continued fears about oversupply in the market. US West Texas Intermediate crude futures dropped over 37.2% to $11.46 per barrel on Monday, a level not seen since 1998. The slump represents the biggest one day drop in percentage terms since 1982."
This is bad news, leavened only by Zero's absurd claim 8 years ago.
ITEM 10
:
The New York Post reported
, "America's junk food diet makes us even more vulnerable to corona virus."
The story said, "It's our favorite vice and our true national pastime: Here in the land of plenty, Americans love to overindulge.
"We eat too much, drink too much, snack too much, sit too much — then rely on the marvels of modern medicine to repair our battered bodies. And that makes us easy prey for a brand-new infection like the novel corona virus."
So how do we fight COVID-19? By sitting around the house all day eating junk food.
ITEM 11
:
Politico reported
, "Mike Bloomberg ended his ill-fated presidential bid on March 4, but his campaign still shelled out nine figures last month anyway, taking his total spending to more than $1 billion in a losing run for the Democratic nomination.
"The billionaire's campaign spent $176 million in March, according to the campaign finance report Bloomberg filed with the Federal Election Commission on Monday. That pushed his spending north of $1 billion for a campaign that lasted a bit over four months.
"It isn't unusual for campaigns to spend some money after they end — but the staggering size of Bloomberg's post-dropout spending illustrates the unusual scale of his campaign, which ultimately saw the media mogul win only one contest: American Samoa. He did net delegates on Super Tuesday as well, but he spent more than $17 million for each delegate acquired."
Mini Mike spent a billion to become president of Samoa.
ITEM 12
:
The Hill reported
, "The New York state nurses union filed lawsuits against the state and two hospitals Monday over what it says are unsafe working conditions and a lack of protective equipment.
"The New York State Nurses Association (NYSNA) sued the New York Department of Health and two hospitals, Montefiore Medical Center and Westchester Medical Center, claiming they put nurses' health and safety at risk.
"NYSNA alleges in the suits that some nurses were not given impermeable gowns and personal protective equipment and nurses redeployed to hospitals other than those they normally worked at were not given sufficient training. The lawsuits say high-risk employees like pregnant nurses were not provided safe working conditions.
"The lawsuit against the state department of health was filed in New York Supreme Court, New York County, and calls for Gov. Andrew Cuomo (D) to require direct care nurses receive at least one N95 respirator daily. NYSNA claims in the lawsuit that some New York nurses are being instructed to come to work sick.
"NYSNA Executive Director Pat Kane said in a statement that more than 70% of the union's nurses are reporting exposure to COVID-19, and most have not been tested."
Andrew Cuomo's 2024 presidential campaign has been placed on hold.
I don't like unions, but I also remember all those first responders who died years later after sacrificing so much on 9/11 and afterward.
ITEM 13
:
CNN reported
, "The Supreme Court said Monday that unanimous jury verdicts are required in state criminal trials for serious offenses, handing a victory to criminal defendants including petitioner Evangelisto Ramos, who was convicted of murder in Louisiana on a 10-2 vote."
Duh.
Jurors voted 10-2 to convict Ramos of murder.
The story also said, "Chief Justice John Roberts and Justice Elena Kagan joined Justice Samuel Alito's dissent."
The vote was 6-3? It should have been unanimous. Roberts, Kagan, and Alito over-intellectualized the decision.
ITEM 14
:
Business Insider reported
, "One of presidential candidate Joe Biden's latest advertisements came under fire on Twitter this weekend, with many calling it racist and xenophobic for its rhetoric surrounding China and the novel corona virus. The ad explicitly targets President Trump's response to the corona virus, criticizing President Trump for being too soft and trusting of the Chinese government during the early stages of the pandemic.
"It positions Biden as his hypothetical foreign policy foil, showing a clip of Biden saying, 'I would be on the phone with China making it clear: We are going to need to be in your country. You have to be open. You have to be clear. We have to know what's going on.'
"The Atlantic's Peter Beinart called those comments a jingoistic fantasy, writing that 'in suggesting that Biden could bludgeon China into submission -- in a phone call, no less -- the Biden campaign is peddling a lie about how public-health cooperation with China actually works.'"
What is really absurd is Biden standing up to Chairman Xi after the communist dictator gave Biden's son $1.5 billion.
ITEM 15
: Old: Let them eat cake.
— Peter J. Hasson (@peterjhasson) April 20, 2020
New: Let me eat ice cream.
ITEM 16
: I told you we would be up to our elbows in ventilators.
Last month all you heard from the Radical Left, Do Nothing Democrats was, "Ventilators, Ventilators, Ventilators." They screamed it loud & clear, & thought they had us cold, even though it was the State's task. But everyone got their V's, with many to spare. Now they scream....

— Donald J. Trump (@realDonaldTrump) April 20, 2020
... "Testing, Testing, Testing," again playing a very dangerous political game. States, not the Federal Government, should be doing the Testing - But we will work with the Governors and get it done. This is easy compared to the fast production of thousands of complex Ventilators!

— Donald J. Trump (@realDonaldTrump) April 20, 2020
Tests are next.
There is always some excuse, isn't there?
The Pandemic Panic is political theater. Instead of quarantining the sick, we quarantined the healthy. We ain't as bright as we think we are.
ITEM 17
:
Rasmussen reported
, "Most Democrats blame President Trump, not China, for the corona virus crisis the country is now experiencing. Other voters disagree.
"The latest Rasmussen Reports national telephone and online survey finds that 42% of all Likely U.S. Voters agree with U.S. Senator Chris Murphy's recent statement: 'The reason that we're in the crisis that we are today is not because of anything that China did, is not because of anything the [World Health Organization] did. It's because of what [President Trump] did.' 47% disagree with the Connecticut Democrat. 11% are undecided."
60% of Democrats blame President Trump. Per usual, although usually the number is in the 80s.