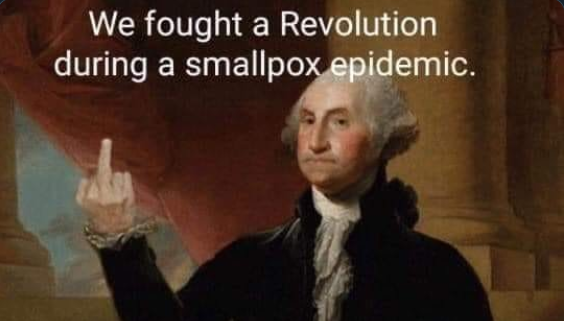 Donald John Trump is still our president.
ITEM 1
:
Herschel Smith reported
, "'Chloroquine, a relatively safe, effective and cheap drug used for treating many human diseases including malaria, amoebiosis and human immunodeficiency virus is effective in inhibiting the infection and spread of SARS CoV in cell culture. The fact that the drug has significant inhibitory antiviral effect when the susceptible cells were treated either prior to or after infection suggests a possible prophylactic and therapeutic use.'
"This is a conclusion statement by a NIH study on corona virus (Covid-19 is SARs, Bat-SARs + some proteins that mimic HIV). This study, entitled 'Chloroquine is a potent inhibitor of SARS corona virus infection and spread,' was completed and published on August 22, 2005, a study of which Dr. Fauci is certainly aware."
The evidence is not anecdotal. It is scientific. Fauci is a fraud who should resign. I thought he was all about saving lives. He is not. He is the enemy from within.
ITEM 2
: Open the country already.
— The White House (@WhiteHouse) April 13, 2020
Let's go back to being great instead of being afraid.
ITEM 3
:
The Associated Press reported
, "California Gov. Gavin Newsom says he will announce a detailed plan Tuesday for lifting coronavirus restrictions, a decision he says will be made without political pressure, an apparent reference to President Donald Trump declaring himself the ultimate decision-maker for when states can reopen.
"Barely a week ago, it seemed unlikely Newsom would soon be talking about a plan for reopening the state. His administration was sticking to a forecast of a potential tidal wave of virus cases in mid-May that could require up to 66,000 additional hospital beds.
"But on Monday Newsom reported the number of people hospitalized increased modestly during the weekend, continuing an encouraging trend. In Los Angeles County, the state's largest and home to about 40% of its virus deaths and overall cases, officials said Monday the number of new cases was the lowest in weeks."
Governor Greg Abbott of Texas also wants to open his state. Both states have had relatively low numbers of COVID-19 deaths.
I hope they start by allowing hospitals to perform elective surgeries again. It means jobs and revenues, but mainly it saves lives.
ITEM 4
:
Forbes magazine reported
, "The same day Japan announced that it would spend upwards of $2.2 billion to get its corporations out of China and either back home or spread throughout southeast Asia, White House National Economic Council Director Larry Kudlow said the U.S. should "pay the moving costs" of every American company that wants out of China.
"'I would say, 100 percent immediate expensing across the board for plant, equipment, intellectual property, structures, renovations... In other words, if we had 100% immediate expensing, we would literally — literally pay the moving costs of American companies,' Kudlow said on the FOX Business Network's America Works Together Town Hall which aired on Thursday.
"The Japanese government announced that it would provide direct loans 220 billion yen ($2 billion) for companies shifting production back to Japan and 23.5 billion yen for those seeking to move production to other countries, according to details of the plan posted online."
As Chris Christie told the $250,000 a year school superintendent who threatened to leave the state, "I'll help you pack."
Let's help companies quit Red China, an empire built on 100 million skulls.
ITEM 5
: Burn of the day.
— Richard Grenell (@RichardGrenell) April 13, 2020
After a run of fascists and communists running the intelligence community under Obama, it is nice to have a patriot at the helm.
ITEM 6
:
Jim Geraghty wrote in National Review
, "For the last thirty years, the vast majority of powerful institutions in the United States placed a gargantuan bet on the idea that the government in Beijing could be a reliable partner in prosperity and would be a responsible actor on the world stage. Many leading politicians in both parties chose to believe this, many foreign-policy wonks chose to believe this, many academics and university administrators chose to believe this, and obviously, corporate America loved the idea of both using Chinese labor for imported goods and receiving access to the Chinese market. This includes Comcast, Disney, Viacom, AT&T, and Fox Corporation — the parent companies of NBC News, ABC News, CBS News, CNN, and Fox News, among other large multinationals that own major U.S. news organizations."
He titled his article, "Powerful Americans Were Catastrophically Wrong about China."
Besides the powerful, National Review was wrong too. Repeatedly it defended Red China as merely being clever in free trade. Indeed, National Review used this bogus argument to oppose tariffs.
Red China was, is, and always will be a communist country. It opposes capitalism. Bush 41 promised to punish the communists over Tienanmen, instead he rewarded it by opening trade with them.
COVID-19 is biomedical warfare. Red China is winning. Even National Reviewers see it.
ITEM 7
:
The Miami Herald ran an editorial
, "We're looking like 'Flori-duh' again, Gov. DeSantis. Any idea how that happened?"
The only Flori-duh about COVID-19 is the Miami Herald's string of Pulitzer-seeking editorials ragging on their Republican governor. The Herald endorsed the guy later found drunk in a hotel room with meth on the floor and a gay escort.
Florida is 3rd in population, 11th in COVID-19 deaths.
Louisiana is 25th in population, 4th in COVID-19 deaths.
By the way, 9 of the top 10 COVID-19 death states have Democrat governors.
ITEM 8
:
Fox News reported
, "President Trump's reelection campaign and the Republican National Committee brought in more than $63 million in March, bringing their first-quarter fundraising total to more than $212 million amid the corona virus crisis."
The story also said, "Democrats have yet to release their March hauls, but at the end of February, Biden's campaign and the DNC held just roughly $20 million combined, accounting for debt held by the national party."
But as we saw in 2016, raising money is worthless if you do not visit Wisconsin at least once.
ITEM 9
:
PJ Media reported
, "Authorities Investigate Illicit Amish Wedding in Sleepy Ohio Hamlet, Population 3,220."
40 people.
Fox News reported
, "California party that violated stay-at-home order and drew around 400 comes to 'bad end' with 6 shot." It was in Bakersfield, population 383,579.
Gangsters Paradise
gets preferential treatment over the
Amish Paradise
.
ITEM 10
: Nearly a month ago, President Donald John Trump said chloroquine was a potential game-changer in the fight against COVID-19. The press and their Democrat masters have spun this as a voodoo medicine, discounting its successes as anecdotal. But doctors overwhelmingly are using it because it works.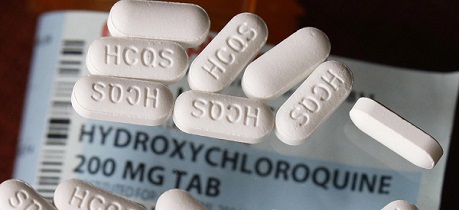 Now there is medical evidence it works.
CBS in Detroit reported
, "French doctor, Didier Raoult met with France's Premier Emmanuel Macron last night to present a new paper that studied 1,061 COVID-19 patients that were treated early with hydroxchloroquine and azithromycin (z-pac). He found that those on this drug protocol met with 92% excellent outcomes (they were free of the virus within 10 days). He also found the drug protocol to be very safe for patients with low side effects, and that there was a correlation with the amount of hydroxychloroquine found in the blood and success rates.
"However, the paper also found that those patients who had high blood pressure and taking certain types of hypertension medications (beta blockers) had complications. This may lead to a clue that those with high blood pressure are more susceptible to COVID-19 or the medications they're on can lead to more concerns."
Earlier I reported on an earlier study by Raoult in which 78 of 80 patients survived thanks to this regimen.
It is not perfect, and something better may come along. But it is a game changer that should re-open the nation.
ITEM 11
:
Thomas Gallatin reported
, "Senate Majority Leader Mitch McConnell on Thursday tried to add $250 billion to the $350 billion Paycheck Protection Program (PPP), the part of the recently passed $2.2 trillion CARES Act that provides forgivable loans to small businesses. Following higher-than-expected demand, less than a week after the PPP was instituted, only $98 billion remained. McConnell sought to pass simple and clean additional funding to the program via a two page bill. 'We're not talking about making any policy changes,' McConnell explained. 'We're literally changing the number $350 [billion] to $600 [billion].'
"However, McConnell's aim of getting unanimous consent to ensure that small businesses are able to obtain needed loans for payroll was scuttled by the Democrats. The reason? They want to load up any additional PPP spending with more funding and regulations to benefit their constituencies. Democrats want at least $45 billion in additional funding specifically delineated for 'small community-based lenders' like 'minority depository institutions, certified development corporations, [and] micro-lenders.' They're calling for an additional $100 billion to healthcare workers, plus another $150 billion to states and localities to backfill tax revenue. And of course they want more money for food stamps while removing any work-requirements for the next two years."
$250 billion for small businesses, $295 billion for Democrats.
ITEM 12
: The entire White House press room wrote Dear Diary entries on Monday.
April 14, 2020
How dare the president call them out!
April 14, 2020
The lies from the press during the presidency of Donald Trump make congressmen look honest by comparison.
ITEM 13
: Journalism today. Instead of asking an expert on disease about disease, they ask about economics.
Dr. Fauci "Its just not gonna be that way. We have a country and there are different impacts" He adds, "Its likely to be a rolling re-entry"

— Kelly O'Donnell (@KellyO) April 13, 2020
Next up, LeBron James explains the infield fly rule.
ITEM 14
:
Fox News reported
, "South Dakota Gov. Kristi Noem on Monday announced a statewide clinical trial of hydroxychloroquine for the possible treatment of COVID-19, making her state the first in the country to institute a program exploring the potential effectiveness of the drug in treating and preventing corona virus.
"'From Day One, I've said we're going to let the science, facts and data drive our decision-making in South Dakota,' Noem said in a statement provided to Fox News.
"Noem, a Republican, announced the comprehensive clinical trial Monday after communicating with White House officials in the last week to 'let them know that South Dakota's medical community was ready to step up and lead the way on research efforts.'"
We will know it was successful when the press stops calling it Trump's drug.
ITEM 15
: Biden proves he is the long-sought White Obama.
I can hardly believe what I am watching.

In his conversation with

@BernieSanders

-

@JoeBiden

is clearly reading from a TelePrompTer.

It's supposed to be a CONVERSATION.

I've never seen this happen in my entire life.

https://t.co/1GcGvFCIFE

— Shaun King (@shaunking) April 13, 2020
Democrats won't replace him even if he wins. he is a nice figurehead and distraction for the evil they will do.
ITEM 16
: The fact checker gets fact checked.
"One of the nation's largest coronavirus hotspots." In the entire state, 44 people have been hospitalized. A total of 6 people have died statewide. Apparently both common sense and calculators are in short supply at the Washington Post.

https://t.co/RyWhegswHv

— Sean Davis (@seanmdav) April 14, 2020
The biggest mistake writers make is not double checking their facts.
ITEM 17
:
The Express reported
, "Furious Italians want to leave the EU after the Commission failed to swiftly negotiate aid packages for the fight against corona virus, a poll has found. EU finance ministers agreed upon a 500 billion euro rescue package to bail countries out during the COVID-19 pandemic.
"However, the deal does not cover joint debt to finance recovery which Italy, France and Spain were pushing for but that was rejected by Germany, Netherlands, Austria and Finland. Italy has been ravaged by the corona virus and until recently, had the most deaths worldwide. Now, 49% of the 1,000 Italians polled are in favor of leaving the EU, according to a poll by the Tecne Institute."
Pretty weird to blame EU for the Chinese Virus.
ITEM 18
: Waah!
Enough with the 3rd grade name-calling. Chris is doing his job. The news should not be any president's friend, ally, or buddy. If it bothered you when Obama complained about Fox News, but you're silent on this complete nonsense, then just stop. Seriously. Enough.

https://t.co/uW1Dw275Or

— Jedediah Bila (@JedediahBila) April 12, 2020
The press keeps saying the president has thin skin but any criticism back is regarded with an indignity last seen in "The Princess and the Pea."