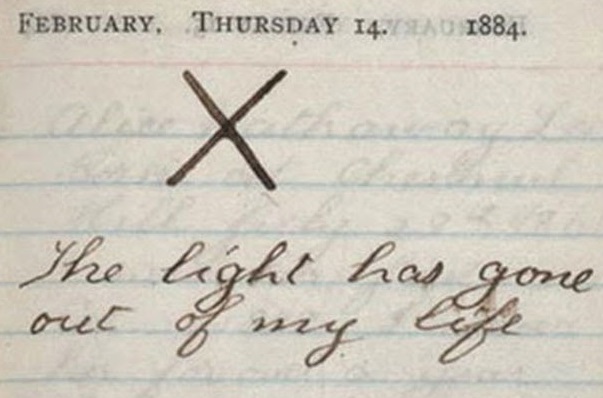 On February 14, 1884, Theodore Roosevelt's wife died two days after giving birth, and his mother died of typhus. His diary entry that day was an X above the sentence, "The light has gone out of my life."
He was 25. He would rise again and become one of our four greatest presidents.
I suffered a tragedy on Good Friday which I have only begun to understand. Through my tears and heartache, I carry on. I cannot very well tell a nation to move on from the pandemic while I sit on the sidelines and sob. And so I write and sob. Pray not for me, but pray for our son, Michael. He's gone at 33.
I thank readers for honoring my privacy this weekend.
ITEM 1
:
The Sun reported
, "White House corona virus expert Dr. Anthony Fauci today said lives could have been saved if US had been shut down earlier."
Dr. Anthony Fauci said on January 31
, "We still have a low risk to the American public."
He needs to apologize and resign.
What would have happened:

Trump on 2/15: Stay home! Shut your business! Coronavirus is coming!
Pelosi: Ignore him. He's nuts.
Biden: Xenophobia!
de Blasio: Shut down NYC schools? No way!
NYT EdBoard: Trump doesn't have the authority.
Pelosi: He's a racist. Go out in Chinatown!

— Ari Fleischer (@AriFleischer) April 12, 2020
And we need to reopen the nation. Live free or die.
ITEM 2
:
The Independent reported
, "The United Nations could run out of money by the end of the month as it faces a near-unprecedented funding crisis, the secretary-general has warned.
"Almost a third of member states have not paid their annual dues leading to a £1.3 billion black hole, António Guterres said in a statement on Tuesday.
"The shortage of cash has meant vital staff vacancies have been left empty, travel limited to all but essential journeys and meetings deferred amid attempts to shore up the dwindling reserves. Staff have been warned there may be a default on salaries in November."
Finally, some good news.
64 of the 193 member nations haven't paid their dues in full. We should make it 65.
ITEM 3
:
Ross Marchand reported
, "As the deadly corona virus takes its toll on countless families, healthcare workers are doing their best to get patients the medicine and equipment they desperately need.
"But medical devices can do more harm than good unless properly sterilized and disinfected by applying agents such as Ethylene Oxide (EtO) gas. And, because of deeply flawed federal studies and subsequent state and local actions based on this shoddy science, production of sterilizing agents such as EtO has been put on the backburner. Policymakers must examine all the evidence at hand and keep patients safe from COVID-19 contamination."
The story also said, "In 2016, [the agency] found that EtOs start to pose harm to human health at the infinitesimally low level of 100 parts per quadrillion, or approximately 19,000 times lower than the amount of EtO found in the human body. That's right: according to the EPA, humans are exposed to sky-high EtO risks just by being alive and producing EtO internally."
Wait till someone at the EPA finds out people produce carbon dioxide. They will ban humans.
ITEM 4
:
Catherine Herridge of CBS News reported
, "The FBI was warned sections of the controversial Steele dossier could have been part of a 'Russian disinformation campaign to denigrate U.S. foreign relations,' according to newly declassified footnotes from a government watchdog report.
"The December report by Justice Department Inspector General Michael Horowitz examined the FBI's investigation into alleged coordination between the Trump campaign and Russia as well as the FBI's four surveillance warrants for former Trump campaign aide Carter Page.
"Horowitz concluded the FBI was justified in launching the investigation, dubbed Crossfire Hurricane, although he found 17 significant inaccuracies and omissions in the FBI's handling of FISA (Foreign Intelligence Surveillance Act) applications to surveil Page."
Obama was Putin's Puppet. Remember, the evil they accuse conservatives of is their evil.
The story also said, "But some of Horowitz's findings were disputed by U.S. Attorney John Durham, who is conducting a broader investigation. At the time, Durham said 'we do not agree with some of the report's conclusions as to predication and how the FBI case was opened.'
"Several footnotes in Horowitz's report were redacted, and Republican Senators Chuck Grassley and Ron Johnson pushed for the declassification of four footnotes related to the Steele dossier, a collection of opposition research notes on the Trump campaign's ties to Russia compiled by Christopher Steele, a former British intelligence officer.
"The dossier was used, in part, by FBI investigators to secure four surveillance warrants for Page."
I want indictments. I want Obama in prison for turning the FBI into a criminal syndicate that openly lied to judges to get power it never should have.
ITEM 5
: The Department of Justice was not above exploiting the COVID-19 crisis.
During this sacred week for many Americans, AG Barr is monitoring govt regulation of religious services. While social distancing policies are appropriate during this emergency, they must be applied evenhandedly & not single out religious orgs. Expect action from DOJ next week!

— KerriKupecDOJ (@KerriKupecDOJ) April 12, 2020
This is virtue signaling.
The churches can hire lawyers and take care of themselves in court. Instead of going after governors, the department should clean house and go after the real criminals inside the FBI, both past and present.
ITEM 6
:
CNBC reported
, "JPMorgan Chase, the country's largest lender by assets, is raising borrowing standards this week for most new home loans as the bank moves to mitigate lending risk stemming from the novel corona virus disruption.
"From Tuesday, customers applying for a new mortgage will need a credit score of at least 700, and will be required to make a down payment equal to 20% of the home's value.
"The change highlights how banks are quickly shifting gears to respond to the darkening U.S. economic outlook and stress in the housing market, after measures to contain the virus put 16 million people out of work and plunged the country into recession."
The money people are the grownups.
ITEM 7
:
The Daily Caller reported
, "A former staffer for Democratic presidential candidate Joe Biden has reportedly filed a formal criminal complaint against her former boss with the Washington, D.C. police.
"Tara Reade, who last month accused the former vice president and longtime senator of sexually assaulting her in 1993 while employed as one of his Senate staffers, told police that Biden 'assaulted her in a Senate corridor, shoving his hand under her skirt and penetrating her with his fingers,' Business Insider reported Saturday while also noting that the 'statute of limitations for the alleged assault has passed.'"
The presumption of innocence applies even to creepy, sleazy, and dopey politicians.
The New York Times wrote, "Ms. Reade, a former Senate aide, has accused Mr. Biden of assaulting her in 1993 and says she told others about it. A Biden spokeswoman said the allegation is false, and former Senate office staff members do not recall such an incident."
Brett Kavanaugh never even met Christine Blasey Ford. The Times insisted he raped her.
The Times also did a little post-posting editing of "The Times found no pattern of sexual misconduct by Mr. Biden, beyond hugs, kisses and touching that women previously said made them uncomfortable."

It now says, "The Times found no pattern of sexual misconduct by Mr. Biden."
The truth is out there. And when journalists get hold of it, boy will the truth be sorry.
ITEM 8
:
Campus Reform reported
, "Colleges nationwide are bleeding money. Some might not make it."
Decades of federal funding and $1.6 trillion in loans to students spoiled this industry and made it blind to the technological changes that hasten its obsolescence. Bloated bureaucracies make them as susceptible to COVID-19 as a lifetime smoker is.
And social justice warriors are a co-morbidity on some campuses.
The story said, "The University of Nebraska-Lincoln is offering students who have left campus a refund of 60 percent of the prorated cost of room and board, while the University of Missouri announced it would offer a housing discount of 45 percent of the current semester cost to students who vacated their residence halls by April 3. Adding insult to injury, the University of Missouri is just one several public universities in the state that on track to lose up to $73 million in state funding for the next fiscal year."
Most readers are associated with a college, either as a student or as a parent or grandparent. We do not want them to fail. But some will. Issues with Mau-Mau liberalism aside, we root for them to adapt and survive because an educated society is as important to our freedom as guns are.
ITEM 9
:
The Post Millenial News reported
, "Polyamorous man lauded by progressive media charged with violent abuse of five-week-old baby."
The story began, "A five-week-old baby was hospitalized in Florida recently after she was violently abused by one of her four fathers, Ethan Baucom."
When you have four fathers, you have none because no one accepts the responsibility of protecting the child. All five deserve to be tried for child neglect and worse.
We banned polygamy for good reason.
ITEM 10
:
BizPac Review reported
, "The 5th Circuit Court of Appeals issued a stay on Friday, halting a decision from a Texas lower court which allowed some abortions to continue in Texas in spite of the governor's order to stop the procedure during the corona virus pandemic.
"Gov. Greg Abbott issued an executive order requiring medical providers to cancel nonessential surgeries to save hospital space and protective gear during the corona virus outbreak. The order did not detail which procedures were considered nonessential, but Texas AG Ken Paxton stated he would prosecute providers who continued to perform abortions. He announced the penalty for violating the order was $1,000 or 180 days of jail time. The ban, set to expire April 22, includes limited exceptions which include concerns over a mother's life.
"Judges Kyle Duncan, appointed by President Trump, and Jennifer Walker Elrod, appointed by President George W. Bush, wrote in their ruling: 'when faced with a society-threatening epidemic, a state may implement emergency measures that curtail constitutional rights so long as the measures have at least some 'real or substantial relation' to the public health crisis and are not 'beyond all question, a plain, palpable invasion of rights secured by the fundamental law.' Judge Kyle Dennis, appointed by President Clinton, dissented and claimed Thursday's ruling from the lower court should not be reversed."
This pandemic panic has canceled life-saving elective surgeries such as colonoscopies (early detection of cancer saves lives). Democrats demand life-ending surgeries remain open. It's a death cult.
ITEM 11
:
MSN reported
, "California will move some senior citizens from care homes to the USNS Mercy in order to better isolate them from corona virus, Gov. Gavin Newsom announced.
"Newsom said Friday that the Navy hospital ship will expand its original mandate to help alleviate pressure on nursing homes. Only non-COVID-19 residents will be moved."
That is an excellent use of the Navy hospital ship which is designed for such transfers. Someone is using his noodle.
ITEM 12
:
Via BizPac Review
, Anderson Cooper's interview with Newsom.
Cooper: "You've had differences with the president in the past, tough words on both sides. You've been able to work together it seems in this for the needs of your state."
Newsom: "We're involved in 68 lawsuits with the Trump administration. I've been on your show, I haven't been timid, he certainly hasn't been timid. But I got to say this, it's just a fact, I'd be lying to you, I'd be lying to the American people – every single direct request that he was capable of meeting, he has met.
"We have the USNS Mercy in California because of his direct intervention and support. Two thousand of these federal medical stations because of his direct support," he continued, referring to the U.S. Navy hospital ship USNS Mercy which was deployed last month to help Los Angeles-area hospitals to care for those with COVID-19.
"So I can only speak for myself, but I have to be complementary. Otherwise I would be simply lying to you, misleading you, and that is a wonderful thing to be able to say and I hope that continues."
There is a time to politic, and there is a time to govern. I think President Ecclesiastes said that.
ITEM 13
:
Fox News reported
, "Sen. Dianne Feinstein, D-Calif., has urged President Trump to reverse a reported plan to block an Iranian request to the IMF for $5 billion in aid to fight the corona virus crisis -- saying it is in the U.S. national interest to accede to the request."
The top Democrat on the Intelligence Committee serves Iran, not the United States. That is how the Democrat Party wants it.
But why does she not get her Red Chinese buddies to save Iran?
ITEM 14
:
CBS News reported
, "Tyler Perry surprised elderly shoppers and others who are high-risk at dozens of supermarkets by paying off their grocery tabs. Amid the corona virus pandemic, grocery stores around the United States have been opening early for seniors to help them avoid large crowds.
The entertainment mogul paid off bills at 73 stores — 44 Kroger supermarkets in his hometown, Atlanta, and 29 Winn-Dixies in New Orleans — during the hour dedicated for vulnerable customers on Wednesday."
Madea goes shopping.
God bless him. Tyler Perry is my favorite person named after Aerosmith band members.
ITEM 15
:
Forbes reported
, "The corona virus crash erased nearly all of the stock-market gains enjoyed by billionaires over the past year. It also knocked many from the billionaire ranks entirely. Altogether, 267 from last year's list of 2,153 people fell below the $1 billion threshold this year. Forbes calculated net worths based on stock prices and exchange rates from March 18 — but we had initially put together a list based on March 6 prices. Between March 6 and March 18, 226 people fell off the list as the markets sank further."
Madea goes to the poor house.
ITEM 16
:
Fox News reported
, "Kentucky's largest city cannot halt a local church's drive-in service planned for Easter, a federal judge on Saturday ruled.
"The ruling came as Republicans blasted Democratic Gov. Andy Beshear's statewide plan to order people into quarantine if they attend mass gatherings, including religious ones."
Close the mosques on a Muslim high holy day. I double dog dare them.
ITEM 17
:
NPR reported on March 30
, "President Trump is repeating his claim that the United States is doing more testing for the corona virus than any other country.
"'We have more cases because we're doing far more testing than anybody in the world,' the president said in a White House briefing on Sunday.
"The U.S has ramped up testing, but still lags other countries like Italy and South Korea, when it comes to testing on a per capita basis."
NPR reported on April 11
, "U.S. Surpasses Italy In Total COVID-19 Deaths."
No mention was made of Italy still leading by a wide margin in deaths per capita. Lockdown the media and let the rest of us go outside.
ITEM 18
: Even a RINO can see the problem.
So police and government officials can stop us wherever we go and demand to see our papers?

How about no.

https://t.co/WCMMyaa6iq

— Justin Amash (@justinamash) April 10, 2020
Amash could have been a contender but he went for that coveted Good Republican title in the media.
ITEM 19
: Speaking of Michigan rummies...
That is the worst Last Supper painting I've ever seen.

— Belize042 (@belize042) April 12, 2020
She signed this ban with 9 people near her. She gonna pony up $9,000?
ITEM 20
: Texans elected Ironside.
— Bill Mitchell (@mitchellvii) April 12, 2020
Everyone, back in the pool.
ITEM 21
:
The Washington Examiner reported
, "Julian Assange's lawyer and lover announced that the Wikileaks founder fathered two children with her.
"Stella Morris, a member of Assange's legal team, said Sunday that she and Assange, who is facing 18 criminal counts, had two children together in a plea for British authorities to release him. The revelation was announced via a video interview released by Wikileaks."
The story also said, "Assange had been holed up in the Ecuadorian Embassy in London, where he was granted asylum for seven years before that was revoked. Now, Morris is pleading with the court to release Assange from prison because of the corona virus pandemic ravaging the United Kingdom."
That is how you master quarantine. Like a boss.
FINALLY
: Did you know Neil Sedaka's girlfriend is a cyclops? In "Laughter in the Rain," he sang, "Walking hand in hand with my one-eyed love."
Great man.
Friend of the handicapped.