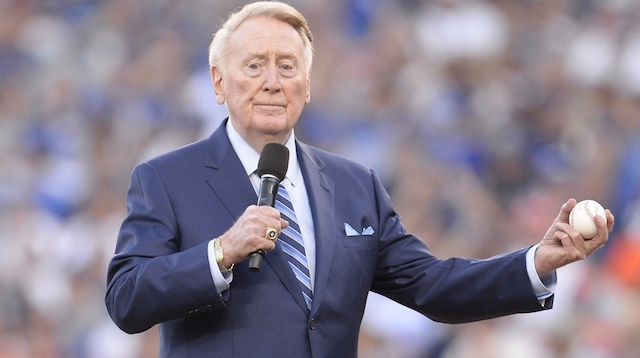 "Andre Dawson has a bruised knee and is listed as day-to-day. (Pause.) Aren't we all?"
ITEM 1
:
Vin Scully said
, "If baseball starts up, we've got this thing beat and we can go about our lives. Baseball is not a bad thermometer, when baseball begins, whenever that is, that will be a sure sign that the country is slowly getting back on its feet.
"We're not going to have a full season because this thing is burning up days like an express train. But somewhere along the line, I hope and pray that baseball will start up, that will be so wonderful, that will be a rainbow after the storm, that, yeah, things are going to get better."
Let's play two.
ITEM 2
:
RNZ reported
, "Scientists around the world have been racing to develop treatments, cures and a vaccine for COVID-19, and are getting closer by the day.
"Jacob Glanville -- one of the stars of Netflix documentary Pandemic -- runs Distributed Bio, which has been working to find an antibody therapy."
He said, "The new virus is a cousin of the old SARS. So what we've done is we've created hundreds of millions of versions of those antibodies, we've mutated them a bit, and in that pool of mutated versions, we found versions that cross them over. So now we know they bind on the same spot as the new virus, COVID-19."
He also said, "Part of the reason we think we're moving pretty fast is that instead of starting from scratch discovering an antibody, we went to these existing antibodies that were already extremely well characterized against SARS. And we've adapted them. So we're piggybacking on two years of research."
This is real science being done in real time for real people. The role of those of us in the peanut gallery is to stay home and stop the spread so they can have time to work their magic.
Retirees got this one down pat.
ITEM 3
:
The South China Morning Post reported
, "Roving security staff at Hongyuan Park, part of the Xixi Wetland preserve in Hangzhou in eastern China, now have the power to quickly detect the body temperature of all park visitors from a distance of up to 1 meter, thanks to 'non-contact thermal augmented reality' smart glasses supplied by AI start-up Rokid Corp.
"The company said on Thursday that each smart glass user will be capable of checking the temperature of several hundred people within two minutes – a vast coverage and speed that would make even Superman proud – to eliminate queues at the park entrance."
Well, there always was a fascist side to Superman. But as long as they use it to screen who enters the park and send the contagious home, I suppose it is OK.
ITEM 4
:
The Hollywood Reporter reported
, "The Walt Disney Co. said Monday that executive chairman Bob Iger will forgo his entire salary, and recently named CEO Bob Chapek will take a 50 percent pay cut to his base salary amid the coronavirus pandemic, according to an email from Chapek sent to employees obtained by The Hollywood Reporter.
"The news comes days after the company made the decision to keep all North American theme parks closed until further notice. Other executives at Disney will also take salary cuts, according to the email."
I do not care for his politics, but Iger stepped up and showed leadership.
Symbolism? Leadership is all about symbolism.
ITEM 5
:
Dr. Sarosh Ashraf Janjua reported
, "A Minnesota State trooper pulled me over on I-35 this past weekend for driving above the speed limit. When he saw my Massachusetts driver's license, he asked me what I was doing all the way out in Minnesota, so I told him I travel here every month for my work as a locums cardiologist.
"He went back to his patrol car to look up my license, and when he returned, quite firmly told me it was very irresponsible of me to be speeding, especially since I would not only take up resources if I got into an accident, but would also not be in a position to help patients.
"Feeling thoroughly chastised, I waited for him to write me a ticket. Instead, he told me he was going to let me off with a warning.
"As I sputtered to apologize and say thank you, he reached in to hand me what I assumed was my license back. It wasn't until my hand had closed around what he was giving me that its unexpected bulkiness drew my eyes to it.
"Five N95 masks, from the supply the state had given him for his protection.
"I burst into tears. And though it may just have been the cold wind, I think he teared up a little as well, before wishing me well and walking away."
There's a lot of tearing up going around these days.
ITEM 6
: Not everyone is happy with CNN.
CNN not airing a serious press conference from the president: "We are going to go through a very tough two weeks … this is going to be a painful, very, very painful two weeks."

— Charlie Spiering (@charliespiering) March 31, 2020
But they had breaking news. Fredo is ill.

Journalists love gazing at their navels. Pray for Fredo anyway.
ITEM 7
:
Just The News reported
, "Nevada Democratic Gov. Steve Sisolak has decided to allow malaria drugs hydroxychloroquine and chloroquin to be prescribed for the in-patient treatment of corona virus patients, a spokesperson on Tuesday.
"Last week, Sisolak endorsed restrictions on the use of hydroxychloroquine and chloroquin for outpatient prescriptions as the Trump administration touted its potential effectiveness in treating corona virus. The governor's office had said the restrictions were to protect the supply of the drugs for individuals with lupus and other conditions."
Detroit Metro News reported
, "Gov. Whitmer reverses course on corona virus drugs, is now asking feds for hydroxychloroquine and chloroquine."
Pretty much we should leave medical decisions up to doctors and not the politicians. It was a nice reversal.
ITEM 8
:
Journalist Ryan Cooper wrote
, "Washington Gov. Jay Inslee is what real coronavirus leadership looks like."
Wait, I thought Fredo's brother was the cat's meow.
Cooper wrote, "New York Governor Andrew Cuomo has long had an uneasy relationship with both the media and the overwhelmingly Democratic residents of his state. He has let the vital New York City subway fall into ruin, actively connived with Republicans to give them control of the state Senate, and generally been a thorn in the side of anyone who wants to do anything good. But now, thanks to the novel corona virus outbreak, suddenly everyone loves him. He's getting breathless (even lustful) media coverage, and his approval rating has jumped by 27 points.
"Don't be fooled, though: Cuomo has royally messed up the coronavirus outbreak, just like he has everything else. If you want an example of effective crisis leadership, look to Washington state Gov. Jay Inslee.
"To begin with, the numbers don't lie. New York state has thus far had the worst outbreak not just of any state, but of any place in the world. Its deaths have risen faster than any other sub-national region at an equivalent point in their outbreaks, even Lombardy, Italy and Madrid, Spain."
But numbers do lie. If the number of deaths is going to determine the election, say hello to President Jim Justice of West Virginia.
ITEM 9
:
CNBC reported
, "Commerce Secretary Wilbur Ross is working from his estate in Palm Beach, Florida, while the Trump administration tries to limit the economic fallout from the corona virus outbreak, according to people familiar with the matter.
"Ross, 82, is teleworking to the extent possible, according to the people, who requested anonymity due to the sensitivity of the matter. It could not be determined when he plans to return to Washington. A representative for Ross declined to comment. The White House declined to comment, as well.
"Ross, whose job is to help promote job creation, economic growth and economic security, has been conspicuously absent at recent public events, including Trump's daily corona virus briefings. He has previously been a key public representative for the administration in key matters, such as the administration's trade talks with China.
"Ross is a former banker and private equity investor, who made his financial career in working with distressed companies. He has restructured over $400 billion of assets in industries including airline, apparel, auto parts and banking, according to his official biography. But Ross, who is the oldest member of Trump's Cabinet, could be more vulnerable to the virus, which health experts say may be more serious for elderly people."
I will take Ross at half-speed over any Democrat at full.
ITEM 10
: The New York Times reported, "An inspector general uncovered pervasive problems in F.B.I. wiretap applications, according to a memo released Tuesday detailing a review that grew out of a damning report last year about errors and omissions in applications to target a former Trump campaign adviser as part of the Russia investigation.
"The follow-up audit by the office of the Justice Department's independent watchdog, Michael E. Horowitz, revealed a pattern of sloppiness by the bureau in using powerful tools to eavesdrop on American soil in national-security cases. But it also helps the F.B.I. politically because it undercuts the narrative among President Trump and his supporters that the bureau cut corners to surveil the adviser, Carter Page, as part of a politically motivated conspiracy.
"Mr. Horowitz's investigators reviewed a random sample of 29 applications by the F.B.I. for court permission to wiretap someone as part of a terrorism or espionage investigation under the Foreign Intelligence Surveillance Act, or FISA. They found problems with all 29 of them.
"In 25 of the applications, the review found an average of about 20 problems each. One alone had 65 issues. The other four applications could not be scrutinized at all because the F.B.I. could not locate the so-called Woods file, where it is supposed to catalog supporting documentation for each factual claim in a FISA application."
Repeal FISA and prosecute everyone who told a lie in any of those applications.
Let them feel the wrath of justice.
ITEM 11
:
The Washington Examiner reported
, "Anthony Fauci, the director of the National Institute of Allergy and Infectious Diseases, said the White House coronavirus task force could eventually recommend that everyone wear masks to help stop the spread of the disease.
"Fauci admitted that such a recommendation could be inhibited by the lack of personal protective equipment. For weeks, public health officials cautioned nonmedical professionals from buying masks as hospitals around the United States struggled to find enough protective equipment for healthcare workers."
One reason Korea and Japan were not hit as hard is people wear masks there because of the yellow dust storms from the Gobi desert each March.
Fox News reported
, "More than 235 million people live in the 33 states where governors have declared statewide orders or recommendations to stay home."
Let's hope it ends by April 30th.
ITEM 12
:
The New American reported
, "Border agents at the southwest frontier of the United States caught four illegal-alien sex fiends and a gang member in the last five days, along with a box truck packed with three dozen illegals.
"The arrests are just the latest in the battle that border cops are waging against the reentry of previously deported sex perverts. Barely a week goes by that agents do not apprehend a pervert that immigration authorities kicked out of the country, often more than once.
"The apprehension of the 36 packed into the truck is at least the second in a week.
"The previously deported illegals present a problem if any carry the deadly SARS-CoV-2 virus known as COVID-19. They could unleash the contagion in a federal prison if they are convicted and jailed for felony reentering the country."
Evil never pauses.
ITEM 13
:
KTRK reported
, "28 spring breakers who recently went on a trip to Mexico are self-isolating after testing positive for corona virus, according to the Austin Public Health Department.
"Health officials said a group of about 70 students in their 20s took a chartered plane to Cabo San Lucas, Mexico about a week and a half ago.
"A total of 28 students have tested positive for the virus and dozens more are under a public health investigation. The county said four of the confirmed cases did not present any symptoms."
Maybe they had it before they went but this is another reason why we should guard our borders like hawks. Or better yet, like bald eagles.
ITEM 14
:
RFI reported
, "As more countries ask their human populations to stay at home to limit the spread of corona virus, wild animals have been spotted exploring the empty streets of some of the world's largest urban areas.
"Film footage of a civet cat roaming the deserted streets of Kozhikode in the Indian State of Kerala went viral on social media, while a puma turned up in the center of the Chilean capital Santiago, a city which is under curfew."
The story also said, "In Europe, wild boar have descended from the hills around the Catalan city of Barcelona, while ducks were seen walking quietly near the Comédie Française theater in central Paris. In the Mediterranean, dolphins have reappeared in several ports."
Maybe it is nature's way of saying we overreacted.
Or maybe animals are stupid.
ITEM 15
: Biden meanders. Bernie frightens. Cuomo is a powder keg. Only one man can save his party.
We've seen all too terribly the consequences of those who denied warnings of a pandemic. We can't afford any more consequences of climate denial. All of us, especially young people, have to demand better of our government at every level and vote this fall.

https://t.co/K8Ucu7iVDK

— Barack Obama (@BarackObama) March 31, 2020
Um, er, uh. The 22nd amendment only means no more than two CONSECUTIVE terms. You can sit out a term and come back. Right?
Anyone who disagrees is racist.
ITEM 16
: How to jazz up your teleconferences.
Video conferencing app Zoom, which has seen its popularity skyrocket in the coronavirus pandemic, is in hot water after users complained to the FBI of being startled by porn during meetings

https://t.co/yuUhKWTOQL

— AFP news agency (@AFP) March 31, 2020
Zoom. Indeed.
ITEM 17
:
Reuters reported
, "Macy's Inc will be removed from the benchmark S&P 500 stock index, the S&P Dow Jones Indices said on Tuesday, as corona virus-induced store closures compound the retail sector's struggles with a shift to online shopping."
Ah a little Trumpenfreude.
After Donald Trump entered the presidential race in 2015, Macy's got out its virtue signal.
The New York Times reported, "Macy's, the department store chain, is ending its relationship with Mr. Trump and phasing out his line of suits, shirts and ties after remarks he made about Mexican immigrants. During his presidential announcement earlier this month he called them killers and rapists while discussing the need for tougher border control."
He became president. Macy's became a stock sliding to oblivion.
The Reuters report also said, "Macy's will be replaced in the S&P 500 by air conditioning company Carrier Global Corp."
Under Obama, Carrier decided to move a furnace factory to Mexico. Under President Trump, it kept its American factory open.
Due to the prevalence of stock index funds, this is a plus for Carrier and a bummer for Macy's.