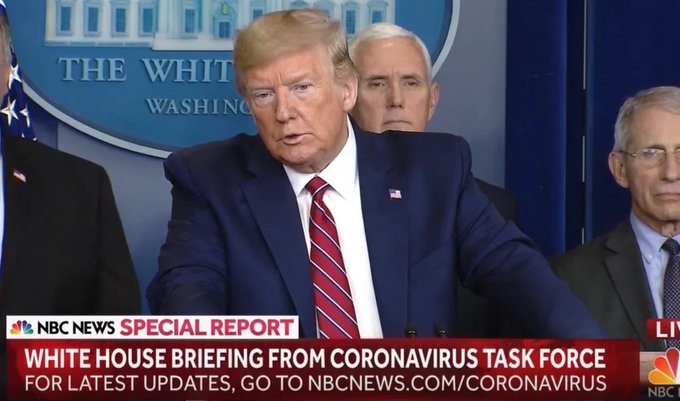 President Donald John Trump has driven his opponents off the deep edge, or rather they drove themselves off as he halted and watched them, while drinking a Diet Coke.
John King on CNN is the latest self-casualty in the left's suicidal attacks on the president. On Friday, King called an answer at the daily press briefing bullshit.
King said live on the air
, "This is a Trump trademark, this is a Trump trademark. It was striking that this came, this, forgive me, bullshit attack on fake news came just moments after the Secretary of State said the American people needed to be careful about where they get their information, and go to sources they can trust."
Speaking of BS,
CNN has taken to calling it unsubstantiated hope
.
These attacks are desperation from the fact that President Donald John Trump is being quite presidential in the face of a crazy panic over the death of 250 Americans killed by a new strain of flu.
Benjamin Wofford wrote in Washingtonian
, "It's official: Democrats have completely blown the messaging around corona virus.
"I say official, because a new ABC poll shows that 55% of Americans approve of the way President Trump is handling corona virus, while 42% disapprove. Those numbers are a reversal from last week, when 54% said they disapproved. Trump's overall approval has been inching up this week. Perhaps now we know why.
"Several smart people have wondered aloud: How could this be? How can it be, even when Trump's own agencies were sounding the alarm that a pandemic would lead to lethal shortages? Even when the White House delayed getting corona virus test kits past when they could have? Even when they stopped hospitals from developing their own tests, when they could have? Even when Trump fired the pandemics team at the White House? Even when he was ignoring his former advisers' desperate pleas? Even when he lied about the pandemic, over and over and over and over and over and over and over? Even when, as late as this month, he claimed that salvation was just around the corner, a falsehood that could kill Americans? Even when states agree we still don't have clear guidance from Washington?
"Why would so many Americans overlook this? Could it really be true that Trump's daily briefings, in which he insists (in between nonsensical rants) that he has everything under control, are making a lasting impact?"
Maybe things are under control. Compare the death toll in Italy (population 60 million) to ours (population 328 million). It ain't dumb luck. The president restricted travel with Red China on January 31, and the media reaction was to immediately label it xenophobic and racist. Reporters found credentialed blowhards to undercut this action, even though they had none of the information he had at the time.
President Donald John Trump was negotiating a historic trade deal with Red China. The last thing he wanted to do was cut off travel and tick off Chairman Xi, and yet he did.
Once again, Democrats and their marionettes in the media make the mistake of viewing President Donald John Trump as the caricature in their imaginations rather than the person he is. He's a flawed man, sure, we all are, but he is not a doddering fool or an oafish old troll. He certainly is their better because he has escaped every one of their traps: Russian collusion, creepy porn lawyer, impeachment, and dozens of other lesser attempts in between.
The Billy Bush Tape might have brought a weaker man down. That it didn't should have served notice that Democrats were dealing with someone well above their weight class.
The public looks at him with some awe now because he survives all these sling shots and arrows fired at him. Years of lies by Trump's opponents give him credibility by default because so far, he's been right and they have been wrong.
Wofford complains that Democrats have not used COVID-19 to bring down President Donald John Trump.
It is not that they haven't; it is that they can't.