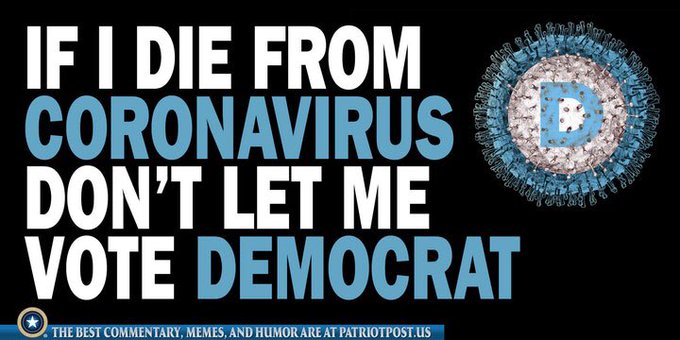 Beth Cameron, an expert in global health security and biodefense, complained in the Washington Post, "I ran the White House pandemic office. Trump closed it."
Given President Donald John Trump's swift action to restrict travel to Red China and other infested places, the CDC's swift action to develop tests, and the reaction at the state and local level, what exactly would an Office of Pandemics do?
I mean besides get in the way. Created in 2015, the office never handled a pandemic.
A pandemic is an emergency situation that falls on the shoulders of one man: the president. Obama appointed Biden to head in reaction in the H1N1 pandemic in 2009.
President Donald John Trump appointed Vice President Mike Pence to head reaction to this one.
This is how it should work. We should hold someone accountable. Presidents who do not handle an emergency well wind up ex-presidents. Jimmy Carter is Exhibit A. Presidents who get the job done in are re-elected. George Walker Bush is Exhibit B.
But Cameron, now in private employment, railed in the Washington Post against closing her unnecessary office.
She wrote, "When President Trump took office in 2017, the White House's National Security Council Directorate for Global Health Security and Biodefense survived the transition intact. Its mission was the same as when I was asked to lead the office, established after the Ebola epidemic of 2014: to do everything possible within the vast powers and resources of the U.S. government to prepare for the next disease outbreak and prevent it from becoming an epidemic or pandemic.
"One year later, I was mystified when the White House dissolved the office, leaving the country less prepared for pandemics like covid-19."
But the nation was well-prepared for the corona virus, unlike the nations of the European Union. The United States has suffered 50 deaths.
Italy has suffered 1,266 deaths, Spain 133, and France 79. Combined they do not have even half the population America has.
Despite hysterical press reports, the USA is doing better than anyone. We have 6.9 cases per million people.
Italy has 292.1, Norway has 183.7, Denmark has 138.8, Switzerland has 131.6, Spain has 111.9, and Sweden has 80.6, all well above Red China's 56.2.
Truman established the CDC in 1946. It has the experience and the credibility needed to handle any health crisis. It has a
Center for Preparedness and Response
.
I submit that a competing bureaucracy in the White House would have interfered with our efforts to limit and battle the corona virus.