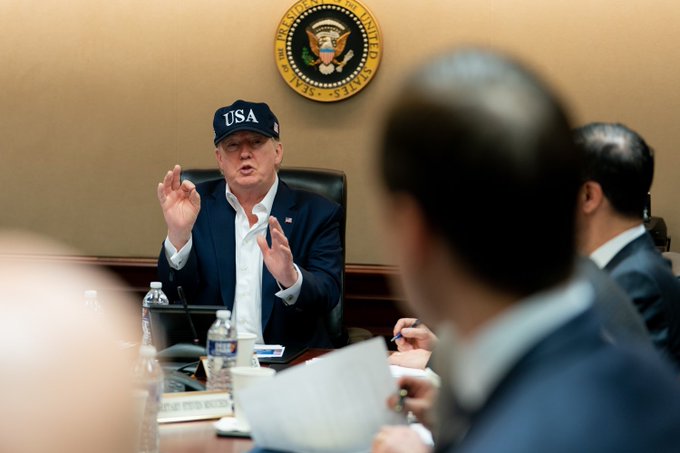 The political press was ecstatic about corona virus. Their argument was this ended rallies, which cut off the oxygen to President Donald John Trump's campaign, while allowing Biden to go into hiding, which avoided him making more gaffes and acting like a poor lost dementia patient.
(Insert Judge Judy eyeroll here.)
The American press once again wrote off President Donald John Trump. They learned nothing from the Billy Bush tape, the Russian Collusion hoax, the impeachment, and the sundry other walls-are-closing-in scandals their Democrat sources all assured us would do him in.
Is there a dumber class of people in America than the Washington press corps?
But corona virus would do what the creepy porn lawyer and the rest failed to do. A pandemic would bring the Orange Man down.
Bill Clinton's spokesman Joe Lockhart wrote a piece in CNN
, "Trump is failing the leadership test on corona virus," and the baby ducks in the press followed with similar pieces. The Washington Post called its hit piece, "How Trump Lost Control of Corona virus."
Lockhart called for President Donald John Trump to lower his profile and leave the daily briefings to doctors.
On Friday, President Donald John Trump surrounded by titans of industry and the medical experts. There was no doubt as to who was in charge. The stock market soared. People felt confident that while things will get wore, there is no doubt we will survive.
NPR reported
, "President Trump on Friday declared that the coronavirus pandemic is a national emergency, a designation that frees up as much as $50 billion in federal assistance to state and local governments overwhelmed by the spread of the virus, and makes it easier to surge medical resources to areas that need them most.
"After weeks of criticism over a shortage of diagnostic tests for the virus, Trump and his officials worked to assure anxious Americans that it would soon be easy for people showing symptoms to get tested, describing a surge in test production, and a website that would direct people to drive-through test sites set up in Walmart parking lots.
"Markets rose as Trump spoke in the White House Rose Garden for more than an hour at the end of a week marked by school closures, sports event cancellations, directives to work from home, and cleared-out store shelves as people rush to stockpile basic goods."
The public did not need press reports. They saw the press conference in its entirety. President Trump got to speak to Americans without a filter -- as a president, not a candidate. And unlike a rally, the press could not ignore the event. The news channels gave him more than an hour of uninterrupted airtime.
Leave it to Donald Trump to turn lemons into lemon meringue pie.
Meanwhile, Joe Biden struggles for relevance.
CNN reported
, "Former Vice President Joe Biden's first virtual town hall was a technical calamity as his campaign confronts the same challenges of unexpected remote work that millions of Americans are facing as a result of the corona virus pandemic.
"His campaign's plan was straightforward: Biden had canceled a Chicago rally due to the corona virus outbreak, so he would invite Illinois residents to an online event Friday instead.
"His campaign wanted those who attended to be able to ask him questions, so it added an extra layer of complication to the tried-and-true method of broadcasting onto Facebook Live. Those who signed up to participate could dial in on their phones or stream a video on Zoom, a business video conferencing app. Then the Zoom feed would also be broadcast on Facebook Live to the entire social media world.
"None of it went as planned."
While President Trump took questions for more than an hour from reporters, Biden lasted less than 5 minutes before he abruptly walked away from answering a question from "Maureen."
This is the fellow who is going to save us all from the Zombie Death plague?
President Donald John Trump is large and in charge. Biden's hidin'.
They say events move presidential elections.
Yup.