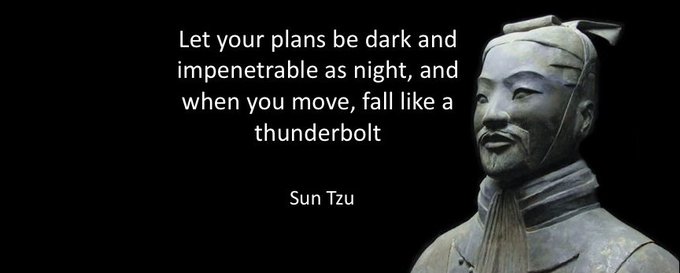 If only Jon McTague of The Atlantic had done a little reading up on President Donald John Trump, he would not look as big a fool. The Art of the Deal, the Art of the Comeback, and the Art of War are all available on Kindle.
But he dismissed President Donald John Trump's success as Trumportunities, "the idea that, whether by accident or design, Trump creates chances to solve long-running international problems that a conventional leader would not."
Solving problems experts cannot, McTague said, is blind luck.
Sun Tzu rolls in laughter.
A glimmer of hope shined through in McTague's piece, as he wrote
, "The president's erratic behavior might be doing something else as well, something even more fundamental. Through a combination of instinct, temperament, and capriciousness, Trump may be reminding the world of the reality of international relations: Raw military and economic power still matter more than anything else — so long as those who hold them are prepared to use them. The air strike that killed Qassem Soleimani was a reminder that the U.S. remains the one indispensable global superpower. Iran, or indeed anyone else, simply cannot respond in kind."
But McTague lapsed into the unwarranted air of journalistic superiority that roils those actually familiar with the subject at hand. He wrote, "Although Trump's foreign-policy strategy (if one even accepts that there is such a thing)" — McTague just had to show his foolishness — "has many limits, his unpredictability and, most crucially, his willingness to escalate a crisis using the United States' military and economic strength have turned the tables on Iran in a way few thought possible."
President Donald John Trump's unpredictability is a tactic he deploys time and again. It has made him a billionaire and president.
I am glad to see McTague acknowledge that President Donald John Trump uses the soft power of economic sanctions, as well as tariffs, to affect foreign policy. He gave Mexico a choice between tariffs and defending our border.
McTague ended his column, "The president, accidentally or otherwise, has identified real problems, including Iran's ability to act with relative impunity and China's disrespect for the rules of global trade. With regard to Iran, Trump appears to have stumbled upon an effective mechanism to advance U.S. interests. But he has yet to show himself to be any better than his forerunners at solving the long-term problems he has identified — and may yet make them worse."
Losers call winners lucky.
But people also flock to winners,
as Kathy Gilsinan also of The Atlantic discovered
. She interviewed Rebeccah Heinrichs, who signed a Never Trump petition 4 years ago. Gilsinan wrote, "Heinrichs is an exception in the old GOP national-security world — which for the most part has stuck to its Never Trump positions — but she's the norm in the party as a whole, which gives Trump a 94% approval rating."
Ah, a neocon sees the light.
Heinrichs said, "His personal flaws are so transparent that they can distract truly well-meaning people or turn people off altogether. I have long argued for American primacy and President Trump is, even if sometimes clumsily, defending it and fighting for it. I'm not going to yell at the clouds over his tweets or obsess over this or that expression of bad manners."
Gilsinan wrote, "Far from being inhibited by the foreign-policy establishment that shunned him, Trump has destroyed it. The list of names on the letters now reads like a memorial wall for the party's old power brokers. Trump has barred them almost entirely from jobs in his administration, and built a new pro-Trump establishment on the wreckage of the old GOP elite."
He took out the Democrat elitists as well. They are not elite, which would imply that they are competent. They are connected, and protected from being held accountable for the mistakes they make. Just like journalists.
After 4 years, some Never Trumpers get it. Journalists still don't because if they did, they would not chalk up his successes to luck. Instead, they would credit hard work and adroit analysis and superior strategy.