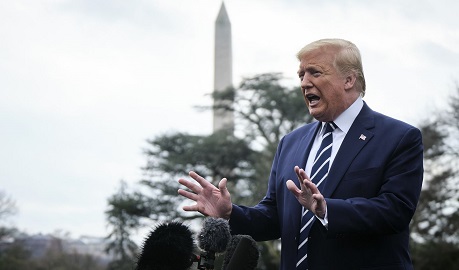 Judd Gregg -- a former Republican senator -- declared, "The corona virus is here, in America."
And he is singing the old Ren and Stimpy song, "Happy Happy Joy Joy," because he believes this is the big one that brings the Orange Man down.
For 4 years, Gregg has openly opposed President Donald John Trump in a manner that transcends political disagreement. In fact, there should be no disagreement because President Donald John Trump has delivered all the things Republicans have said they wanted: conservative judges, tax cuts, and the elimination of unnecessary regulations.
Gregg just hates President Donald John Trump. The political is personal to liberals, and their Never Trump allies.
In a column in The Hill, Gregg said it will bring him down because there is nothing President Donald John Trump can do about it. Bwa ha ha ha.
Gregg wrote
, "There really is not a great deal that can be done now. Once Italy became a contagion center for Europe, it was inevitable that the virus would have numerous carriers who would end up scattered across Europe and the United States."
That the virus already arrived in America does not matter. Gregg hopes people die and brings down the economy. That is sick.
He wrote, "The president and his people have mismanaged this issue. The electorate will take note. Two key side effects of the corona virus, beyond the physical, are the general angst it is creating in the nation's population and, relatedly, the effect on the economy.
"An international economic recession seems likely to follow the shutdown of the second largest economy in the world, China, and the dramatic disruption that is occurring in a European Union that had already been showing signs of slowdown.
"Recession is definitely in the wind."
The Russian Collusion hoax failed to bring the Orange Man down. The Creepy Porn Lawyer failed to bring the Orange Man down. The 2018 stock market correction failed to bring the Orange Man down. The unconstitutional impeachment failed to bring the Orange Man down.
This, too, will fail because of the contempt Never Trump and its allies in the Democrat Party have not just for President Donald John Trump but also his supporters. We are deplorable (Hillary said). We are despicable (Corey Booker said). We are the dregs of society (Biden said).
And how did Gregg put it? He ended his column, "It looks like it is going to be a perfect, political storm, with potentially devastating consequences for the president and his cult of chanters now known as the Republican Party."
Cult.
Cult 45.
Four more years.