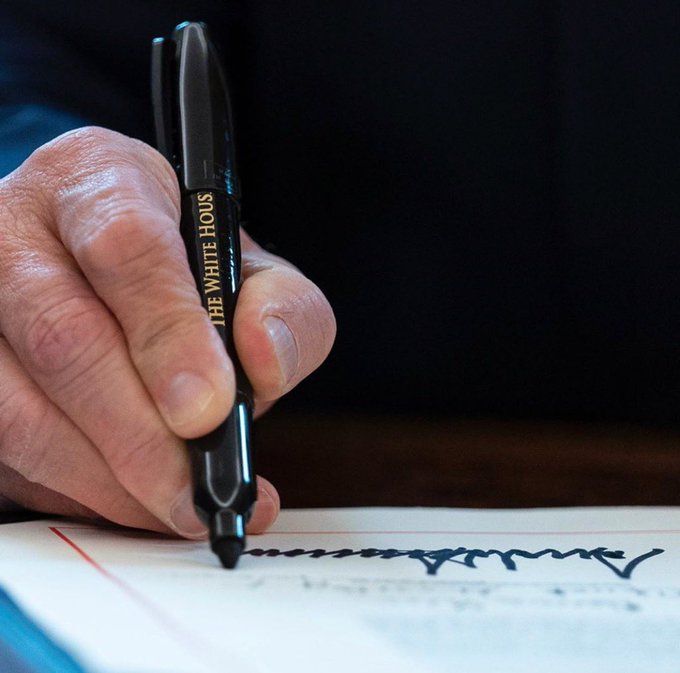 The Wall Street Journal had the Friday Nightmare for liberals. President Donald John Trump's signature may appear on those $1,200 quarantine checks.
Well, it is his signature legislation this year.
We are marshalling the full power of government and society to achieve victory over the virus. Together, we will endure, we will prevail, and we will WIN!

#CARESAct pic.twitter.com/zb2PJTldGQ

— Donald J. Trump (@realDonaldTrump) March 27, 2020
The Sun reported
, "According to an administration official, Trump told some White House aides he wants his signature to appear on the direct payment checks going out to individual citizens, the Wall Street Journal reports.
"Federal checks are normally signed by a civil servant disbursing officer for the payment center, according to Don Hammond, a former senior Treasury Department official."
The story has an air of unauthenticity about it. Direct deposits are a 1980s innovation that caught up with the feds a decade ago.
Also, this is based on what some unnamed person said he heard from someone that the president wants his signature on the checks.
Breitbart News had a story based on people with actual names attached to their claims, "Coronavirus: Illegal Aliens Demand $1.2K Each in Taxpayer-Funded Checks."
The story said
, "Open borders organizations like the George Soros-funded United We Dream, the National Immigrant Justice Center, and the National Immigration Law Center — all of which represent the roughly 11 to 22 million illegal aliens living in the United States — are pleading with the federal government to cut federal checks to illegal aliens who have Individual Tax Identification Numbers.
"Currently, Trump's corona virus relief package includes $1,200 federal checks for American citizens with Social Security Numbers or those considered resident aliens, like permanent lawful residents in the U.S. on green cards.
"Illegal aliens, therefore, are excluded from receiving the federal checks, a provision that has outraged the open borders lobby."
Maybe we should send them checks, and then arrest and deport them when they cash them.
President Donald John Trump would be only too happy to sign those checks.