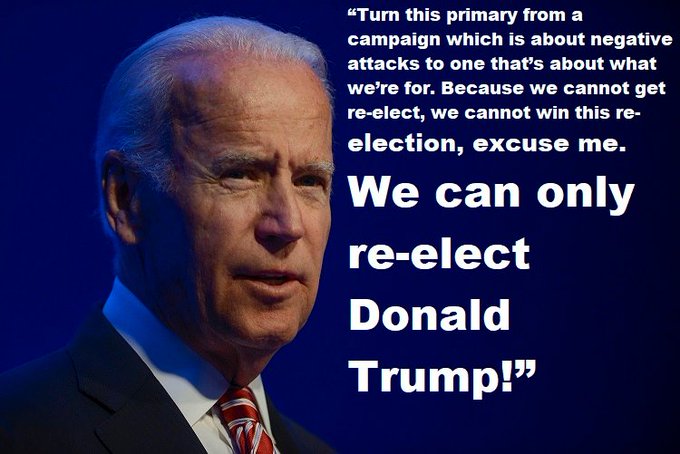 The press calls it a gaffe when Joe Biden tells the truth.
ITEM 1
:
Abdu Sharkawy posted on Facebook
, "I'm a doctor and an Infectious Diseases Specialist. I've been at this for more than 20 years seeing sick patients on a daily basis. I have worked in inner city hospitals and in the poorest slums of Africa. HIV-AIDS, Hepatitis,TB, SARS, Measles, Shingles, Whooping cough, Diphtheria...there is little I haven't been exposed to in my profession. And with notable exception of SARS, very little has left me feeling vulnerable, overwhelmed or downright scared.
"I am not scared of Covid-19. I am concerned about the implications of a novel infectious agent that has spread the world over and continues to find new footholds in different soil. I am rightly concerned for the welfare of those who are elderly, in frail health or disenfranchised who stand to suffer mostly, and disproportionately, at the hands of this new scourge. But I am not scared of Covid-19.
"What I am scared about is the loss of reason and wave of fear that has induced the masses of society into a spellbinding spiral of panic, stockpiling obscene quantities of anything that could fill a bomb shelter adequately in a post-apocalyptic world. I am scared of the N95 masks that are stolen from hospitals and urgent care clinics where they are actually needed for front line healthcare providers, and instead are being donned in airports, malls, and coffee lounges, perpetuating even more fear and suspicion of others. I am scared that our hospitals will be overwhelmed with anyone who thinks they probably don't have it but may as well get checked out no matter what because you just never know... and those with heart failure, emphysema, pneumonia and strokes will pay the price for overfilled ER waiting rooms with only so many doctors and nurses to assess."
He ended his post, "Facts not fear. Clean hands. Open hearts. Our children will thank us for it."
This is not the plague. But it is serious. It will be treated and there will be a vaccine.
Alas, there is no cure for panic, although Foxy Loxy does eat Chicken Little at the end of that fable. I refuse to be a Happy Meal for a fox.
ITEM 2
:
Nick Corbishley reported
, "Tourism is 10% of GDP in France, 13% in Italy, 15% in Spain. And Now it's in Free Fall."
His story said, "This is all happening just weeks before high season is about to get under way. But with millions and millions of tourists voting with their feet by staying at home, one of Europe's most important and (until four weeks ago) fastest growing industries is taking a hammering.
"The world right now is full of places that should be teeming with people but are not, including many iconic tourist landmarks and attractions. In Italy, home to Europe's third biggest tourism industry, large parts of the country are on lock down after being hit by the biggest outbreak of the COVID-19 outside of Asia. Many of the most famous tourist attractions have been closed and big international events, including the Venice Carnival, have been cancelled."
I am worried about the impact.
On Las Vegas. I hope people still go to the casinos.
Maybe tourists will come to America to avoid Europe. (Sorry Red China and Iran. No visas for you.)
ITEM 3
:
United Press International reported
, "Prime Minister Giuseppe Conte on Sunday signed a decree that places several million residents of northern Italy into lockdown as the death toll from the corona virus reached 233 in the nation, the most outside mainland China where the outbreak began two months ago.
Worldwide, a total of 3,646 people have died and there are 107,353 cases, according to tracking by Johns Hopkins. A total of 60,637 have recovered."
3,646 deaths in a world of 8,000,000,000 people.
16 times as many people have recovered as have died from this.
The unfounded panic over this virus has caused trillions of dollars in the loss of equity in the stock markets. The panic by central banks slashed interest rate to ridiculously low levels, devastating the bond market. Both are temporary, paper losses but they are annoying.
For an educated people, we sure are not rational.
Take precautions, sure. Stay home if you are sick. (The phrase self quarantine is cute. We used to call it calling in sick.) But above all, Keep Calm and Carry On.
We have a perfectly coordinated and fine tuned plan at the White House for our attack on CoronaVirus. We moved VERY early to close borders to certain areas, which was a Godsend. V.P. is doing a great job. The Fake News Media is doing everything possible to make us look bad. Sad!

— Donald J. Trump (@realDonaldTrump) March 8, 2020
Oh and soap and water works.
1/25 Part 1 - Why does soap work so well on the SARS-CoV-2, the coronavirus and indeed most viruses? Because it is a self-assembled nanoparticle in which the weakest link is the lipid (fatty) bilayer. A two part thread about soap, viruses and supramolecular chemistry

#COVID19 pic.twitter.com/OCwqPjO5Ht

— Palli Thordarson (@PalliThordarson) March 8, 2020
The whole thread is here
.
ITEM 4
:
CNBC reported
, "Experts are calling dramatically lower crude prices as major OPEC and non-OPEC producers prepare for an all-out price war, in a sudden U-turn from previous attempts to support the oil market as the new corona virus hammers global demand.
"'$20 oil in 2020 is coming,' Ali Khedery, formerly Exxon's senior Middle East advisor and now CEO of U.S.-based strategy firm Dragoman Ventures, wrote Sunday on Twitter. 'Huge geopolitical implications. Timely stimulus for net consumers. Catastrophic for failed/failing petro-kleptocracies Iraq, Iran, etc - may prove existential 1-2 punch when paired with COVID19.'
"The comment came as oil prices are down 30% for the year and a day after Saudi Arabia announced massive discounts to its official selling prices for April. Plunging price forecasts are also coming amid reports of a possible increase in production by the OPEC kingpin from its current 9.7 million barrels per day to more than 10 million barrels per day."
The target seems to be American fracking. Prices that low make fracking economically unfeasible.
ITEM 5
:
The Washington Examiner reported
, "President Trump wants NATO to take the next step toward partnering with Brazil as part of an effort to fortify the Western Hemisphere against Russian and Chinese encroachment.
"'The next level up is association,' a senior administration official told reporters as Trump prepared to host Brazilian President Jair Bolsonaro for dinner at Mar-a-Lago. 'The president had even mentioned about having it become a full-fledged NATO member. That's something that would really be historic ... that's nothing I would discard.'
"Any move to enhance Brazil's standing with the trans-Atlantic alliance would have to overcome Bolsonaro's running feud with French President Emmanuel Macron, which is anchored in a dispute over forest fires in the Amazon but degenerated into Bolsonaro mocking the French leader's wife. Yet Brazil's election of the anti-communist leader in 2018 elevated an important ally for U.S. efforts to address the Venezuela crisis, with potentially broader ramifications for Washington's rivalry with Russia and China."
I am all for junking NATO, but the president just apparently (the source was not named) has given it a reason to live: a world united against Red China.
ITEM 6
:
Matt Margolis reported
, "Joe Biden has been running his entire campaign on the name of Barack Obama. He'll name-drop him any chance he gets. But, bizarrely, as much as Biden invokes Obama, he's still occasionally forgotten his name on the campaign trail.
"The Republican National Committee's Rapid Response Director Steve Guest has compiled several examples of this happening."
Political vultures are circling, waiting for the moment when he calls him Osama.
ITEM 7
: Via Gateway Pundit,
Rudy Giuliani said
, "I think that Bernie was so frightening that they picked the man with obvious signs of dementia. If you consider what he's displaying gets worse. What's he going to be like three years from now? If he doesn't know what state he's in and can't figure out who his wife is? And if he thinks that 150 million people, which is half the population in America got killed then what's he going to be like two years from now when this gets worse?
"We're dealing with who should be the President of the United States. And we shouldn't pussyfoot around this this. The man has something seriously wrong with him."
It's not that Democrats disagree with Bernie. They support his calls for all this free stuff and taxing success to pay for it. What bothers Democrats is Bernie is so blatant about his support of communism.
ITEM 8
:
The Nation reported
, "'This Was a Grift': Bloomberg Staffers Explain Campaign's Demise."
The story said, "Multiple people described elaborate schemes to undermine the campaign and help their favored candidates. As one staffer explained, 'I would actively canvass for Bernie when I was supposed to be canvassing for Mike. I know of at least one team of 'volunteers' that was entirely fabricated by the organizers who had to hit their goals. It was easy enough to fudge the data to make it look like real people put in real volunteer work, when in reality Mike was getting nothing out of it.
"Another staffer said me, 'In San Diego, the regional organizers also exploited the campaign's resources, staff, and infrastructure for local races they either were running in or consulting on.'
"While the campaign had ambitious quotas for things like phone calls or doors, some staffers simply faked their numbers. 'Many campaign staffers — including myself — had to juke the stats in order to keep up with these impossible goals,' one explained."
Welcome to the Democrat Party. You know, those people who are so moralistic and high road.
Lincoln had his Team of Rivals.
Biden will have his Team of Grifters.
ITEM 9
:
The Federalist reported
, "New documents obtained by the New York Times reveal how the Soviet Union viewed then Burlington, Vermont Mayor Bernie Sanders as a socialist they could exploit for propaganda.
"In December of 1987, Mayor Sanders wrote to the government of Yaroslavl, a Soviet city, stating he wanted the U.S. and USSR to 'live together as friends.' He initiated a sister-city program between Yaroslavl and Burlington.
"After his wedding, Sanders honeymooned with his wife Jane Sanders in Yaroslavl to initiate the program. He told Burlington reporters, 'people [in Yaroslavl] seemed reasonably happy and content. I didn't notice much deprivation.'
"In a letter seeking approval from Mikhail Gorbachev to travel to the United States, Yaroslalv officials made the case for using Sanders as a means of Soviet propaganda."
So he got the Russians to pay for his honeymoon.
And Bloomberg paid for at least one staffer.
Bernie is the King of Grifts.
ITEM 10
:
The Associated Press reported
, "First came the prayer ceremony at the conclusion of the Sabbath with their families, then, the celebration on the basketball court and the overflowing joy of March Madness victory.
"Yeshiva University beat Penn State Harrisburg 102-83 on Saturday to reach the Sweet 16 of the NCAA Division III Tournament for the first time in the history of the Jewish Orthodox institution.
"The Maccabees, named after the ancient Jewish rebel warriors, fought against all odds. They won their 29th straight game in a record-breaking season that began amid concerns over a global rise in anti-Semitism and has now been engulfed by the new corona virus.
"The game was played at an empty gym at Johns Hopkins University because of concerns over the virus. The legion of faithful Macs fans who chant out their names from the stands and often follow them on the road was replaced by the squeaking of sneakers and the unwavering support of their bench players, some wearing Jewish skullcaps, who chanted 'De-fense! De-fense!'"
Mazel tov.
ITEM 11
:
Campus Reform reported
, "An associate professor and researcher at the University of Tennessee at Knoxville has been arrested for allegedly concealing ties to a Chinese university while receiving federal funding, according to a recent Justice Department press release.
"Amning Hu was charged with three counts of wire fraud and three counts of making false statements following a grand jury indictment for concealing his affiliation with Beijing University of Technology in China in order to receive a research grant from NASA.
"According to the Justice Department, NASA is prohibited from using federal dollars to collaborate with China or Chinese universities. Hu allegedly made 'false representations and omissions to UTK about his affiliation with BJUT caused UTK to falsely certify to NASA that UTK was in compliance with federal law.'"
Remember, it is xenophobic and sinophobic to suspect that a professor sent to the USA by a totalitarian government might be a spy.
ITEM 12
:
The New York Post reported
, "Elizabeth Warren rejected by Native American voters on Super Tuesday."
Simon Moya-Smith, a 36-year-old Native American activist, told the Post, "I think that her claim and digging in her heels and the [DNA test] did hurt her. That's why I voted for Bernie on Super Tuesday, and I didn't vote for her."
It is not that she flunked the DNA test, it is that she took one. Indians oppose DNA tests.
ITEM 13
: It ain't easy being an Alphabet Person.
— Aaron 🇺🇸🇭🇰🇮🇱 (@TWilder86) March 7, 2020
Tossed out is better than tossed off a roof.
ITEM 14
:
The New York reported
, "Residents of a small village in Italy have found their cups runneth over — with free red wine.
"Villagers outside Modena enjoyed a brief gustatory surprise when their home sinks suddenly became wine taps, flowing with a fizzy pink-hued wine called Lambrusco, Italian newspaper Gazette di Modena reported.
"Home videos posted online show villagers attempting to wash dishes or quench their thirst, only to find the red wine-hued liquid pouring from their pipes.
"The Cellar Settecani Castelvetro winery, maker of Lambrusco Grasparossa di Castelvetro, has since come forward and apologized for the (un)sobering setback, caused by a leak in one of their wine silos, which began flowing into the local water main."
This is the second time in history that water has turned to wine.
ITEM 15
:
Fox News reported
, "A family in Australia is sitting on a mountain of toilet paper after making a mistake while ordering online. Fortunately for them, this error may have occurred at a very fortunate time.
"Haidee Janetzki meant to order 48 rolls of toilet paper, but instead ordered 48 boxes, Reuters reports. Now, she and her family are the proud owners of 2,304 rolls of toilet paper, which they have stacked up in their garage."
They got rolled.
ITEM 16
:
United Press International reported
, "President Donald Trump and Vice President Mike Pence turned down an invitation from House Speaker Nancy Pelosi to the annual St. Patrick's Day lunch on Capitol Hill.
"White House deputy press secretary Judd Deere cited Pelosi as the reason the president and vice president would skip the traditional bipartisan celebration of the holiday set to take place on Thursday, Politico reported."
Well, there's another article of impeachment for the demented Democrats: obstruction of drinking.
ITEM 17
:
The Daily Caller reported
, "House Republicans and 42 Democrats joined forces Thursday to pass an amendment to the Rights for Transportation Security Officers Act that would keep people convicted of sexual assault, terrorism and other violent crimes from working for the Transportation Security Agency (TSA).
"But 174 House Democrats — including House Majority Leader Steny Hoyer — did not support the legislation."
That is 75% of the Democrats in the House.
Democrats want terrorists to work for TSA.
Biden is the perfect representative of this intellectually atrophied party.