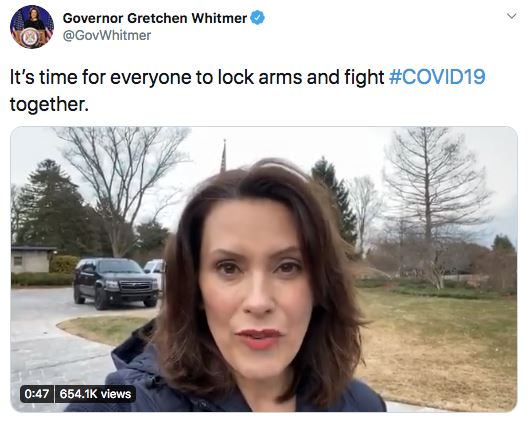 Donald John Trump is our president, not Gretchen (Typhoid Mary) Whitmer.
ITEM 1
:
Radio Free Asia reported
, "Estimates Show Wuhan Death Toll Far Higher Than Official Figure."
The story said, "As authorities lifted a two-month corona virus lockdown in the central Chinese city of Wuhan, residents said they were growing increasingly skeptical that the figure of some 2,500 deaths in the city to date was accurate."
The story also said, "Funeral homes have informed families that they will try to complete cremations before the traditional grave-tending festival of Qing Ming on April 5, which would indicate a 12-day process beginning on March 23.
"Such an estimate would mean that 42,000 urns would be given out during that time.
"Another popular estimate is based on the cremation capacity of the funeral homes, which run a total of 84 furnaces with a capacity over 24 hours of 1,560 urns city-wide, assuming that one cremation takes one hour.
"This calculation results in an estimated 46,800 deaths."
But hey, keep believing Chairman Xi is doing a better job than President Trump.
ITEM 2
: Lourcey Sams is an independent oil and gas operator in Midland, Texas.
He wrote
, "The Cheapest Way For Trump To Save U.S. Oil."
He said, "The President of the United States has the power, at his sole discretion without any other authority, to place a fee on imported oil or products. It becomes variable when a base price (floor price) is set and a fee is paid on any imports where the price on imports is below the base price. If the base price for oil was set at $50.00 per barrel and the import price is $30.00 per barrel, then an import fee of $20.00 per barrel would be paid to the United States Treasury. Likewise, if the import price (world price) is $50.00 a barrel, then no fee is paid. Thus, the fee is variable depending on the price paid for an imported barrel."
Another lever Congress gave presidents believing only Democrat presidents would pull it.
ITEM 3
: How bad is it?
Today I drove by a gas station selling gas for $1.50 per gallon and no one was there pumping gas. I don't like this. I don't like this at all.

— Ken Gardner (@KenGardner11) March 29, 2020
COVID-19, the Saudis, and the Russians are killing our oil industry.
ITEM 4
:
The Wall Street Journal reported
, "Retired Venezuelan Gen. Cliver Alcalá turned himself in to the U.S. counter-narcotics authorities Friday, a day after U.S. prosecutors indicted him and other Venezuelan officials, including President Nicolás Maduro, on drug-trafficking charges, according to four people familiar with the matter."
"Mr. Alcalá, 58, waived extradition and surrendered to Colombian authorities."
On March 3, BBC reported, "The Spanish government has approved an extradition request from the US for Venezuela's former intelligence chief General Hugo Carvajal.
"The US accuses him of drug-trafficking offences.
"Mr Carvajal turned against the government of President Nicolás Maduro in February 2019 and backed opposition leader Juan Guaidó as Venezuela's president.
"He fled Venezuela on a boat and was arrested in Madrid in April 2019."
Will Maduro be Noriega-ed?
ITEM 5
:
The Washington Examiner reported
, "The federal government has constructed more than 40 miles of wall along the southern border with Mexico since the outbreak of the corona virus in the United States.
"More than half of the additional wall and fencing have been constructed since early February, the Washington Times reported.
"The first confirmed case of the COVID-19 virus was reported on Jan. 20."
This protects the Mexicans from us as well.
ITEM 6
:
The Washington Free Beacon reported
, "The John F. Kennedy Center for the Performing Arts informed members of the National Symphony Orchestra that they would no longer be paid just hours after President Trump signed a $25 million taxpayer bailout for the cultural center, according to an email obtained by the Washington Free Beacon.
"Nearly 100 musicians will no longer receive paychecks after April 3, according to an email from the orchestra's COVID-19 Advisory Committee."
The Kennedy Center is a Democrat Party entity.
De-fund it.
The federal government ain't bailing out the Clay Center in Charleston, West Virginia, is it?
President Trump should withhold the money because of those layoffs.
ITEM 7
: Pew Research asked what do we fear most.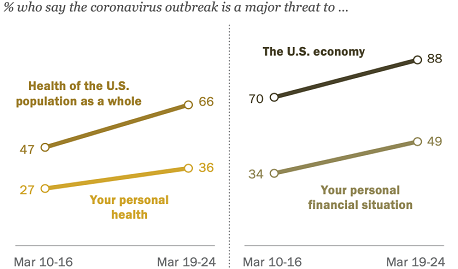 It's the economy, stupid
.
ITEM 8
:
MSN reported
, "The New York Times defended its White House correspondent Maggie Haberman Saturday, saying that her work as a journalist has 'stood the test of time' after President Trump accused her of being a 'third rate reporter.'"
The full quote was, "Maggie Haberman is a trusted journalist whose reporting has stood the test of time.
"As President Trump's campaign said today, Maggie is 'one of the most powerful and respected political reporters in the country.'"
Fact check: FALSE. Her work does not stand the test of 5 minutes. She was among those who shared a Pulitzer for coverage of the Russian Collusion story -- which turned out to be a hoax.
Trump blasted her for her tweet, "'I want them to be appreciative,' the president says of governors who are criticizing the federal response."
The full quote was, "I want them to be appreciative. We've done a great job. And I'm not talking about me. I'm talking about Mike Pence, the task force, I'm talking about FEMA, the Army Corps of Engineers."
The president insulted third rate reporters by including Haberman. She is a liar.
ITEM 9
: The Washington Examiner reported on the ABC-Washington Post poll.
The Examiner reported
, "In recent weeks, Biden has framed his campaign pitch against Trump simply, arguing that he would be better suited than the current Oval Office occupant to deal with a national crisis such as the pandemic and/or a recession that follows. But this poll suggests voters aren't buying it.
"Only 43% of voters say they would trust Biden more to handle the corona virus, while 47% say they would trust Trump more to manage the crisis. And on the economic front, a whopping 52% of registered voters say they'd prefer Trump to manage the economy, with just 42% thinking Biden would do a better job on that front."
Once again, Democrats misjudged President Trump.
ITEM 10
: America.
Crying at Winn Dixie. The woman in jeans stepped up and paid for the groceries of the young man in front of her whose card was declined. He was on the phone frantically trying to figure out how to get $$ to pay. "We all have times like this," she said. People can be amazing ❤️

pic.twitter.com/luZjaSvJI1

— Annie Blanks (@AnniePNJ) March 28, 2020
Sometimes the 21st century is OK.
ITEM 11
:
The New York Post reported
, "Bob Dylan releases 17-minute song about John F. Kennedy assassination."
17 minutes?
He ain't Iron Butterfly.
There is only one 17-minute song worth hearing: "Inna Gadda Da Vida," baby.
ITEM 12
:
Fox News reported
, "President Trump on Friday signed an executive order authorizing the Pentagon to bring back former troops, including members of the National Guard and Ready Reserve members, to active duty as part of the ongoing response to the corona virus crisis.
"'Today the President signed an Executive Order authorizing Secretary Esper to order units and individual members in the National Guard and Reserves and certain Individual Ready Reserve members, to active duty to augment forces for the effective response to the corona virus outbreak,' Pentagon spokesman Jonathan Hoffman said in a statement.
"The department said that, in general, the members called up will be those in headquarters units and those with high demand medical capabilities, who would not adversely affect their local communities by being called up. The order allows them to be called up for up to two years and up to a million can be called up."
Paging Hawkeye Pierce and Max Klinger.
They did it before. They will do it again.
ITEM 13
:
Breitbart News reported
, "CNN analyst Joe Lockhart attacked Dr. Deborah Birx as a Trump Kool-Aid drinker after she tamped down a number of corona virus alarmist theories. This included a sexist attack on her as a Stepford Doc.
"Birx, of course, is the White House Coronavirus Response Coordinator, who along with Dr. Anthony Fauci, has become a household name in the wake of the Chinese virus pandemic.
"Birx's credentials are impeccable, including a stint in the Obama administration, and during public briefings she has shown an independent streak when it comes to clarifying things said by President Trump, and to both their credit, she does it with him standing there. Not to get too far off track, but when the history of this is written, Trump should receive enormous credit for allowing the public to witness this tension, as opposed to presenting a dull, uniform front."
Obama appointed Doctor (Colonel, retired) Birx to the AIDS commission, which landed her this duty on the COVID-19 commission.
ITEM 14
:
The Daily Mail reported
, "U.S. military command teams in charge of protecting homeland security are being isolated in the infamous Cheyenne mountain bunker where they will remain 'sealed off' until the corona virus pandemic passes."
Everything is under control, people. They just like living in mountains on
K rations
MRE and bottled water.
ITEM 15
:
Zero Hedge reported
, "Sanderson Farms, a large poultry manufacturer and Smithfield Foods, the world's largest pork producer, have both reported their first couple of positive cases of corona virus.
"This raises the obvious question: what happens when people critical to the world's food supply start to fall ill?
"As of now, there has been no such disruption - but it is beginning to morph into a massive threat, Bloomberg notes, with workers in close quarters preparing and processing food globally. Aside from the obvious threat of food not making it to consumers, things like fruits may also wind up rotting in fields if there aren't enough workers to pick and cultivate them."
There is no hoarding, only stockpiling.
By the way,
Red China owns Smithfield
.
ITEM 16
:
The New York Post reported
, "One of Arkansas' most notorious murderers returned to the scene of his crime 24 years later to kill his victim's daughter — and then drowned as he tried to flee cops, according to officials.
"Travis Santay Lewis — who had been out on parole since 2018 — was last seen alive diving into Horseshoe Lake, a half-hour southwest of Memphis, on Wednesday. Officials recovered the 39-year-old killer's body using sonar equipment."
What kind of monsters do this? The parole board needs replacement.
ITEM 17
: Hillary asked herself how she could top her "Happy Birthday to this future president" tweet.
She did.
— Hillary Clinton (@HillaryClinton) March 27, 2020
It is official. This is now the worst tweet ever tweeted/
ITEM 18
:
AARP reported
, "Federal lawmakers enacted a $2 trillion economic stimulus package Friday that will send most Americans checks of up to $1,200, as a way to put money directly in the pockets of families struggling to manage the economic fallout of the corona virus pandemic.
"The legislation, will give single adults who reported adjusted gross income of $75,000 or less on their 2019 tax returns a one-time check for $1,200, according to draft legislation. Married couples who filed jointly will receive $2,400. Families will get an additional $500 for each child."
The story also said, "If you are receiving Social Security benefits but didn't file taxes in 2018 or 2019, you will be eligible to receive a stimulus check without a tax return based on data available to the IRS from your annual Social Security benefits statement. The government will send you a direct deposit or check using the information from your Form SSA-1099 Social Security Benefit Statement or your Form RRB-1099 Social Security Equivalent Benefit Statement. You will not have to file a 2019 tax return to get a stimulus check."
I realize that AARP is about as popular as warts to most of my readers but there were worries about low-income Social Security recipients receiving it since they may not file tax returns. And I am sure there will be some way to file for it if you don't receive one. Social Security recipients get taken care of because we vote and have canes.
ITEM 19
:
Breitbart News reported
, "Senate Democrats and House Speaker Nancy Pelosi successfully blocked swift passage of a corona virus rescue package bill, but they did not get much from Republicans in return."
Kept out were:
Money for Planned Parenthood
Green New Deal
No Strings Funding for States
Federal Mandates for Early and Mail Voting
Postal Service Bailout
Republicans also protected ICE. But never negotiate with terrorists, Mitch McConnell.
ITEM 20
: I only follow Britain's Katie Hopkins because liberals hate her.
Good on

@realDonaldTrump

for refusing to burden the American taxpayer with the security costs of Meghan and Harry

When it comes to Meghan, you get more for your money at the dollar store.

They have shamed our nation.

— Katie Hopkins (@KTHopkins) March 29, 2020
I thought we closed the border with Canada, where Mr. and Mrs. Windsor are.
ITEM 21
: Census will be Wednesday.
The Census asked me what kind of Black I am. I listed "AF".

— Tressie McMillan Cottom (@tressiemcphd) March 28, 2020
She was in the Air Force?