— ALX 🇺🇸 (@alx) March 27, 2020
How dare you steal her childhood!
ITEM 1
:
Fox reported
, "Oil prices tumbled Friday after Saudi Arabia said it hasn't recently held talks with Russia to end a price war that began earlier this month.
"Brent crude oil, the international benchmark, plunged by 6% to $24.77 a barrel while West Texas Intermediate crude oil, the U.S. benchmark, slid 4.9% to $21.50.
"The two countries have had no 'discussion of a joint agreement to balance oil markets,' the Saudi Energy Ministry said in a statement."
President Trump needs to call Prince MSB and explain the Facts of Fracking to him. I get that he is doing what is best for his country, but trying to drive American frackers out of business is something we cannot forgive and forget.
ITEM 2
: In ventilator news...
As usual with "this" General Motors, things just never seem to work out. They said they were going to give us 40,000 much needed Ventilators, "very quickly". Now they are saying it will only be 6000, in late April, and they want top dollar. Always a mess with Mary B. Invoke "P".

— Donald J. Trump (@realDonaldTrump) March 27, 2020
Another Obama appointee tries to sabotage the Trump administration. (P is the Defense Production Act.)
Then there is the shortage of ventilators in New York.
Thousand of Federal Government (delivered) Ventilators found in New York storage. N.Y. must distribute NOW!

— Donald J. Trump (@realDonaldTrump) March 27, 2020
If only that dreamy, wish-he-were-president Andrew Cuomo were governor of New York, he would fix this problem.
By the end of next month, we will be waist high in ventilators as government overkill arrives a month late and a billion bucks in the red.
ITEM 3
: But wait. There's more. The P was invoked.
The president announced, "Today, I signed a Presidential Memorandum directing the Secretary of Health and Human Services to use any and all authority available under the Defense Production Act to require General Motors to accept, perform, and prioritize Federal contracts for ventilators. Our negotiations with GM regarding its ability to supply ventilators have been productive, but our fight against the virus is too urgent to allow the give-and-take of the contracting process to continue to run its normal course. GM was wasting time. Today's action will help ensure the quick production of ventilators that will save American lives."
Glenn Reynolds responded
, "Press and pundits who were hammering him for not invoking the Defense Production Act will now hammer him for invoking the Defense Production Act."
GM CEO Mary Barra, an affirmative action hire, thinks she can outwit the man who wrote The Art of the Deal. As if.
ITEM 4
:
The Hollywood Reporter reported
, "Over the past two weeks, hundreds of movie theaters in the country had begun to reopen. No reason for the policy reversal was given, but insiders believe the government is worried about a potential second wave of corona virus infections.
"China's film regulators have slammed the brakes on plans to gradually reopen the country's cinemas.
"Over 600 movie theaters across China were given the green light to reopen their doors over the past week, but Beijing's Film Bureau put out a notice late Friday ordering all theaters to go back into shutdown.
"No official explanation for the sudden reversal was provided. Industry insiders instantly began speculating that the government was worried about a potential second wave of corona virus infections."
Chairman Xi must not have liked Robert Downey Jr. as "Doolittle" and the woke Harrison Ford's "The Call of the Wild."
But hey, media, keep saying Red China somehow magically cured COVID-19 and has fewer deaths than Italy.
ITEM 5
:
Breitbart News reported
, "Police in southern Finland began Friday to enforce the new regulation aimed at ceasing all unnecessary human traffic to and from Uusimaa, the region that includes the Nordic nation's capital, Helsinki.
"Police will block access and exit from the region, which has been hit worst in the country by the corona virus."
Imagine shutting down every state capital and every city with an NFL team, and leaving the rest of us alone.
Tempting, isn't it?
ITEM 6
:
The I & I Editorial Board wrote
, "COVID-19 Is Killing The Case For Socialized Medicine."
It quoted Vox, which said, "High health care costs and low medical capacity made the US uniquely vulnerable to the corona virus."
Then the board laid out the facts.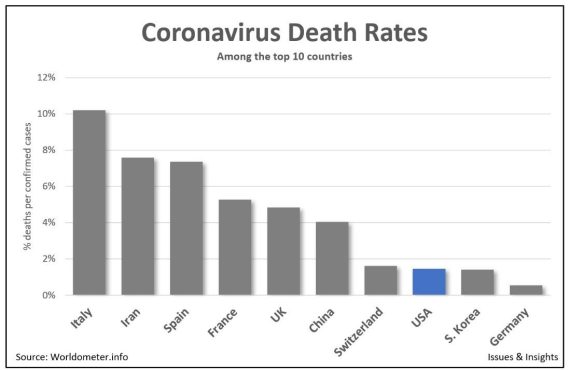 The government's inability to supply ventilators and N95 masks in a timely a manner undercuts the case for government-controlled hospitals.
Government does have a role. The CDC is doing a fine job. It started as a commission to fight malaria. Now an anti-malarial drug may help tame this beast.
ITEM 7
:
The South China Morning Post reported
, "President Donald Trump signed the TAIPEI Act, a bill expressing Washington's support for Taiwan in strengthening its relationships with countries around the world.
"The legislation, formally titled the Taiwan Allies International Protection and Enhancement Initiative (TAIPEI) Act, was passed unanimously by the House of Representatives on March 4. The Senate bill, which was approved unanimously in October, then had to be reconciled with the House's version before going to Trump to be signed into law.
"The act – written by Senator Cory Gardner, Republican of Colorado, and Senator Chris Coons, Democrat of Delaware – says the US should support Taiwan in strengthening its alliances around the world amid increased Chinese pressure and what Coons called bullying tactics by Beijing."
The story also said, "According to the bill, the US should advocate for Taiwan's membership in all international organisations in which statehood is not a requirement and says Taiwan should be granted observer status in other appropriate international organisations."
Chairman Xi may regret not signing a bigger trade deal last year. COVID-19 has created a bipartisan coalition to stand up to Red China. The One China policy may flip back to Taiwan. We gave Red China a chance. They blew it.
ITEM 8
:
Biz Pac Review reported
, "The Office of Inspector General (OIG) for the U.S. Department of Health and Human Services reportedly plans to launch multiple investigations into the Trump administration's corona virus response, in part because of another whistle blower complaint."
The Deep State never rests.
Quarantine the OIG until this is over. Lives are at stake and these rummies are in the way.
ITEM 9
:
The Patch reported
, "The number of cases of the new coronavirus spiked by 33 cases on Thursday, Gov. Gina Raimondo announced. Starting immediately, anyone coming into the state from New York will be mandated to self-quarantine for 14 days, the governor said.
"Nearly half of the nation's cases of COVID-19 are from New York, particularly the New York City metro area, Raimondo said, and the number of cases is rising every day. Because of its geographical proximity to Rhode Island, this measure is necessary to keep the infection rate down, she said."
Hey, West Virginia Governor Jim Justice, I found a way to keep Ohioans out of the center lane.
ITEM 10
: The New York Times reported, "On Monday, nearly 12.2 million people watched Mr. Trump's briefing on CNN, Fox News and MSNBC, according to Nielsen — Monday Night Football numbers."
Eat your heart out, Sean Spicer.
The Times then added, "And the audience is expanding even as Mr. Trump has repeatedly delivered information that doctors and public health officials have called ill informed, misleading or downright wrong."
The media that promoted the Russian Hoax, said Obama did not spy on President Trump, and said the Ukraine telephone was a quid pro quo suddenly worries about misinformation.
The public wants the truth. The media is not providing it. The president is.
ITEM 11
:
Gordon Russell reported
, "Orleans Parish has the highest per-capita death rate for the coronavirus among all American counties to date, a new analysis by The Times-Picayune | The Advocate shows.
"More disturbingly, perhaps, it's not even a close call. The county with the No. 2 rate — Richmond County, N.Y., better known as Staten Island — has a rate half that of New Orleans."
The mayor blamed President Trump for not ordering her to shut down Mardi Gras
.
Once again, a Democrat mayor of New Orleans screws up and people die. The mayor then blames the Republican president.
Ray Nagin wound up in prison for unrelated corruption. Mayor LaToya Cantrell might want to lawyer up.
ITEM 12
:
The Times of Israel reported
, "Blue and White chairman Benjamin Gantz is set to partner Prime Minister Benjamin Netanyahu in a unity government, serving initially as foreign minister but then taking over from Netanyahu as prime minister in September 2021, according to a reported deal taking shape amid immense political drama in Israel on Thursday afternoon.
Gantz's decision to join forces with Netanyahu immediately led to the collapse of Blue and White, with the party's No. 2 Yair Lapid rejecting the move and apparently heading into opposition with others from his Yesh Atid component of Blue and White.'"Gantz chose Netanyahu over Lapid,' Channel 12 reported succinctly."
Benjamin Gantz. Benjamin Netanyahu. As a reader said, it is all about the Benjamins.
Netanyahu needs to exit. Term limits serve a purpose.
ITEM 13
:
The Daily Caller reported
, "If eyes are windows to the soul, what was left behind in the grocery stores after corona virus panic buying are windows to what Americans won't eat even in extreme circumstances.
"People began sharing pictures on social media of what items were left behind after the shopping surge. The foods — such as cauliflower crust pizza or chocolate hummus — and the empty shelves once stocked with more appetizing foods are juxtaposed.
"Carrot spirals were unpopular enough that Twitter users from different Trader Joe's locations shared their pictures of the same stacked up boxes."
At Poca Food Fair, shoppers wiped out the carrots, celery, and potatoes (stew) as well as the Little Debbies (a food group in West Virginia), bread, hamburger buns, and ground beef, as well as Poppin Fresh biscuits. That was Monday. By Friday, everything was back to normal.
It is not hoarding. It is stocking up.
ITEM 14
:
Jalopnik reported
, "Here's Why Cruise Ship Companies Aren't Included In The $2 Trillion Stimulus Package."
The story said, "See, the big cruise line companies don't actually have their primary headquarters here in the U.S. Royal Caribbean is based in Liberia, Norwegian Cruise Lines is based in Bermuda, and Carnival Corporation, which owns the Princess cruise lines (and has had a number of COVID-19 outbreaks aboard its ships) is based in Panama."
Ducking taxes has a downside.
Maybe Captain Stubing can get a loan from Panama to keep the Love Boat afloat.
ITEM 15
:
The New York Post reported
, "Dramatic photos and videos show how police across India are using extreme force against violators of the country's corona virus lockdown.
"Baton-wielding cops wearing surgical masks can be seen in the images and footage from Wednesday beating those breaking the rules.
"On Tuesday, Indian Prime Minister Narendra Modi announced a 21-day nationwide lockdown to stem the spread of the potentially deadly virus — and declared that no one will be allowed to leave their homes."
America does not seem to have that problem. Bigger homes, more video games, and 10 years supply of toilet paper made us more complacent.
Plus we are all getting $1,200 in a few days so that helps.
ITEM 16
:
Fox News reported
, "President Trump on Friday signed a more than $2 trillion legislative package to combat the corona virus pandemic and send economic relief to workers and businesses squeezed by restrictions meant to stop the outbreak's spread after the House of Representatives overwhelmingly approved the legislation earlier in the day.
"'I want to thank Democrats and Republicans for coming together and putting America first,' Trump said during an afternoon Oval Office signing ceremony."
The story also said, "The legislation, approved by voice vote despite 11th-hour drama arising from a GOP lawmaker's objections, amounts to the costliest stimulus plan in U.S. history. It includes checks for most Americans, boosted unemployment aid, help for small business as well as a massive loan fund for corporations – at a time when unemployment is surging at a record pace, a consequence of businesses closing in compliance with social distancing guidelines."
Kentucky Republican Congressman Thomas Massie was the culprit. John Kerry called him a Masshole, in a tweet. Kerry should know.
President Trump called for kicking Massie out of the Republican caucus. He can go and take Mitt Romney with him.
ITEM 17
:
The Los Angeles Times published an editorial
, "A 'postponed' abortion? Yeah, that's called having the baby."
Thank them for that screed. In their zest to demand abortions be considered an essential service in a time of plague, they reminded people just who is killed.
Once again, the left is too clever by half.
ITEM 18
:
The New York Post reported
, "A Manhattan judge on Thursday ordered the release of a career criminal charged with stabbing his girlfriend to death out of concern he could contract corona virus at Rikers, the Post has learned.
"State Supreme Court Justice Mark Dwyer freed Pedro Vinent-Barcia, 63, and 15 other inmates after the Legal Aid Society filed a petition arguing that their detention exposed them to serious medical harm in the midst of a pandemic sweeping through city jails.
"Prosecutors objected, citing the brutality of the crime and the defendant's criminal record.
"Assistant DA Patricia Bailey said Vinent-Barcia terrorized Bernice Rosado for months before tracking her to a cellphone repair shop in Harlem on June 29, 2018, and repeatedly stabbing her in the chest and back.
"The gruesome attack was captured on surveillance video and witnessed by numerous bystanders, according to court papers."
Catch-and-release. It is not just for illegal aliens anymore.