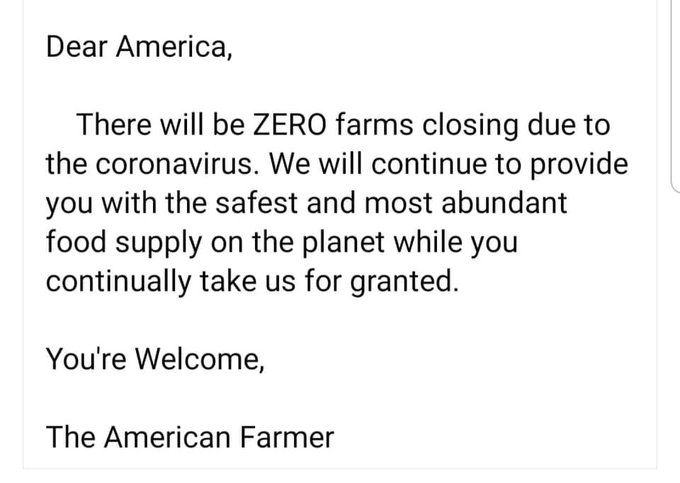 Happy St. Patrick's Day. No kissing. No drinking. No parades. Oh, and
they just found the first snake in Ireland in 1,600 years
. The 21st is a lousy century.
ITEM 1
:
Richard Hobday wrote
, "Corona virus and the Sun: a Lesson from the 1918 Influenza Pandemic."
Long-time readers know where I am going with this.
He wrote, "Put simply, medics found that severely ill flu patients nursed outdoors recovered better than those treated indoors. A combination of fresh air and sunlight seems to have prevented deaths among patients; and infections among medical staff. There is scientific support for this. Research shows that outdoor air is a natural disinfectant. Fresh air can kill the flu virus and other harmful germs. Equally, sunlight is germicidal and there is now evidence it can kill the flu virus."
The sun was the prescription that worked as they put patients in beds outdoors.
Get a convertible (or motorcycle or bicycle or ATV) and enjoy the sun while it is still out there. Better yet, walk the dog. Cabin fever is worse than any virus.
ITEM 2
: The stock market keeps crashing because the Fed keeps doing stuff to stop it from crashing. The Fed needs to stop panicking. The whole country needs to. Indeed, the world has gone mad. West Virginia's governor shut down the schools despite there being no corona virus cases in the state.
Corona virus is not going to kill us all. Millions will be infected. So what?
Web MD says there are more than 200 cold viruses
.
Where are the grownups?
President Donald John Trump needs to stand up and say, look, people, enough is enough. Get out of your homes and get on with your lives. Yes, people will be infected but for most people it is no big deal. The elderly and people with health issues will have trouble but they already have trouble, don't they?
Canceling the NBA, NHL, and major league baseball seasons is nutty. Taking a few weeks off may be prudent.
But guess what? It is too late to stop this virus or the 200 others out there. Shutting down our lives in the face of adversity is not who we are as a people. The time has come for people to start living again.
67 deaths
and the stock market crashed.
(UPDATE: I misnumbered. There are no items 3 to 6 today. Math class is tough.)
ITEM 7
:
Mashable reported
, "The nation's top infectious disease researchers have repeatedly warned, if not begged, Americans to practice social distancing as the contagious corona virus spreads through the population.
"That's because, due to a woeful lack of testing in the nation, no one knows how many Americans are infected — and the resulting respiratory disease (COVID-19) is 10 times more lethal than the flu. Sunday morning, Marc Lipsitch, an infectious disease epidemiologist at Harvard University, emphasized this point, noting that the true number of infections is certainly much higher than confirmed cases.
"But, though some folks are social distancing, many still clearly aren't. Some are even actively bragging about not doing it. This weekend, journalists and others reported that bars across the nation were packed in Boston, Chicago, Nashville, and New York City."
This is who we are as a people.
The unreported cases are people who are not sick, which screws up the statistical models, which undermines the claim that it is 10 times more lethal than the flu. But I am not doctor.
ITEM 8
:
Politico reported
, "The Justice Department is abandoning plans for a looming criminal trial focused on claims of Russian interference in the 2016 U.S. presidential election.
"With jury selection set to begin in just over two weeks, prosecutors asked a federal judge to permanently dismiss the charges special counsel Robert Mueller brought two years ago against two Russian firms linked to a St. Petersburg businessman known as Putin's chef, Yevgeny Prigozhin."
This was a nonsense prosecution aimed at giving credibility to a witch hunt that failed to find a smidgen of wrongdoing by President Donald John Trump or his family.
ITEM 9
:
Judicial Watch announced
, "In another desperate attempt by the Clinton machine to delay truth and accountability for her email conduct and how it impacted the people's right to know under FOIA, lawyers for former Secretary of State Hillary Clinton and her former Chief of Staff Cheryl Mills have asked the Court of Appeals to overturn a U.S. District court order granting Judicial Watch's request for their depositions about Clinton's emails and Benghazi attack records."
Under the Americans With Disabilities Act she should not have to testify under oath, given that she is a congenital liar.
ITEM 10
:
The Hill reported
, "The Senate cleared a nearly four-month extension of intelligence programs that expired on Sunday as part of a deal that will also allow for votes on broader surveillance reforms.
"The Senate had been expected to hold an initial procedural vote Monday on the House-passed bill that paired extension of the three expired USA Freedom Act provisions with some changes to the court established by the Foreign Intelligence Surveillance Act (FISA).
"Instead, Senate Majority Leader Mitch McConnell (R-Ky.) came to the floor minutes before the scheduled vote and passed a 77-day extension of the three USA Freedom Act provisions.
"The extension is retroactive to Saturday.
"Senate Republicans had indicated on Monday that they had reopened negotiations with privacy hawks on a short-term extension.
"As part of the deal, the Senate will vote on amendments once it turns to the House legislation, including a proposal from Sen. Rand Paul (R-Ky.) to block FISA warrants from being used against Americans."
We gave the deep state this power.
The deep state abused it. The deep state lied to judges. The deep state spied on the president on behalf of Obama.
No one has apologized. No one has been arrested. No one has been held accountable.
End FISA.
ITEM 11
:
The Washington Examiner reported
, "U.S. Attorney John Durham announced Monday that he charged a man with threatening to kill House Intelligence Committee Chairman Adam Schiff.
"Durham, the U.S. attorney for Connecticut who is leading the Justice Department's review of the Russia investigators, sent out a press release noting he charged Robert Phelps of Torrington, Connecticut, 'with threatening to assault and murder a U.S. official, which carries a maximum term of imprisonment of 10 years, and with making interstate threats, which carries a maximum term of imprisonment of five years.'"
Huh? I thought Durham was working on indicting the deep state. Now I know why they call him bull. He is full of it.
I will apologize if and when he indicts Comey or the communist.
ITEM 12
:
The Washington Free Beacon reported
, "Hunter Biden's overseas protection to make business deals was more expensive for taxpayers than combined Secret Service details for Trump's children.
"Then-vice president Joe Biden spared no words when he extolled the virtues of his second son, Hunter Biden, in a 2013 address to South Korean students at the elite Yonsei University.
"'And as I speak, my son has just boarded — my grown son has just boarded a plane, an aircraft — he's heading to the Philippines,' Biden said. 'His name is Hunter Biden. He's chairman of the World Food Program USA, and he's going there out in the field, like so many of you did. I'm so incredibly proud of him and the tens of thousands of young people around the world who either went or wanted to.'
"But Hunter Biden wasn't exactly going out in the fields in the same way a naive 20-something might travel to the developing world to dig wells and build schools. What Joe Biden didn't tell the next generation of South Korean elite was that his son was visiting the Philippines with a Secret Service entourage that was costing U.S. taxpayers a fortune."
$200,000.
That's 5 times the cost of protecting the Trump children combined.
He was not conducting State business. He was collecting kickbacks and bribes for his father.
ITEM 13
:
The San Francisco Examiner reported
, "With the corona virus pandemic rapidly spreading throughout communities around the nation, city leaders are taking the unprecedented step of placing San Francisco on lockdown for three weeks beginning Tuesday at midnight.
"The City will legally prohibit residents from leaving their homes except to meet basic needs including visiting the doctor, or buying groceries or medicine, until at least April 7, Mayor London Breed announced Monday."
This not about public health. If City Hall cared about public health it would not allow people to poop in the streets. This is more panic from public officials.
ITEM 14
:
BBC reported
, "The US army is pulling out of al-Qaim and two other key military bases in Iraq in the coming weeks. The decision to leave three of its eight bases in Iraq is a sign the US is looking to dramatically reduce its footprint in the country.
"It comes amid heightened tensions with the Iraqi government and Iran. A ceremony will take place this week at al-Qaim, where the US will formally hand over equipment to the Iraqi army to help it ensure security in the area.
"It will end any US presence along the Iraqi side of the border with Syria."
Time for the nation we built to handle its own defense -- 17 years after the war ended.
Now to bring the troops home from Europe. Hitler's been dead for 75 years, and the Soviet Union dissolved 29 years ago.
ITEM 15
:
The Globe and Mail reported
, "The federal government intends to designate plastics as toxic substances, a move industry stakeholders say is unduly aggressive and detrimental to the sector's brand.
"Listing plastics as toxic under Schedule 1 of the Canadian Environmental Protection Act (CEPA) will provide the government with the authority to regulate and limit certain products. The Liberals campaigned during the fall election on a promise to ban some single-use plastics as early as 2021, as part of a national strategy to reduce waste and pollution. In a minority parliament, it is considered more expedient for the government to use the existing act than to curry multiparty support for new legislation regulating plastics.
"In an e-mail, Environment and Climate Change Canada signalled that the government will, indeed, designate plastics as toxic. 'In order to take concrete regulatory action to reduce plastic waste and pollution under CEPA, substances must first be added to Schedule 1,' the department said in an e-mail.
"Bob Masterson, the president and CEO of the Chemistry Industry Association of Canada, said he is disappointed the government is poised to go that route. Over the past several months, the association, whose members include petrochemical companies that produce plastics, has been urging federal officials to instead amend CEPA's pollution-prevention provisions or introduce standalone legislation."
Legalize marijuana. Ban plastic. We keep electing crazy people and are surprised by the results.
ITEM 16
:
Interesting Engineering reported
, "Doctors Remove Cancerous Lung from a Patient, Clean It, and Put It Back Inside the Body."
The story said, "The procedure took place at Beilinson Hospital in Petah Tikva, Israel. Initially, doctors had planned to cut the patient's lung and wait for a lung transplant, a procedure that could prove very dangerous. Considering that the man was in his 40s and had a cancerous tumor that blocked the main airway in his left lung, a quick intervention was of the essence.
"'If we were to have simply cut out the lung alone, awaiting a transplant, the patient's condition would continue to be life-threatening,' Dr. Yuri Faischowitz, director of the Chiropractic Unit for Beilinson, told Ynet News.
"So, the doctors decided to try a new process of removing the lung and cleaning it. The operation was a tricky one as the patient had to breathe through his right lung while the surgeons cut off the left lung. He had to continue breathing in this manner until the lung was cleansed from the tumor and re-inflated to check that it was still functioning."
If you smoke, quit. If you don't smoke, don't start. I would ban the damned things. It's funny how we go through all this rigmarole and tank our economy over an unknown virus while we allow millions to die from a proven killer. The government sucks down billions in tobacco taxes. It's lung money.
ITEM 17
:
Curt Prendergast reported
, "Another 74 miles of 30-foot tall wall is set to be built on the Arizona-Mexico border, federal officials said on Monday.
"Customs and Border Protection officials on Monday asked for public comment on new border wall projects in Cochise, Pima and Santa Cruz counties. These projects are in addition to 63 miles of wall being built in Cochise and Pima counties, as well as other wall projects in Yuma County.
"The new wall projects announced Monday will consist of 30-foot tall steel poles, known as bollards, that are 6 inches in diameter, according to CBP. This is the same design used in the projects already underway.
"Cochise County will see 32 miles of new construction, including 7 miles of new wall; the replacement of 24 miles of existing pedestrian fencing; and the replacement of 1 mile of secondary barrier. Construction is underway on nearly 20 miles of wall in Cochise County.
"In Santa Cruz County, the new projects will run along 27 miles of the border, including 25 miles of new wall and the replacement of 2 miles of existing pedestrian and vehicle barriers. These would be the first projects for the Trump administration's border wall in Santa Cruz County. The new projects will run along sections of the Coronado National Forest.
"Pima County will see 15 miles of wall construction, including 8 miles of new wall and the replacement of 7 miles of pedestrian fence. The new projects will run along sections of the Coronado National Forest and the Buenos Aires National Wildlife Refuge."
Pedestrian fencing? Seriously? Previous presidents thought that would work? Fools.
ITEM 18
:
CNS reported
, "Sen. Mitt Romney (R-Utah) is calling for the federal government to issue a $1,000 check to each American to help offset the cost of dealing with the corona virus.
"In a statement issued Monday, outlined his corona virus proposals and called for the thousand-dollar checks to be issued 'immediately.'"
He's got a checkbook and a net worth of $250 million. Let him start writing those checks.
That would cost $328 billion.
I love how these Never Trumpers claimed President Donald John Trump was not a true conservative now openly display how they were sneaky little socialists all along.
ITEM 19
:
The New York Post reported
, "The New Hampshire Police Association Pipes and Drums group had to cancel its 25th anniversary trip to Ireland. The musical men made do with a humorous performance at a Walmart in southern New Hampshire."
With video.