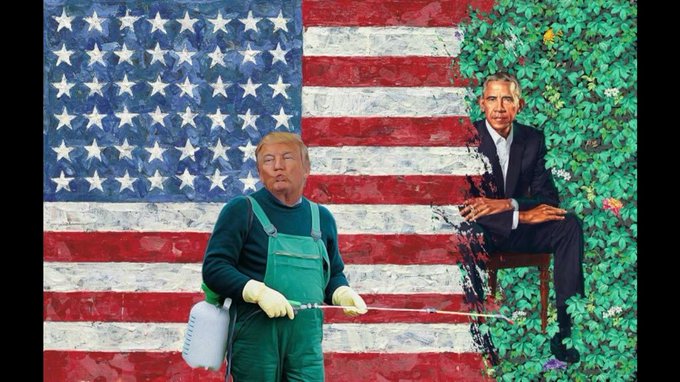 Donald John Trump is still our president.
ITEM 1
:
The Associated Press reported
, "China's manufacturing plunged in February by an even wider margin than expected after efforts to contain a virus outbreak shut down much of the world's second-largest economy, an official surveyed showed Saturday.
"The survey, coming as global stock markets fall on fears the virus will spread abroad, adds to mounting evidence of the vast cost of the disease that emerged in central China in December and its economic impact worldwide.
"The monthly purchasing managers' index issued by the Chinese statistics agency and an industry group fell to 35.7 from January's 50 on a 100-point scale on which numbers below 50 indicate activity contracting.
"A sub-measure of imports plummeted, highlighting the shock waves spreading through China's Asian neighbors and other suppliers of components and raw materials to its factories, which assemble most of the world's smartphones, toys, home appliances and other consumer goods."
And there is this.
Satellite images have shown a dramatic decline in pollution levels over China, which is "at least partly" due to an economic slowdown prompted by the coronavirus, US space agency Nasa says.

https://t.co/vju7EIgVT7

— Yashar Ali 🐘 (@yashar) February 29, 2020
The Tienanmen Square deal in 1989 was the communists would give Red China economic freedom and prosperity in exchange for human rights. The promise to the West was you give us economic prosperity, we will give our people human rights, um, eventually.
Two forces of nature may end all this double-dealing: the corona virus and President Donald John Trump.
ITEM 2
: War is easy. All you need is approval from Congress.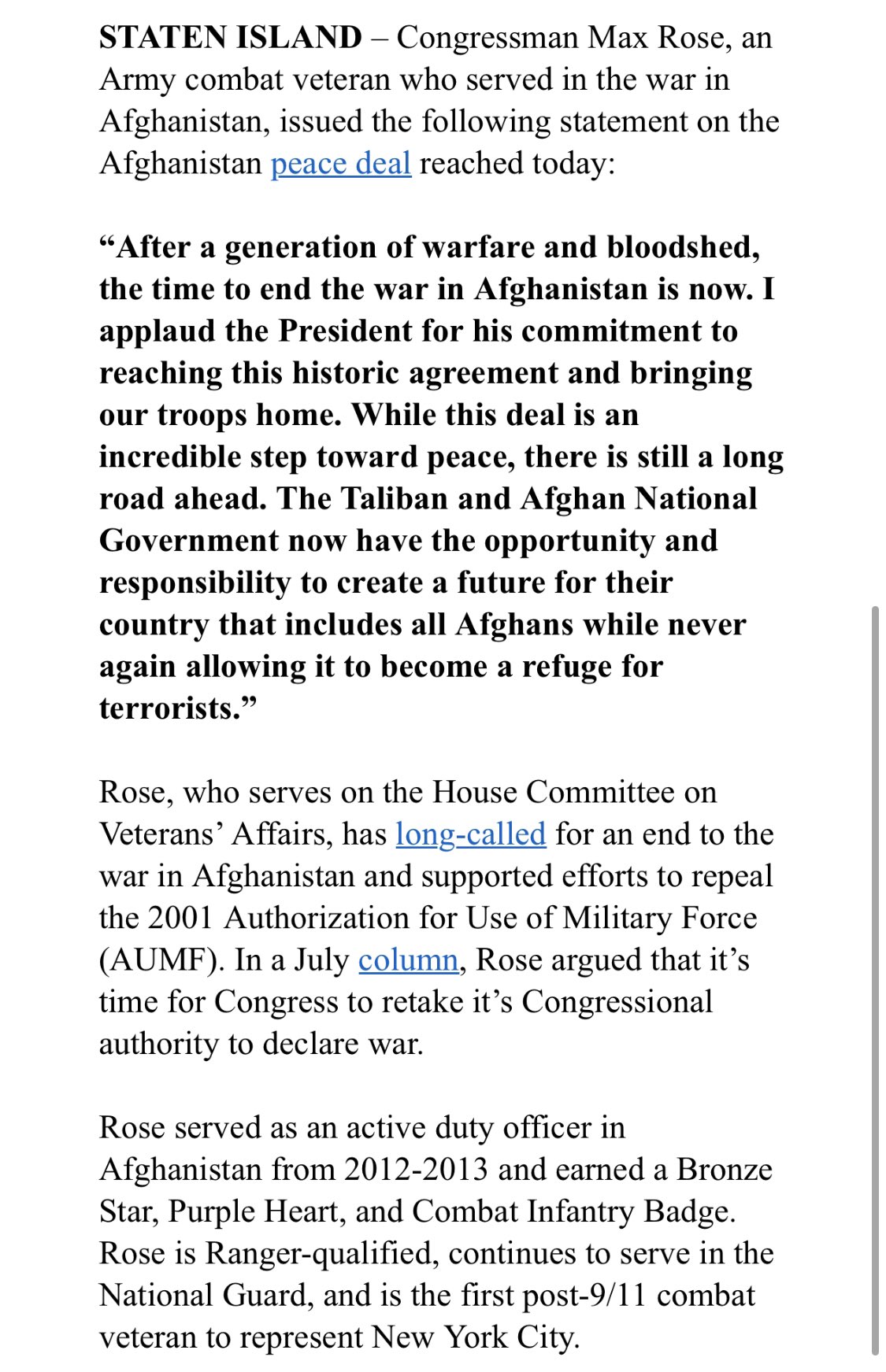 Peace is hard because first you have to fight a war.
Thank you, Afghanistan veterans.
ITEM 3
:
9 News reported
, "Colorado said goodbye to a World War II veteran today with a procession all throughout the state and into Kansas and Nebraska. Donald Stratton was one of the three living survivors of the attack on the USS Arizona in Pearl Harbor. He was 97 years old when he died two weeks ago.
"'It is emotional,' said Mike Watson, a member of the patriot guard with the American Legion. "It's like my helmet is filling up with tears. You get so emotional."
"Thousands stood on overpasses and the side of the highway as the procession made its way through the state.
"'To be one of the 344 survivors after the USS Arizona is attacked in Pearl Harbor and come back and continue to serve your country, how many people can say that in their lifetime. That is the ultimate,' said Mikel Burroughs, a member of the American Legion. 'I wouldn't miss this for anything because we're all warriors. Donald Stratton was a warrior. It comes down to respect always and warriors forever.'"
Only two survivors of the Arizona are left? But wasn't it the other day we buried Frank Buckles, the last survivor of World War I?
Praise these men when they are alive and struggling with PTSD. And yes, line streets and overpasses when they are gone to show the other men and women from the other wars that we care.
ITEM 4
: Patience, dear reader, patience.
— GadsdenJazz (@GadsdenJazz) March 1, 2020
Gab and other attempts failed. Maybe this will work.
Anyone got a trillion bucks to buy Google?
ITEM 5
: Now for some real Trumpenfreude.
Flashback to the February 11 Hollywood Reporter, which reported
, "Harrison Ford Calls Trump a 'Son of a Bitch.' The actor made the remarks during an appearance on ABC's 'Jimmy Kimmel Live!' to discuss his latest film, 'Call of the Wild.'"
THE CALL OF THE WILD saw a decent hold, dropping -47% in its 2nd box office trek w/ $13M, $45M total.

That would be okay...IF THEY DIDN'T SPEND $150M?!?!

Global cume is now $79M.

— Exhibitor Relations Co. 2: Box Office Boogaloo (@ERCboxoffice) March 1, 2020
Intersectionalists with their own pronouns don't read Jack London.
Deplorables do.
ITEM 6
:
Breitbart News reported
, "Morning Consult did an extensive, in-depth poll looking at trust, and it found that trust in President Trump is more than twice that of the news media.
"The question was, Do you trust X-Brand 'a lot to do the right thing?'
"The media ranked a dismal 16 out of 20, with just eight percent saying they trust media 'a lot to do the right thing.'
"Trump landed right in the middle of the pile in 12th place, as 20 percent said they trust him a lot to do the right thing, which more than doubles the media."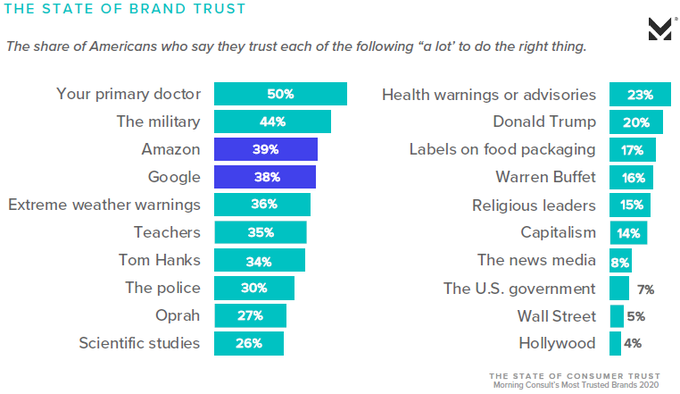 It is a pretty sad day when only 27% of Americans trust Oprah a lot.
ITEM 7
:
Politico reported
, "Joe Biden notched his first election win Saturday in this first-in-the-South state on the strength of widespread support from black voters — a triumph that he's hoping will propel him on Super Tuesday and then into a one-on-one race against Bernie Sanders.
"Biden's win was announced as soon as polls closed at 7 p.m., based on preliminary results and exit polls showing him with a staggering lead. The victory puts the onetime front-runner back into serious contention for the party's nomination against Sanders, who leads the crowded field and likely came in second."
Gropey played Obama nostalgia to the hilt four years after Hillary failed to cash in on her husband's presidency. Breadline Bernie praising Castro did not help. Maybe Biden is the Comeback Cadaver.
The Washington Post reported Comrade Sanders raised $46 million in February. That shows there is a lot of money willing to get any Democrat elected. Re-electing the president won't be easy. Have confidence but keep fighting. Ghouls don't die.
ITEM 8
:
The Daily Wire reported
, "Far-left billionaire activist Tom Steyer's campaign announced on Saturday that the candidate was dropping out of the presidential race after failing again in another Democratic primary.
"'The news came after Mr. Steyer, 62, failed to capitalize on his investment of millions of dollars in South Carolina, where he had pinned the hopes of his campaign,' the New York Times reported. 'Despite spending more than $175 million on adverting throughout his campaign, Mr. Steyer did not earn any national pledged delegates in Iowa, New Hampshire or Nevada, making South Carolina something of a make-or-break state for his continued viability.'"
I only mention him because he got rolled by consultants. 15% of that ad money (at least) alone was pocketed by them, not to mention the polls they ran, and the relatives they put on the payroll.
Consultants are the tailors in The Emperor's New Clothes.
Remember, the experts maintained that Donald John Trump was not serious in 2016 because he did not hire their political consultant buddies. He spent $66 million to get elected president. Uncle Tom and Mini Mike have already spent 10 times that amount and have zero delegates to show for it.
The gay mayor also dropped out. Democrats are too homophobic to vote for him.
ITEM 9
:
The Washington Examiner reported
, "A majority of Republicans want Utah Sen. Mitt Romney punished for voting to convict President Trump on one of two impeachment counts.
"The latest Zogby Poll said 58% believe that a penalty 'should result in some retribution, such as limiting his future role in the Senate.' Just 27% want no punishment, said the analysis shared with Secrets on Friday."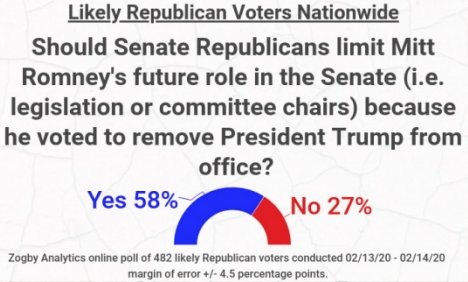 At the RNC convention this summer, rescind his 2012 nomination as a warning to other two-faced traitors.
ITEM 10
:
Reuters reported
, "The Supreme Court this week gets its first chance to consider new curbs on abortion rights with President Donald Trump's two conservative appointees on the bench as it examines the legality of a Louisiana law that could force two of the state's three clinics that perform the procedure to shut down.
"The court, with a 5-4 conservative majority, is scheduled on Wednesday to hear arguments in an appeal by Shreveport-based abortion provider Hope Medical Group for Women seeking to invalidate the law. Chief Justice John Roberts may be pivotal in deciding the outcome, with Trump's appointees Brett Kavanaugh and Neil Gorsuch also in the spotlight.
"The clinic sued to block the 2014 law, which requires that doctors who perform abortions have a difficult-to-obtain arrangement called admitting privileges at a hospital within 30 miles of the abortion clinic. A federal appeals court ruled against the clinic and upheld the law.
"The Supreme Court struck down a similar Texas requirement in 2016 when conservative Justice Anthony Kennedy, who retired in 2018, joined the four liberal justices to defend abortion rights. Trump has tightened the conservative grip on the court with his 2018 appointment of Kavanaugh, who replaced Kennedy, and his 2017 appointment of Gorsuch."
A young couple sent me a picture of the sonogram of their baby -- one month into the pregnancy. It is a dot less than an inch long. They not only are picking out the baby's name, but his or her (too early to tell) nickname as well.
That dot is not a clump of cells. That dot is a baby. Let's end this madness of killing babies.
ITEM 11
:
MSN reported
, "Attorneys for Nick Sandmann intend to file complaints against five additional media outlets, a status report filed earlier this week says.
"The report states that lawyers for the Covington Catholic High School senior intend to file lawsuits against Gannett, ABC, ViacomCBS, the New York Times and Rolling Stone.
"'All of the future defendants listed above have published or republished statements made by Nathan Phillips and others that Nicholas blocked or otherwise restricted Phillips' free movement and would not allow Phillips to retreat at the National Mall on January 18, 2019. Nicholas reserves his right to file complaints in this Court or any other court against any other potential defendant not listed above, subject to the applicable statute of limitations,' the document reads.
"Sandman is the high school student who found himself at the center of a controversy after his face was depicted across social media during a 2019 March for Life trip, which coincided with an Indigenous Peoples March."
Oh the humanity.
What about their right to lie about a minor, placing his life in danger, just so they could get back at the Orange Man?
ITEM 12
:
The Hill reported
, "A federal judge ruled that Ken Cuccinelli, who previously headed the U.S. Citizenship and Immigration Services (USCIS), was unlawfully appointed to run the agency.
"D.C. District Judge Randolph Moss, an Obama appointee, decided the Trump administration violated the Federal Vacancies Reform Act when Cuccinelli, the current deputy secretary of the Department of Homeland Security (DHS), was appointed to lead USCIS in June 2019.
"He also ruled that Cuccinelli's policy that accelerated the screenings for immigrants seeking asylum should be eliminated, according to the ruling obtained by The Hill."
Obama judge. His ilk ignore the law and the Constitution to attack the Orange Man. They are part of Obama's Resistance. Can they be impeached for sedition? Asking for a friend called the United States of America.
ITEM 13
: Isn't this a Third Amendment violation?
EXPLICIT WARNING ⚠️:

Look at the homeless epidemic in Los Angeles due to failed liberal policies, high taxes, and high crime.

Police are now demanding citizens allow homeless people to camp on their private property, threatening this man with arrest if he moves them.

pic.twitter.com/2uBHBCZVuj

— Michael Coudrey (@MichaelCoudrey) March 1, 2020
Asking for a friend called the United States of America.
ITEM 14
: But Flavor Flav is the only one I know.
— Maggie Haberman (@maggieNYT) March 2, 2020
Becoming a public enemy of Public Enemy is pretty badass.
ITEM 15
: In The Donald We Trust.
Why do Democrats want people to get Coronavirus?

— Read Cernovich dot com (@Cernovich) March 1, 2020
Cernovich is asking for a friend called the United States of America.
ITEM 16
: Even Facebook isn't buying it.
Politico published a very nasty, very unfair attack, falsely claiming President Trump called coronavirus a hoax. In fact, he listed the many things he is doing to stop the virus from spreading.

Fact checkers looked at it and now everyone on Facebook knows Politico is fake news!

pic.twitter.com/GhNplu5BMR

— Trump War Room - Text WOKE to 88022 (@TrumpWarRoom) March 1, 2020
It's the President Trump Said Hoax hoax.