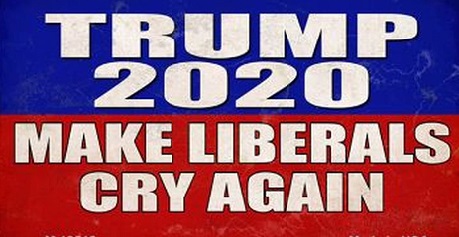 Donald John Trump is still our president.
ITEM 1
:
The Aviationist reported
, "The U.S. Air Force has deployed a C-130J Hercules transport from the 86th Airlift Wing from Ramstein Air Base in Germany to Italy's Aviano Air Base in the ongoing coronavirus relief mission. The U.S. aircraft arrived on Mar. 20, 2020, and joins other relief aircraft in the region, including a number of Russian Aerospace Forces Il-76 transports that departed Russia earlier today.
"Photos released by the USAF show Airmen from the 721st Aerial Port Squadron loading pallets of medical equipment on board a Lockheed C-130J Super Hercules transport.
"Part of the cargo deployed to Italy in the U.S. relief mission is the En-Route Patient Staging System, or ERPSS. The system can support the medical transport of up to 40 patients in a 24-hour period. It is equipped with 10 patient staging beds for treatment of patients."
It is a 21st century Berlin Airlift.
Some angels have wings, others just wear them.
ITEM 2
: The only thing we have to fear is fear itself.
In nation after nation, we are exiting the acceleration phase of the bell curve and growth is flattening.

This the beginning of the end for COVID-19.

— Bill Mitchell (@mitchellvii) March 23, 2020
Fear strikes out.
ITEM 3
: The Washington Post guessed that COVID-19 will kill 100 Americans per day.
Pencils down. Books under the desk. Time for a pop quiz.
1. This will increase the daily death toll by
A. 100%
B. 13%
C. 01.3%
2. This is the equivalent daily death toll of
A. The 7 biggest causes of death.
B. Cancer.
C. A little over half the flu deaths.
ITEM 4
:
Breitbart News reported
, "Joe Biden's new foray into regular video updates about corona virus stumbled out of the gate as the teleprompter malfunctioned and he called the sitting Massachusetts governor by the wrong name.
"Biden was speaking behind a podium when he began verbally stumbling around, as if he wasn't sure what to say, or was buying time.
"'Beef up the number of responders dealing with the crush — these crush of cases. And, uh, and in addition to that," he said, looking down at his notes, before he waved his hand upward under the podium to conceal it.
"'And in addition to that we to, um, make sure that we, uh, we are in a position that we are, well, let me go to the second thing. I spoke enough of that,' Biden said, before trying to move on from the blunder.
"Biden called the current Massachusetts governor Charlie Parker, a jazz saxophonist from the 1950s."
— Breitbart News (@BreitbartNews) March 23, 2020
He's been Sleepy, Creepy, Sleazy, Gropey, Sloppy, and Slow. But this Seven Dwarf -- Forgetful -- is the worst.
ITEM 5
: The Cure is not just a rock band any more.
— Donald J. Trump (@realDonaldTrump) March 23, 2020
America's No. 1 priority is saving Florida Man.
This is who we are as a people.
ITEM 6
:
Banner Health reporte
d, "A man has died and his wife is under critical care after the couple, both in their 60s, ingested chloroquine phosphate, an additive commonly used at aquariums to clean fish tanks. Within thirty minutes of ingestion, the couple experienced immediate effects requiring admittance to a nearby Banner Health hospital."
The Associated Press headlined
its rewrite of the story, "Arizona man dies after taking medicine touted by Trump to treat COVID-19."
President Trump told us to eat fish tank cleaner???
ITEM 7
: Democrats voted against a COVID-19 relief bill unless they get more than 1,000 pages of their way on unrelated things such as voter ID (they oppose), quotas on corporate boards, and the green new deal.
The president should use executive orders to get around this blackmail.
And if Democrats want to sue, let them.
Vote Pelosi out by voting a straight ticket Republican.
ITEM 8
: Poca, West Virginia, never banned them.
"Plastic Bag Bans Are the Latest Regulations to Get Tossed During Coronavirus Pandemic..Much-maligned single-use plastics make a comeback in a newly germaphobic nation"

https://t.co/WnB8sGQVfD

— Tom Nelson (@tan123) March 23, 2020
Then again, you cannot poop in our streets and there is no needle exchange. Being backward has its advantages, especially when the sophisticates lose touch with reality.
ITEM 9
: Clyburn gets a pass on his political opportunism for being a civil rights icon.
This is all you need to know about

@TheDemocrats

. Something awful happens to the American people and all they see is opportunity to get what they want. They're disgusting.

https://t.co/LQHp1axs9L

— Kim Priestap 🔥 (@kimpriestap) March 23, 2020
Democrats beat him up in Selma in 1965, and now use him as a shield.
ITEM 10
: Looking for proof that we have turned the corner and are getting COVID-19 under control.
Look no further.
How crazy is it that less than 24 hours ago Schumer was talking about how *delighted* he was with the "bipartisan cooperation" on Coronavirus aid negotiations.

Then Pelosi got back into town, Schumer immediately flipped, and Democrats unanimously voted to block a critical bill.

pic.twitter.com/gESFOstpm1

— Matt Whitlock (@mattdizwhitlock) March 23, 2020
Democrat gamesmanship will cost them the House in November. They think this works, but they also thought Hillary had it in the bag in 2016.
ITEM 11
:
Amy L. Howe reported
, "Until 1979, every jurisdiction in the United States allowed mentally ill defendants to assert what was traditionally regarded as an insanity defense – that is, to argue that because they did not understand that their actions were wrong, they cannot be held criminally responsible for those actions. Since then, five states, including Kansas, have abolished that defense. Today, by a vote of 6-3, the Supreme Court ruled that a state's failure to allow a mentally ill defendant to raise such a defense does not violate the Constitution.
"The ruling came in the case of James Kahler, who in November 2009 shot and killed four members of his family: his estranged wife, the couple's two daughters and his wife's grandmother. At Kahler's trial on four counts of first-degree murder, the prosecution's expert testified that Kahler could have formed the kind of premeditated intent to kill required for a death sentence, while an expert for Kahler countered with testimony that at the time of the shooting Kahler had been so depressed that he could not help himself. But Kahler could not defend himself by arguing that he was insane: In 1995, Kansas had abolished the traditional insanity defense, replacing it with a new law that allows defendants to argue only that they could not have intended to commit the crime because of their mental illness. Kahler was convicted and sentenced to death."
Kagan sided with the 5 constitutionalists. She is the left's Souter.
ITEM 12
: People wondered how Red China could build so many hospitals so quickly.
Here is how
.
Inside the Javits center with Gov. Cuomo. Items have been delivered for officials to begin building the 1000 bed hospital.

📷

@sarah_boxer

@ Javits Center

https://t.co/DJZFv8UZAI

— Shimon Prokupecz (@ShimonPro) March 23, 2020
Bravo, New York, New York.
Senator Javits would be honored.
ITEM 13
: The truth.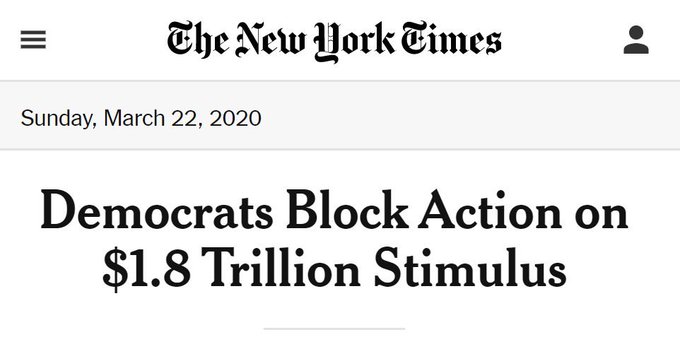 The half-truth.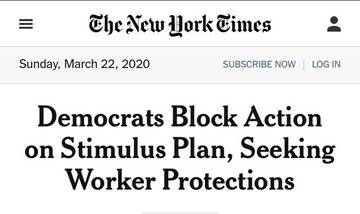 And nothing but the lies.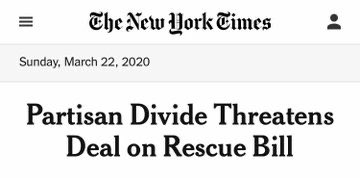 They had a deal until Nancy blew into town. Thank goodness no one takes the New York Times seriously.
ITEM 14
: Imagine no Democrats.
— Nick Searcy, INTERNATIONAL FILM & TELEVISION STAR (@yesnicksearcy) March 22, 2020
— Nick Searcy, INTERNATIONAL FILM & TELEVISION STAR (@yesnicksearcy) March 22, 2020
No celebrities, too.
ITEM 15
: Hope is the thing with feathers
That perches in the soul
And sings the tune without the words
And never stops at all.
— Martin Cowen (@mlcowen) March 23, 2020
I never thought I would quote Emily Dickinson either, but here we are. I trust the thing with feathers isn't a feather duster or a shuttlecock.
ITEM 16
: Thank goodness curling is not a summer sport.
Canada begs to differ, announcing late yesterday that time had run out on their participation. If the IOC won't push off the games until next year, Canada will not participate at all.

It's not just whether the pandemic spread has been arrested by then, either.

https://t.co/bnhg7PLmLI

— Ed Morrissey (@EdMorrissey) March 23, 2020
More medals for us to win.
ITEM 17
: Tom Bragg covered sports.
Before you hear it somewhere else: I was "temporarily" laid off by the Gazette-Mail this morning. I'll likely be quiet on here for a while. Thanks for following along.

— Tom Bragg (@TomBraggSports) March 23, 2020
No sports, no job.
The local newspaper was sold at auction in bankruptcy court Two years ago. The new owners struggle.
But the days of waiting till the paper came out to read the box scores ended long ago.
ITEM 18
: Republican Senator Rand Paul had to have part of a lung removed because a Democrat ambushed him, which puts Paul at risk for COVID-19. Paul tested positive for COVID-19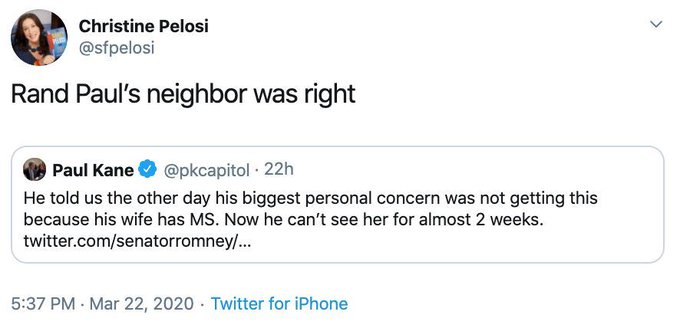 Christine Pelosi is a daughter of Nancy Pelosi.
When you vote Democrat you enable the parents of fascists like Christine Pelosi to have power.
Oh, and Twitter had no problem with the tweet because it was a Democrat encouraging violence against a Republican.
UPDATE: Via comments, Twitter suspended her briefly and she deleted her tweet.
ITEM 19
: The best sibling rivalry since the Smothers Brothers.
— ALX 🇺🇸 (@alx) March 24, 2020
Fredo asked New York Governor Andrew Cuomo what was the worst decision he's made during this pandemic.

"Probably coming on your show, frankly." 😂

pic.twitter.com/c4J75pNuHb

— Mark Dice (@MarkDice) March 24, 2020