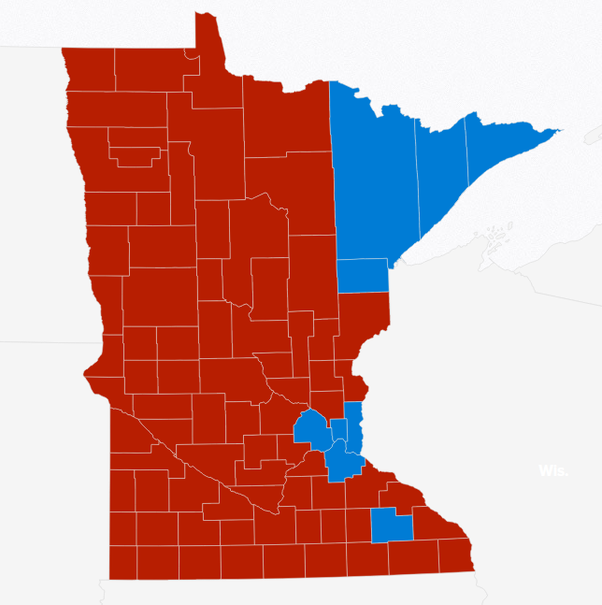 Democrats know the best case scenario now is that Minnesota is a battleground state. A state no Republican has carried in nearly 50 years was barely won in 2016. Putting Fräu Klobuchar (horse whinny) on the ticket may not be enough to stop President Donald John Trump from taking the Gopher State.
The president has done something no Democrat has done in decades: cared about the working class.
Politico sent a reporter to Ely, Minnesota,
whose Democrat mayor told him
, "The hope rested with Trump; that's where the people went … it's hope. People want hope for a better future."
Of course, there are no Democrats in Minnesota. They call it the Democratic–Farmer–Labor Party, but they ditched the farmers and laborers long ago.
Ely is in the Iron Range, which is the backbone of the steel industry. It helped build railroads, create skyscrapers, and win World War II. After the Depression, its workers supported the party with blind faith.
The Politico reporter wrote, "A place that once gave Democratic native sons Hubert Humphrey and Walter Mondale 4-1 voting wins and considers the late Sen. Paul Wellstone a local hero has begun to embrace a president who bears little resemblance to them, except that he reversed the injustice of an Obama-era order that would have brought the nickel-copper project to a 20-year standstill. On top of that were the 25% tariffs Trump imposed on most foreign steel, which provided an initial boost to the 5,000 miners still employed in the region's numerous iron-ore mines that have served as the backbone to the region's economy."
Democrats wrote off the Iron Range.
He wrote, "Many jubilant residents of Ely and nearby towns are now hanging their hopes on a plan to build a massive mining facility under a patch of national forest that's a stone's throw from one of the most verdant watersheds in the world. But the project increases the risk of acidic waste contaminating the area's lakes and streams. Environmental groups mounted a well-funded push against the project. Democratic presidential contenders began objecting, too: Bernie Sanders, Mike Bloomberg and Elizabeth Warren pledged to stop the project. Joe Biden has yet to take a position."
The story by Adam Behsudi showed the bias within the Democrat Party that is now coming home to roost.
He wrote, "In the late 1970s, the industry employed 15,000 people. That's down to roughly 5,000. The area never recovered those mining jobs after mass layoffs in 1981 as the U.S. steel industry underwent changes and automation took hold."
Those jobs are not coming back.
He says it is automation but ignores the dumping of steel first by Japan, then other countries, and now by Red China that idled factories and mines.
Oddly enough,
in his profile, he wrote
, "Behsudi earned his bachelor's degree in 2005 from the University of Missouri. With the hope that journalism could return as a growth industry within his lifetime, he earned a master's degree in interactive journalism from American University in 2010."
It's OK for journalists to hope for a return to relevance, but everyone else should learn to code.
Democrats do not want the working class. Got it? They hate that miners no longer work 16 tons and get another day older and deeper in debt. Miners in Minnesota earn $80,000 to $100,000 a year, the story said. Coding would be a huge pay cut.
The story said, "David Bednarczak, a county employee who was laid off from a mining job in 1981, said he can't vote for Trump because of his views on immigrants and women, but recognizes that the pull of the Democratic Party is waning in the area.
"He was the sole person from his voting precinct in Hibbing to show up to a late-February caucus night for Democrats, known in Minnesota as the Democratic-Farmer-Labor Party. A paltry crowd of 35 people representing 10 precincts in a city of 16,000 showed up to the event."
Democrats did not see the fall of Michigan, Pennsylvania, and Wisconsin until Election Night in 2016. They see Minnesota going next. And they are helpless this time. You can take people for granted for only so long.