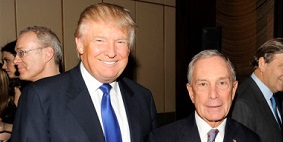 The New York Post reported, "Trump taunts 'Mini Mike' Bloomberg's height."
Saul Alinsky tactics just melded with President Donald John Trump strategy.
The tactics are simple: Ridicule the opponent, and entertain your supporters.
The Post reported
, "President Trump went after 'Mini Mike' Bloomberg in a series of tweets early Sunday morning and in a preview of a pre-Super Bowl interview, claiming the former New York mayor wants a box to stand on during a Democratic presidential debate.
"'Mini Mike is now negotiating both to get on the Democrat Primary debate stage, and to have the right to stand on boxes, or a lift, during the debates,' the president posted on his Twitter account in the last of three postings about 5-foot-8 Michael Bloomberg. 'This is sometimes done, but really not fair!'"
Mini Mike's campaign shot back, "He is a pathological liar who lies about everything: his fake hair, his obesity, and his spray-on tan."
Yawn.
Mini Mike is not the target. Democrat voters are. President Trump is courting supporters of the candidates who will not win the nomination. They are ticked because the DNC just changed its rules, which will enable Daddy Snorebucks to qualify for the next debate. President Trump is exploiting that.
Jeff Weaver, a senior adviser to Sanders, said, "To now change the rules in the middle of the game to accommodate Mike Bloomberg, who is trying to buy his way into the Democratic nomination, is wrong."
The rule change means Bloomberg does not have to have a bunch of donors to qualify. Michael Moore said, "He doesn't have to show that he has any support amongst the American people. He can just buy his way onto the debate stage!"
In attacking Mini Mike's height (or lack thereof) President Trump brought attention to the DNC rigging its rules for the debate. And he used humor to get the point across. Why not let him stand on a box?
Contrast this to how Elizabeth Warren attacked Mini Mike.
Politico reported
, "Warren and other liberal supporters argued Bloomberg needs a proper vetting, particularly since his media company has been instructed not cover the Democratic primary. Some have urged the DNC to reconsider its rules to allow him to participate, and Warren has also been critical of a nondisclosure agreement women at his company signed that bar them from discussing legal claims they filed. She believes they should be released from the gag order."
Vetting? Paperwork? Oh hers will be a presidency from DMV.
If President Trump simply complained about the rule change, most of the media would ignore him.
But he gave the baboons of the Fourth Estate a reason to go bananas, and so they once again act in high dudgeon at his error...

...and broadcasting his message out to the people.
Meanwhile, the president's supporters get another laugh at Mayor Nanny's expense.
Babylon Bee hardest hit.