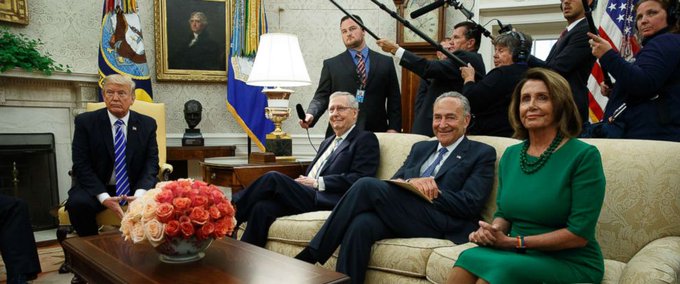 Nancy Pelosi could have rid herself of President Donald John Trump without an impeachment. In 2017, Donald Trump gave her an opportunity to derail his re-election, which she and Chuck Schumer blew.
On September 13, 2017, ABC reported
, "One week after allying himself with Democratic congressional leadership on efforts to raise the debt limit and provide money for hurricane relief, President Donald Trump will host the Senate and House Minority Leaders Chuck Schumer and Nancy Pelosi for dinner at the White House to discuss DACA and health care Wednesday night.
"Trump's newfound working relationship with Schumer and Pelosi comes to the chagrin of some Republicans who last week opposed the bipartisan three-month deal to keep the government running. The president worked with Democrats despite a competing strategy backed by GOP leadership and Treasury Secretary Steve Mnuchin to push for a longer deal.
"The focus of Wednesday's dinner, according to sources familiar with the meeting, will be to discuss protections for so-called Dreamers, undocumented immigrants currently protected by the Deferred Action for Childhood Arrivals (DACA) policy, which the administration said last week it would end in six months. The trio will also talk about efforts to stabilize health insurance markets."
That was the night Nancy and Chuck could have ended his presidency.
He offered to make DACA the law in exchange for the wall, a move that immediately alienated Michelle Malkin and Patrick Buchanan, as well as millions of Trump supporters. He gave Nancy and Chuck 6 months to make it so. At the time, Nancy was House minority leader. Had she agreed, she not only would have the law but she would have become speaker as voters would have abandoned Republicans and Donald Trump.
Instead, Nancy and Chuck hastily held a press conference and declared victory.
The New York Times reported, "Democratic leaders on Wednesday night declared that they had a deal with President Trump to quickly extend protections for young undocumented immigrants and to finalize a border security package that does not include the president's proposed wall.
"The Democrats, Senator Chuck Schumer and Representative Nancy Pelosi, said in a joint statement that they had a 'very productive' dinner meeting with the president at the White House that focused on the program known as Deferred Action for Childhood Arrivals, or DACA. 'We agreed to enshrine the protections of DACA into law quickly, and to work out a package of border security, excluding the wall, that's acceptable to both sides,' they said.
"But on Thursday morning, the president contradicted the Democrats, saying no deal had been struck."
No wall, no deal.
Pelosi turned the offer down. In so doing, she turned down protecting DACA and ending the Trump presidency on January 20, 2021.
Instead, the wall is going up, DACA is going down, and President Trump is likely headed to a second term.
Yes, she still became speaker. She put the impeachment asterisk on his two terms as president -- when she could have made him a one-termer.