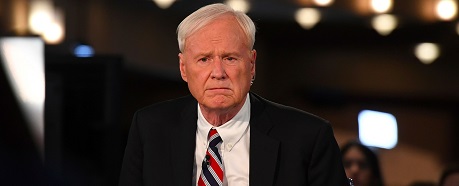 The Left is purging Comrade Chris Matthews at MSNBC for being a counter-revolutionary and having impure thoughts.
His crime was saying Democrats could not stop Breadline Bernie after the Nevada caucuses.
Matthews said on the air, "I'm reading last night about the fall of France in the summer of 1940. And the general calls up Churchill and says, 'It's over,' and Churchill says, 'How can it be? You got the greatest army in Europe. How can it be over?' He said, 'It's over.'"
The network -- which has promoted a French Resistance against American President Donald John Trump for more than 3 years -- made Matthews beg forgiveness on television for a very remote reference to the Wehrmacht.
Matthews said
, "Before getting into tonight's news, I want to say something quite important and personal. As I watched the one-sided results of Saturday's Democratic caucus in Nevada, I reached for a historical analogy -- and used a bad one. I was wrong to refer to event from the first days of World War II.
"Senator Sanders, I'm sorry for comparing anything from that tragic era in which so many suffered, especially the Jewish people, to an electorate result in which you were the well-deserved winner. This is going to be a hard-fought, heated campaign of ideas. In the days and weeks and months ahead, I will strive to do a better job myself of elevating the political discussion. Congratulations, by the way, to you Senator Sanders and to your supporters on a tremendous win down in Nevada."
No normal person would conclude that he called Sanders Hitler and his supporters Nazis.
Kevin D. Williamson at National Review explicitly did that to American President Donald John Trump and his supporters in March 2016 in a piece called The Father Fuhrer.
But Matthews? He was calling Democrats the French army, a far cry from anything Dipstick Williamson said about American President Donald John Trump and his supporters.
I shouldn't call Williamson a dipstick because dipsticks serve a purpose.
The apology was not enough. It never is. This is why you should never give one unless you sincerely are remorseful.
The Left has targeted Matthews, and is going the Me Too route. Liberal male TV newsmen must feel entitled to being creeps. Look how many have gone down. And the networks must know this because guys like Matt Lauer and Charles Rose carried on this behavior for decades.
Laura Bassett, a freelance journalist, spilled on Matthews for GQ.
She did not like Matthews challenging Elizabeth Warren, face-to-face, about her assertion that Mike Bloomberg told a pregnant woman to "kill it," meaning her baby. This argument totally undercuts the argument that killing a baby in the womb is a right, because if it were, then Bloomberg's suggestion would be akin to suggesting someone wrote a letter to the editor.
Of course, abortion is nothing like owning a gun, going to church, or any of our enumerated rights because abortion is wrong.
But Bassett was trying to bring Matthews down, and maybe she did.
She wrote
, "In 2017, I wrote a personal essay about a much older, married cable-news host who inappropriately flirted with me in the makeup room a few times before we went live on his show, making me noticeably uncomfortable on air. I was afraid to name him at the time for fear of retaliation from the network; I'm not anymore. It was Chris Matthews. In 2016, right before I had to go on his show and talk about sexual-assault allegations against Donald Trump, Matthews looked over at me in the makeup chair next to him and said, 'Why haven't I fallen in love with you yet?'"
It is creepy and I believe her. Boys, don't flirt with girls young enough to be your granddaughter.
She threw in some gossip, "A fellow cable-news pundit, who doesn't want to be named for professional reasons, said Matthews invited her on to talk about misogyny in the Republican Party, telling her that he planned to draw a comparison to the '60s ad-men show Mad Men. Right before going on air, he turned to her and asked 'whether
Joan's proportions are real
,' referring to the body of a curvy character on the show, before seamlessly transitioning into a supposedly feminist segment. She was shaken, like I was. (At the time of publication, MSNBC had not yet responded to GQ with comment on either incident.)"
Does a thrill run up your leg thinking this may be the end of his career? If so, you may have a sign of an impending stroke.
I don't care that much about Matthews. What drew my attention in the article was 2 years ago, Bassett was upset enough to write about his behavior, but willing to take one for the team to preserve a fellow traveler. His apology signaled he is disposable. And so the campaign to bring him down is on.