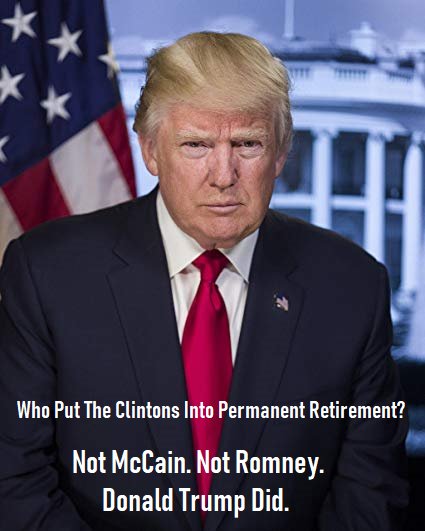 Donald John Trump is still our president.
ITEM 1
:
Florida Today reported
, "The Space Coast's two Air Force bases will soon change names to reflect their connections to the military's newly minted Space Force branch.
"Patrick Air Force Base and Cape Canaveral Air Force Station will become Patrick Space Force Base and Cape Canaveral Space Force Station within 30 days, 45th Space Wing Commander Brig. Gen. Douglas Schiess said during his State of the Installation briefing early Friday."
The 21st century has finally begun.
The story said, "Schiess said he also anticipates a name change for the 45th Space Wing itself, though no final decisions have been made. Uniform updates and designs are still being decided, too."
Why change the name?
As for uniforms, red jackets for enlisted personnel. Definitely.
ITEM 2
: 225,000 more reasons to re-elect the man.
— Donald J. Trump (@realDonaldTrump) February 7, 2020
Capitalism's best sales point is it allows you the financial security to be an individual.
That and in America, bread waits for you!
ITEM 3
:
Alan Tonelson reported
President Trump added 479,000 manufacturing jobs in his first 34 months in office -- nearly double the 259,000 added on Obama's last 34 months.
In the first 21 months of the Trump presidency, we added 253,000 manufacturing jobs, an average of 12,000 a month.
In the 13 months since President Trump imposed tariffs, we added 231,000 manufacturing jobs, an average of 17,769 a month.
That is double the 7,617 a month average in Obama's final 34 months.
We had
12,713,000 manufacturuing jobs
when Obama took office, and
12,341,000 when he left
-- for a net loss of 372,000.
President Trump found them and added even more.
Thank God and Greyhound Obama's gone.
ITEM 4
:
The Telegraph reported
, "Households could save £8.3 billion a year from post-Brexit plan to slash tariffs."
That is $10 billion.
The story said, "Scrapping 'nuisance tariffs' on imports, such as those under 2.5%, could cut prices for 27.8 million households by £300 a year."
Electing New York City-born blonds with bad hair is good for your economy.
Prove me wrong.
ITEM 5
:
The Washington Times reported
, "Democrats already have lined up possible charges if they choose to pursue impeachment 2.0.
"Still pending is a wide-open probe launched by Rep. Adam B. Schiff, California Democrat. Mr. Schiff has been investigating President Trump, his family and businesses, the Trump Organization, over the congressman's suspicions of blackmail, money laundering and bribery.
"Republican staffers say the inquiry was put on hold last fall pending the Ukraine impeachment proceedings led by Mr. Schiff. But there is no sign Mr. Schiff has given up trying to prove Mr. Trump is corrupt, and if the president is impeached again, the charges would likely come from this probe, informed sources said."
Democrat presidential candidates and Chief Justice John Roberts hardest hit.
ITEM 6
:
Fox News reported
, "Lt. Col. Alexander Vindman, who made waves as a witness during the Trump impeachment proceedings, was fired Friday by the National Security Council and escorted off of the White House grounds, Fox News has confirmed.
"Vindman was on detail to the National Security Council from the Department of Defense, and it is expected he will return there. It comes just two days after President Trump was acquitted in the Senate on the impeachment charges brought by the House last year over his dealings with Ukraine."
I want a court martial and loss of pension.
His twin brother was canned
, too.
ITEM 7
:
Breitbart News reported
, "The FBI team investigating alleged Russian interference in the 2016 presidential election cultivated and maintained numerous sources close to Donald Trump during the election and the transition period when Trump was entering the White House.
"The FBI sources include one person who was in direct contact with Trump and who was utilized by one FBI agent to, 'obtain insight into the incoming Trump administration.' Another source was described as voluntarily providing the FBI team probing Trump with large volumes of documents.
"Yet another FBI source held a position in the Trump campaign and another was described as a Trump supporter. Another source was documented as attending a private gathering with Trump.
"These disclosures and others were made inside the Justice Department's previously released 476-page Inspector General report on the FBI's Russia collusion investigation, known as Crossfire Hurricane."
Entrapment.
Indict every person involved.
ITEM 8
:
Flashback to November 13, 2009, when Emmett Tyrell reported
, "Just weeks after initiating a war of words with Fox News and being exposed as an admirer of Chairman Mao, Anita Dunn, the White House Communications Director, is stepping down. I intimated as much a couple of weeks back, when I lumped her in with two other Obama Administration zanies who were forced to resign: environmental czar Van Jones and National Endowment for the Arts spokesman Yosi Sergant."
But if you go carrying pictures of Chairman Mao, you ain't going to make it with anyone anyhow.
Or are you?
The New York Times (no links to pay sites) reported, "Anita Dunn, a veteran Democratic operative and top adviser to former Vice President Joseph R. Biden Jr., is taking on an expanded role in his campaign as he seeks a reset after a disastrous fourth-place finish in the Iowa caucuses."
The story said, "Ms. Dunn's new role was greeted enthusiastically by some on Mr. Biden's staff who have been frustrated by the bickering and view her as a unifying and respected figure across generational lines."
I guess Anita ain't done.
ITEM 9
:
Tucker Carlson of Fox News reported
, "Criminals would be protected from deportation under bill AOC and other House Democrats back."
His column said, "Consider this: Under current law, immigrants who commit serious crimes – such as robbery, fraud, or child sexual abuse – must be deported, regardless of the sentence they receive. Other crimes – less severe ones like racketeering – require deportation as long as the perpetrator receives at least a one-year sentence.
"But if this bill passes the House and Senate and is signed into law by the president, there will no longer be any crimes that automatically require deportation. None.
"And one crime – falsifying a passport – will be made immune from deportation, no matter what. Because apparently 9/11 never happened, and we no longer care about fake government documents."
Democrats will regulate cow farts but not our border.
ITEM 10
:
Bloomberg News reported
, "President Donald Trump beat back a lawsuit by 215 congressional Democrats who say he has been violating the Constitution's emoluments clauses by profiting from foreign government spending at his Washington hotel and other properties.
"A federal appeals court in Washington on Friday dismissed the case, saying members of the House and Senate lacked the legal standing to sue the president."
Isn't lacked standing lawyer talk for it's a waste of a judge's time?
ITEM 11
: In the New York Times, Jorge Ramos (no links for pay sites) wrote, "Mexico is now the wall. President Trump got his wish.
"The heart-wrenching images documenting a recent confrontation in the state of Chiapas, near the border with Guatemala, are evidence of this. Dozens of Mexican National Guard troops equipped with helmets, batons and transparent shields coalesced on the highway connecting the Mexican cities of Ciudad Hidalgo and Tapachula to stop a caravan of migrants heading to the United States from Central America.
"The guardsmen used pepper spray on the caravan, which as of mid-January included about 4,000 people, many of them women and children. In the end, hundreds were detained, sent back to Guatemala or deported to Honduras. A spokeswoman for the U.N. High Commissioner for Human Rights condemned the actions of the National Guard, saying that the use of force to stop and disperse immigrants should be avoided."
Tariffs rock. Put them on to get someone to do something. Take them off to promote trade.
By the way, who is paying for that wall?
Mexico.
ITEM 12
:
Rush Limbaugh said
, "Folks, it was such a joyous occasion. It was unbelievable and something for which not only me, but my family will be eternally grateful for. It's a very, very special moment indeed. And I thank, again, the president and his family. Vice President Pence called after we left the Capitol and were on the way back to our super-secret location and where we spent the rest of the week.
"Oh, one thing. Do you remember later in the evening there was a young mother and her — I think it was two kids sitting just to the left of the first lady. We met her. She was in line in front of us for the photo with the first lady at the White House before we all got in the bus to go over to the Capitol.
"And she was so sweet. I don't want to say she looked sad because I don't want to mischaracterize her. She may not have been sad, but she clearly is there with her kids, her husband is away in Afghanistan. She's in the gallery because he and she are going to be recognized. She has no idea the president has flown her husband back, and he's waiting outside the doors to come down the steps.
"And when the president announced that, I mean, the place just erupted. And her face lit up, and her kids were the happiest you've ever seen a couple of kids. Sergeant Williams came down the steps, and he hugged his two kids, and she was beside herself. I mean, call it a show, if you will, but it's more. This is the kind of thing that has deep meaning to people.
"And the thought, the idea to do something like this, to extend this kind of honor to people defending the country, I maintain that this is another example of the essence of Trump and his administration and how he has an absolute bond of connection with the people responsible for making this country work."
America made the right choice on 8 NOV 16.
ITEM 13
:
LSU graduate James Carville said
, "I want to give you an example of the problem here. A few weeks ago, Binyamin Appelbaum, an economics writer for the New York Times, posted a snarky tweet about how LSU canceled classes for the National Championship game. And then he said, do the Warren/Sanders free public college proposals include LSU, or would it only apply to actual schools?
"You know how fucking patronizing that is to people in the South or in the middle of the country? First, LSU has an unusually high graduation rate, but that's not the point. It's the goddamn smugness. This is from a guy who lives in New York and serves on the Times editorial board and there's not a single person he knows that doesn't pat him on the back for that kind of tweet. He's so fucking smart.
"Appelbaum doesn't speak for the Democratic Party, but he does represent the urbanist mindset. We can't win the Senate by looking down at people. The Democratic Party has to drive a narrative that doesn't give off vapors that we're smarter than everyone or culturally arrogant."
This is the Democrat Party today. They don't want no Ragin' Cajuns no more.
ITEM 14
:
Kyle Drennen reported
, "Katy Tur Fears 'Gerrymandering' Helping Republicans Win Senate Seats."
Seriously?
The story said, "Tur brought on Post political reporter Philip Bump to continue to promote the piece: 'Alright, so impeachment is an example of this. The 48 senators – I mean, 12 million more voters, that's a lot.' Bump replied in part that 'you had the 69 million who actually supported senators who wanted to see him removed from office.'
"It's unclear how Bump divined that people voted those senators into office with the express desire that they overturn the results of the 2016 election.
"Minutes later, Tur wondered what could be done to prevent Republicans from winning statewide elections for U.S. Senate seats across the country: 'So what's the resolution to that? Is gerrymandering something that would help improve the situation? Is – how does that sort of divide promote consensus in the Senate or even in the House?'"
Sleeping with Keith Olbermann must make you dumb. She is not an LSU graduate.
ITEM 15
: Fact-check: True.
— The Babylon Bee (@TheBabylonBee) February 7, 2020
The
Babylon Bee is the most important conservative site
.
ITEM 16
: Bette Midler asks.
Secret Service spending at Trump hotels: Rooms for agents cost up to $650 per night - The Washington Post ARE HOOKERS INCLUDED WITH THAT??

https://t.co/X7cIxfga0b

— Bette Midler (@BetteMidler) February 7, 2020
No,
because Obama is no longer president
.
ITEM 17
: Settled science.
Trust them, they're scientists! Just seven years after "experts" blamed CO2 for record low Great Lakes water levels, they're blaming CO2 for record high Great Lakes water levels.

https://t.co/3x0Hs9g0cM

— Tom Nelson (@tan123) February 7, 2020
Never mind.
ITEM 18
: In New Hampshire news...
UMass Lowell poll: 62% of New Hampshire Democrats would rather see a giant meteor strike the earth and extinguish all human life than see President Trump get re-elected.

pic.twitter.com/YAoXyP1I1Q

— Sahil Kapur (@sahilkapur) February 7, 2020
Democrats are insane.
ITEM 19
:
Axios reported
, "Romney says he will not vote for Trump in 2020 election."
He didn't in 2016. Who needs him?
ITEM 20
:
A Democrat Underground poster wrote
, "'Don't despair until the end. This is the end. Despair.
"I'm 73 years old and I feel this last week was one of the worst. I'm not talking about Dems in disarray, or being pummeled by Trump, but the display of support for dishonesty, anti-Christian sentiments, hatred, bigotry, vengeance that I saw yesterday was so shocking that the day was memorable. It ranks almost as bad as the week of Trump's election.
"It makes me want to turn off my sense of myself as an American who is concerned and become an outsider who is just here to observe and be entertained. That only happens to me when things are really bad.
"How am I wrong?"
And in the end
The love you take
Is equal to the love you make
So Democrats are pretty much screwed.
FINALLY
: Donald John Trump is limited to 2 terms as president under the Constitution. But not, say, John Barron.
Barron/Pence 2024.