Donald John Trump is still our president.
ITEM 1
:
The Hill reported
, "President Trump on Thursday confirmed the death of an al-Qaeda leader in a U.S. drone strike in Yemen.
Trump said the U.S. carried out a successful counter terrorism operation that killed Qasim al-Rimi, the founder and leader of al-Qaeda in the Arabian Peninsula (AQAP), an affiliate of the terrorist group. The strike also killed a deputy of al-Qaeda leader Ayman al-Zawahiri, though the White House did not specify who."
Donald Trump. Helping terrorists collect their virgins since 2017.
ITEM 2
:
Wolf Richter reported
, "The biggest standout in the US trade data released today by the Commerce Department is China (I combined the data for China and Hong Kong because a lot of merchandise is transshipped and/or invoiced via Hong Kong): The US trade deficit with China plunged by 18% from a record of $388 billion in 2018 to $320 billion in 2019, which was where it had been in 2016.
"US exports to China fell by $20 billion (to $137 billion) but US imports from China plunged by $89 billion, to $457 billion, the lowest since 2013. This 16% plunge in imports was a result of the threatened and actual US tariffs imposed on imports from China. In response, Corporate America rerouted its supply chains through other countries. In percentage terms, it was the biggest plunge in imports from China in at least three decades. In dollar terms, it was the steepest plunge in US-China trade history."
The trade deficit -- loss -- is still too big but President Trump is making progress.
ITEM 3
:
CNBC reported
, "China on Thursday announced that it will halve tariffs on hundreds of U.S. goods worth about $75 billion.
"Retaliatory tariffs on some U.S. goods will be cut from 10% to 5%, and from 5% to 2.5% on others, according to a statement from China's Ministry of Finance. The adjustments will take effect from 1:01 p.m on Feb. 14, it said, without specifying which time zone it was referring to.
"The cuts apply to about $75 billion worth of imports from the U.S. that was slapped with tariffs on Sept. 1, 2019, according to a separate statement on the ministry's website.
"After the cut, duties on U.S. crude will be reduced to 2.5%, from 5%, and the tariff on soybeans will be trimmed by 2.5%."
They need us more than we need them.
ITEM 4
:
OAN News reported
, "Court Filing Shows Hunter Biden Earned $156 Million From Ukraine Corruption."
It is a video report.
Now do John Kerry's stepson. Chelsea. Democrats have a pay-to-play foreign policy. Ukraine may have laundered the kickbacks from Obama giving Iran $150 billion.
ITEM 5
:
The Los Angeles Times reported
, "Following a series of sweeping actions to expand access to voting in recent years, a California lawmaker is pushing to require voters to cast a ballot in future elections.
"The proposal, introduced in the state Assembly on Tuesday, would be unprecedented and probably challenged in court should it ultimately become law. It would place the burden for determining the civil penalty and the ultimate punishment on the secretary of state, California's chief elections officer."
Forcing people to vote is what Saddam Hussein did. It is a favorite tactic of dictators.
ITEM 6
:
Miranda Devine wrote
, "Only a mutual loathing of Donald Trump preserved a façade of unity and purpose for Democrats during impeachment.
"But all that did was deliver the president record high approval ratings and unite Republicans around him, reborn as street brawlers.
"Even Republicans skeptical of Trump's tweets and combative tone now see clearly what he's been up against."
Nancy has united Republicans and divided Democrats. Great job, Botox Lady.
ITEM 7
:
Newsweek reported
, "Support for former South Bend, Indiana, Mayor Pete Buttigieg among Democratic and Independent voters in New Hampshire is gaining as the 2020 field gears up for the state's primary next week, the latest polling data shows."
The story also said, "Wednesday's figures put Sanders at 31%, Buttigieg at 21%, former Vice President Joe Biden and Sen. Elizabeth Warren tied at 12%, and Sen. Amy Klobuchar at 11%."
Gay is the new black.
ITEM 8
:
Yahoo News reported
, "The Treasury Department has complied with Republican senators' requests for highly sensitive and closely held financial records about Hunter Biden and his associates and has turned over 'evidence of questionable origin' to them, according to a leading Democrat on one of the committees conducting the investigation.
"For months, while the impeachment controversy raged, powerful committee chairmen in the Republican-controlled Senate have been quietly but openly pursuing an inquiry into Hunter Biden's business affairs and Ukrainian officials' alleged interventions in the 2016 election, the same matters that President Trump and his personal lawyer Rudy Giuliani unsuccessfully tried to coerce Ukraine's government to investigate."
Money laundering is the allegation. Democrats have their pants around their ankles right now. This is the third act of the impeachment.
ITEM 9
:
National Review reported
, "Attorney General William Barr has issued a memo requiring the FBI to obtain approval from Barr himself before conducting any investigation into any 2020 presidential election candidate.
"'In certain cases, the existence of a federal criminal or counterintelligence investigation, if it becomes known to the public, may have unintended effects on our elections,' Barr wrote in the memo, which was obtained by the New York Times. The attorney general went on to emphasize that 'we also must be sensitive to safeguarding the department's reputation for fairness, neutrality and nonpartisanship.'
"The memo establishes certain requirements for the FBI and other agencies under the purview of the Justice Department to meet before opening a 'politically sensitive' criminal or counterintelligence investigation against candidates or donors. Barr must personally give approval for investigations into presidential and vice presidential candidates, as well as their respective senior staffs."
The era of the FBI as the KGB is through. Democrats hardest hit.
ITEM 10
: The Constitution requires the president to hand in a report each year. The law requires the speaker to preserve the House copy.
February 6, 2020
The people will hold Democrats accountable for not firing her.
ITEM 11
: Guess Adam Schiff ain't the only one in the No One Knows Zone.
— Mark Dice (@MarkDice) February 6, 2020
Just a reminder that Wolf Blitzer lost on Jeopardy, baby.
ITEM 12
: Business Insider reported on the Harvey Weinstein trial that his lawyer, Donna Rotunno, cross-examined Jessica Mann.
ROTUNNO: You told the jury the threesome was horrifying because it was something you didn't want to do. I would like you to read the note from your phone to the ladies and gentlemen of the jury.
MANN: Do I have to?
The story said
, "After a long pause, Mann began reading the years-old post, describing a threesome with an unnamed 'older man' and an Italian woman, seemingly the same one she mentioned in her testimony.
"Loaded with jokes, expletives, and erotic descriptions of the woman's body, the written version characterized the encounter as exciting, not upsetting. At one point it compared Mann to a '14-year-old boy about to lose his virginity.'"
Weinstein may be a creep but that does not make him a rapist. The presumption of innocence was a marvelous discovery. Let's not lose it to the mob.
ITEM 13
:
The Daily Caller reported
, "The Department of Interior finalized a rule Thursday expanding drilling rights in Utah two years after President Donald Trump reduced the size of a pair of national monuments in the area.
"Trump cut the size of the Bears Ears and Grand Staircase-Escalante monuments in 2017, which created a firestorm of criticism from activists who said the president's decision hurt Native American communities.
"Bears Ears and the Grand Staircase contain vast amounts of oil, gas and coal, as well as grazing land local ranchers hope to use for cattle.
"The areas excluded from monuments are protected by federal environmental laws, acting DOI assistant secretary Casey Hammond said in a statement."
Ah, the work that gets done when everyone is arguing over a telephone call to Kiev.
ITEM 14
: Breadline Bernie learns the truth about socialism.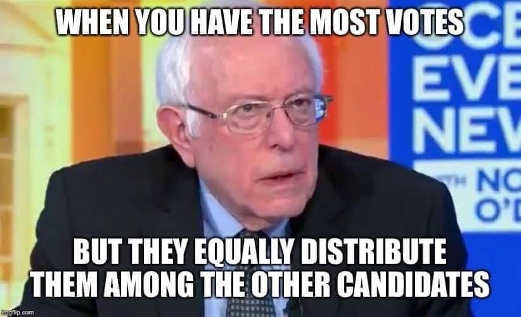 Democrats simply taxed the delegate rich.
ITEM 15
: The Wall Street Journal (no links for pay sites) reported, "Why, when women earn the majority of college degrees and make up roughly half the workforce, do so few occupy the chief executive job?
"Women today lead 167 of the country's top 3,000 companies. That's more than double the share a decade ago, but still under 6%.
"For many, the barrier isn't only a glass ceiling at the very top, but also an invisible wall that sidelines them from the kinds of roles that have been traditional stepping stones to the CEO position."
Enough of this nonsense.
Enough.
Men and women are treated equally in the workplace. That has been the law for nearly 60 years. The numbers show women can become CEOs. That they don't is a matter of their choices, usually to have children. How many women have founded a Fortune 500 company?
That so "few"women are CEOs is not a societal problem.
ITEM 16
: I am convinced J.B. White was the model for Scott Evil.
Why call a convention of the states?

Let the states govern state elections but pass a federal law that to vote in *federal* elections, voter ID is mandatory.

The states will fall in line.

https://t.co/0l3ewBQdG4

— J.B. White (@RattlerGator) February 7, 2020
He cut to the chase like he was directing Bullitt or Fast and Furious.
ITEM 17
:
Fox News reported
, "Two of President Trump's biggest allies on Capitol Hill have been selected for top GOP roles on a pair of committees.
"The House GOP Steering Committee met Thursday and recommended that Ohio Rep. Jim Jordan serve as ranking member of the powerful House Judiciary Committee effective March 12, and that North Carolina Rep. Mark Meadows take Jordan's spot as Oversight Committee ranking member for the remainder of this Congress, Fox News has confirmed.
"The full conference now has to ratify the recommendation, which was first reported by The Hill. Current House Judiciary Committee Chairman Doug Collins, R-Ga., will step down from that post as he pursues a Senate seat."
Setting things up for a good and productive second term.
ITEM 18
:
No Q Report reported
, "FiveThirtyEight projects Bernie Sanders to win EVERY remaining primary. Then again, they also gave Hillary Clinton a 71.4% chance of winning the general election in 2016, so take their projections with a grain of salt."
I am hardly a fan of N8 Ag, but I agree with Nate Silver on this one. Democrat voters are too impatient for incremental socialism now. They want to go full communist and that would be Bernie.
ITEM 19
:
The Intercept reported
, ""Mike Bloomberg's presidential campaign plagiarized portions of its plans for maternal health, LGBTQ equality, the economy, tax policy, infrastructure, and mental health from research publications, media outlets, and a number of nonprofit, educational, and policy groups.
"The Intercept found that exact passages from at least eight Bloomberg plans or accompanying fact sheets were direct copies of material from media outlets including CNN, Time, and CBS, a research center at the John Jay College of Criminal Justice, the American Medical Association, Everytown for Gun Safety, Building America's Future Educational Fund, and other organizations."
You would think that with $50 billion to spend he could do better than this.