Donald John Trump is still our president.
ITEM 1
:
ABC reported
, "For nearly 20 years as an up and coming politician, Bernie Sanders supported ideas on what causes cancer outside of the mainstream, such as sexual inactivity as a cause of breast cancer.
"'The manner in which you bring up your daughter with regard to sexual attitudes may very well determine whether or not she will develop breast cancer, among other things,' Sanders wrote in an essay headlined 'Cancer, Disease and Society' in 1969. 'How much guilt, nervousness have you imbued in your daughter with regard to sex?'"
It's even worse.
Breadline Bernie believes the air you exhale causes floods, droughts, forest fires, and global warming.
ITEM 2
:
The Independent reported
, "NHS patients could be denied lifesaving care during a severe corona virus outbreak in Britain if intensive care units are struggling to cope, senior doctors have warned.
"Under a so-called three wise men protocol, three senior consultants in each hospital would be forced to make decisions on rationing care such as ventilators and beds, in the event hospitals were overwhelmed with patients.
"The medics spoke out amid frustration over what one said was the government's dishonest spin that the health service was well prepared for a major pandemic outbreak."
Government-run health care is putting your life in the government's hands. I suggest if you get this flu in Britain, you bring frankincense, gold, and myrrh for the wise men.
ITEM 3
:
The Associated Press reported
, "Democratic presidential contenders are describing the federal infectious-disease bureaucracy as rudderless and ill-prepared for the corona virus threat because of budget cuts and ham-handed leadership by President Donald Trump. That's a distorted picture. For starters, Trump hasn't succeeded in cutting the budget.
"He's proposed cuts but Congress ignored him and increased financing instead. The National Institutes of Health and the Centers for Disease Control and Prevention aren't suffering from budget cuts that never took effect."
This is how you rebuild credibility: by telling the truth one story at a time.
ITEM 4
: Democrats used to root for the collapse of the American economy.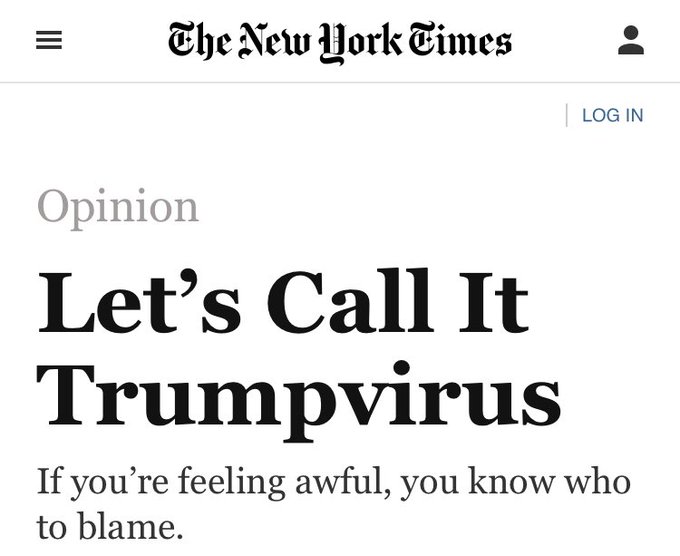 Now they openly wish for our death.
ITEM 5
:
CBS reported
, "New Mexico Goveror Michelle Lujan Grisham signed a red-flag gun bill Tuesday that will allow state district courts to order the temporary surrender of firearms, and she urged sheriffs to resign if they still refuse to enforce it.
"Flanked by advocates for stricter gun control and supportive law enforcement officials at a signing ceremony, Lujan Grisham said the legislation provides law enforcement authorities with an urgently needed tool to deter deadly violence by temporarily removing firearms from people who pose a threat to themselves or others.
"Some sheriffs from mostly rural areas opposed the bill in committee hearings as a violation of constitutional guarantees to due process, free speech and the right to bear arms. Public rallies were held for and against the legislation."
She should demand the sheriffs of Bernalillo County and New Mexico County, and the police chief of San Miguel resign because they refuse to enforce immigration laws.
ITEM 6
:
Grist reported
, "Major news networks devoted less than 4 hours to climate change in 2019. Total."
The story said, "The analysis focused on four nightly news programs — ABC's World News Tonight, CBS Evening News, NBC's Nightly News, and public broadcaster PBS's NewsHour — as well as four Sunday morning political shows: ABC's This Week With George Stephanopoulos, CBS's Face the Nation, NBC's Meet the Press, and Fox Broadcasting Co.'s Fox News Sunday."
Climate change advocates hardest hit. Sasquatch and the Easter Bunny feel their pain.
ITEM 7
:
The Washington Examiner reported
, "Facebook's welcoming of political advertising has helped it corner about 60% of the digital market for the 2020 elections, or nearly $800 million, according to a new marketing analysis.
"The report from eMarketer added that Google captured 18.2% of ads during the 2020 election period.
"'Facebook is the dominant digital platform for political ads, capturing a 59.4% share during the 2019-20 election cycle. That equates to $796.8 million,' said eMarketer.
"Google's take so far is $243.7 million."
Conservatives don't trust Google to be fair. Zuckerberg at least tries to appear to be fair in a sort of I-am-too-goofy-to-be-partisan way.
ITEM 8
:
Task & Purpose reported
, "Marine Corps Commandant Gen. David Berger has ordered all Confederate-related paraphernalia to be removed from Marine Corps installations, his spokesman confirmed on Wednesday.
"A document showing the commandant's decision appeared online on Wednesday, though it did not say when all of the Confederate-related paraphernalia needed to be removed by.
"Berger's spokesman confirmed to Task & Purpose that the commandant had sent a directive to his senior staff ordering all installations to get rid of symbols of the Confederate States of America."
This should have been done 154 years ago, in fact, there never should have been Confederate-related paraphernalia on any Marine installation. I get that Confederate soldiers are considered veterans but the Confederate cause was as unAmerican as the Nazi cause.
ITEM 9
:
The Daily Caller reported
, "A CNN report on pro-life legislation described a baby who survived an abortion as a 'fetus that was born.'"
A fetus that was born describes most of their anchors and panelists. Dumb as rocks and not as interesting.
By the way, these are the sames fetuses who were born that clutched their pearls because Warren said she heard Bloomberg told a pregnant woman to "kill it."
ITEM 10
:
WIS reported
, "Cole Kazmarski and thousands of other voters in South Carolina will be casting their ballots in the Democratic Presidential Preference Primary on Saturday.
"Kazmarski is the Vice Chair for the Midlands Republican Liberty Caucus. 'This coming Saturday I plan to vote for Bernie,' she said.
"Kazmarski is taking part in Operation Chaos 2020. Some conservative Republicans in South Carolina are protesting open primaries in the Palmetto State by voting on Saturday. "The only thing you have to lose is you get on their mailing list and they spend a little ad money on you in the future."
"Pressley Stutts is the Chairman of the Greenville Tea Party. He is urging fellow Republicans to vote for Senator Bernie Sanders in Saturday's primary. 'We are open and proud about it,' he said.
"Stutts said if Sen. Sanders were to become the Democratic nominee, he believes President Donald Trump would have an easier path to reelection."
A far more effective move would be to vote for Andrew Yang, If he were to win the primary after dropping out, open primaries would be gone with the wind. But frankly, my dear...
ITEM 11
: The New York Times reported, "Dozens of interviews with Democratic establishment leaders this week show that they are not just worried about Mr. Sanders's candidacy, but are also willing to risk intraparty damage to stop his nomination at the national convention in July if they get the chance.
"Since Mr. Sanders's victory in Nevada's caucuses on Saturday, The Times has interviewed 93 party officials — all of them superdelegates, who could have a say on the nominee at the convention — and found overwhelming opposition to handing the Vermont senator the nomination if he arrived with the most delegates but fell short of a majority.
The story also said, "From California to the Carolinas, and North Dakota to Ohio, the party leaders say they worry that Mr. Sanders, a democratic socialist with passionate but limited support so far, will lose to President Trump, and drag down moderate House and Senate candidates in swing states with his left-wing agenda of Medicare for All and free four-year public college."
If they want to burn down their house, let's hand them some matches and a few gallons of gasoline.
ITEM 12
: Warren tried to politicize the flu.
Strong border controls is why there are currently zero people infected with coronavirus in Russia, you absolute spoon.

Meanwhile, open border Italy has hundreds of cases.

https://t.co/ayySSj594C

— Paul Joseph Watson (@PrisonPlanet) February 27, 2020
The WWE doffed its cap to that smackdown.
ITEM 13
: UCLA declares a high school student a leading scholar.
— UCLA Newsroom (@UCLAnewsroom) February 27, 2020
Every graduate of that college should demand a full refund.
ITEM 14
: Too many people have the Jack Benny approach to health care.
A real-life version of my snarky "They're literally curing cancer, and Bernie is bitching that they get paid for it."

https://t.co/giYbAG7XZZ

— Alex F. Baldwin (@VerumVulnero1) February 27, 2020
MUGGER: Your money or your life.
No reply.
MUGGER: I said, your money or your life.
BENNY: I'm thinking, I'm thinking.
The thread referred to in the tweet
.
ITEM 15
: Ah, the professionalism of reporters.
— Damon imani (@damonimani) February 27, 2020
How's her Hindi?