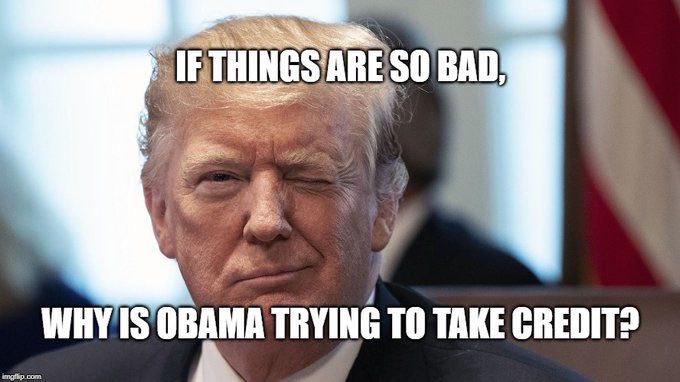 Donald John Trump is still our president.
ITEM 1
:
The Loadstar reported
, "Carriers have pulled 1.67 million TEU of capacity out of China, costing $1.5 billion."
TEU is an acronym for twenty-foot equivalent unit, which measures the cargo capacity. The Loadstar is a trade publication covering the freight and logistics industry.
The story said, "And with a significant link in the supply chain broken, manufacturers worldwide face lengthy shutdowns due to a lack of vital components.
"Planned blank sailings post-Chinese new year and a mass of last-minute cancellations, as production and container transport came to a near standstill in the Corona Virus outbreak, has resulted in an 'unprecedented' level of tonnage being withdrawn, said the consultant."
This disruption is worse than shutting down factories because once the factories re-open, there will be no one willing to haul it across the ocean.
Well, for a price they will. The story also said, "Israeli carrier Zim and others have also announced immediate surcharges of $1,000, while CMA CGM will surcharge its customers $1,250 per reefer container."
Sounds like they are doubling the price of shipping. Welcome to capitalism, you communist pigs.
ITEM 2
: The story also said, "Meanwhile, global car manufacturers that rely on sourcing parts from China are now on the front line of the crisis and facing shutdowns. UK-based Jaguar Land Rover said yesterday it was just two weeks from having to halt production at its car plants at Castle Bromwich, Halewood and Solihull as it runs out of parts.
"CEO Sir Ralph Speth said it had resorted to bringing vital parts from China in the holds of commercial flights and was currently only able to provide a single key fob to customers taking delivery of new vehicles."
Red China lost its competitive edge. Jaguar customers are not going to be pleased with just one fob, and if they are not pleased then Sir Ralph Speth is not pleased, and he will find a more reliable supplier.
Multiply that by all the other companies that rely on Red China.
ITEM 3
:
CBN News reported
, "A US appeals court has upheld Trump administration rules that prevent taxpayer money from being used for abortions.
"The rules forbid clinics that receive federal funds through the Title X program from making abortion referrals and from sharing space with abortion providers. In other words, the Title X money is only supposed to used for health care needs, not to promote abortion.
"In a 7-4 ruling, the 9th Circuit Court of Appeals dismissed arguments that the rule forces doctors to violate medical morals by withholding information from patients, Court News reports."
This is huge. This means Planned Parenthood will no longer suckle at the federal teat, throwing kickbacks -- er, campaign donations -- to Democrats to keep the money flowing. President Trump has broken this circle of death by appointing 10 judges to the Ninth Circuit. That is better than a third of the 29 judges on the circuit. The president then changed the rules to prevent taxpayers from funding abortion.
No pro-lifer has any excuse not to re-elect this man because he kneecapped Planned Parenthood and made it stick.
And kudos to Mitch McConnell for stopping Obama judicial appointments for two years. This allowed a Republican president to fill those positions. RINO senators like Lisa Murkowski also should take a bow. Yes, they can be noisy pains, but they came through time and again to get the nominees confirmed.
Any appeal to the Supreme Court means the case would be heard by Neil Gorsuch, and not Merrick Garland.
ITEM 4
:
The New York Post reported
, "The FBI and NYPD Tuesday morning raided the Time Square offices of Canadian fashion mogul Peter Nygard as part of a sex-trafficking investigation, officials said.
"Nicholas Biase, a spokesman for the US Attorney's Office in Manhattan, confirmed to The Post that the raid was carried out but would not elaborate or provide details.
"Photos from the scene show federal agents and city cops swarming throughout the company's Broadway headquarters, and hauling away at least a half-dozen cardboard boxes from the building.
"Nygard and his company, Nygard International, have been under investigation for months after several women accused the 78-year-old of sexually assaulting them in his Lyford Cay estate in the Bahamas, sources told The Post."
Nxivm, Epstein, Weinstein, and now this fashion mogul -- there sure have been a few rich perverts prosecuted on President Trump's watch.
ITEM 5
:
PJ Media reported
, "Almost half of all blacks and Hispanics who attend Harvard were admitted because of illegal racial preferences in admissions according to a brief just filed by the Department of Justice.
"The Department of Justice has filed a brief in a federal lawsuit filed by Students For Fair Admissions that says Harvard's race-based admissions process violates federal law. This filing marks a extreme departure from the Obama Civil Rights Division that spent significant time and resources seeking to expand the use of race in decision making.
"The brief filed by the Justice Department says Harvard "considers applicants' race at virtually every step, from rating applicants to winnowing the field of applicants when attempting to avoid an oversubscribed class." The brief notes that forty-five percent of African-Americans and Hispanics at Harvard are because of racial preferences given to them during the admissions process.
"The Justice Department notes that providing blacks racial preferences has created a large class of victim applicants: Asians."
The best way to end racism is to stop rewarding it. If black people want to get into Harvard, they should do what Asians do: study harder.
ITEM 6
:
National Review reported
, "The city of Miami will sponsor an Anti-Communist Concert in April after Senator Bernie Sanders (I., Vt.) offered praise for Cuban dictator Fidel Castro.
"'Sadly, even now, we see individuals defend and even promote communism and socialism,' Mayor Francis Suarez, a Republican, said at a Monday press conference announcing the city's sponsorship. 'Just yesterday, presidential candidate Bernie Sanders glorified socialism in a 60 Minutes interview by defending elements of Castro's regime.'"
Suarez's father was a refugee from Cuba who became Miami's first Cuban born mayor. His son is now the city's 43rd mayor -- and the first who was born in Miami.
ITEM 7
: CBS did Democrats a big favor by not starting with a softball question.
Got to love when the

#DemDebate

starts off with a praise of the Trump economy:

"We haven't had a national unemployment rate this low for this long in 50 years."

pic.twitter.com/c0hp2OGiQQ

— Benny (@bennyjohnson) February 26, 2020
The real question is how does a communist win when capitalism is doing so well?
ITEM 8
: Bernie Sanders may become the first Jewish presidential nominee but unlike Obama who enjoyed 95% support among black voters, Breadline Bernie may not get half the Jewish votes. A Sienna University poll of registered New York voters found BS winning a matchup against President Trump by 18 points.
But among Jewish voters
, it would be President Trump 49%, Comrade Sanders 43%.
Daniel Greenfield wrote
, "A startling 61% of Jews have an unfavorable view of Sanders.
"Only 6% of Jews would vote for Bernie on Super Tuesday.
"That's compared to 19% of Protestants and 29% of Catholics. (So let's put the tired meme about Jews earning like Episcopalians and voting like Puerto Ricans to bed.)"
Breadline Bernie hasn't had this much trouble with his fellow Jews since they kicked him out of the kibbutz.
But that's all right. President Trump's fellow billionaires voted for Hillary.
ITEM 9
:
Market Watch reported
, "Author and personal-finance expert Suze Orman had a simple two-word answer to the question of how to react to a market that just shed more than 1,000 points on the back of growing uncertainties, including the spread of the Corona Virus outbreak.
"'I rejoice.'"
The full quote was, "I rejoice. I have to tell you. Because, think about it, the majority of people out there, the way that they do it best is where? Through their retirement accounts: monthly contributions. Most of them are 30, 40, 50 years of age that have at least 10 to 30 or 40 years until they need this money for retirement. So given that that's how they are investing, why would they want the markets to go up? 'Cause the higher the market goes, the shares cost more, the less shares their money buys, the less money they make, in the long run. So with this dip, and if it continues to go down, they should just stay the course and actually be quite happy because the market is still incredibly high."
I agree. This is a buying opportunity for those saving for retirement.
For those of us who are retired, meh. We rode the market up. Remember October 19, 1987? The Dow fell 22.6% in a single day. It recovered. Hang on Sloopy, hang on.
ITEM 10
:
Politico reported
, "A federal judge swung back at Donald Trump on Tuesday over his heated criticism of the Roger Stone case, warning that the president's commentary about his longtime associate's conviction had helped fuel threats to the jury.
"[Obama] Judge Amy Berman Jackson cited Trump's public comments and Twitter posts, as well as an accompanying campaign from the president's conservative media allies to identify and critique the jury, as one of the reasons for her decision to clamp down on public access to a hearing on Stone's request for a new trial."
Liar.
The Obama judge is lying. With the exception of the Democrat congressional candidate who outed herself as the jury forewoman, no one knows who they are.
They always say death threats when caught doing something crooked. Witness Adam Schiff saying the whistle blower's life was threatened, even as Schiff claimed to not know who the whistle blower is.
A formal complaint about the judge's partisan hackery could lead to her removal from an office she does not deserve.
The president responded.
There has rarely been a juror so tainted as the forewoman in the Roger Stone case. Look at her background. She never revealed her hatred of "Trump" and Stone. She was totally biased, as is the judge. Roger wasn't even working on my campaign. Miscarriage of justice. Sad to watch!

— Donald J. Trump (@realDonaldTrump) February 25, 2020
Never feud with Donald John Trump. You cannot win, and often people lose everything.
ITEM 11
: A reader wrote, "Have you noticed that Joe Biden has a new hairstyle and is suddenly parting his hair on the opposite side (kind of like what Joe Scarborough did a couple of years ago)? I guess this is an attempt to relaunch his failing campaign. Jimmy Carter did this in the middle of his failed one term. A lot of good that did him."
I replied, "No, I haven't noticed. Maybe some of his hair plugs fell out. SOMETHING fell out of his head."
ITEM 12
: Pocahontas makes President Trump's argument.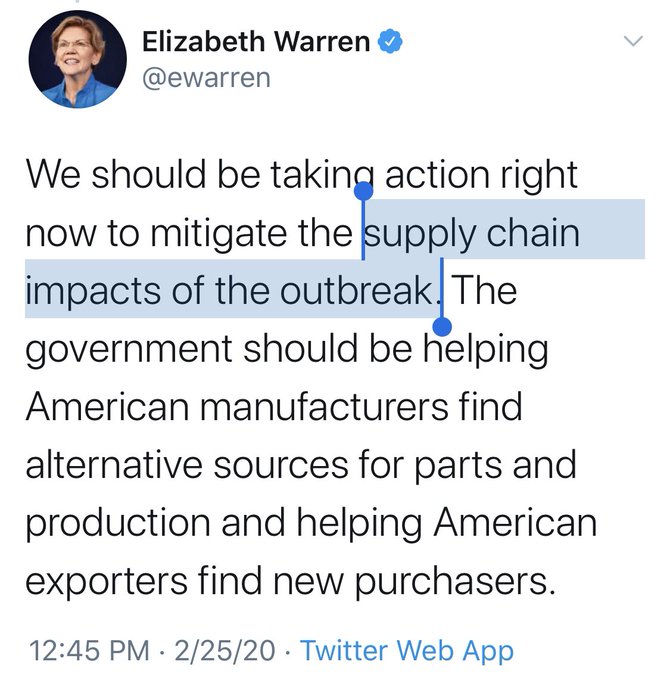 President Trump told them in August to find new suppliers.
ITEM 13
:
Ad Week reported
, "February 2020 Is Most-Watched Month Ever for Fox News Channel."
The story said, "Buoyed by coverage of Pres. Trump's State of the Union (which was the No. 1 cable telecast of the month), and coverage of major political events, including the Iowa caucus, New Hampshire primary and Nevada caucus, the most-watched network on cable television is completing its most-watched month ever.
"Fox News is going to average a record-setting 3.5 million total prime time viewers for the month of Feb. 2020. Compared to the network's Feb. 2019 delivery, that's +35% growth. Additionally, FNC averaged nearly 2 million viewers in total day. While not a network record, that delivery is +34% from what the network averaged in the day part the prior February."
I stopped being a fan when they fired Roger Ailes, but it is a nice accomplishment worth mentioning.
ITEM 14
:
Poynter reported
, "The Charleston Gazette-Mail just let go of its second editor in less than 2 years."
Well, he can just apply for a job at the Charleston Daily Mail then.
Oh.
HD Media LLC, which bought the Gazette-Mail after the Chilton family went broke, owns the Huntington Herald-Dispatch. It looks like they are combining operations for two cities 40 miles apart. It's like lashing the Titanic to the Edmund Fitzgerald.
ITEM 15
: Shelley got what other Republicans have not.
I finally have my own camo shirt! Because of

@MineWorkers

' years of hard work and advocacy, we were finally able to secure healthcare and pensions for our miners! Glad to see them back on the Hill celebrating today! 🎉

pic.twitter.com/Wjo3vynwd9

— Shelley Moore Capito (@SenCapito) February 25, 2020
Maybe UMWA leaders are going where the membership is. John Lewis was a Republican.
ITEM 16
:
Breitbart News reported
, "Iconic disco group Village People issued a statement declaring that President Donald Trump is welcome to their music at his rallies after left-wing activists demanded the group ban him from using their music.
"Village People's classic song Macho Man played as Trump entered a raucous rally in Sardar Patel Stadium in Ahmedabad, India, on Monday. The president has also previously used the band's iconic 1978 hit Y.M.C.A at various campaign events."
The group said, "He has remained respectful in his use of our songs and has not crossed the line; if he or any other candidate were to use any of our songs in a manner that would suggest our endorsement, or in a promotional advertisement, that would cross the line."
It is the as-long-as-the-check-clears-the-bank approach to business. He ain't asking for an endorsement. He just wants to play their songs.
ITEM 17
:
Mike Cernovich reported
, "NDA's are back in the news, at least when those NDA's concern Mike Bloomberg. But what about Elizabeth Warren's NDAs? Oh she may not have one for herself, but her colleagues do, there are over 250 of them!
"What if I told you that Congressmen settled over 250 sexual harassment lawsuits using taxpayer money, and there was no way to find out who these Congressmen were? Would you believe me?
"The truth is that the situation is as described in the question. For decades members of Congress would use your taxpayer dollars to buy their way out of bad publicity.
"When a member of Congress was accused of sexual harassment, the case went to a secret court known as the Office of Compliance. Hidden from public view, Congress's Office of Compliance paid out over $17 million for 264 settlements involving misconduct and sexual harassment."
This is a license to abuse staff members. If they complain, someone else pays. Shut it down. Make congressmen pay for their mistakes on their own.
ITEM 18
:
The Daily Star reported
, "Baboon escapes vasectomy op at testing lab and flees with two female monkeys."
And they say the world has run out of heroes.