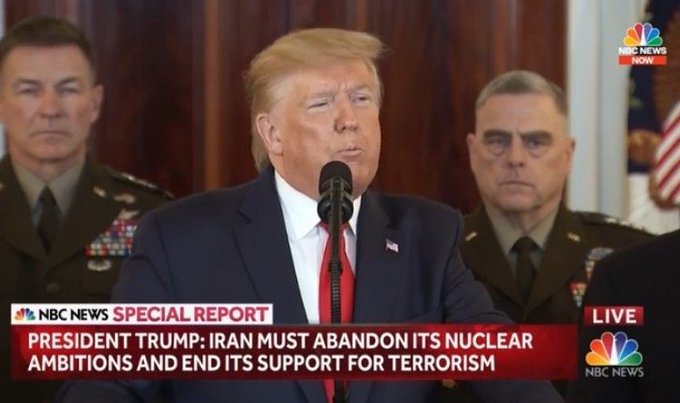 Donald John Trump is still our president.
ITEM 1
:
Politico reported
, "A divided federal appeals court has lifted a lower court's order blocking $3.6 billion in military construction funds that President Donald Trump planned to use to finance an expanded and improved border wall.
The New Orleans-based 5th U.S. Circuit Court of Appeals issued a brief order on Wednesday granting the Trump administration's request to stay the injunction that U.S. District Court Judge David Briones, based in El Paso, Texas, issued last month."
Briones is a Clinton judge.
Andrew Oldham, an appointee of President Trump, and Edith Jones, an appointee of President Ronald Reagan, overturned Briones. Stephen Higginson, an Obama judge, dissented.
ITEM 2
:
The Hill reported
, "The Trump Organization reportedly plans to cut off bids on its Washington, D.C., hotel on Jan. 23.
"The Trump Organization leased the property, within the Old Post Office building, from the federal government, and, with extensions, the lease lasts almost 100 years. A new lease owner could adjust the branding and managing of the building.
"President Trump's real estate business hopes to get more than $500 million for the lease rights, amounting to about $2 million per room, people familiar with the matter told The Wall Street Journal. But buyers have recoiled at that price, which hotel brokers say would be a record for the city.
"The organization is reportedly willing to negotiate on price and other terms."
If it sells for a half-billion that would be triple what renovations cost Trump.
ITEM 3
: General قاسم سلیمانی is still dead.
Natl Security officials gave a compelling briefing to Senators just now. They answered every important question.

Anyone who walks out & says they aren't convinced action against

#Soleimani

was justified is either never going to be convinced or just oppose everything Trump does.

— Marco Rubio (@marcorubio) January 8, 2020
I no longer believe the intelligence community, but I am glad he has gone where the goblins go.
ITEM 4
:
Shahram Akbarzadeh of the Sydney Morning Herald wrote
, "Donald Trump has a free pass in Iran. Russia and China won't stop him."
The president knew going in that they would not stop him.
ITEM 5
:
Variety reported
, "With media and entertainment sectors continuing to be whipped by winds of digital disruption, many industry execs believe they need to change the ways they've done business — or see their companies perish.
"About 50% of M&E executives said their company cannot rely on traditional business models to survive the shifting landscapes, according to a new survey by consulting and professional services firm EY. Indeed, 34% of those surveyed indicated that their company will no longer exist in five years unless their business undergoes reinvention.
"The survey identified three key factors driving change across M&E industry subsectors: responding to a new competitive landscape; struggling to keep pace with technology as businesses evaluate digital innovations, such as artificial intelligence and 5G; and dealing with challenges associated with changing customer expectations. Nearly two-thirds (63%) of execs embarking on change say optimizing the operating model will be truly transformational – but at the same time, 28% said they don't know what steps to prioritize in pursuing such a strategy, according to the EY survey."
Media and entertainment have survived and thrived on new technology, and certainly the entertainment industry has hit another golden era thanks to streaming services.
But the news media is in the porcelain facility with the water swirling because the media frittered away its credibility in defending Obama for 8 years and attacking President Trump for 3 more. When you write off half your audience as deplorable, people turn elsewhere for news. The loss of objectivity means the loss of credibility which means the loss of your business.
ITEM 6
:
Politico reported
, "President Donald Trump's Twitter broadsides and military threats are creating more than just headaches for U.S. commanders: They are stoking fears the Pentagon is losing its prized credibility.
"In the past three months, Trump has ordered the withdrawal of U.S. troops from Syria without notice, outraging their Kurdish partners. He's bucked the military brass by granting clemency to troops accused or convicted of war crimes. He's threatened to seize oil from Syria, and most recently warned he might illegally bomb cultural sites in Iran before being forced to backtrack.
"In all those instances, top military leaders have had to cover for the president, in some cases dodging direct responses to Trump's comments and in others pretending Trump didn't say what he said."
What part of commander in chief do these people not understand?
But these are Obama generals and bureaucrats, the people who thought it was peachy keen to give Iran $150 billion.
ITEM 7
:
Gallup reported
, "In 2019, on average, 47% of U.S. adults identified politically as Democrats or said they were independents who leaned toward the Democratic Party. Meanwhile, 42% identified as Republicans or were Republican-leaning independents.
"Americans' political leanings have been quite stable since 2016, the year Donald Trump was elected president. The Democratic figure has not changed in the past four years, and the Republican figure has been 41% or 42% each year since 2012."
How many does not matter as much as where they are does.
By the way, if these figures are relevant to the presidential popular vote, Hillary was only 1 point ahead of the percentage of Democrats out there, while President Trump was 4 points over the percentage of Republicans overall.
Rallies matter.
ITEM 8
:
The American Cancer Society announced
, "The death rate from cancer in the US declined by 29% from 1991 to 2017, including a 2.2% drop from 2016 to 2017, the largest single-year drop ever recorded, according to annual statistics reporting from the American Cancer Society. The decline in deaths from lung cancer drove the record drop. Deaths fell from about 3% per year from 2008 - 2013 to 5% from 2013 - 2017 in men and from 2% to almost 4% in women. However, lung cancer is still the leading cause of cancer death.
"The decline in the death rate over the past 26 years has been steady. Overall cancer death rates dropped by an average of 1.5% per year between 2008 and 2017. This translates to more than 2.9 million deaths avoided since 1991, when rates were at their highest. A total of 1,806,590 new cancer cases and 606,520 deaths are expected in the US in 2020, which is about 4,950 new cases and more than 1,600 deaths each day."
If we get three new cases for every death, does that mean cancer kills only 1 in 3 victims?
As for lung cancer, smoking does not always lead to it, but why take chances?
ITEM 9
: Too busy to do her job.
In meeting tonight Speaker Pelosi was handed a note telling her VP Pence was on the phone.

"Tell him I'll call him back," she said according to sources in room, noting she had to go open the House for new session.

Two minutes later, she was handed note about air base bombing.

— Heather Caygle (@heatherscope) January 7, 2020
After Vice President Mike Pence, she is next in line for the presidency.
ITEM 10
:
Stephen McBride, editor of RiskHedge Report, wrote
, "Walmart Has Made A Genius Move To Beat Amazon."
His story said, "For a long time, no one dared to stand up to Amazon. But have you seen Walmart lately?
"The nation's biggest grocery chain is charging headfirst into online retail. Since 2016, Walmart's online sales are up 78%. And get this, Walmart's online sales are now growing twice as fast as Amazon's.
"Walmart is already the world's third-largest online store. And since last March, Walmart stock beat Amazon's return by 30%."
Amazon has to pay shipping from the warehouse to the customer, which is getting expensive as demand for shipping rises.
Walmart has you pick it up from the store. You buy it online, pick it up, and go home. Other brick and mortar retailers are following suit. What was once a disadvantage -- having physical stores -- is now an asset. Well played.
ITEM 11
:
The Hill reported
, "Secretary of State Mike Pompeo is limiting U.S. diplomats' contact with Iranian opposition groups, according to a cable sent to all U.S. diplomatic outposts Tuesday.
"Pompeo's order says diplomats should not meet with Mujahedeen-e-Khalq (MEK) or five other groups because it could damage the United States' chances to negotiate with Iran, the cable obtained by Bloomberg said."
The story also said, "The Trump administration has wanted to get Iran back to the negotiating table after withdrawing from the 2015 Iran nuclear deal, but it has also imposed sanctions on the country and killed Soleimani.
"This order comes as the State Department seems to be trying to balance the desire for a 'maximum pressure' campaign with allowing room for potential discussions."
This president is in charge of the State Department, not the other way around.
ITEM 12
: Hack hacked.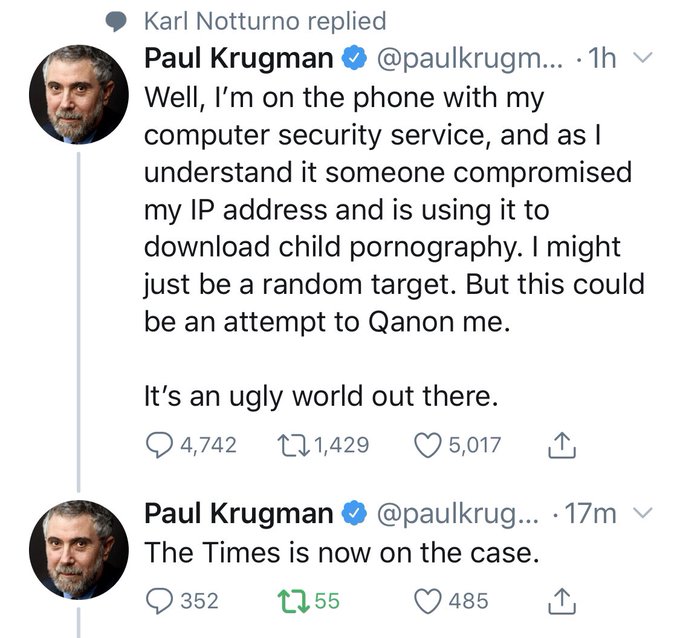 He says.
ITEM 13
:
The Tampa Bay Times reported
, "A Pasco County middle school teacher faces felony charges after sheriff's deputies said a Best Buy employee found child pornography on the 69-year-old educator's laptop.
William Crawford was arrested Tuesday afternoon at John Long Middle School, where he taught, according to a report from the Pasco County Sheriff's Office. He resigned from the job the same afternoon, prior to his arrest, a district spokeswoman said."
No word on whether Qanon was involved.
ITEM 14
: Oops.
The signs at Glacier National Park warning that its signature glaciers would be gone by 2020 are being changed. They were added more than a decade ago to reflect climate change forecasts at the time by the US Geological Survey, a park spokeswoman says.

https://t.co/5NkzFc7xJR

— CNN (@CNN) January 8, 2020
It was all Soviet propaganda by the Obama regime.
No apology. No criticism in the media. No one held accountable. Just move on to the next Big Lie about how we must cripple America to save the world.
ITEM 15
: Electric car leaves one huge carbon footprint.
Electric car blamed for major fire in a parking garage at Norwegian airport that destroyed hundreds of cars and grounded air traffic

https://t.co/F9VYwCqbfv

via

@business

— GWPF (@thegwpfcom) January 8, 2020
Bloomberg News did not mention the electric car until Paragraph 5. I am surprised it mentioned this at all.
ITEM 16
:
Bloomberg News reported
, "Senate Democrats are pressuring House Speaker Nancy Pelosi to end her standoff over the impeachment trial of President Donald Trump as it's become increasingly clear there's little chance of winning concessions from Senate Majority Leader Mitch McConnell.
While most House Democrats on Wednesday continued to support Pelosi holding back the articles of impeachment they adopted last month until McConnell sets out his rules for the trial, several Democratic senators suggested the battle was over."
Today marks 22 days since the House voted to impeach. It still hasn't.
ITEM 17
:
Reuters reported
, "German industrial orders fell unexpectedly in November on weak foreign demand and a lack of major contracts, data showed on Wednesday, suggesting that a manufacturing slump will continue to curtail growth in Europe's largest economy.
"Germany's export-dependent manufacturers are struggling with sluggish demand from abroad as well as business uncertainty linked to trade disputes and Britain's decision to leave the European Union."
The story also said, "The German economy probably grew 0.5% in 2019, down from 1.5% in 2018. The statistics office releases preliminary gross domestic product growth data on Jan. 15."
Maybe they should try a tax cut.
ITEM 18
:
PJ Media reported
, "One day after news broke that CNN settled a defamation lawsuit on behalf of Covington Catholic teen Nick Sandmann, Robert Barnes announced he had sued author, producer, and show host Reza Aslan for Aslan's tweet describing Sandmann's face as punchable. The lawsuit, which Barnes provided to PJ Media, would slap Aslan with a minimum of $135,000 in damages.
"When video of Sandmann supposedly smirking at a Native American man outside the March for Life went viral last year, Aslan infamously tweeted, 'Honest question. Have you ever seen a more punchable face than this kid's?'
"Nearly exactly one year after posting the tweet, Aslan had finally deleted it on Wednesday."
Aslan was a host on CNN, which obviously settled with Sandmann to avoid discovery.
ITEM 19
: Never give up.
Jan 1942: My 1st flight in a plane. Pilot invited me on a test flight after I maintained an AT-11. I threw up all over interior. I had just gotten accepted to flt school & thought Yeager, what were you thinkin'? Then I had to clean it up myself.

@SpaceForceDoD @usairforce @POTUS

— Chuck Yeager (@GenChuckYeager) January 9, 2020
And clean up your own messes.
ITEM 20
: The Scots don't give a darning needle.
Scottish comedy duo take the Mickey out of Greta Thunberg. Enjoy it before the BBC take it down and the comedians are sent to a re-education camp and forced to subsist on a vegan diet. Very funny.

pic.twitter.com/YVGNEBMNa1

— Toby Young (@toadmeister) January 8, 2020
Scotland is so backward they still have comedy shows.