On this date in 2018, Donald John Trump was our president. On this date in 2019, Donald John Trump was our president. Today, Donald John Trump is still our president.
ITEM 1
: Trumpenfreude with whipped cream is the first offering this morning.
The Washington Post reported, "Soleimani posted memes antagonizing Trump on social media."
The story said, "Iranian Maj. Gen. Qasem Soleimani, who was killed in a U.S. airstrike in Iraq early Friday, wasn't just an infamous terrorist organizer and one of the regime's most powerful officials — he was also one of President Trump's social media antagonists."
Never start a feud with Donald John Trump.
Never.
You cannot win and you just may wind up with your body parts separated by a drone.
I do not link pay sites.
ITEM 2
:
The Daily Caller reported
, "The Republican National Committee (RNC) and President Donald Trump finished up an impressive 2019 by pulling in a combined $154 million in the fourth quarter.
"Overall, the joint fundraising committee between the RNC and Trump raked in a combined $463.6 million in 2019, and reported $194.8 million cash on hand at the end of the year.
"RNC Chairwoman Ronna McDaniel claimed that impeachment has been a driving force behind Trump's historic fundraising numbers."
Democrats impeached up because by sending in the money, real Americans are saying: Impeach you.
ITEM 3
:
One America News Network reported
, "China is calling for peaceful dialogue to resume between the U.S. and North Korea. On Thursday, Beijing's foreign minister called for both Pyongyang and Washington to soften rhetoric against each other amid the heightening tensions.
"Earlier this week, North Korean leader Kim Jong-un said the country is planning to unveil a 'new strategic weapon' to deter perceived threats from the U.S. Kim also said North Korea no longer needs to adhere to its suspension of nuclear weapons testing. Officials said North Korea's threats will only hurt the prospect of peace and stability on the Korean Peninsula."
One year ago, Kim and President Trump seemed on their way to cutting a deal. Then Chairman Xi called Kim to Beijing. No deal.
Last month, the initial Red China-U.S. trade deal was cut. Perhaps this move by Red China is part of that deal.
Then again, turning Iran's top general into dog meat may have given Chairman Xi second thoughts.
ITEM 4
:
The Express provided the chart of the day
.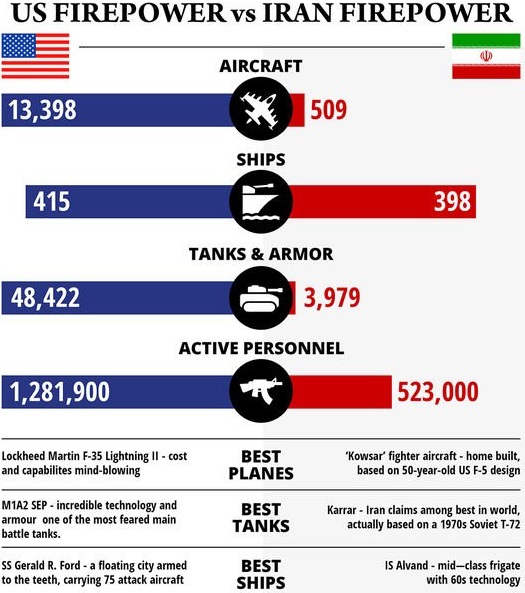 Never underestimate your enemy.
Never overestimate either.
ITEM 5
:
Chris Wallace of Fox News said
, "Both President Obama and President Bush had the options at several points to take out Soleimani, and they decided as much as they hated him, not to do that because they were worried how the Iranians would respond to that. That is the concern. They talked about harsh retaliation, what form will not take? Will there be military strikes? Will there be terror attacks? Iran has a very sophisticated cyber capability. Could they be cyber attacks on the U.S. homeland? If this is the kind of strike that finally gets Tehran's attention and they pulled back, that's a great message for the U.S. On the other hand, if they simply escalate and respond to our escalation with another one of their own, people will have to decide how far we want to take this."
They overestimated Iran's power.
Thousands died because of that, and Iran may soon get nukes to kill thousands more.
ITEM 6
:
Fox News reported
, "Texas Sen. Ted Cruz, a noted Iran hawk, is circulating a resolution in the Senate that would commend the Trump administration for killing Iranian Gen. Qassem Soleimani, aides told Fox News on Friday.
"An aide said the resolution is 'structured and worded the same way as a 2011 resolution that commended the Obama administration for killing Bin Laden, which received unanimous support in the Senate.' Cruz is trying to get Democrats on the record supporting the mission.
"It's an apparent effort by Republicans to try to dare Democrats to oppose virtually the same resolution the Senate adopted to applaud then President Barack Obama in 2011 after the killing of Osama bin Laden."
Add the name of al-Baghdadi. We can call it the Kibbles 'n Bits Act because that is what they are now.
ITEM 7
:
Tyler O'Neil reported
, "When President Donald Trump gave the order to kill Iran's Quds Force leader Qasem Soleimani, he not only made an arguably proportionate response to the invasion of the U.S. Embassy this week but he also reversed a policy of the Obama administration. According to a report from 2018, Israel was on the verge of assassinating Soleimani in 2015, but Obama's officials foiled the plan. In fact, they reached out to Iran with news of Israel's plans.
"The Trump administration, on the other hand, gave Israel a green light to assassinate Soleimani, according to a January 1, 2018 report from the Kuwaiti newspaper Al-Jarida. The paper quoted a source in Jerusalem as saying that 'there is an American-Israeli agreement' that Soleimani is a 'threat to the two countries' interests in the region.' According to Haaretz, Al-Jarida is generally assumed to be a platform for the Israeli government to disseminate its message to other Middle Eastern governments.
"According to the report, the agreement between Israel and the U.S. came three years after Washington thwarted an Israeli attempt to kill the Iranian general."
So, Obama's favorite general was not in the American military.
Big surprise.
ITEM 8
:
The Los Angeles Times reported
, "Israel had advance notice of the U.S. plan to kill Iranian military leader Gen. Qassem Suleimani, Israeli military and diplomatic analysts reported Friday night while refraining from providing further details due to heavy military censorship.
"'Our assessment is that the United States informed Israel about this operation in Iraq, apparently a few days ago,' Barak Ravid, a journalist and commentator with deep sources in the Israeli security establishment, said on Channel 13.
"An Israeli army officer with knowledge of Israeli military assessments, who spoke on the condition of anonymity because he did not have permission to speak to reporters, told the Los Angeles Times that the attack on Suleimani 'did not come as a surprise.'"
Of course we told Israel.
We also told the Saudis because those 2 nations are the most likely targets of a retaliation.
ITEM 9
:
Talking Points Memo reported
, "While House Speaker Nancy Pelosi (D-CA) rails against President Donald Trump for approving a fatal attack on Iranian commander Qasem Soleimani without consulting Congress, Sen. Lindsey Graham (R-SC) said that he got a special early briefing while golfing with Trump in Florida."
Old: Learn to code.
New: Learn to golf.
BWAHAHAHAHAHAHAHAHAHAHAHAHAHAHAHAHAHAHAHAHAHAHAHAHAHAHAHAHAHAHAHAHAH

Not only did PDT NOT tell the Dems, neither did the Republicans briefed on the operation!

BWAHAHAHAHAHAHAHAHAHAHAHAHAHAHAHAHAHAHAHAHAHAHAHAHAHAHAHAHAHAHAHAHAH

https://t.co/Khtt6jEHlV

— GadsdenJazz (@GadsdenJazz) January 3, 2020
I love it.
ITEM 10
:
CNN
reported, "President Trump dined on ice cream as news of the airstrike broke."
Like a boss.
We know what flavor.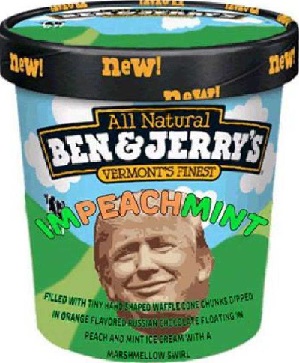 Two scoops, too.
Hope he washed it down with Diet Liberal Tears.
12 cans a day.
ITEM 11
:
Fox News reported
, "Nearly 15 million acres burned in Australian wildfires killing almost half a billion animals."
I call BS.
West Virginia just happens to be 15 million acres in size and it is 75% forested.
We have a million deer, 10,000 bears, and 488,148 Democrats. Even counting bugs and slugs, I doubt there are anywhere near 10 million animals in the state. A half-billion? Go jump in a lake.
ITEM 12
: Speaking of burns.
I'm so sorry your friend died

— Militaristic hipster (@DaniDeli3) January 3, 2020
The deeper the state, the shallower the patriotism.
ITEM 13
:
Breitbart News reported
, "Most Americans want sharp reductions to the annual inflow of roughly 1 million legal immigrant workers, consumers, and renters.
"Rasmussen asked 1,250 likely voters in mid-December: 'Which is closest to the number of new immigrants the government should be adding each year — fewer than 500,000, 750,000, one million, one and a half million, or more than one and a half million?'
"51% said they want immigration sharply reduced, including 36% who said they want fewer than 500,000 immigrants and 15% who said they want fewer than 750,000 new migrants.
"In contrast, just 17 percent said they want legal immigration raised to at least 1.5 million a year."
The people of America never get what they want, but the politicians all call our nation a democracy.
ITEM 14
: The New York Times reported, "Leaders of the United Methodist Church, the second-largest Protestant denomination in the nation, announced on Friday a plan that would formally split the church after years of division over same-sex marriage.
"Under the plan, which would sunder a denomination with 13 million members worldwide, a new traditionalist Methodist denomination would be created, and would continue to ban same-sex marriage as well as the ordination of gay and lesbian clergy.
"A separation in the Methodist church had been anticipated since a contentious general conference in St Louis last February, when 53% of church leaders and lay members voted to tighten the ban on same-sex marriage, declaring that 'the practice of homosexuality is incompatible with Christian teaching.'"
They should drop the pro-abortion stance as well, and call the new group the
Evangelical United Brethren
church.
I do not link pay sites.
ITEM 15
:
City Lab reported
, "For the past few years, cities and states on the West Coast have led the charge to build more dense housing and arrest fast-rising rents. Oregon passed the first-ever statewide law legalizing duplex homes in most cities, while California has debated one bill after another to increase the allowable housing near transit.
"The East Coast has been slower to pick up on density as a solution to soaring costs for renters and home-buyers. But that may change in the new year. Late in December, Virginia became the first eastern state to see a proposal to prohibit bans on duplex housing across the state, among other housing fixes. Not to be outdone, Maryland will weigh a upzoning bill in 2020, plus a sweeping experiment to build European-style social housing across the state.
"Next week, Maryland House Delegate Vaughn Stewart will introduce a suite of housing bills to expand rights for renters and options for buyers. This legislative Homes for All package would attack the affordability crisis on three fronts: by lifting zoning restrictions on new housing, generating a fund for public housing, and establishing new rights for tenants."
Cutting through all the code words, Democrats want to ban single-family housing in suburbia. They want tenement slums and elitist condos from coast to coast.
Do Martha's Vineyard and the Hamptons first.
Every social justice warrior proposal is aimed at eliminating the middle class.
ITEM 16
:
United Press International reported
, "More than 200 lawmakers have asked the U.S. Supreme Court to consider overturning Roe vs. Wade, a 1974 landmark decision to legalize abortion, in a brief supporting a Louisiana law that would severely limit access to the procedure.
"The 207 members of Congress -- 39 senators and 168 House members from 38 states -- filed the brief urging the Supreme Court to uphold the Louisiana law when it hears the case in March, stating they 'have a special interest in the correct interpretation, application and enforcement of health and safety standards for elective abortion by the people of the states they represent.'"
If 38 states want to ban abortion, amend the Constitution then.
ITEM 17
:
Bloomberg News reported
, "The McClatchy Co., the newspaper publisher that's teetering near bankruptcy, skipped a payment to some of its pensioners.
"The company will not be releasing funds to a "small number of participants in its Supplemental Executive Retirement Benefits plan as it addresses its long-term liquidity pressures, McClatchy said in a statement Thursday. The company faces a mandatory $124 million contribution to its pension plan in 2020.
"'This decision is not taken lightly, but at a time when the company is actively negotiating the future of the qualified pension plan, it would be inconsistent with our culture to continue payments on the non-qualified plans,' Chief Financial Officer Elaine Lintecum said in the statement.
"There's no impact on operations or benefits under McClatchy's $1.3 billion qualified pension, whose distributions continue, according to the statement. In an interview, Lintecum said the company hired Kurtzman Carson Consultants LLC to assist with incoming calls about the skipped pension payments. Units of KCC also provide bankruptcy and restructuring consulting services."
30 years ago, newspapers were cash cows.
Now they are burger bits.
ITEM 18
:
The New York Post reported
, "Chuck Todd's Meet the Press Daily could be sidelined at MSNBC as part of a dramatic anchor reshuffling at the cable network to promote rising star Nicolle Wallace.
"While the MTP flagship, also under NBC political director Todd, remains the No. 1 rated Sunday political show, with over 3 million viewers, his weekday 5 p.m. spinoff show has seen a dip in the all-important 25-to-54 age demographic. It airs between more popular, opinionated shows: Wallace's Deadline: White House, which peaked with 2 million viewers in 2019, and The Beat With Ari Melber."
They offered him the 9 a.m. slot.
Oof.
Maybe he can take his ferret face over to the Animal Planet channel.
ITEM 19
:
Bearing Arms reported
, "Back in February of 2019, footwear company TOMS Shoes cheered the passage of gun control bills in the Democrat-controlled House of Representatives, and pledged to do all it could to ensure the anti-gun bills became law. Company founder Blake Mycoskie is a big fan of gun control laws, and spent millions of dollars in company funds to help push for the universal background check bill passed by the House."
We already have universal background checks. And have had them for 51 years.
The story said, "Well, the Senate still hasn't passed HR 8, but as it turns out Mycoskie's work with the shoe company he started may very well be done. According to Reuters, creditors are taking control of the company, which has been losing money and was in danger of being unable to pay a $300-million loan due in 2020."
Constitutionfreude.
The Founding Fathers were Trump before being Trump was cool.