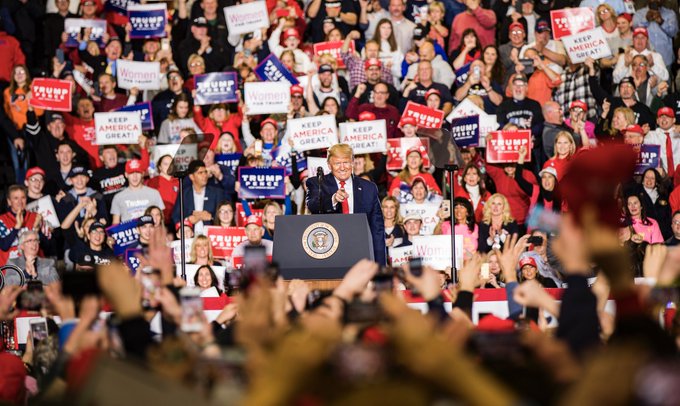 Donald John Trump is still our president.
ITEM 1
:
Cybercast News Service reported
, "President Donald Trump announced a proposal for a Mideast peace plan with a two-state solution that allows for Jerusalem to remain the undivided capital of Israel and calls for the firm rejection of terrorism by the Palestinians.
"'During my trip to Israel, I also met with Palestinian President Abbas in Bethlehem. I was saddened by the fate of the Palestinian people. They deserve a far better life. They deserve the chance to achieve their extraordinary potential,' he said."
This is the two-state proposal that Palestinians have claimed they wanted.
The Week reported
, "As anticipated, Palestine does not appear ready to sign on to President Trump's Middle East plan, which he presented Tuesday alongside Israeli Prime Minister Benjamin Netanyahu.
"The plan was not considered to be a game-changer after it was revealed. Some experts predict it could even escalate tensions between Israel and Palestine because it does not curb Israeli settlements in the West Bank despite creating a Palestinian state in the region. So it's not a surprise to learn that Palestinian President Mahmoud Abbas resoundingly rejected what he described as a nonsense proposal."
Let us get this straight: Giving Palestine nearly half of Israel, investing $50 billion in developing it, and creating 1 million jobs for Palestinians is nonsense according to Abbas.
I would ask what the heck he and his elitist liberal supporters in America want but everyone knows the answer. They want another holocaust.
ITEM 2
:
Fox News reported
, "Trump, at packed New Jersey rally, hits congressional Dems amid impeachment fight."
President Trump said, "While we are creating jobs and killing terrorists, the congressional Democrats are obsessed with demented hoaxes, crazy witch hunts, and deranged partisan crusades. We will make sure they face another crushing defeat in the next election."
He also said, "Earnings for the bottom 10% are rising faster than earnings for the top 10%, for the first time ever."
If this keeps up, there will be no poor no more.
And he said, "Since my election, the net worth for the bottom half of wage-earners has increased by 47%, three times faster than the increase for the top 1%. Median household income is at an all-time high; for President Bush, in eight years it was $450. Under President Barack Hussein Obama, for eight years, it was $975.
"Under your favorite president, and when you include the tax cuts, the regulation cuts ... under President Trump, for three years, the number is almost $10,000 -- and it's going up. That's a big difference."
Obama was your life on socialism.
President Trump is your life on capitalism.
Any questions?
ITEM 3
:
Agence France Presse reported
, "Mexican migration authorities said they have deported 2,300 Hondurans who illegally crossed over from Guatemala with a caravan heading to the United States.
"The assisted return of the Central Americans took place between January 18 and Monday, according to the interior ministry and the National Migration Institute.
"A total of 1,064 Honduran migrants were deported on National Guard planes and charter aircraft, they said in a statement.
"Another 1,239 were repatriated by land from the southern states of Chiapas and Tabasco, the institute said."
Gracias, amigos.
ITEM 4
:
The Hill reported
, "Secretary of Education Betsy DeVos compared the debate over abortion rights to ending slavery in America while speaking at an event for Colorado Christian University in Washington, D.C."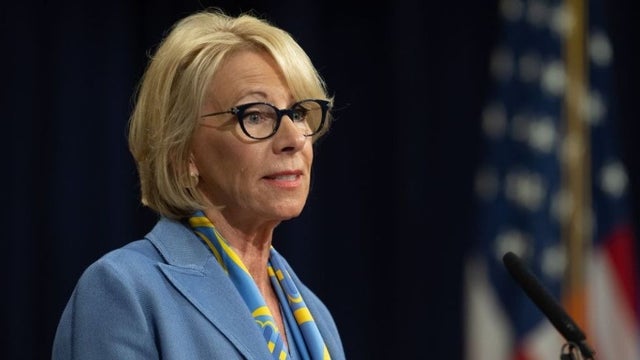 She said, "[Lincoln] too contended with the pro-choice arguments of his day. They suggested that a state's choice to be slave or to be free had no moral question in it. Well, President Lincoln reminded those pro-choicers that is a vast portion of the American people that do not look upon that matter as being this very little thing. They look upon it as a vast moral evil.
"Lincoln was right about the slavery 'choice' then, and he would be right about the life 'choice' today because as it's been said: Freedom is not about doing what we want. Freedom is about having the right to do what we ought."
Fact check: True. Your rights end where my heartbeat begins.
ITEM 5
:
Paul Bedard reported
, "Satisfaction with race relations in the United States has jumped under President Trump, the latest indication that the Republican is making significant inroads with blacks and other minorities in advance of the 2020 presidential election.
"New details from a Gallup survey on satisfaction said race relations and the position of minorities under Trump are far higher than they were under President Barack Obama, the nation's first black president."
According to Gallup, 68% (up 22 points in 3 years) are satisfied with the state of the nation's economy, 68% (up 18) are satisfied with the nation's security from terrorism, 81% (up 15) are satisfied with the nation's military strength and preparedness, and 47% (up 9) are satisfied with the nation's policies to reduce or control crime.
Americans know they are better off than they were 3 years ago. That fact is unimpeachable.
ITEM 6
:
The New York Post reported
, "Experts have confirmed that the deadly corona virus outbreak began at a wholesale animal market in the central Chinese city of Wuhan, a report said.
"Scientists with the Chinese Center for Disease Control and Prevention said tests show the pneumonia-like virus initially jumped from animals to humans at the Huanan Seafood Wholesales Market, News.com.au reported, citing China's state-owned Xinhua news agency.
"The now-shuttered market — which sold live animals including wolf pups, foxes, rats and peacocks — had previously been reported as the epicenter of the virus."
This was a meat market.
The communist government in Red China is so inept that people are reduced to eating wolves, foxes, rats, and whatever else they can find. A swine flu has devastated its pork supply.
Chairman Xi was too stubborn to cut a deal in 2018 with The Donald. Now he suffers a double calamity of sickness and starvation.
ITEM 7
:
Bloomberg News reported
, "The Chinese Embassy to Denmark wants the newspaper Jyllands-Posten to apologize for publishing a drawing that depicts China's flag with virus symbols instead of five stars."
The newspaper's editor said, "We can't apologize for something we don't think is wrong. We have no intention to demean or mock but we don't think this drawing is doing that."
Chairman Xi has bigger worries than newspaper cartoons in faraway lands. Then again he banned Winnie the Pooh.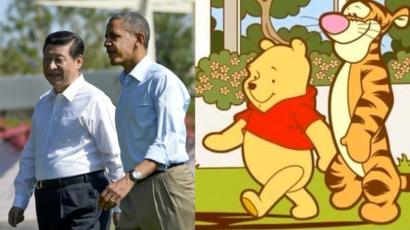 Burgermeister Meisterburgers are fools. Sadly, they have the power to kill their own people.
ITEM 8
:
The Wall Street Journal reported
, "The chairman of Harvard University's chemistry department was arrested Tuesday on charges of lying about receiving millions in Chinese funding, in an escalation of U.S. efforts to counter what officials say is a plot by Beijing to mine U.S. universities to catapult China to the forefront of scientific development.
"A federal criminal complaint alleges that Charles Lieber, a pioneer in nanotechnology, misled the Defense Department and the National Institutes of Health about his participation in China's Thousand Talents Plan while the U.S. agencies were spending more than $15 million to fund his research group in the U.S.
"Through its government-backed Thousand Talents Plan and hundreds of similar programs, China pays scientists around the world to moonlight at Chinese institutions, often without disclosing the work to their primary employers.
"The case was one of three presented Tuesday by federal authorities in Massachusetts, with each underscoring U.S. concerns that the Chinese government is trying to obtain cutting-edge U.S. research by exploiting U.S. universities and their professors and researchers. Prosecutors have brought a series of cases charging Chinese Americans and Chinese nationals working in the U.S., prompting concern in the scientific community that authorities were racially profiling people. Mr. Lieber is among the first non-Chinese scientists and highest profile targets to date."
Harvard is sitting on $40 billion in its endowment fund.
Why is Harvard accepting money from Red China -- and lying about it?
RICO Harvard.
ITEM 9
:
The Washington Free Beacon reported
, "Georgia Senate candidate Jon Ossoff (D.) told a crowd earlier this month that Democrats needed to defeat President Donald Trump's backers so badly that they wouldn't be able to show their faces in public.
"'We need to send a message this year,' Ossoff said. 'We need to send a message that if you indulge this kind of politics, you're not just going to get beat. You're going to get beaten so bad you can never run or show your face again in public, because we have had enough, absolutely enough of what we are getting from Donald Trump and his fellow travelers right now.'
"He made the remarks at a Jan. 19 Democratic candidate forum in Dunwoody, a northern suburb of Atlanta."
He sounds sane.
ITEM 10
:
Bloomberg News reported
, "Facing economic collapse and painful sanctions, the socialist government of Venezuelan President Nicolas Maduro has proposed giving majority shares and control of its oil industry to big international corporations, a move that would forsake decades of state monopoly.
"Maduro's representatives have held talks with Russia's Rosneft PJSC, Repsol SA of Spain and Italy's Eni SpA. The idea is to allow them to take over government-controlled oil properties and restructure some debt of state oil company Petroleos de Venezuela SA in exchange for assets, according to people with knowledge of the matter.
"The proposal, which could offer a balm to the country's disintegrating oil industry, is in early stages and faces major obstacles."
Why not sell it back to Royal Dutch Shell and the American companies that were nationalized?
For a dollar.
ITEM 11
:
The Hill reported
, "West Virginia Gov. Jim Justice encouraged Virginia counties unhappy with the Democratic-controlled government in Richmond to secede from the state and join his.
"'If you're not happy where you're at, come on down,' Justice said in a Tuesday press conference with Liberty University President Jerry Falwell Jr. 'If you're not truly happy where you are we stand with open arms to take you from Virginia or anywhere you may be. We stand strongly behind the Second Amendment, and we stand strongly for the unborn.'
"In last year's election, Democrats captured complete control of Virginia's state government for the first time in more than two decades, prompting the party to propose stricter gun regulation, loosened abortion laws and efforts to fight discrimination against the LGBTQ community. The efforts have prompted a conservative resistance, including a rally this month in support of gun rights at the Virginia state capitol."
Gun confiscation is not gun regulation.
ITEM 12
:
Jonathan Chait of New York Magazine wrote
, "The totality of the evidence suggests Sanders is an extremely, perhaps uniquely, risky nominee. His vulnerabilities are enormous and untested. No party nomination, with the possible exception of Barry Goldwater in 1964, has put forth a presidential nominee with the level of downside risk exposure as a Sanders-led ticket would bring. To nominate Sanders would be insane."
Flashback to February 5, 2016, when he wrote for the same publication
, "There are three reasons, in descending order of obviousness, for a liberal to earnestly and patriotically support a Trump Republican nomination. The first, of course, is that he would almost certainly lose."
Why aren't losers like Chait canned for incompetence?
ITEM 13
:
News Busters reported
, "With witnesses in the House impeachment trial looking questionable, ABC on Tuesday lamented the Democratic strategy, lashing out at Nancy Pelosi and the House for botching the effort to remove Donald Trump. During a live interview, Senator Richard Blumenthal said of the move to not have witnesses: 'They may have the votes at this moment.'
"An alert George Stephanopoulos noticed this and remarked that the Democrat 'may have buried the lede," adding, "He said about six sentences in they may have the votes at the moment.' Reporter Terry Moran, no conservative, chided: 'They may have the votes to block the calling of witnesses. Once again, it does raise questions about the Democratic strategy to fast track an impeachment before Christmas.'"
Once again, Super Duper Smart Woman Pelosi outfoxed Drumpf.
The networks dread this ratings blackhole. Ratings would be higher if NBC brought back Pink Lady and Jeff, My Mother The Car, and Manimal.
ITEM 14
:
The Los Angeles Times reported
, "Just after President Trump's defense lawyers ended arguments in their Senate trial Tuesday, Sen. Dianne Feinstein suggested she could vote to acquit him, despite serious concerns about his character.
"'Nine months left to go, the people should judge. We are a republic, we are based on the will of the people — the people should judge,' Feinstein said Tuesday, after the president's team finished a three-day presentation in his defense. 'That was my view and it still is my view.'
"Still, she indicated that arguments in the trial about Trump's character and fitness for office had left her undecided. 'What changed my opinion as this went on,' she said, is a realization that 'impeachment isn't about one offense. It's really about the character and ability and physical and mental fitness of the individual to serve the people, not themselves.'"
However, she later walked that back, and said in a statement, "Before the trial I said I'd keep an open mind. Now that both sides made their cases, it's clear the president's actions were wrong. He withheld vital foreign assistance for personal political gain. That can't be allowed to stand."
Give her a break. She just left the hearing and it takes time to get your head together after napping.
ITEM 15
: Hmm.
Sinema, Manchin and Jones are the only Democrats considering acquitting Trump, per my reporting. They are wrestling with how to vote as soon as Friday on whether to acquit or convict the president -- or maybe even to split votes a la Jared Golden

https://t.co/xEwalYTPpx

— Burgess Everett (@burgessev) January 29, 2020
Such a vote won't save Jones or Sinema, and Manchin has his Senate seat for life. Gee, maybe some people in Washington do the right thing because it is right.
We will see.
ITEM 16
: Following up on an item yesterday, a reader tweeted:
Not only this, but at the end of the day

#Panera

gives its unsold bread, buns and cookies to charity pickup. Our church picks up once a week and distributes it to the poor in our neighborhood. Unsold surplus is a blessing and is unavailable under socialism.

https://t.co/x1lH7Cua2p

— William Tryon (@WillTryon1771) January 27, 2020
Capitalists have something communists lack.
A heart.
ITEM 17
: An ABC reporter muses.
— Evan McMurry (@evanmcmurry) January 29, 2020
Donald Trump entered the race in 2015 with 59% disapproval.
Among Republicans.
Never Bet Against Donald John Trump. Right Papa Buck?
ITEM 18
: As a reader said, this is pure comic gold.
Jay Sekulow has won 8 cases at the Supreme Court. So yeah, I can imagine he would do pretty well.

https://t.co/dcNalu7rJU

— Aaron (@a_ryan88) January 29, 2020
In those 8 cases, he represented Jews for Jesus, Bible study students, pro-life activists, the International Society for Krishna Consciousness, Lamb's Chapel (an after school group), pro-life activist Paul Schenck, Emily Echols and other students, and Pleasant Grove City which received a Ten Commandments monument from the Fraternal Order of Eagles.
In all, he has argued 12 cases before the Supreme Court. Rare is the lawyer who argues even one case.
ITEM 19
: The president held a rally.
Of the 73,000 voters identified from the Wildwood ticket requests,

10% didn't vote in 2016,

& 26% are democrats.

We're going to vote like we've never voted before.

#WildwoodRally

— #ThePersistence (@ScottPresler) January 29, 2020
I like Scott Presler who applied his skill of cleaning dog poop developed as a dog walker to cleaning the streets of Baltimore, San Francisco, and other Democrat hellholes.
ITEM 20
: That's the way.
Trump campaign now fundraising off this clip and pivoting to attack 2020 Dems:

"This is what D.C. Democrats like Joe Biden, Bernie Sanders, Michael Bloomberg, and Elizabeth Warren truly think of you."

https://t.co/tkGCflmkrP pic.twitter.com/Wzv2t4EZH0

— Will Steakin (@wsteaks) January 29, 2020
We like it.
If you want your children to inherit the blessings that generations of Americans have fought and died to secure—then we must devote everything we have toward victory in 2020. Only this way, can we save the America we love – and drain the Washington Swamp once and for all!

pic.twitter.com/5NeC0mFWfU

— Donald J. Trump (@realDonaldTrump) January 29, 2020
Uh-huh, uh-huh.