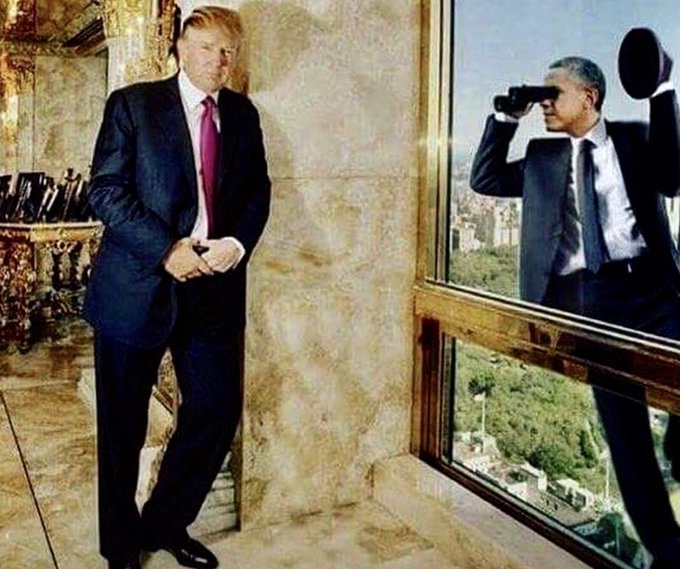 Donald John Trump is still our president.
ITEM 1
:
Jake Novak wrote
, "President Trump never comes off as the humble type. But there's a major policy success that he and his fellow Republicans haven't spent enough time touting: The increasing tax revenues that have been pouring into the federal treasury.
"This comes despite the overwhelming doomsday predictions by Trump's opponents that the 2017 Trump tax cut would reduce those revenues.
"The numbers don't lie. Federal tax revenue soared to a record $806.5 billion in the first three months of fiscal 2020."
The government is spending money faster than the greatest economy in history can produce it.
ITEM 2
:
Michael Ledeen reported
, "The Death Spiral of the Islamic Republic. The hit on Soleimani was so well-organized, leading terrorists ran for the hills."
His story said, "The removal of Soleimani et al from the battlefield undermines Iran's plans for an expanded push against American and Israeli forces throughout the Middle East, and encourages the increasingly broad-based revolt against the Iranian regime. So it is that the Iranian, Iraqi and Lebanese peoples are fighting against the mullahs and their agents. And once again, the killing of Soleimani gave hope to the people who are targeted by the brutal thugs of the Tehran regime.
"Two careful observers of Iranian events — Banafsheh Zand and Harold Rhode — see the downfall of Soleimani as a crucial turning point in the downfall of the Islamic Republic, provided that Washington applies relentless pressure."
President Trump is a very stable genius. He saw his opening and he took it. The end of Iranian support for anti-Israeli terrorism makes his peace plan possible. He has the Saudis and possibly the Turks on board. Instead of igniting World War III he is ending the Global War on Terrorism.
Deep state hardest hit.
ITEM 3
:
Time magazine reported
, "Hundreds of people joined a protest Thursday organized by Puerto Rican singer René Pérez of Calle 13 fame in a demonstration reminiscent of those that ousted the island's former governor last year. Anger is growing over emergency aid that until recently sat unused in a warehouse amid ongoing earthquakes.
"Protesters gathered under the heavy rain at the governor's mansion as they waved flags and banged on pots, demanding the ouster of Gov. Wanda Vázquez."
President Trump was right in 2017 when he blamed Puerto Rico for not distributing the aid he sent.
The media called him a liar.
ITEM 4
:
Glenn Reynolds wrote
, "It's already too late to stop global warming, say scientists. No matter what we do, sea levels will rise. Some climate activists have even released an interactive map that will let you see how much of, say Washington, DC, will be under water in the next century, with the flooded zones depicted in blue. (Not all of it, alas).
"Well, if it's too late to stop global warming, I have a modest proposal instead: Tax the blue zones. That is, minimize the damage that will occur from flooding many decades in the future by reducing development now.
"If we're seriously worried about flooding from higher sea levels, then we want to make sure that areas that will be flooded in the future won't be developed now. We want to limit the investment in buildings that will be swamped, and we want to limit the number of people who'll have to move. And we want to encourage people who live in those areas now to move away in the near future, before they're flooded."
Instapundit. Applying logic to an illogical theory.
Better yet, declare it a flood zone and require new buildings to be built on stilts.
ITEM 5
:
ABC reported
, "Around 16,000 armed activists stayed outside of the Capitol grounds, where all weapons are banned until Tuesday night, while 6,000 unarmed members held their rally outside of the legislative building, according to the Virginia Capitol Police."
This is days old news, of course, but I ask readers if in the five days since there has been any columnist in the daily newspapers who supported the march. I ran across plenty of columnists who blasted the people who protested, but I cannot find one who supported it.
Exactly 500 newspapers and magazines endorsed Hillary. 28 endorsed President Trump.
As I go to newspaper sites online, they block me for using an ad blocker. They demand I support them.

Why on Earth would I support someone who opposes everything I believe in?
By the way, I live in Putnam County, which became the first Second Amendment Sanctuary in West Virginia earlier this month. Naturally, the local newspaper in Charleston mocked us in an editorial.
ITEM 6
:
Pinac News reported
, "West Virginia sheriff's deputies were caught on camera entering a home yet no record exists of them entering the home.
"A West Virginia attorney claims sheriff's deputies assigned to a drug and fugitive task force unlawfully entered a client's home without a warrant and has the video to prove it.
"Civil rights attorney John H. Bryan said that upon finding nobody home, the Putnam County sheriff's deputies cut the wires to external cameras outside the home and entered through a window.
"However, they missed one external camera as well as one hidden camera in a room that captured the deputies rummaging through it. Bryan said the sheriff's department told him no official record exists showing deputies entering his client's home."
Why would people in Putnam need guns when we have a neat sheriff's office to protect us?
ITEM 7
: Mike Pence tweeted, "We mourn with those who mourn and grieve with those who grieve. We remember the names and the faces and the promise of the 6 million Jews who were murdered in the Holocaust. And today, we also pay tribute to those who survived to bear witness to such evil."
We could say the same for the 60 million American babies slaughtered under Roe vs. Wade.
And President Donald John Trump did. He spoke at the March for Life, the first president to do so.
Our president said, "All of us here understand an eternal truth: Every child is a precious and sacred gift from God. Together, we must protect, cherish, and defend the dignity and the sanctity of every human life.
"When we see the image of a baby in the womb, we glimpse the majesty of God's creation. When we hold a newborn in our arms, we know the endless love that each child brings to a family. When we watch a child grow, we see the splendor that radiates from each human soul. One life changes the world – from my family, and I can tell you, I send love, and I send great, great love – and from the first day in office, I have taken historic action to support America's families and to protect the unborn.
"And during my first week in office, I reinstated and expanded the Mexico City Policy and we issued a landmark pro-life rule to govern the use of Title X taxpayer funding. I notified Congress that I would veto any legislation that weakens pro-life policy or that encourages the destruction of human life.
"At the United Nations, I made clear that global bureaucrats have no business attacking the sovereignty of nations that protect innocent life. Unborn children have never had a stronger defender in the White House.
"As the Bible tells us, each person is wonderfully made.
"We have taken decisive action to protect the religious liberty – so important – religious liberty has been under attack all over the world and frankly, very strongly attacked in our nation. You see it better than anyone. But we are stopping it. And we're taking care of doctors, nurses, teachers, and groups like the Little Sisters of the Poor."
Life Site News has his full remarks
.
The Archangel Michael has his back.
ITEM 8
:
The Wall Street Journal reported
, "The Trump administration told California it is violating federal law by requiring insurers to cover abortion and threatened to withhold federal funding if the state doesn't end its mandate, the latest move in a broader White House effort to establish religion-based exemptions to reproductive rights statutes.
"Administration officials signaled Friday that they could also take aim at similar policies in other states, potentially putting hundreds of billions of dollars in federal health funding at risk."
The story also said, "Under Friday's action, the Department of Health and Human Services' Office for Civil Rights issued a notice of violation against California. In it, the agency said the state's requirement violates federal law banning government entities that receive HHS funding from discriminating against health-care organizations because they don't provide abortion or abortion coverage. The state has 30 days to signal compliance before the agency takes action that could result in cutting HHS funds."
At the march on Friday, our president said, "Unborn children have never had a stronger defender in the White House. We are fighting for those who have no voice and we will win because we know how to win."
Fact check: TRUE.
I get that 4 years ago, people were wary. But no conservative today opposes him. None. You cannot be conservative and oppose the man who is fulfilling the conservative agenda.
ITEM 9
: A bunch of professors, muckety mucks, and organizations wrote the president of Babson College to protest the firing of a professor. The lead group was
FIRE
.
The letter said in part
, "Professor Phansey's post was a mocking commentary that suggested that the leader of Iran 'tweet a list of 52 sites of beloved American cultural heritage that he would bomb,' suggesting the Mall of America in Minnesota and a Kardashian residence as examples. His attempt at humor was a clear response to President Donald Trump's threat of retaliatory attacks on Iranian cultural sites."
Ah yes. The president's warning that he would bomb 52 cultural sites in Iran created a bunch of self-righteous indignation from the outrage crowd a few weeks ago. But Iran backed down, and I don't care. The Islamic terrorists already bombed an American cultural site: the World Trade Center.
ITEM 10
:
Breitbart News reported
, "Sen. Joni Ernst (R-IA) told reporters during a break in the Senate trial of President Donald Trump on Thursday that several of the House Democrat impeachment managers had voted against bills providing lethal aid to Ukraine.
"Democrats have accused Trump of abandoning Ukraine by holding aid for several weeks over the summer of 2019. Rep. Jason Crow (D-CO) even accused the president, falsely, of causing the deaths of Ukrainian soldiers.
"In fact, Trump had previously sent Javelin anti-tank missiles to Ukraine, unlike President Barack Obama, who had only provided non-lethal aid."
Nadler voted against the very aid to Ukraine that he now wrongly states was delayed.
The report also said, "Ernst noted that Russia had invaded Crimea in 2014, and President Obama did nothing but send blankets and non-lethal military aid. 'Blankets don't throw lead down-range,' said Ernst, a U.S. Army veteran."
Between her and Grassley, Iowa may have the most devastating duo in the Senate.
ITEM 11
: The impeachment continues.
— Rep. Mike Johnson (@RepMikeJohnson) January 24, 2020
Dear cable channels, the impeachment is not "breaking news." It is broken news.
ITEM 12
:
The New York Post reported
, "The Senate spectator gallery was at least half-empty throughout the first week of President Donald Trump's impeachment trial and senators serving as the jury in the marathon sessions are taking notice — some stunned that there aren't more people watching history unfold, while others understand the public avoiding the repetitive proceedings.
"'I'm really surprised at that because this is kind of historic and I would think this would be an opportunity for people to get in there regardless of whose side you are on,' Sen. James Inhofe (R-Okla.) told The Post Friday."
The only thing impeached was congressional authority. Even virulently anti-Trump Washington does not care.
ITEM 13
: The New York Times reported (no links to pay sites), "President Trump's campaign is considering only participating in general election debates if an outside firm serves as the host, and his advisers recently sat down with the nonprofit Commission on Presidential Debates to complain about the debates it hosted in 2016.
"The December 19 meeting between Frank J. Fahrenkopf Jr., a prominent Republican and co-chairman of the commission, Brad Parscale, the campaign manager for Mr. Trump's re-election effort, and another political adviser, Michael Glassner, came soon after Mr. Trump posted on Twitter that the 2016 debates had been biased."
The news is breaking now because the media has been obsessed with impeaching him.
This is the art of negotiation at play. No President Trump, no ratings. Ronald Reagan held debates with John Anderson when Jimmy Carter refused to come out and play. People watched Reagan. No one except diehards are watching the DNC debates.
ITEM 14
:
The Patch reported
, "Los Angeles Mayor Eric Garcetti says he hopes to reach a preliminary agreement with the Trump administration on a joint plan to help combat the city's swelling homelessness crisis when he meets with Secretary of Housing and Urban Development Ben Carson Friday, it was reported.
"Garcetti said Thursday a final deal was still days or weeks away but expressed optimism that the two sides were making progress toward an agreement to provide federal resources, including land, to augment local efforts to erect more shelter space for people living on the streets, the Los Angeles Times reported from Washington D.C."
Step One: Ban pooping in the streets.
ITEM 15
:
Hot Air reported
, "ABC/WaPo: Trump Climbs To Highest Job Approval Rating Of His Presidency Amid Impeachment Trial."
I know. It's only some bad poll. But I like it.
ITEM 16
:
Fox Business News reported
, "Obama feels Sanders is unfit to battle Trump – and he has told people he might say so publicly."
Sure he will.
ITEM 17
: A little weekend Trumpenfreude.
Breitbart News reported
, "Rapper YG — who is best known for his hit song, 'FDT (F*** Donald Trump)' — was arrested at his Los Angeles home on Friday on suspicion of robbery.
"YG was taken into custody on Friday as police arrived at his home with a search warrant. The rapper — whose real name is Keenon Jackson — is being held on $250,000 bail ahead of his arraignment Tuesday.
"The 29-year-old rapper's arrest arrives just two days before YG is supposed to perform at the Grammys.
"YG's performance at the Grammys on Sunday is set to be a tribute to fellow California crooner Nipsey Hussle, who was shot and killed last year at the age of 33, outside of his clothing store."
I have a new song for YG called "I Fought The Donald and The Trump Won."
ITEM 18
: I screwed up yesterday on Item 3. In case people missed the update, I will post it here.
The Daily Mail reported, "Prince Charles avoided shaking hands with Mike Pence, the U.S. vice president. at an Auschwitz memorial event in Jerusalem Thursday -- but then smiled as he greeted Vladimir Putin.
"A video clip of the Prince of Wales greeting officials in Israel shows him walking along the front row of seats, shaking hands with world and Jewish leaders.
"When he came to Pence, the vice president had his hand extended in apparent expectation of a handshake. But the heir to the British throne merely looked him in the eye before moving on to shake hands with Israeli Prime Minister Benjamin Netanyahu and the country's President Reuven Rivlin."
He politicized the Holocaust memorial.
Chucky Windsor has no class at all.
UPDATE: Much as I dislike the prince, he was smeared by the press. It turned out the two already shook hands.
But in reality, Prince Charles had already met with VP Pence before the non-handshake, according to the VP's press secretary. There's always more to the story. (2/2)

pic.twitter.com/w1UgojIOzW

— Chloe Salsameda (@ChloeSalsameda) January 23, 2020
I should have given the old boy the benefit of the doubt. While you cannot apply the 24 Hour Rule to everything, if it looks too good to be true, it is.
I apologize to Prince Charles. He was not being Chucky Windsor.
Hat tip to readers in comments
and PJ Media
.