In honor of Martin Luther King Jr., why don't we all just forget color today?
ITEM 1
:
The Honolulu Star-Advertiser reported,
"On Martin Luther King Jr. Day at Pearl Harbor, the Navy is expected to announce that a $12.5 billion aircraft carrier will be named after Mess Attendant 2nd Class Doris Miller, the first African American to receive the Navy Cross for valor for his actions on Dec. 7, 1941, when he manned a machine gun on the USS West Virginia to fire back at attacking Japanese planes.
"'I think that Doris Miller is an American hero simply because of what he represents as a young man going beyond the call of what's expected,' said Doreen Ravenscroft, president of Cultural Arts of Waco (Texas) and team leader for the Doris Miller Memorial.
"In 1941 an African American was not allowed to man a gun in the Navy, and as far as rank was concerned, he could not really get above a messman level, Ravenscroft said. Miller's actions started to turn the tide, she added."
Under fire, color no longer mattered, and Doris Miller showed the true content of his character.
ITEM 2
:
Peter Schweizer reported
, "Political figures have long used their families to route power and benefits for their own self-enrichment. In my new book, Profiles in Corruption: Abuse of Power by America's Progressive Elite, one particular politician — Joe Biden — emerges as the king of the sweetheart deal, with no less than five family members benefiting from his largesse, favorable access and powerful position for commercial gain. In Biden's case, these deals include foreign partners and, in some cases, even U.S. taxpayer dollars.
"The Biden family's apparent self-enrichment involves no less than five family members: Joe's son Hunter, son-in-law Howard, brothers James and Frank, and sister Valerie."
Obama allowed and encouraged this because he was the most corrupt president ever. His first secretary of state accept emoluments through her charity. And he chose s vice president Biden whose ignorance of morality exceeds his incredibly deep ignorance of world affairs, a result of his years on the Senate Foreign Relations Committee.
Biden is whom Democrats want to replace President Donald John Trump, who never made a penny off public office for him and his family -- not even his salary, which he gives back to the government.
ITEM 3
:
The Daily Mail reported
, "Kanye West's plans to move his Adidas Yeezy headquarters to Wyoming could save him millions in taxes but also could spell disaster for Adidas workers in Asia who risk being left jobless by the move, a charity group exclusively told DailyMail.com."
Say what?
The story said, "Clean Clothes Campaign, the leading global NGO alliance fighting sweatshop conditions, advised West that if Adidas Yeezy makes any changes to its production line, then it needs to act responsibly or risk harming workers."
Huh?
The story said, "Clean Clothes Campaign cautioned West against moving too quickly, pointing to other examples in Asia where Adidas suddenly pulled out and left thousands of poorly paid workers without jobs, some of whom earn no more than $3-a-day."
West is solving the sweatshop problem -- and getting tax relief. Oh no! That will hurt donations for the NGO. Apparel companies are not the only people exploiting these workers.
ITEM 4
:
The Anadolu Agency reported
, "Mexican President Andres Manuel Lopez Obrador said on Friday that the country will offer about 4,000 jobs to migrants in a caravan who are making their way up north.
"The president said the caravan has between 2,500 and 3,000 migrants from Honduras and El Salvador. Mexico, he said, has plenty of jobs available for them in the southern border region between the country and Guatemala."
President Donald John Trump told the Mexican government either face tariffs or protect our border. Mexicans now are doing the job Democrats won't.
Who said Mexicans are not paying for that wall?
ITEM 5
:
Breitbart News reported
, "Portsmouth, Virginia, councilman Nathan Clark participated in his city's Second Amendment Sanctuary vote while carrying an AR-15.
"The Virginian-Pilot reports that two liberals, Councilman Shannon Glove and Vice Mayor Lisa Lucas-Burke, were critical of Clark's decision to bring his gun to the vote and asked him to apologize for doing so."
The gun didn't start spontaneously firing, much to the disappointment of liberals. The ordinance passed 4-3.
ITEM 6
: The New York Times (pay site, no link) reported, "Those who support a barrier miles from Manhattan's coast — one in the outer New York Harbor, out of sight from many residents and tourists — say it would be the best solution for protecting the most people, properties and landmarks, including the Statue of Liberty, from a storm surge swelling the East and Hudson Rivers, without cutting off the city from its waterfront.
"The Corps's barrier designs aim to address only storm surges. They would not counter two other climate-related threats — flooding from high tides and storm runoff — and they could trap sewage and toxins, which would threaten the nascent ecological revival of New York's waterways."
But liberals told us walls are evil.
A massive 200 Billion Dollar Sea Wall, built around New York to protect it from rare storms, is a costly, foolish & environmentally unfriendly idea that, when needed, probably won't work anyway. It will also look terrible. Sorry, you'll just have to get your mops & buckets ready!

— Donald J. Trump (@realDonaldTrump) January 18, 2020
The commander in chief should order the Corps of Engineers to knock it off. Spend the money fixing JFK Airport. (UPDATE: A reader pointed out LaGuardia is worse.)
ITEM 7
:
Fox News reported
, "President Trump's legal team on Saturday issued a full-throttle defense to the articles of impeachment, refuting the substance and process of the charges while accusing House Democrats of engaging in a dangerous attack on the right of the American people to freely choose their president.
"'This is a brazen and unlawful attempt to overturn the results of the 2016 election and interfere with the 2020 election -- now just months away,' the legal filing said. 'The highly partisan and reckless obsession with impeaching the president began the day he was inaugurated and continues to this day.'
"'The articles of impeachment are constitutionally invalid on their face,' the seven-page filing continued."
No crime, no impeachment.
The presidential response was 7 pages. The Democrat response was 111 pages. One was written to be read, the other to be ignored.
ITEM 8
:
Dennis Prager wrote
, "In my last column, 'Newsweek Hits a New Low,' I wrote about Newsweek's dishonest description of what I had said on one of my weekly PragerU Fireside Chats. A viewer had asked me to respond to a statement Anne Frank made in her epic Holocaust diary. Frank said, 'Despite everything, I believe that people are really good at heart.'
"The Newsweek headline, 'Conservative Radio Host Ridicules Anne Frank,' was simply a lie. In order for readers to appreciate the level of mendacity, I had my entire response transcribed and placed it in the column.
"A few days later I received a message from Nancy Cooper, global editor-in-chief of Newsweek. She emailed me her personal cellphone number and asked me to call her. I did, and we had a good conversation. She agreed that what Newsweek published mischaracterized my remarks and corrected both the headline and the article, written by deputy editor Benjamin Fearnow.
"She changed the headline to 'Conservative Radio Host Counters Anne Frank's View That People Are 'Good at Heart.'"
Very good. We all make mistakes. Fix them. Report mine to
DonSurber@GMail.com
and I will.
ITEM 9
: Georgie Porgie journalism.
Really great perspective in this piece. "...when they get called out for being the biased outlet they obviously are, they cry foul and hide behind the cloak of sacred journalism. That's not how it works."

https://t.co/d2irLNv4y9

— Stephanie Grisham (@PressSec) January 18, 2020
Georgie Porgie, puddin' and pie,
Kissed the girls and made them cry,
When the boys came out to play
Georgie Porgie ran away
ITEM 10
: Make America Sober Again.
— Andrew Malcolm (@AHMalcolm) January 19, 2020
Democrats drove people to drink.
ITEM 11
: Let's Trumpenfreude him again.
The Boston Red Sox manager, who refused Trump's White House invitation after winning the World Series in 2018, has been caught for cheating & faces a lifetime ban from baseball.

Lmao....

The loudest critics of Trump always have the most to hide.

— Educating Liberals (@Education4Libs) January 18, 2020
We toasted Alex Cora last week but this new tweet just summed up his Trumpenfreude nicely.
ITEM 12
: Cora refused to visit the White House because he thought President Trump withheld aid to Puerto Rico. That was false.
Guess who was right again?

Puerto Rico governor fires emergency director after aid is found sitting in warehouse

https://t.co/hKx79dai8O

— Arthur Schwartz (@ArthurSchwartz) January 19, 2020
You can bring aid to Puerto Rico, but you cannot make corrupt politicians distribute it.
ITEM 13
: CNN screwed up when it hired Piers Morgan.
Oh pipe down, you virtue-signalling berk. Your disingenuous race-baiting claims are what's shameful. It's got nothing to with with racism & everything to do with Meghan Markle being a ruthless, social climbing, fame-obsessed piece of work who's now forced Harry from his country.

https://t.co/u3HCP5GVr2

— Piers Morgan (@piersmorgan) January 18, 2020
CNN screwed up when it fired Piers Morgan.
Please, someone in America carry his morning show from England, which would be on at 3 a.m. or so here.
ITEM 14
: I look forward to her reality show.
According to a source, Meghan "told her friends that her soul was being crushed and that the decision to leave was a matter of life or death"

https://t.co/cFPfzx5paW

— The Daily Beast (@thedailybeast) January 18, 2020
She has friends?
ITEM 15
:
johnwmorrillJanuary 19, 2020 at 11:09 AMThis reminds me of "The Producers", even "Springtime for Hitler" fits in. Nadler and Shift have the Mostel and Wilder roles. However, it is not quite as funny as the movie.
Good idea.
Rosie O'Donnell can be "Zero" Nadler and thanks to CGI, the late Andy Kaufmann can be Adam Schiff and the late Stephen Furst can be Vindman.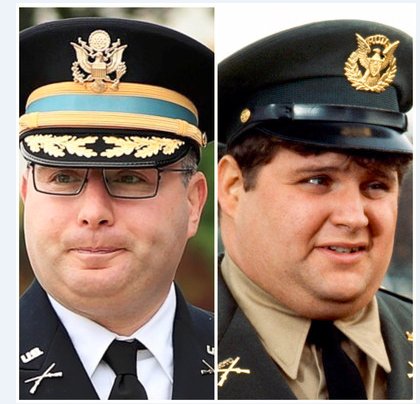 Nadler and Schiff are just a couple of lowlife congressmen collecting donations from little old ladies, when they noticed an appeal that accidentally said "impeach the president" instead of "thank the president" brought in more money than any other appeal.
They hit upon the idea of impeaching President Donald John Trump for tweeting. And now it's...
Springtime for Nancy and Democrats
Congress is happy and gay
They're walking to Schumer
With another bad rumor
Springtime for Nancy and Democrats
Winter for Ukraine and Trump
Springtime for Nancy and Democrats
Time for senators
To give him the dump
The choreography is terrific as the Squad sings, "Don't be stupid, be a smarty. Come and join Pelosi's party."
And the best part of the show is it ends with all of them in jail.