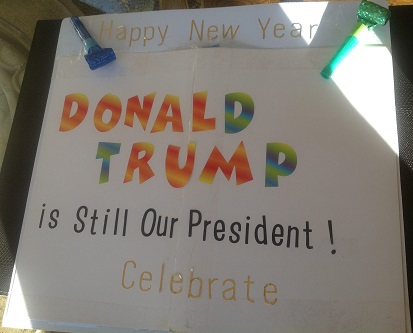 Liberals still have a hangover because we elected Donald John Trump president.
ITEM 1
:
CBS reported
, "The Trump administration has expanded an experimental program designed to expedite the processing and deportation of asylum-seekers from all over the world, implementing the new policy in the busiest sector of the U.S.-Mexico border.
"The program, dubbed Prompt Asylum Claim Review, or PACR, expanded earlier in December to Texas' Rio Grande Valley, a highly transited and patrolled area. Hundreds of asylum-seekers have been subject to the policy since it debuted as a pilot program in the El Paso sector in October."
The story said, "The program, one of a series of restrictive policies the administration rolled out in 2019 to deter U.S.-bound migrants, has been shrouded in relative secrecy since it started. In October, the Department of Homeland Security said it was a 'whole of government approach' to fast-track the processing of migrant men and families subject to a sweeping asylum restriction, while providing them access to protections and due process."
Fast-tracking these cases is justice because justice delayed is justice denied.
ITEM 2
:
Speaking of speeding justice, Breitbart News reported
, "President Donald Trump on Tuesday signed legislation aimed at ending the backlog of rape kits nationwide.
"Presently, at least 100,000 rape kits are untested in the U.S. and are likely to remain so without adequate funding to test DNA in a timely fashion.
"The Debbie Smith Reauthorization Act of 2019, named in honor of a 1989 rape victim whose evidence went untested until 1994, will help fund DNA test training as well as education programs. The law will also fund the Sexual Assault Forensic Exam Grant Program."
We have the technology.
Let's use it.
ITEM 3
: Liberals rejoiced at the Iranian attack on the United States embassy.
— Joy Reid (@JoyAnnReid) December 31, 2019
But President Trump is not Obama.
The Apache's arrival is worthy of Trump descending down a golden elevator.
The Epoch Times reported
, "Iran-backed militias withdrew from the U.S. Embassy in Baghdad, Iraq on Jan. 1. The withdrawal came a day after a mix of protesters and militia members and supporters stormed the embassy's outer walls, prompting a contingent of U.S. Marines to deploy from Kuwait. Some 100 Marines arrived 'just before midnight' from Kuwait to reinforce the security forces at the embassy.
"Secretary of Defense Mark Esper said the United States was sending about 750 additional troops to the Middle East after Tuesday's attack on the embassy."
We have a president who puts America First.
God bless him.
John Krasinski to star in Trump era remake of Benghazi movie "13 Hours"

It's called "13 Minutes". It chronicles the 13 minutes from when the Marines landed at our Baghdad embassy to when the Iranian backed militias ran like cowards.

#Benghazi

— The People's Cube 🚁🤸 (@ThePeoplesCube) January 1, 2020
People's Cube was the John the Baptist to Babylon Bee.
But with the head still attached.
ITEM 4
: The New York Times spun it as, "After a second day of tense protests at the American Embassy in Baghdad, thousands of pro-Iranian demonstrators dispersed on Wednesday, ending a siege that had trapped American diplomats in the embassy compound overnight and winding down a potentially explosive crisis for the Trump administration."
They just dispersed. Like that.
The spin continued, "The demonstrators had swarmed outside the embassy, chanting 'Death to America!' Some tried to scale the compound's walls and others clambered onto the roof of the reception building they had burned the day before.
"In contrast to Tuesday, when some demonstrators forced their way into the compound and set some of the outbuildings on fire, the crowd on Wednesday was smaller and no protesters breached the compound's gates.
"When the demonstrators — largely members of Iranian-backed militias angered by deadly American airstrikes over the weekend — reached the roof of the burned reception building on Wednesday, American security forces, including Marine reinforcements sent by the Pentagon the day before, fired tear gas to drive them back."
Protesters? No.
Hundreds of Iraqi mourners tried to storm the United States Embassy in Baghdad, shouting "Down, down USA!," in response to deadly American airstrikes this week that killed 25 fighters

https://t.co/jrAtON72eR

— The New York Times (@nytimes) December 31, 2019
Mourners? No. They are Iranian-backed terrorists.
I do not link pay sites.
ITEM 5
:
The Washington Times reported
, "The White House National Security Council staff is being downsized sharply in a bid to improve efficiency within the policy coordinating body by consolidating positions and cutting staff.
"A second, unspoken thrust of the overhaul is a hoped-for end to what many critics see as a string of politically damaging, unauthorized disclosures of sensitive information. Leaks of President Trump's conversations with foreign leaders and other damaging disclosures likely originated with anti-Trump officials in the White House who stayed over from the Obama administration, according to several current and former White House officials."
National security?
They spied on our president!
The story said, "Under President Obama, the NSC staff mushroomed to as many as 450 people. White House National Security Adviser Robert C. O'Brien plans to cut the staff to fewer than 120 policy officials by early next year."
Obama did all he could to undermine President Donald John Trump.
We need to punish Obama's sedition.
ITEM 6
:
The Richmond Times-Dispatch reported
, "Former Vice President Joe Biden is the only Democratic presidential hopeful currently outpacing President Donald Trump in Virginia, according to a new year-end survey.
"Trump edges three other top-tier Democrats — Elizabeth Warren, Bernie Sanders and Pete Buttigieg, according to a poll conducted by Mason-Dixon Polling & Strategy.
"The results indicate that while Virginia has evolved from a red state, to a swing state, to one that now leans blue, 'Democrats cannot completely take Virginia for granted,' said Brad Coker, CEO and managing director of the polling and consulting organization.
"Biden received 49% to Trump's 45% with 6% undecided in the poll of 625 registered voters surveyed by phone between Dec. 12-16.
"Trump had the backing of 48% to Warren's 44% with 8% undecided. The president got 51% to Sanders' 45% with 4% undecided. Trump received 47% to Buttigieg's 45% with 8% undecided."
I credit the Democrat call to confiscate guns -- by force if necessary.
Overnight, 87 out of 95 counties in Virginia became Second Amendment sanctuaries. Democrats made the same election mistake they always do; they showed their true colors.
By the way, Donald Trump does not need to carry Virginia; he won without it in 2016.
ITEM 7
:
The Daily Mail reported
, "The family of a man who was stabbed in the head in a Hanukkah attack in New York has released a graphic photo of him in his hospital bed as they say he may never regain consciousness.
"Josef Neumann was among the five people injured when Grafton Thomas, 37, allegedly stormed into a rabbi's home in Monsey during a Hanukkah celebration last Saturday.
"Neumann's family say the knife used in the attack penetrated his skull and impacted his brain.
"He also suffered three cuts to the head, a cut to his neck and his right arm was shattered."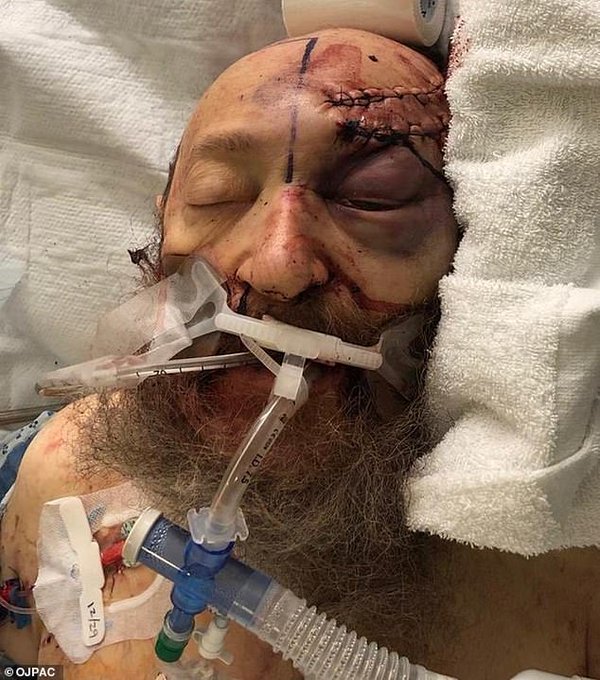 Horrible.
ITEM 8
:
CBS reported
, "Tens of thousands of Jewish people congregated Wednesday at MetLife Stadium in New Jersey to celebrate the reading of the entire Talmud in an event called Siyum HaShas — and drew a heavy security presence after recent anti-Semitic attacks in the area.
"The New Year's Day event celebrated the completion of the reading of the 2,711-page Babylonian Talmud, a process that takes 7 1/2 years. Similar events have recently been held in major cities around the globe, such as Mexico City, while others are scheduled in the next few weeks.
"The Talmud contains discussions of Jewish law that guide every aspect of life.
"Rabbi Yosef C. Golding, an organizer, told The Record newspaper that he has worked with more than 50 law enforcement agencies on security for the event, and that more than 300 uniformed state police were to be in the stadium. The event was broadcast internationally."
Defiance in the face of Democrat anti-Semitism.
ITEM 9
:
The Epoch Times reported
, "Trump Administration Issues Record-Low Number of Regulations Amid Red Tape-Cutting Drive."
The president ordered officials to cut 2 regulations for every new one. The actuality is an average of 8 1/2 regulations cut for every new regulation.
However, President Trump is undoing decades of bureaucratic creep. I favor giving him a third term. Just amend the constitutional limit of 2 terms by adding "except Donald John Trump who may be elected as many times as he desires."
ITEM 10
:
Life News reported
, "A heartbreaking reminder about the prevalence of abortion, statistics compiled by Worldometers indicate that there were over 42.3 million abortions world-wide in 2019. The independent site collects data from governments and other reputable organizations and then reports the data, along with estimates and projections, based on those numbers.
"When contrasting the abortion numbers to other causes of death, including cancer, HIV/AIDS, traffic accidents and suicide, abortions far outnumbered every other cause.
"By contrast, 8.2 million people died from cancer in 2019, 5 million from smoking, 13 million from disease, and 1.7 million died of HIV/AIDS."
Birth control should render abortion obsolete.
The only cure to abortion is a government ban. It won't eliminate them all but surely it will push abortion down to a million worldwide instead of a million in the United States alone.
ITEM 11
:
The Washington Examiner reported
, "Andy Cohen asked former NBA superstar Shaquille O'Neal how big his genitals are during CNN's countdown to the new year.
"The topic came up when Anderson Cooper, who co-hosted the network's New Year's Eve coverage with Cohen on Tuesday night, asked the four-time NBA champion if he remembered going on Cohen's show, Watch What Happens Live, and being asked about the size of his penis. At the time, O'Neal answered by taking off his size 23 shoe and putting it on his thigh."
This is CNN.
Which means no one was watching except conservative media watchers.
ITEM 12
: Karl Rove made his annual predictions in the Wall Street Journal. I have no idea why.
The Hill reported on January 8, 2016
, "The Republican Party will lose the White House, the Senate and many of its House seats if Donald Trump becomes the party's presidential nominee, according to Karl Rove.
"'If Mr. Trump is its standard-bearer, the GOP will lose the White House and the Senate, and its majority in the House will fall dramatically,' the Republican wrote in an op-ed for The Wall Street Journal."
This time out, Rove predicted a brokered Democrat convention. That shows you how much he knows about politics. This is not the 19th century. Democrats will decide this by the end of February with the superdelegates going with the frontrunner.
Rove is the most overrated man in American politics. He took credit for George Walker Bush's victory in 2000, but the man most responsible was Al Gore.
ITEM 13
: Rove isn't even the worst forecaster out there.
The S&P 500 rose 12.5% in the final quarter of 2019, topping 3,200.
ITEM 14
: The Washington Post reported, Mini Mike "Bloomberg's business in China has grown. Could create unprecedented entanglements if he is elected president."
Fact-check: NOPE.
Quid Pro Joe's coke-addled son received a $1.5 billion "investment" from Red China, negotiated when daddy took him to Beijing aboard Air Force Two.
I do not link pay sites.
ITEM 15
: The Browns meanwhile fired Freddie Kitchens as their head coach. This raises the question, what is the difference between apartment buildings and the Cleveland Browns?
Apartment buildings still have Kitchens.
ITEM 16
:
The Daily Caller reported
, "Chad Wolf, the acting secretary of the Department of Homeland Security (DHS), ordered a review of state laws that allow illegal aliens to obtain driver's licenses and restrict data sharing with federal immigration authorities.
"Wolf on Tuesday ordered all of the components of DHS to conduct a department-wide review of the state laws to determine how they affect their day-to-day operations, according to a memo obtained by the Daily Caller News Foundation. The DHS chief's directive indicates he is prepared to take aim against the state laws."
You are darned tooting this is a federal concern because when a state issues a driver's license, it issues one for all 50 states.
ITEM 17
:
NBC reported
, "Rep. Tulsi Gabbard tried to make a splash for her presidential campaign on New Year's Day by hitting the waves in freezing New Hampshire.
"Accompanied by people carrying campaign signs, Gabbard, D-Hawaii, hit the beach in a full wetsuit Wednesday morning before wading into the frigid Atlantic Ocean, a video from NBC Boston shows.
"'History is being made!' a person in the group yelled, asserting that Gabbard is the first presidential candidate to surf in the Granite State."
Little surfer, little one
On your presidential run
But you support Ay-bortion
Too bad, too bad, little surfer girl
ITEM 18
:
Task and Purpose reported
, "Marine Corps law enforcement personnel who meet specific federal qualifications are now authorized to carry their own concealed firearms on base -- even when off duty, a three-star general announced.
"Marine Corps law enforcement professionals can now carry privately owned weapons 'for personal protection not in the performance of official duties,' a new service-wide message released Tuesday states.
"While the new rules apply only to Marine law enforcement personnel, Lt. Gen. George Smith Jr., head of Marine Corps Plans, Policies and Operations, indicated that additional concealed carry policies could be in the works."
A small step forward, but why should MPs not be carrying government issued guns with ammo while on duty?
ITEM 19
:
Evil Beet Gossip reported
, "The famous green Mustang driven by Steve McQueen in the 1968 Warner Bros. film Bullitt is headed to auction in January, in Kissimmee, Fla., and if Mecum Auctions gets what they are expecting, the car could sell for more than $3.5 million — that's the record price for an American muscle car.
"According to Hagerty, an insurer and evaluator of classic vehicles, the Bullitt Mustang could end up the most expensive Mustang ever sold at auction, surpassing a 1967 Shelby GT500 Super Snake that Mecum sold for $2.2 million at the 2019 Kissimmee auction."
Maybe I could set up a GoFundMe.