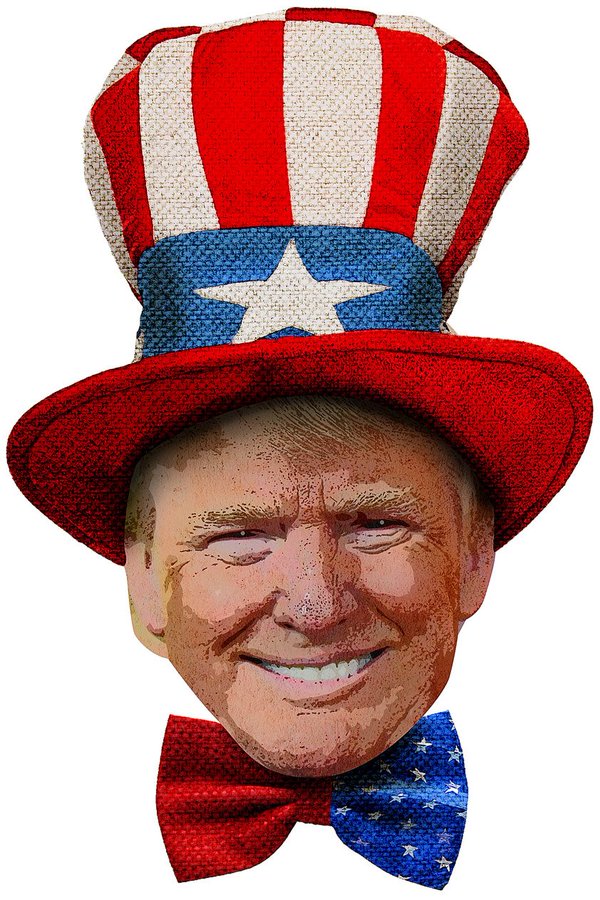 Donald John Trump is still our president.
ITEM 1
:
The Associated Press reported
, "The White House is considering dramatically expanding its much-litigated travel ban to additional countries amid a renewed election-year focus on immigration by President Donald Trump, according to six people familiar with the deliberations.
"A document outlining the plans — timed to coincide with the third anniversary of Trump's January 2017 executive order — has been circulating the White House. But the countries that would be affected if it moves forward are blacked out, according to two of the people, who spoke to the Associated Press on condition of anonymity because the measure has yet to be finalized.
"It's unclear exactly how many countries would be included in the expansion if it proceeds, but two of the people said that seven countries — a majority of them Muslim — would be added to the list. The most recent iteration of the ban includes restrictions on five majority-Muslim nations: Iran, Libya, Somalia, Syria and Yemen, as well as Venezuela and North Korea."
By much-litigated, AP means the victim of frivolous lawsuits before Obama judges aimed at kneecapping an incoming president. By ban, AP means a moratorium that is temporary.
The law requires the president to issue such moratoriums. Obama issued them, sometimes to these same countries.
ITEM 2
:
The Associated Press reported
, "Texas will no longer accept the resettlement of new refugees, becoming the first state known to do so under a recent Trump administration order, Gov. Greg Abbott said Friday.
"Abbott's announcement could have major implications for refugees coming to the United States. Texas has large refugee populations in several of its cities and has long been a leader in settling refugees, taking in more than any other state during the 2018 governmental fiscal year, according to the United Nations High Commissioner for Refugees.
"Since the 2002 fiscal year, Texas has resettled an estimated 88,300 refugees, second only to California, according to the Pew Research Center."
Texas just became a sanctuary state for bonafide citizens.
ITEM 3
:
CNSNews.com reported
, "'As we begin this new year, our economy is booming,' President Trump told a rally in Toledo, Ohio, on Thursday night. 'Wages are soaring, workers are thriving, and America's future has never looked brighter.'
"Friday brought more good news, as the Labor Department's Bureau of Labor Statistics announced that the number of employed Americans -- 158,803,000 -- set a 25th record under President Trump.
"Year to year -- since December 2018 -- 1,858,000 more workers have been added to American payrolls.
"The unemployment rate in December remained at its 50-year low of 3.5%."
At this point in his presidency, Obama's unemployment rate was 8.5% -- higher than the rate President George Walker Bush left him. That was despite a $787 billion stimulus.
Reuters reported
, "A wider measure of unemployment - which counts Americans out of work, people involuntarily working part-time, and those just marginally attached to the workforce - fell to a record low in December. This so-called U-6 rate is down to 6.7% from a record-high 17.1% as the decade began."
So even people who do not want jobs are getting them.
Capitalism rocks.
ITEM 4
:
PJ Media reported
, "On Thursday, controversial immigration hawk Peter Brimelow, who runs the anti-immigration website VDARE, filed a $5 million defamation lawsuit against The New York Times, claiming America's newspaper of record maliciously attacked his character by branding him a "white nationalist" and citing the disreputable far-left Southern Poverty Law Center (SPLC) to bolster the charge.
"On January 15, 2019, the Times branded Brimelow an 'open white nationalist' in an article published online and in print. In opposition to its stated journalistic standards, the paper did not reach out to him for comment first. When his lawyer sent a letter demanding it retract the claim, the Times made a 'stealth edit,' removing the word open from the online article and — again in violation of its own stated journalistic standards — not appending a correction to the article.
"The online version of the words 'white nationalist' link to an SPLC article accusing Brimelow of 'hate' and 'extremism.'
"According to the lawsuit, Brimelow's legal team reached out to the Times on February 15, 2019, September 27, 2019, and October 16, 2019, claiming that the 'stealth edit' did not reverse the defamatory act. Brimelow also sent the Times multiple 'letters to the editor' rebutting the 'white nationalist' accusation. The paper did not respond to these messages."
Glenn Reynolds wrote
, "I would have added a zero to the claim, though to be fair he's also asking for punitive damages."
Fake News is getting expensive. Eventually, it will price itself out of the market.
ITEM 5
:
The South China Morning Post reported
, "China's manufacturing exodus set to continue in 2020, despite prospect of trade war deal.
"China's rising costs, tricky regulations and increasingly unstable geopolitical situation are forcing more manufacturers to move production elsewhere.
"First and second wave of leavers underway, with more to follow, despite the prospect of a minor US-China trade truce."
No one wins a trade war.
Except Donald Trump.
ITEM 6
:
Jane Fonda said
, "Did we once again not learn the lessons of Vietnam, not bother to understand the people that we were shaming and insulting, not to mention killing, and the environments there that we are destroying and the children that are dying of toxins because of the gassing and all of the things that the U.S. has been doing."
With her experience, she should take over the anti-artillery forces in Tehran, and teach them a lesson from Vietnam: don't shoot down airliners.
But keep your wits about you, dearest readers. That Ukrainian airline crash story may have another chapter and twist.
Fonda? It's the same old, same old. She hates America because her childhood wasn't happy. Plus embracing lefty politics is an easier way to advance your career than by sleeping with Harvey Weinstein.
ITEM 7
:
Salena Zito reported
, "COLUMBIANA, Ohio — The thing about a city earning a title such as the 'nicest place in America' is that outsiders often assume the people who live there don't have to work at being nice.
"Well, ask anyone in this lovely city that straddles both Mahoning and Columbiana counties, and they'll say you do have to work at it. But like anything worthwhile in this world (including warmth, generosity, common courtesy, and the selfless notion of paying it forward), it starts to come more easily with time.
"It also helps that Columbiana has a deep sense of community, which means it is deeply committed to its success. People here are involved in church, civic groups, and the general betterment of the city.
"It's not because it is a small city or because it oozes the type of charm Hallmark aims to capture in its Christmas movies. It's because everyone in town has a hand, large or small, in the community's health and well-being.
"Spend less than five minutes with City Manager Lance Willard, and you'll know exactly what I mean. Just before the annual Christmas parade, ask for his rundown on why his city earned the status of 'nicest place' from Reader's Digest, and you'll get a pretty vivid picture.
"Spend an additional five minutes with Willard, and you'll find out why this city of 6,200 is prospering economically, growing in population, and expanding its charming Main Street with innovative retail opportunities such as pop-ups and shared retail spaces. Its success has attracted the attention of nearby Rust Belt towns looking to replicate."
Columbiana is someplace in that vast land between the interstates.
Zito travels the back roads to get to places like that. What rewarding work.
ITEM 8
: John Kerry wrote in the New York Times, "Our diplomacy should not be defined by bluster, threats and brinkmanship, tweets or temper tantrums, but by a vision for peace and security addressing multiple interests of the region."
Kerry wants it defined by bribes and kickbacks to the foundations, progeny, and stepchildren of Obama's vice president and both his secretaries of state.
And bombing. Never forget "
we came, we saw, he died, hahaha
."
ITEM 9
: The best revenge is watching them beat themselves up.
— Donald J. Trump (@realDonaldTrump) January 10, 2020
Experts gave us endless wars. The Donald is extricating us from them.
ITEM 10
:
Ace of Spades reported
, "Iranian National Carrying a Machete and a Pick-Ax Arrested on Bridge to Mar-a-Lago.
"Not sure why he was carrying these implements. I guess he was planning on hacking through the Jungles of Palm Beach and then starting a diamond mine.
"This article says he was also carrying knives. So his plan was to hack through the jungle, dig a diamond mine, and then try his hand at amateur sushi-making."
This explains John Kerry's long face on Friday night.
Oh wait, he always has a long face.
ITEM 11
:
Fox News reported
, "Rep. Alexandria Ocasio-Cortez has already topped the fundraising charts in her short time in Congress, but the liberal darling won't donate a cent of her millions to Democrats' House campaign organization -- a position that has rankled some of her colleagues, Fox News has learned.
"Instead, Ocasio-Cortez is building her own fundraising operation for fellow progressive candidates to bypass the official Democratic Party infrastructure. Already, she's actively funding primary challengers to oust certain Democratic colleagues."
Meanwhile, President Trump has been the biggest fund-raiser in the history of his party, helping the RNC achieve new records. The DNC is broke.
The capitalist shares while the socialist is selfish.
ITEM 12
: Tulsi Garbage.
Democrat Rep. Tulsi Gabbard refuses to blame Iran for shooting down Ukrainian airplane, blames U.S. instead

pic.twitter.com/LmkCVMp8O6

— Steve Guest (@SteveGuest) January 10, 2020
Democrats consider her a conservative.
ITEM 13
:
The Daily Wire reported
, "No Senate Democrats Support Measure Praising Military For Killing Soleimani. All GOP Senators Supported Same Resolution About Bin Laden During Obama Years."
It is not President Trump they hate. It is the country.
ITEM 14
:
U.S. News & World Report reported
, "Sheriffs across much of New Mexico are opposed to a proposal from Democratic lawmakers that would allow police or relatives to ask a court to temporarily take away guns from people who might hurt themselves or others, a New Mexico Sheriffs' Association official said.
"Sierra County Sheriff Glenn Hamilton, a legislative liaison for the group, said Wednesday that members want to ensure gun owners keep their due process protections. He said no compromise was reached so far with lawmakers on the so-called red flag legislation.
"Opposition from elected law enforcement officials may portend a repeat of last year's caustic debates about gun control at the Statehouse, where the annual 30-day legislative session begins Jan. 21. Gun control proposals in 2019 spawned a Second Amendment sanctuary movement in mainly rural areas of New Mexico, where sheriffs presented resolutions to their county commissions saying they would not be required to enforce the new laws."
Cold. Dead. Fingers.
ITEM 15
:
Reuters reported
, "GM will revive the Hummer name to sell a new family of electric pickup trucks and sport utility vehicles and will tout the return with a Super Bowl ad featuring NBA star LeBron James, two people briefed on the matter said on Friday.
"The vehicles will be sold under the GMC nameplate. Reuters reported in October that GM planned to build a new family of premium electric pickup trucks at its Detroit-Hamtramck plant beginning in late 2021 and was considering reviving the Hummer name, citing several people familiar with the plans."
A Hummer that doesn't guzzle gas does not seem right.
ITEM 16
:
Breitbart News reported
, "Immigration makes all of America richer, but it can make some Americans poorer, the non-partisan Congressional Budget Office says in a report issued January 9.
"'Immigration, whether legal or illegal, expands the labor force and changes its composition, leading to increases in total economic output,' said the non-partisan report, titled The Foreign-Born Population and Its Effects on the U.S. Economy and the Federal Budget —An Overview.
"But this national expansion does 'not necessarily [deliver] to increases in output per capita,' or income per person, the report said:
"For example, business leaders say the nation's enormous population of immigrants has expanded the nation's workforce, increased consumption, and driven up housing prices. But that inflow has also shrunk the wages of less-educated Americans, the report said."
The rich get richer. The poor get replaced.
ITEM 17
:
The National File reported
, "ADL Adds 'Boogaloo' to Online Extremist Lexicon."
The Fantastic Johnny C hardest hit.
ITEM 18
:
Ken Fuson died but not before he wrote his obituary, which ended
, "In lieu of flowers, Ken asked that everyone wear black armbands and wail in public during a one-year grieving period. If that doesn't work, how about donating a book to the public libraries in Granger or Indianola? Yes, this obituary is probably too long. Ken always wrote too long. God is good. Embrace every moment, even the bad ones. See you in heaven. Ken promises to let you cut in line. Memorial services will be Saturday, Jan. 11, at Lutheran Church of Hope, 925 Jordan Creek Parkway, West Des Moines."
I like that armbands thing.
ITEM 19
: This is why God created humans: to help one another.
US fire fighters arrived at Sydney Int Airport this week, on their way to assist with fire fighting in Victoria.

Coming through, all gathered gave a spontaneous & lengthy round of applause, reflecting the gratitude & admiration we all have for their generosity.

#NSWRFS @NSWRFS pic.twitter.com/5epg5y4qxX

— Shane Fitzsimmons (@RFSCommissioner) January 9, 2020
Aussies would do the same for us.