Donald John Trump is still our president.
ITEM 1
:
The Daily Mail reported
, "President Donald Trump has vowed to hold Iran 'fully responsible' for an attack on the US embassy in Baghdad Tuesday, where hundreds of pro-Iran militia members stormed the compound in retaliation for American air strikes.
"American soldiers inside the embassy have fired tear gas, stun grenades and warning shots, wounding 20 of the hundreds of fighters who broke down the gate and set fires within the complex in the Iraqi capital.
"The ambassador was on leave at the time of the attack and embassy staff had already been evacuated before the US Marine guard became besieged behind the bullet-proof glass and on the rooftops."
Invading a country and overthrowing its government based on deep state lies tends to piss off the natives.
Iran killed an American contractor, wounding many. We strongly responded, and always will. Now Iran is orchestrating an attack on the U.S. Embassy in Iraq. They will be held fully responsible. In addition, we expect Iraq to use its forces to protect the Embassy, and so notified!

— Donald J. Trump (@realDonaldTrump) December 31, 2019
Under Reagan, Iran and Iraq were at war. After Bush 43, Iran is taking over Iraq. I hate to admit it but Robert C. Byrd was correct about the Iraq War.
ITEM 2
:
Agence France Presse reported
, "U.S. personnel at the American embassy in Baghdad, which has come under attack by pro-Iran protesters, are safe and there are no plans to evacuate, the State Department said Tuesday."
Oh?
The story also said, "Defense Secretary Mark Esper said that the Pentagon is deploying extra troops to Baghdad to provide security for the US embassy after the attack by pro-Iran protesters angered by U.S. airstrikes over the weekend on Iranian-backed paramilitary forces."
Meanwhile, Reuters reported, "Iraqi leaders guaranteed the safety of American personnel and property on Tuesday in a telephone call with Secretary of State Mike Pompeo, the State Department said after protesters attacked the U.S. Embassy in Baghdad."
This ain't Benghazi and Hillary ain't in charge.
And the world should know this.
ITEM 3
:
Breitbart News reported
, "Iranian militia leader Hadi al-Amiri, one of several identified as leading an attack on the U.S. embassy in Baghdad on Tuesday, reportedly visited the White House in 2011 during the presidency of Barack Obama."
Nothing to see here. Move along.
ITEM 4
: The beat goes on.
I will be signing our very large and comprehensive Phase One Trade Deal with China on January 15. The ceremony will take place at the White House. High level representatives of China will be present. At a later date I will be going to Beijing where talks will begin on Phase Two!

— Donald J. Trump (@realDonaldTrump) December 31, 2019
Phase 2 already is underway.
ITEM 5
:
Breitbart News reported
, "New figures from the U.S. Census ahead of the 2020 decennial count suggest that California could lose a seat in Congress for the first time in its history.
"While other Sun Belt states stand to gain congressional representation, the Wall Street Journal reported Monday, citing U.S. Census Bureau figures on state population changes through July 1, California — once a symbol of the nation's westward growth — will likely lose a congressional seat.
"The Journal reported that California will join the cold states of the Northeast and Midwest in losing political clout."
Blue states are losing population because they are loser states. They have high taxes, high regulation, and high crime.
Democrats turned the Golden State into the Golden Toilet.
The one fear is that these refugees will poison their new states politically.
ITEM 6
:
The Daily Caller reported
, "At a campaign event in Peterborough, New Hampshire on Monday Democratic presidential candidate Joe Biden thanked everybody under the age of 15 and promised them something special after his speech."
Gropey Joe said, "I want to start off by thanking everybody under the age of 15. We owe you big, kiddo. I don't know how you got here, but thank you. Thank you, thank you, thank you. But after this is over, come up and talk to me. Everybody under 15, you get something special today, because this has got to be boring, boring, boring for you. Thank you."
I do believe his staff is sabotaging his campaign.
ITEM 7
:
The Arkansas Democrat Gazette reported
, "The judge in Hunter Biden's Arkansas paternity case has recused.
"Independence County Circuit Judge Don McSpadden filed at order at 10:20 a.m. Tuesday saying he was recusing 'pursuant to the Administrative Plan of the Sixteenth Judicial Circuit.'
"A hearing in the case was scheduled for Tuesday. Attorneys for Lunden Alexis Roberts had urged the judge to find Biden in contempt of court at that hearing for not providing financial information for the past five years."
This is his vaccine against Arkancide.
ITEM 8
:
Real Clear Politics reported
, "Rep. Joe Kennedy told CNN's Jake Tapper that on impeachment, Sen. Mitch McConnell 'has said that the whole thing is already baked and cooked and there's nothing anybody can do about it.'
He added: 'You don't go and do that. That makes a mockery of the entire system.'"
The impeachment is a farce and deserves mocking.
Speaking of mockery, we have a fourth generation of Kennedys in Congress from Massachusetts? Is there a more monarchical state in the nation, or the English-speaking world? Even British royals don't sit in Parliament.
ITEM 9
:
Nextgov reported
, "American phones may be a little less plagued by annoying, spammy robocalls in 2020 — thanks to the passage of bipartisan legislation on the second to last day of 2019.
"President Trump on Monday signed the much-anticipated Pallone-Thune Telephone Robocall Abuse Criminal Enforcement and Deterrence, or TRACED Act into law. Following a year of negotiations across and between both chambers of Congress, the bill aims to crack down on the millions of unwanted rings of Americans' phones each month by implementing new requirements for telephone carriers and directing several federal agencies to more aggressively combat criminal callers."
Having to ignore calls because of robocalling means I may miss legitimate calls.
My reluctance to answer phone calls almost cost my son a few thousand bucks.
ITEM 10
: Not all of The Donald's trolling is on Twitter.
— Catturd (@catturd2) December 31, 2019
He'll be in Wisconsin, the state Hillary never visited in the 2016 campaign.
ITEM 11
:
The New York Post reported
, "CBS News on Monday apologized for confusing one congressman for another during their evening broadcast.
"The network showed a photo of late Maryland Rep. Elijah Cummings, who died in October at 68, when referring to Georgia Democrat John Lewis.
"The image of the longtime lawmaker was placed next to a quote from the civil rights icon about his recently revealed battle with stage four pancreatic cancer."
Lewis is such an icon that no one at CBS recognized him.
ITEM 12
:
The Washington Times reported
, "Sen. Mitt Romney's 2012 super PAC formally shuttered this week, nearly eight years after his presidential campaign failed.
"Restore Our Future's termination report filed with the Federal Election Commission formalizes the Utah Republican's waning influence in the national GOP and may signal the lackluster fundraising potential of 'Never Trump' Republicans in 2020."
Ah, the days of Restore Our Future passed.
That it hung around for 7 years after Mitt blew the election shows an ability to milk that you cannot find even on a dairy farm.
ITEM 13
:
Revolt TV reported
, "It's official. Hasbro is now the owner of Death Row Records.
"On Monday, Brian Goldner, Hasbro chairman and chief executive officer, announced the purchase of Entertainment One (eOne), which owns Death Row Records. The deal was made over the summer, but now it's officially done. The transaction is valued at approximately $3.8 billion."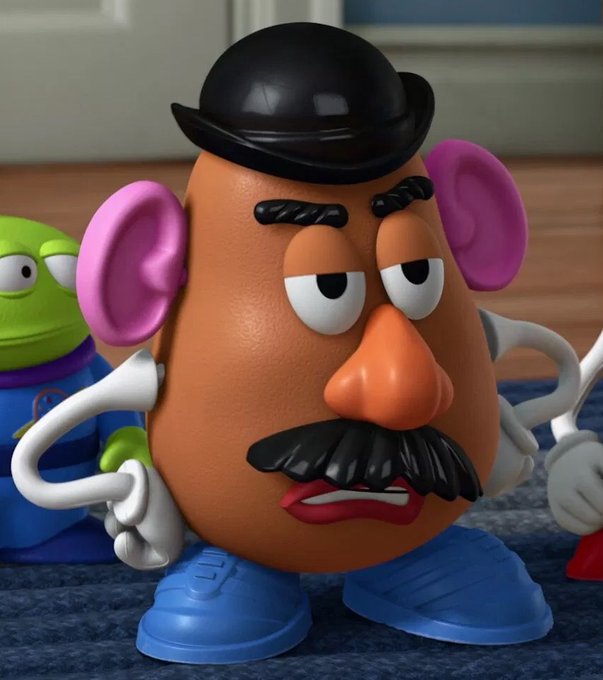 Mr. Potato Head goes gangsta.
ITEM 14
:
WIBW reported
, "A Herington Police Officer is no longer employed after admitting he fabricated a story a McDonald's employee wrote an expletive on his coffee cup over the weekend.
"Herington Police Chief Brian Hornaday confirmed in a news conference the officer resigned from the agency, calling it a black-eye on the law enforcement community."
If it looks too good to be true, it is.
ITEM 15
:
CBS reported
, "A Cyprus court on Monday found a 19-year-old British woman guilty of fabricating claims that she was gang raped by 12 Israelis in a hotel room at a tourist resort in the east Mediterranean island nation, saying that her story lacked credibility. Famagusta District Court Judge Michalis Papathanasiou said the defendant didn't tell the truth and tried to deceive the court with evasive statements in her testimony.
"The woman says she is innocent and will appeal the ruling. The case had triggered widespread interest in Britain and Israel. It was reported as a shocking gang rape until Cypriot authorities cast doubt on the woman's account."
The maximum sentence is a $1,900 fine and a year in jail. They ought to multiply it by 12.
ITEM 16
: Space.com compiled the
100 Best Space Photos Of 2019
.
Everybody in the media has a look back on 2019. This one is pretty good.
It also shows our space program is doing quite well beyond manned flight.
ITEM 17
:
Glenn Harlan Reynolds wrote
, "Three things that will be important over the next decade."
He listed them as the ballooning debt, fracking and the change of the United States from oil importer to oil exporter, and space.
That is a good list, but I would add one more thing I see rising in the next decade and that is God. This nation is well overdue for a revival -- one that ends abortion.
ITEM 18
:
The Raleigh News and Observer reported
, "Racial discrimination was at least part of the motivation for a new voter ID law in North Carolina, a federal judge wrote Tuesday, striking the law down for now.
"In a 60-page ruling evoking decades of racism in North Carolina, the judge wrote that parts of the new voter ID law 'were impermissibly motivated, at least in part, by discriminatory intent.'
"North Carolina has a sordid history of racial discrimination and voter suppression stretching back to the time of slavery, through the era of Jim Crow, and, crucially, continuing up to the present day,' she wrote."
The judge is an Obama appointee, Loretta Biggs, who is 65 and can go on senior status in 2024, and be replaced by someone who doesn't see the Jim Crow bogeyman in every law. She is only a district judge. This is why appellate court appointments are so very, very important.
ITEM 19
: Mini Mike has his finger on the pulse of America. He sees a nation that wants cubicles.
As president, I'll turn the East Room into an open office plan, where I'll sit with our team.

I'll use the Oval Office for some official functions – never for tweeting – but the rest of the time, I'll be where a leader should be: with the team.

https://t.co/zIU3ZL5uIv pic.twitter.com/jLwWKJCmxw

— Mike Bloomberg (@MikeBloomberg) December 30, 2019
No office worker will vote for him after this.