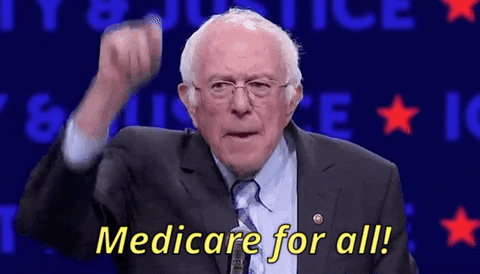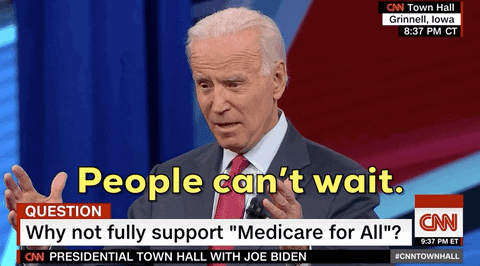 In the 1960s, Tom Kennedy hosted a quiz show, "You Don't Say!" Its tagline was it is not what you say that counts, it is what you don't say. And so it is in politics.
Astead W. Herndon of the New York Times noticed what Elizabeth Warren no longer said. (I do not link pay sites.)
He wrote, "In warm-up remarks introducing Senator Elizabeth Warren at campaign rallies, young volunteers often say they are supporting her because of her plan to transform the health care system through a single-payer Medicare for all program.
"It happened in Des Moines on Saturday and Oklahoma City last week, and in western Iowa cities like Clarinda and Council Bluffs on Sunday.
"But Ms. Warren herself is barely speaking of the proposal. After months of attacks from other candidates, and questions and some blowback from both liberals and moderates, the most ambitious and expensive of Ms. Warren's many plans — and the one most likely to transform the lives of voters — is just a passing mention in her standard stump speech, rarely explored in depth unless a questioner brings it up."
She has changed subjects.
He wrote, "With five weeks left before the Iowa caucuses, Ms. Warren is tailoring her closing message in the state to focus on rooting out Washington corruption, a potentially resonant theme with a Senate impeachment trial of President Trump expected in January. In a speech in Boston on Tuesday, she reiterated her case against corruption and asked voters to imagine a post-Trump era; she did not delve into many policy specifics, and mentioned Medicare For All only once."
Medicare For All is a free-for-all approach to an issue.
Instead of dealing with what leads to rising medical prices -- bloated bureaucracies, third-party payments, and a flood of government money -- Democrats just want to put the bill on the federal government's tab.
I could say the same about college. Instead of dealing with what leads to rising tuition prices -- bloated bureaucracies, third-party payments, and a flood of government money -- Democrats just want to put the bill on the federal government's tab.
But Medicare For All is in freefall.
Bruce Japsen wrote in Forbes magazine
, "Health insurers are expected to make it more difficult on Presidential candidates pushing single payer versions of "Medicare for All" after they added hundreds of thousands of seniors to their private Medicare Advantage plans this year.
"New benefits for seniors under Medicare Advantage began Wednesday, the first day of the 2020 New Year, in what has already been a record for the number of health plans participating in a program that offers seniors the same benefits as traditional Medicare plus extras like preventative care and outpatient healthcare services.
"This new Medicare Advantage enrollment comes as most Democrats running for their party's nomination for the Presidency back off a single payer version of Medicare for All that would uproot the private insurance industry."
At 66, I have Medicare. I use a Humana no premium plan that covers dental, hearing, and optical. Got new hearing aids and my first pair of glasses in 35 years.
But Warren backing off on Medicare For All reflects the reaction of Democrat voters.
Herndon of the New York Times wrote, "Speaking to reporters in Council Bluffs on Sunday, Ms. Warren said that if Medicare for all has received little attention at her Iowa events, it's because 'I take whatever questions come my way' and the voters have had other concerns.
"And she rejected the criticism, mostly lobbied by ardent progressives, that her plan waffles on an immediate push for enacting Medicare for all and ending private health insurance, as Mr. Sanders has long proposed.
"In November, after Ms. Warren faced blowback for her proposal for $20.5 trillion in new spending over 10 years to enact Medicare for all, she surprised many by proposing an expansion of public health insurance as a first step — similar to the positions of rivals like Joseph R. Biden Jr. and Pete Buttigieg — and then achieving passage of Medicare for all by the end of her third year in office."
Eliminating private insurance is a no-go with Democrat voters, as Warren has learned since she proposed it.
Herndon wrote, "It is unclear how much the Medicare for all issue has hurt Ms. Warren, if at all. Her poll numbers in Iowa leveled off in November and December, following attacks on her health care position and other issues in the October Democratic debate and questions about her plan's details in the first half of November. But polling has been sparse in Iowa in recent weeks, and Ms. Warren has one of the largest teams of political organizers in Iowa."
Her fund-raising is down as are her poll numbers.
And by more than 1/1,024 percent.