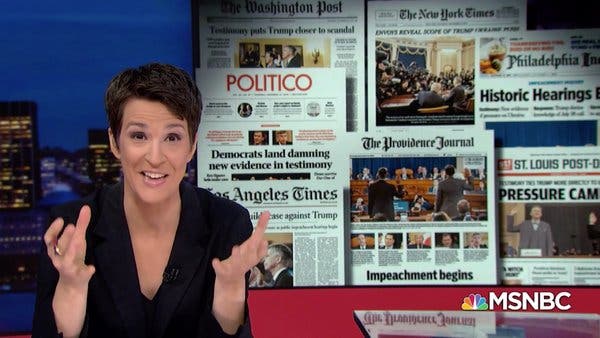 President Donald John Trump triumphantly held a rally in Des Moines on Thursday night to celebrate early his acquittal in the impeachment fiasco. He rocked the crowd for two hours, but summed up the situation succinctly in 16 words, "We're having the best years in the history of our country and I just got impeached."
Hilarious.
You would have to have a heart of stone not to laugh, and a head of rocks not to understand the profundity of his remark. America is doing great, and Democrats are angry.
The impeachment is a circus the media should have shut down in August by outing the whistle blower. But the media refused to. It is seething over President Trump's historic and stunning electoral victory, which has rendered the press blind with rage and utterly useless. A media that should be a guardrail against bad policy failed Democrats.
The cheerleading by the media was quantifiable. Nicholas Fondacaro at Media Research Center wrote, "Evening News Spin: 100% Negative on Trump Defense, 95% Positive Dems."
He said
, "Between Wednesday, January 22, when Democratic House impeachment managers launched their opening arguments, and Tuesday, January 28, when the President's defense team rested, evening newscast reporters and anchors made a total of 34 evaluative statements about the merits and effectiveness of both sides.
"Democratic impeachment managers received a total of 21 evaluative statements from ABC, CBS, and NBC journalists. Of that total, 95 percent of those (20) touted their efforts and presentations, which means only one of their evaluative comments were negative. ABC's World News Tonight had eight positive comments, CBS Evening News had five, and NBC Nightly News seven. NBC had the lone negative comment."
None of that helped sell removing the president from office to the American people. The opposite happened. His support rose throughout impeachment.
Mollie Hemingway wrote
, "The media always owned this impeachment process. Pelosi did her best to avoid impeachment but the media all but forced her into it. They championed it every step of the way and provided help, including the blocking of arguments against it.
"For instance, although it's fairly standard to name whistle blowers and to do journalism figuring out who key players are, many in the media decided to help Democrats keep from having to answer questions about his role with the whistle blower. They steadfastly avoided looking into him and his motivations or how that might have affected the entire proceedings.
"Each day provided evidence that the media didn't just want Trump impeached and removed from office, but desperately wanted that. There are videos of scrums of reporters fighting with Republicans over their case, but none of them fighting with Democrats. Republican senators are hounded by reporters to pressure them to change their vote, but Democratic senators don't receive the same treatment.
"It didn't help that in the midst of the circus, a CNN host and his panel were openly yukking it up about how Republicans are all stupid."
Don Lemon keeps using that word. I don't think he knows what it means.
Meanwhile,
Jim Hoft is calling this Acquitmas
.
Hahaha.
The media in DC serves Democrats, and in this case the media poisoned them.
Glenn Reynolds wrote
, "Some of my lefty Facebook friends were wondering why it is that the Democrats keep doing exactly the thing that helps Trump. I didn't answer them, but the answer is Twitter. It amplifies the woke white lefty activists, who are neurotic (at best), driven by feelings, and incapable of thinking strategically."
Of course, Democrats made the gawdawful decision to impeach President Trump. Pelosi cackled that this would go on his permanent record.
But the history sees presidents as the victims of impeachment. Republicans tried to remove Andrew Johnson for firing his secretary of war. As for the Clinton impeachment, both Newt Gingrich and his heir apparent as House speaker, were forced to resign after putting the Senate through this wringer.
The public clearly is disinterested.
Reuters reported
, "The TV audience for the trial, which began on Jan. 21, had been steadily shrinking. Ratings peaked at about 11 million viewers who watched lawmakers spar over evidence and witnesses on opening day. They fell to 6.8 million last Friday as Democrats wrapped up their arguments against Trump, according to Nielsen."
How bad is it? Soros could find only 13 hobos to pay to protest today.
— Henry Rodgers (@henryrodgersdc) January 31, 2020
President Trump's rallies continue to draw people days before he appears. Philip Wegmann reported on Thursday's speech.
He wrote
, "Trump made his speech very much about the dozen Democratic candidates preparing for the first-in-the-nation 2020 contest taking place Monday night in the Hawkeye State.
"'The good people of Iowa have had a front-row seat to the lunacy and the madness of the totally sick left,' he declared before accusing Democrats of not caring about farmers.
"This, he told an adoring crowd while slipping into third person, was why 'you should love Trump, with what I've done. We're going to win the great state of Iowa, and it's going to be a historic landslide.' And if the opposite should happen, Trump predicted that 'your farms are going to hell, I can tell you right now.'
"The crowd packed into the Drake University athletic center regularly erupted with hoots and chants and hollers throughout the night, with an energetic Trump clearly enjoying the interruptions. For their reward, attendees received a more than two-hour populist campaign pitch, one that included 2016 throwbacks and 2020 updates."
The media cannot stop the man.
Its fervent opposition is harmful to itself and its nation. The rise of the Information Age online is coupled with a Misinformation Age in the newspapers and on television. Democrats make the mistake of believing what they read in the newspapers and see on the TV shows.
I remind everyone that 500 newspapers and magazines endorsed Hillary and only 28 endorsed Donald John Trump for president. This not only shows how biased the media is, but how out of touch and ineffective it is.
Media cheerleaders led Democrats astray.
When will they learn?
Never, at the earliest.
Expect the impeachment sequel in June.
UPDATE: Looks like the impeachment will be postponed until Wednesday, the day after the State of the Union address. Smart people would bury it quickly.