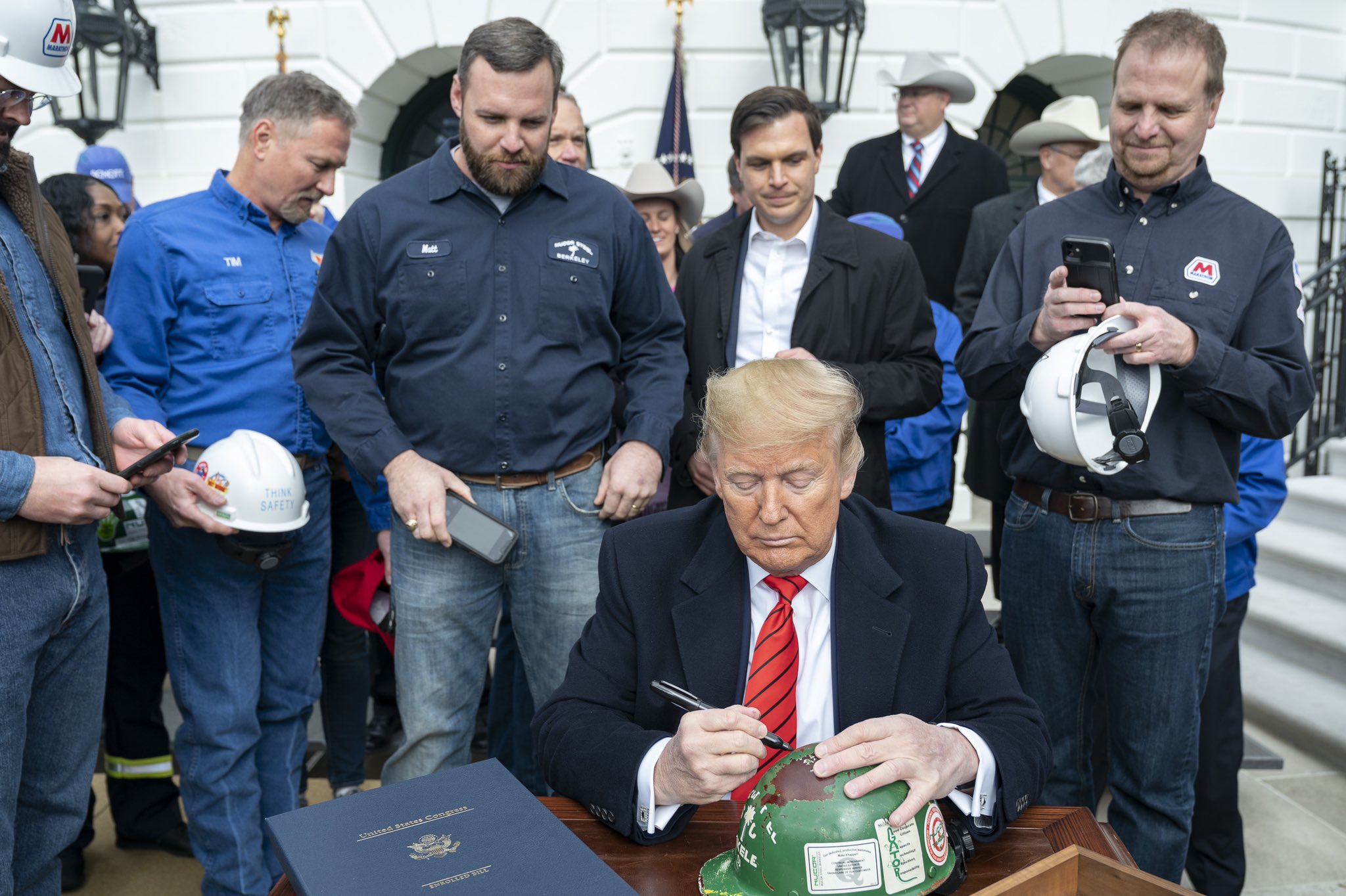 Who autographs hardhats? I mean besides President Donald John Trump. Come to think of it, is there another autograph anyone would want?
The Associated Press reported
, "AP-NORC poll: GOP more fired up for 2020, Democrats anxious."
The story was a mess. No one at the Associated Press political desk writes a straight lead anymore. Paragraph 7 was a quote from Clinton Adams, a 39-year-old custodian in the Florida Panhandle.
The poll asked voters about the election. 43% of Republicans and 33% of Democrats are excited.
46% of Republicans and 66% of Democrats are anxious.
The story said, "A party usually wants its voters excited rather than anxious, said George Marcus, a political scientist at Williams College who has studied the role of emotion in politics and polling. Marcus found that voters who report fear and anxiety are more likely to be confused and split their vote."
Why might this poll be true?
First, the impeachment is backfiring. Democrats presented a case that was full of vitriol but devoid of evidence. President Trump's retort -- "read the transcript" -- cannot be overcome by name-calling.
Democrats look disorganized. They say they have the evidence to lock him up.
Jerry Nadler said the House case
was "proven beyond any doubt at all." But then they say we need more witnesses and testimony. If you cannot run an impeachment, how can you run a government.
Second, the economy does well. Unemployment is at a 50-year low. The GDP grew 2.3% last year -- well above the 1.5% growth Obama averaged.
CNBC reported
, "States that supported President Donald Trump in the 2016 election are doing better economically these days than those that went for his opponent.
"Five of the seven fastest-growing states in the U.S. during 2019 went red in the last presidential contest, according to a trend tracked by Yelp that could come into play as a bevy of Democratic hopefuls look to unseat the Republican incumbent in a race that will heat up soon.
"An index that the online review site uses to track growth showed that the gap that Republican-leaning presidential states enjoy over Democratic states widened to 2.8 points from 1.3 points in 2018.
"Of the seven best-growing states — North Dakota, South Dakota, Wyoming, Louisiana, Alaska, Hawaii and Maine — only the latter two voted for Hillary Clinton in 2016. Moreover, the seven slowest-growing states and districts by Yelp's measure — Oregon, California, Illinois, Massachusetts, New Jersey, Connecticut and Delaware — all voted Democrat."
Third, he is getting the job done. So far this week he has signed a new trade agreement with Canada and Mexico into law, after unveiled a Middle East Peace Plan that is backed by Israel and most Arab states.
Republicans want four more years.
Democrats want four more impeachments.
I want an autographed hardhat.