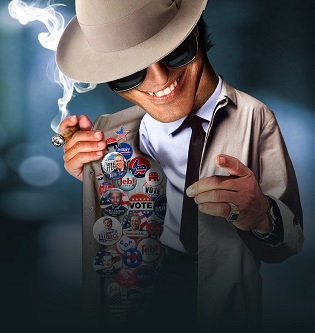 I see where billionaires Mini Mike Bloomberg and Tom Steyer are dumping tens of millions of bucks on ads. Fools and their money are soon parted. Political consultants are milking them like the cash cows they are.
Not that the Mini Mike and Steyer care. Billionaires have plenty of money to blow. There are only so many McLarens you can buy, and they are too smart to do cocaine because that turns you into Hunter Biden. So they blow the dough on running for president.
But their money cannot buy the best and most successful political consultants in the land today.
I will start by explaining who these political cons are. Or rather Molly Ball of Atlantic magazine will.
She went to the annual gathering in April 2016 of the American Association of Political Consultants in San Juan, Puerto Rico. Her portrayal of the convention was a meeting of confidence men (and women) who take money raised by politicians (including the politician's money), run it through their machine, and skim enough off the top in fees to live large, comfortable lives. The machine included polling firms, focus groups, television ad production, ad bookings, website management, and a whole host of other services, including catering.
Yes, after crashing the presidential campaigns of Jeb! and the like, they vacationed in the sort of tropics.
She wrote, "On the Republican side, the most expensive and professional presidential campaigns proved remarkably ineffective. Ted Cruz's campaign paid almost $6 million to a state-of-the-art analytics firm that touted its slicing and dicing of the electorate based on personality profiles. Marco Rubio's campaign and super PAC spent $105 million; Ben Carson's spent $78 million. Most notoriously, Jeb Bush, between his campaign and his super PAC, employed a flotilla of the best-credentialed consultants in Republican politics, burned through $139 million of his donors' money — and dropped out after just three primaries, having won 4 delegates and as little as 3% of the vote in the states where he competed."
Jeb!'s campaign was spectacularly bad, as I explained in
Trump the Press
.
I wrote, "Trump's mastery of the news led to a comical situation in which after airing a report on the highlights of Trump's latest free-wheeling speech, the news network would air a commercial showing Jeb Bush delivering the same boring speech to the same small crowd that aired in the same commercial the day before. In mid-July 2015, the two sat at 16% each on the RealClear Politics poll average. By year's end, Trump stood at 35% and Bush at 4.3%. Bush had spent $49 million on television ads. Trump had spent zero at that point."
The daily comparison between Donald John Trump and Low Energy Jeb! did him in. Please clap.
But Ball headlined her story, "
There's Nothing Better than a Scared, Rich Candidate
."
The quote comes from an academic.
She wrote, "In a recently published book about political consulting called Building a Business of Politics, Adam Sheingate, a political scientist at Johns Hopkins University, argues that the consulting industry has ballooned not because its services are particularly effective, but because all the money in politics — which has skyrocketed in the past decade due to campaign-finance deregulation — has to go somewhere."
Ball lifted the quote from his book, Building a Business of Politics.
He told, "The consultant is selling something to the candidate. The confidence game is that the candidate is always a little afraid. They're always a little scared they can lose, and that's what the consultant exploits."
Ben Carson had told Ball a month earlier, "We had people who obviously didn't have, necessarily, my best interest in mind."

Oh?

Carson said, "I think that it was a job. They wanted a position. A lot of money was made, and a lot of advantage was taken."

Oh?

Carson said, "There were tons of consultants. I started saying, 'Wait a minute, I'm trusting the wrong people here.'"

In early November 2015, Carson briefly (and slightly) led Donald Trump in the polls.

Which leads to the best political consult in America.

Donald Trump.

Of course. He decided to run an old-fashioned campaign that relied on fiery hourlong speeches to ever-growing audiences. He attacked the establishment, including the press. Instead of buying coverage through ads, The Donald earned free time on television. They call it earned media. And unlike Low Energy Jeb!, Donald John Trump worked hard to get that free time on the air.

He had calculated that if he could not win support on his own, then he would be wasting money on ads. Looking back, he gave himself a 6-month deadline. He began his campaign on June 16, 2015, and he started running ads in January 2016, having made his decision to go for it on December 16 or so.

His ads were killer. He went after Hillary, using her words about women's rights while showing pictures of the misogynists and sexual predators she surrounded herself with. The ad knocked Bill Clinton out of the campaign by reminding people of what a creep he is.

The ads also in retrospect gave him a little cushion against the inevitable scandals associated with his own billionaire playboy lifestyle. This is why the Billy Bush tape failed. She should have held off on that tape for a month, releasing it days before the election, which would not have given him time to recover.

Donald Trump did not hire political consultants other than his campaign managers. His book, The Art of the Comeback, which covered his recovery from his first trips to bankruptcy and divorce courts, explained this.

He said of his downfall, "I had taken a siesta. I had relied on other people, many of them highly trained and educated executives. Sure, success in business takes education and training. But it all comes down to feel and touch. I've got the instincts. That's how I'd gotten on top in the first place. I wasn't using my instincts anymore. I'd gotten bored, taken my eye off the ball. Why, I thought, should I work my ass off when I can get somebody to do it for me?"

Lesson learned.

How you campaign, so shall ye govern. Jack Kennedy had relied on political pros to get elected. He listened to the experts at the CIA, and wound up with the Bay of Pigs debacle 3 months into his presidency. Lesson learned. He handled his biggest test of all in the Cuban Missile Crisis-- and avoided a nuclear holocaust.

President Trump is the story of our lifetime. I get it. Someday, maybe, the Washington press corps will.

Who am I kidding? They get played all the time by the political consultants and other experts.