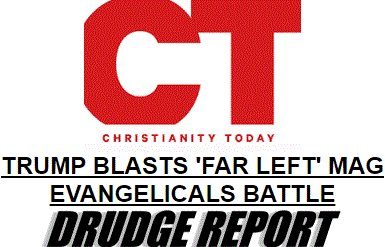 Christianity Today, a publication founded by Billy Graham, crossed over into the secular world and called for the impeachment (technically pending) and conviction of President Donald John Trump. Graham's son and the heir to his ministry, Franklin Graham, denounced the editorial.
But the Left has embraced it as gospel along side Mark, Matthew, John and Luke. This is truly a miracle and I welcome their conversion.
Before they use this editorial to complete the impeachment -- which includes sending it to the Senate -- the Left has to show a little Christianity.
I would begin by loving President Donald John Trump.
In Matthew 5:43-48, Jesus said, "You have heard that it was said, 'Love your neighbor and hate your enemy.' But I tell you, love your enemies and pray for those who persecute you, that you may be children of your Father in heaven. He causes his sun to rise on the evil and the good, and sends rain on the righteous and the unrighteous. If you love those who love you, what reward will you get? Are not even the tax collectors doing that? And if you greet only your own people, what are you doing more than others? Do not even pagans do that? Be perfect, therefore, as your heavenly Father is perfect."
I have not seen a lot of love for President Trump or his supporters. And I am no expert on Christianity, but it seems to me that calling him Hitler and the like is not very Christian. Certainly calling his supporters deplorable and beating them up are actions of hate, not love.
Then there is the Sabbath. The end of blue laws in the 1960s ended our respect for the Sabbath. Liberals led that repeal. Perhaps they can lead the way to its restoration. Their calls to close stores on Thanksgiving show blue laws closing stores does not conflict with their ideology.
Then there is transgendering. Liberals will have to abandon that. The Lord made man and woman.
Also, adultery, co-habitation, homosexuality, and any sex before (or outside) marriage are forbidden.
To be sure, man falls short and sins. But as a movement, the Left should oppose sin because sin is bad for man and sin displeases The Lord.
But really, they cannot cite Christianity Today until they love President Trump.
Matthew 22:35-40 said, "Then one of them, which was a lawyer, asked him a question, tempting him, and saying, Master, which is the great commandment in the law? Jesus said unto him, Thou shalt love the Lord thy God with all thy heart, and with all thy soul, and with all thy mind. This is the first and great commandment. And the second is like unto it, Thou shalt love thy neighbour as thyself. On these two commandments hang all the law and the prophets."
My take, for what it is worth, is the Constitution requires an impeachment to be based on a criminal action. Jesus obeyed the law. Render unto Caesar that which is Caesar's.