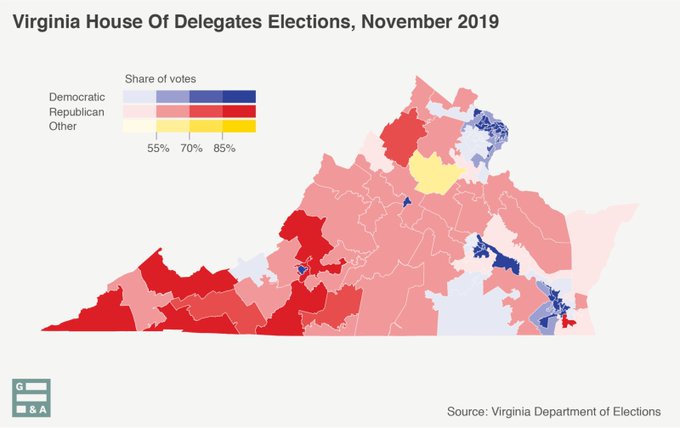 If the 50 states are the laboratory of democracy, then Democrats are rolling out a future for America of infanticide, gun confiscation, and the elimination of the middle class. Democrats in several states already legalize the first.
Virginians foolishly voted in a Democrat legislature in November. The first moves by Democrats when they take over next month will be to confiscate guns and ending single-family homes in suburbia.
The gun confiscation will begin with AR-15s.
NRA-ILA announced
, "Michael Bloomberg's bought and paid for Virginia legislators have wasted no time introducing legislation that would make the Old Dominion's gun laws worse than those of the billionaire's home state of New York.
"SB 16, introduced by Sen. Richard L. Saslaw, would create a total ban on commonly owned semi-automatic firearms, like the AR-15. Even worse, the ban would even extend to common firearm parts. The restrictions included in the proposed legislation does not grandfather current owners. The legislation is clearly designed to be firearms confiscation, as current owners would be forced to dispossess themselves of their property or face a felony conviction."
The announcement said, "Otherwise law-abiding gun owners found in possession of an "assault firearm," even one they purchased prior to the ban, could be convicted of a Class 6 felony. A Class 6 felony is punishable by up to 5 years imprisonment."
Saslaw is Dominion Energy's favorite state legislator, receiving more than $350,000 in the last 15 years from officials with the utility.
Democrat Governor Ralph Northam supports the gun ban.
The Daily Caller reported
, "The budget bill (HB30) includes an appropriation of a quarter million dollars to carry out a host of gun control measures that Northam and his anti-gun allies hope to enact.
The $250,000 is appropriated to the Corrections Special Reserve Fund in order to provide for the "increase in the operating cost of adult correctional facilities resulting from the enactment" of Northam's gun control measures. Among the enumerated laws that this allocation is meant to fund is a ban on commonly-owned semi-automatic firearms, the criminalization of private firearms transfers, and gun confiscation orders issued without due process.
"Aside from the insult of forcing law-abiding Virginia taxpayers to pay for the diminution of their rights, the gun control allocation is a severe waste of resources. Northam's Bloomberg-backed gun control measures will not make Virginia safer.
"In additional to being unconstitutional, a ban on commonly-owned semi-automatic firearms will not reduce violent crime. Long guns of any description are rarely used in violent crime."
Of course this will not reduce violent crime. Democrats do not want to reduce violent crime because every city they take over seems to develop a crime rise. Evidently, Democrats benefit from violent crime.
On top of that, Virginia Democrats want to destroy suburbia.
The Daily Caller reported, "Democrats in Virginia may override local zoning to bring high-density housing, including public housing, to every neighborhood statewide — whether residents want it or not.
"The measure could quickly transform the suburban lifestyle enjoyed by millions, permitting duplexes to be built on suburban lots in neighborhoods previously consisting of quiet streets and open green spaces. Proponents of upzoning say the changes are necessary because suburbs are bastions of segregation and elitism, as well as bad for the environment."
This proposal would ban zoning for single-family housing, which would lead to their elimination. You would be able to build them, but land costs would rise while the apartment buildings would make them less attractive.
The attack on suburbia is led by Democrat Delegate Ibraheem Samirah, a dentist who represents the richest and third-richest counties in America. Those counties are suburbs of Washington DC. One is 68%white, the other 63% -- both below the national average. So much for his stereotyping suburbia as havens for white supremacy.
He said his goal is to help the poor.
Oh?
How about we have the poor move in next door to Obama in Martha's Vineyard and Kalorama in DC? Better yet, have Loudoun and Fairfax counties, which he represents, take them in.
But his legislation is aimed at destroying suburbia with its ranch houses and two-car garages. Having chased the middle class out of the cities, Democrats want destroy the suburban refuges by turning them into Ferguson, Missouri.
Gun confiscation and forcing the urbanization of suburbia are part of the Stalinist future of Democrats envision for the 21st century.
Voting Democrat is the quickest way to destroy the things that mean the most to you. Look how they ruined colleges and the news media.