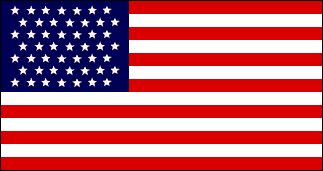 Study that picture. Alaska question about it later in the post.
ITEM 1
:
The Associated Press reported
, "On December 7, 1941, then-21-year-old Lauren Bruner was the second-to-last man to escape the burning wreckage of the USS Arizona after a Japanese plane dropped a bomb that ignited an enormous explosion in the battleship's ammunition storage compartment.
"He lived to be 98 years old, marrying twice and outliving both wives. He worked for a refrigeration company for nearly four decades.
"This weekend, divers will place Bruner's ashes inside the battleship's wreckage, which sits in Pearl Harbor where it sank during the attack 78 years ago that thrust the United States into World War II. The Southern California man will be the 44th and last crew member to be interred in accordance with this rare Navy ritual. The last three living Arizona survivors plan to be laid to rest with their families."
God bless them all.
The day remains in infamy. Those who witnessed it will disappear but their ability to avenge the sneak attack and destroy the attackers in 4 years will remain America's finest hour.
ITEM 2
:
The Pensacola News Journal reported
, "Four confirmed dead at NAS Pensacola, including shooter identified as Saudi national."
The Associated Press reported, "U.S. law enforcement officials were digging into the background of the suspected Florida Naval station shooter Friday, to determine the Saudi Air Force officer's motive and whether it was connected to terrorism.
"As questions swirled about the shooting, which left four people dead, including the attacker, officials identified the suspect as 2nd Lt. Mohammed Saeed Alshamrani, an aviation officer in the Saudi Air Force. The officials spoke on condition of anonymity to discuss an ongoing investigation."
— Rep. Matt Gaetz (@RepMattGaetz) December 6, 2019
Matt Gaetz is Pensacola's congressman.
Pray for the victims and their families.
🚨BREAKING🚨

Six Saudi Nationals have been arrested over Pensacola naval base shooting including three who FILMED the attack by countryman who killed three and wounded eight before being shot dead - as FBI probes terror link

https://t.co/48l3clKdky

— Benny (@bennyjohnson) December 7, 2019
The House of Saud has a lot of explaining to do.
ITEM 3
:
The Financial Post reported
, "Canada's job market unexpectedly weakened for a second-straight month, registering the biggest drop in employment since 2009 and casting doubt on the resiliency of the domestic outlook.
"The economy lost 71,200 jobs in November, Statistics Canada said Friday in Ottawa, following a decline of 1,800 in the prior month."
Hey Canada, the USA found those jobs you lost and kept them -- and created 194,800 more.
Canada: Worst economy in 10 years. Unemployment at 5.9%.
The USA: Best economy in 50 years. Unemployment at 3.5%.
Keep mocking The Donald, ballerina boy.
ITEM 4
:
Breitbart News reported
, "President Donald Trump decided Friday not to officially designate Mexican cartels as foreign terrorist organizations, deferring instead to Mexico."
That's good because it is their concern, not ours.
But if those unprosecuted felons who smoke weed, do meth, and otherwise engage in illegal activities were to stop, the drug war would end.
The idea that the War on Drugs failed because people still use drugs is as absurd as claiming the War on Murder is a failure because people keep killing one another.
Has legalizing pot solved California's drug problems?
ITEM 5
:
Michael Foust of ChristianHeadlines.com reported
, "LGBT Activists Protest Canadian Chick-fil-A, Say Changes Are Not Enough."
The story said, "The planned opening of a Chick-fil-A in Windsor, Ontario, is drawing protests from LGBT activists, despite the company's change in giving strategy.
"About 20 people protested outside the Windsor city hall Monday, holding signs reading 'Chick-fil-A hates LGBTQ+ people,' and 'Chick-fil-A is a homophobe,' according to the Windsor Star."
The devil laughs.
He got Chick-fil-A to turn its back on the Salvation Army and gave nothing in return.
ITEM 6
:
Fox News reported
, "House Judiciary Committee ranking member Doug Collins, R-Ga., says he has tried in vain to get an idea of how the panel will proceed in the impeachment process -- but claims the committee's Democratic chairman won't keep him informed.
"In fact, Collins told Laura Ingraham Thursday that Chairman Jerrold Nadler, D-N.Y., even hung up on him when he called Nadler to get information.
"'He never gets back to me,' Collins said. 'I'm trying to get a definition of what's going on -- 'Don't worry Doug, we'll talk to you.' Just the other day as I was trying to get information from him, he just gets tired of talking to me and just hangs up.'"
How unsurprising.
Nadler has hated Donald John Trump for decades and believes he finally has him now.
ITEM 7
: A reader emailed, "My wife and I watched the first episode of season 3 of The Marvelous Mrs. Maisel last night. I'm making a big assumption that you've heard of the show that's on Amazon Prime. Anyway, season 3 is set in 1959 and Midge Maisel is a comedian performing at a USO show in a hangar at an Army air field on Long Island, NY. In the backdrop of the stage is a huge U.S. flag.
"Being anal as I am, I initially thought they had the wrong flag for the time period, since the 50-star flag didn't come into effect until July 4, 1960. I assumed it should be the 48-star flag which is easy to distinguish from the 50-star flag. I was patting myself on the back because thought I had found a historical mistake.
"However, upon further inspection I realized that the flag was a 49-star flag, which was in effect from July 4, 1959 until July 3, 1960. Visually, the 49-star flag is similar to the 50-star flag, with offset rows. I was very impressed that the show had actually gotten it right historically and that they would even be aware of that small detail. What's scary is that I would actually notice.
"How many people are even aware that there was a 49-star flag between the time Alaska was admitted as a state and Hawaii was admitted? And how many people who watch Mrs. Maisel would bother to count the stars on the flag in the backdrop of a scene to ensure historical accuracy? I think I need help."
He is a retired lieutenant colonel. So Alaska this question, what is wrong with loving the country you served for decades?
ITEM 8
:
Fox News reported
, "Tulsi Gabbard moves from Hawaii to snowy New Hampshire ahead of February primary."
Leaving Hawaii for New Hampshire in the winter proves she is an idiot. Do not vote for her.
ITEM 9
:
Ace of Spades reported
, "A recent meme among allegedly conservative pundits is that they are *exhausted* from covering the Trump presidency. With a heavy heart, they state that the exhausting nature of Trump's presidency is not sustainable, and therefore something must change. Ace's readers know that these are the same police-the-right quislings who crave guest appearances on cable news shows, and who spend all day on Twitter flirting with the left-wing journalists at ABCNNBCBS. All the same, the issue of 'Trump exhaustion among the right' has received lots of media play. So let's try to recall if there was ever another Republican President whose tenure was exhausting.
"The first president I ever voted for was Ronald Reagan. By the end of his presidency I was *exhausted*. "
The post then gave an exhaustive list of things that scandalized the press and have reporters the vapors: Bitburg, ketchup as a vegetable, homelessness, calling the Soviets the Evil Empire, "we begin bombing in five minutes," and so on.
What is interesting is both Ronald Reagan and Donald Trump were in their 70s when they served as president. Yet they exhausted reporters who were not even half their age.
More PE in school, please.
ITEM 10
:
The Sun reported
, "Outrage as West Virginia corrections officers give Nazi salute in class photo."
I would have posted this last night except the local newspaper is a pay site. I do not link pay sites.
Of course I condemn the officers.
ITEM 11
: Nancy held a townhall meeting with CNN.
At one point she said
, "Can we not have any more questions about impeachment? I don't mind questions, but to ask me questions through the prism of the White House is like, what?"
I agree.
Ask her about her son's job in Ukraine
.
ITEM 12
:
Reuters reported
, "President Donald Trump said on Friday he has directed his environmental regulators to find answers to what he considers a big problem - water-conserving showers, faucets and toilets that restrict their flow to a dribble."
Excellent idea.
I don't live in a desert (unlike Arizonans). I have plenty of water. Let me use it.
While he is at it, bring back pastel and perfumed toilet paper.
ITEM 13
: I always like when journalists whine about the president's ego.
Try to control your grief, folks: For the 2d yr the Trump White House will not host a holiday party for DC journalists. The First Family did in 2017 but--are you sitting down?--did not pose for photos w/the journos as the previous pres did for their egos.

pic.twitter.com/78t8iKtO1b

— Andrew Malcolm (@AHMalcolm) December 6, 2019
Maybe they can go to Obama's house, wear pajamas, drink hot cocoa, and talk about getting health insurance.
ITEM 14
: Old: Quid Pro Joe.
Hey y'all. We have a question and need to know if this is true.

Did the Obama admin give Pearson Publishing $350 Million tax dollars to create a Common Core curriculum and did Obama get a $65 Million dollar book deal in return?

If this is true, is this Quid Pro Quo?

— Diamond and Silk® (@DiamondandSilk) December 6, 2019
New: Quid Pro O.
ITEM 15
:
The Daily Mail reported
, "A female judge in Kentucky has been accused of having threesomes in her chambers and allowing employees to get drunk on the job.
"Family Court Judge Dawn Gentry allegedly gave attorneys preferential treatment if they appeased her sexual demands and donated to her campaigns for re-election.
"The 38-year-old has now been hit with nine misconduct charges.
"According to an investigation by the Kentucky Judicial Conduct Commission, she flirted with attorneys over Snapchat, put pressure on them to sleep with her and, in one case, asked a female attorney to join her in a threesome with her former church pastor turned lover.
"On one occasion, she and the former pastor are said to have had a threesome with her secretary."
One door closes, another one opens because she is now qualified to run for Congress in California.
ITEM 16
: Ignore what she is saying because she is lying again.
👀 Whoa...

This is quite the admission from Elizabeth Warren on previously identifying as Native American:

"I shouldn't have done it. I am not a person of color, I am not a citizen of a tribe. And I have apologized for confusion I have caused"

pic.twitter.com/ErjPhVb62h

— Nathan Brand (@NathanBrandWA) December 6, 2019
Look where she is. A bowling alley.
ITEM 17
: And now, a special Christmas moment.
— Hafod Hardware (@HafodHardware) December 2, 2019
I now have a reason to visit Rhayader, Wales.