Move over Babylon Bee.
Make space for WSMH 19
.
ITEM 1
:
Fox News reported
, "A Texas husband took the wedding vow 'in sickness and in health' to heart when he donated his kidney to his wife of 51 years.
"Mike and Peggy Nipper underwent the successful transplant at the Kidney Transplant Center at St. David's North Austin Medical Center just before the holidays."
Doctors said they were the perfect match.
I'll say they are.
Mike told WTHR-TV, "I tell people she gave me her heart 50 years ago, so I will give her my kidney for the remainder."
Methinks this marriage will last.
ITEM 2
:
Zero Hedge reported
, "Sources inside the FBI have reportedly confirmed that the bureau is investigating British socialite Ghislaine Maxwell and several other unnamed persons suspected of helping multimillionaire pedophile Jeffrey Epstein recruit and exploit underage girls.
"Maxwell, who reportedly dated Epstein in the early 1990s before settling in to a close friendship with the millionaire, has been MIA since Epstein's July arrest. Soon after, Epstein killed himself while awaiting trial in Manhattan's Metropolitan Correctional Center.
"Though this is the first time the FBI has confirmed that it's actively investigating Maxwell, AG Bill Barr's insistence that the case would focus on those who enabled or abetted Epstein led many to suspect that Maxwell would be the next logical target.
"That's because she has been accused in court filings of organizing a sex-trafficking ring that helped bring beautiful young girls to Epstein's expansive Manhattan townhouse."
We will know they are close when the Arkancides begin.
ITEM 3
:
Katie Pavlich reported
, "As Durham Closes in on Brennan, Democrats Call on Him to Resign."
The story said, "Despite working for Republican and Democrat Presidents, Democrats argue Durham isn't an impartial prosecutor. The reality is, he's getting closer to exposing how entangled Democrats are with misconduct at the FBI."
No excitement without an indictment, but curious behavior by Democrats always sparks my curiosity.
ITEM 4
:
Media-ite reported
, "President Donald Trump retweeted an article, Thursday night, which contained the name of a person alleged to be the whistleblower who filed a complaint relating to the commander-in-chief's dealings with Ukraine President Volodymyr Zelensky. It is the first time Trump has promoted the name in any manner."
The story also said, "Several conservative outlets to date have identified the person alleged to be the whistleblower. No major news organization has yet reported the name."
His name is Eric Ciaramella. It is not a journalist's job to hide information, therefore these organizations are not journalists but rather the public relations team for the would-be fascists in the federal government.
ITEM 5
: What was President Donald Trump really up to?
....and native culture – S.216/Spokane Tribe, S.256/Native Languages and NDAA Sec. 2870 officially recognizing Little Shell Tribe of Chippewa Indians. My great honor to do so!

— Donald J. Trump (@realDonaldTrump) December 27, 2019
He called them Indians, not Native Americans, because people like to be called what they are, not what the left calls them.
ITEM 6
:
The Daily Caller reported
, "A columnist for The Washington Post blasted Rachel Maddow for her coverage of the infamous Steele dossier on Thursday, saying that the MSNBC host engaged in 'a pattern of misleading and dishonest asymmetry' in her reporting on the salacious document in the nearly three years since its publication.
"'As part of her Russianist phase, Maddow became a clearinghouse for news increments regarding the dossier,' writes Post media columnist Eric Wemple in his fifth installment in a series reviewing the media's coverage of Steele's dossier.
"Wemple took on the project in the wake of the Justice Department inspector general's (IG) report which undercut key aspects of the dossier, authored by former British spy Christopher Steele."
Maybe Jeff Bezos -- the richest man in the world and owner of the newspaper -- realizes that as president, Donald John Trump can make life hell for Amazon for the next 5 years.
Returning the Pulitzer the newspaper received for promoting the collusion hoax would be even more impressive.
ITEM 7
:
Breitbart News reported
, "Donald Trump Jr. spoke at Turning Point USA's annual Student Action Summit on Sunday in West Palm Beach, Florida, where he told the young conservative attendees a story of a woman who approached him in a New York City restaurant and began yelling."
Yelling like a fisherman's wife at the Trumps is evidently a thing to do among sophisticates in New York City.
But Trump Jr. said this lady said, "You guys have the biggest — she used the English version — cajones in the world! And I love it! You guys don't take any crap from these guys. You guys give it back. I see the results, and I've been a life-long New Yorker and Democrat for my entire life!"
Then he said, "I look around the room, and everyone that I thought was giving me that side-eye — stands up and starts clapping. Every one of them started clapping, standing up, and it became a 20-minute lovefest of selfies."
It is not where you start, it is where you finish. Obama had 75% approval on his Inauguration Day. President Donald John Trump did not crack 50% on his. History will remember one for the color of his skin, and his successor for the content of his character.
ITEM 8
:
CNBC reported
, "Sen. Elizabeth Warren's campaign told supporters in an email on Friday that, so far, it has raised just over $17 million in the fourth quarter, a significant drop from her fundraising haul during the third quarter.
"The memo asks backers to step up in giving to the campaign.
"'So far this quarter, we've raised a little over $17 million. That's a good chunk behind where we were at this time last quarter,' it says.
"Warren finished the third quarter bringing in $24.6 million, which was much more than most of the other Democratic primary contenders, including former Vice President Joe Biden and Mayor Pete Buttigieg. Sen. Bernie Sanders – who, like Warren, shuns big-money fundraisers – led the field with more than $25 million during the third quarter."
Hmm.
On Monday,
the Hill reported
, "Obama talks up Warren behind closed doors to wealthy donors."
Obama is the San Francisco version of King Midas. Everything he touches turns to poop.
ITEM 9
: CBS will air The Faces of Family Separation on Saturday at 10 p.m. Eastern.
Its announcement said
, "The issue of immigration at the southern border moved to center stage in recent years as President Trump made it one of his signature issues. In the spring of 2018, the administration's controversial policies to curtail border crossings provoked intense debate when it was revealed that parents were being separated from their own children. It is a divisive issue and a dramatic story that continues to this day."
CBS made no mention of Obama, who set up the detention centers.
ITEM 10
:
Agence France Presse reported
, "Beijing said it firmly opposes trade restrictions included in a new US defence act, having already admonished the bill for interfering in China's internal affairs.
"The National Defense Authorization Act (NDAA) -- signed into law last week -- bars the use of federal funds to buy railcars and buses from China, and slows the lifting of sanctions on tech giant Huawei."
2 Damn Bad.
ITEM 11
:
The Washington Examiner reported
, "Filmmaker and liberal activist Michael Moore predicted President Trump will win the 2020 election.
"Moore said in an interview with Democracy Now! that Trump would win if the vote were today because his support has not fallen one inch in the Midwest. 'I believe, he would win the electoral states that he would need,' he said, adding that the president's supporters are 'even more rabid than it was before because they're afraid now. They're afraid he could lose, because they watched his behavior. So they are voracious in their appetite for Donald Trump. That's the bad news.'"
But of course.
What have I been saying?
The Establishment and the deep state have to peel supporters away from The Donald in order to flip states and win in 2020.
They have done everything they can to insult us, which makes us stick with him.
No wonder the USA has all these bad deals with Red China and the rest of the world. Our Establishment and deep state are run by morons.
ITEM 12
:
Wayne Dupree reported
, "IG Report: McCain Funneled 5 New Christopher Steele Reports to James Comey Even After FBI Fired Him.
"We all knew John McCain was a dirty traitor, but now we know we now exactly how evil and traitorous this conniving monster truly was."
Don't blame me. I voted for Palin.
ITEM 13
: A lawyer who profits from representing alleged refugees complained.
New data on immigration judge denials for

#asylum

FY2019. Memphis judges' denials:

Miles: 100% denied (just left the bench)

Ward: 98% (currently visiting from KY)

Hansell: 96%

Holt: 95%

Averwater: 90% (retired)

Kaufman: 87% (moved to CO)

Before Trump, our court granted ~50%.

— Lily S. Axelrod (@LilySAxelrod) December 26, 2019
So President Trump's judges are following the law, unlike Obama's.
That is good to know.
ITEM 14
: The Boston Globe reported, "Families can also disagree on the details of a shared life. According to a family friend, David has disagreed with the way Warren calls herself the daughter of a janitor as she describes the work he found after losing a job as a salesman after his heart attack.
"'When she called her dad a janitor during the early stages of this, David was furious,' said Pamela Winblood, 78, a longtime friend of David who had fallen out with him and supports Warren's presidential bid. 'He said, 'My Dad was never a janitor.' I said, 'Well, he was a maintenance man.'"
Sometimes I wonder if the senator is not lying about being a woman.
I don't link pay sites.
ITEM 15
:
The Daily Caller reported
, "It's not a reporter's job to help out a homeless man.
"But it was the least a Washington Post reporter could have done after writing such a heart-wrenching front page story about how the man couldn't afford a $27 bus ticket to go see his daughter.
"As the story by John Woodrow Cox goes, a 70-year-old homeless man named Robert Fox 'knew where he should spend Christmas.' The answer: With his daughter in Fredericksburg, Va.
"Cox found the man in Washington's Franklin Square. The temperature expected for tonight is 36 degrees.
"All Fox had was 62 cents."
Cox tweeted later, "To those who've asked, reasonably, why I didn't pay for Mr. Fox's bus ticket, I'm afraid that journalists are ethically prohibited from becoming a part of their stories or giving money to the subjects of one, no matter how badly they want to (and as I certainly did in this case)."
If true, he should have ditched the story, and given the man the $27.
ITEM 16
:
Fox News reported
, "Venezuela's currency so worthless it's mostly being used for making crafts."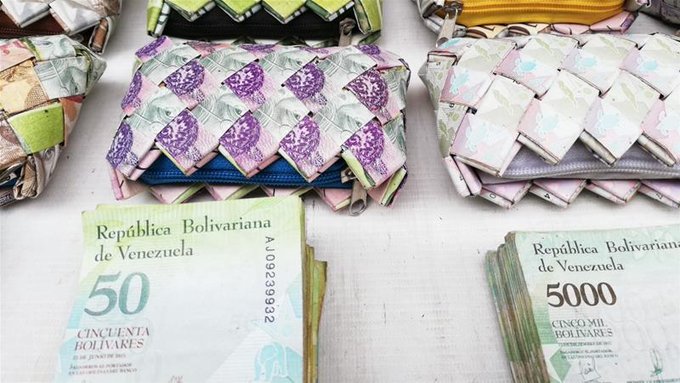 It looks so pretty, but it represents too many hopes and dreams dying as the money they worked to earn and scrimped to save becomes worthless.
ITEM 17
:
KRON reported
, "Starting next school year, it will be illegal for public schools in the state to suspend students in first through fifth grade for willfully defying teachers or administrators.
"Then, from 2021 through 2025, it will be temporarily extended to kids in grades six through eight.
"Supporters say suspensions for willful defiance are disproportionately used against students of color."
Teacher unions signed off on this farce.
ITEM 18
:
Dan Bongino's blog reported
, "Climate Related Deaths Down 99.9% Since 1932."
Greta Thunberg hardest hit.
ITEM 19
: The New York Times reported, "
Returning to the campaign trail after Christmas, former Vice President Joseph R. Biden Jr. on Friday stood by his comments that he would not comply with a subpoena to testify at President Trump's impeachment trial in the Senate.
"In a meeting with the editorial board of The Des Moines Register, whose endorsement in the Iowa caucuses is coveted by presidential hopefuls, Mr. Biden argued that complying with a subpoena and testifying would essentially allow Mr. Trump to succeed in shifting attention onto Mr. Biden and away from the president's own actions.

"
No one is above the law -- except Democrats.
ITEM 20
: This made me smile.
A disabled Veteran from Twitter recreated a miniature Baltimore cleanup.

It's all hand-painted & handmade.

This is the nicest thing anyone has ever done for me.

I'm honored,

@LeftyCreationz

.

pic.twitter.com/tPm4VaRMPt

— #ThePersistence (@ScottPresler) December 27, 2019
God bless them both.