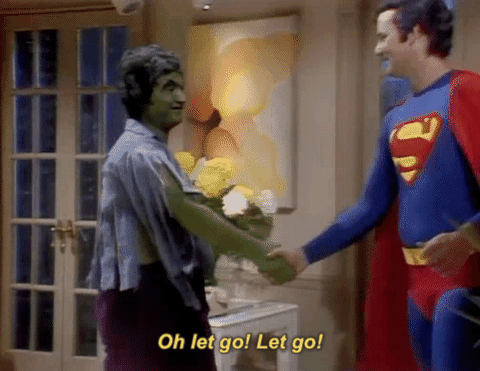 John Belushi as the Hulk. The 1970s were better than we remember.
ITEM 1
:
Lambda Legal announced
, "Federal courts have been rejecting Trump's unconstitutional policies, so now Trump is trying to change the courts. In nomination after nomination, his picks for federal courts are hostile to civil rights in general and specifically hostile to LGBTQ rights. As the Senate tries to rubber stamp and rush these nominees through, Lambda Legal has spearheaded a broad effort to expose their records and inform both senators and the public of the dangers they pose to our rights, to the rule of law, and to the nation itself."
This month, every single Republican senator voted to confirm Patrick Bumatay as a circuit judge in the Ninth Circuit, making him the highest ranking gay in the judicial branch of government.
Not a single Democrat voted for him.
A search of Lambda's web site found no reference to Judge Bumatay. So much for supporting gay people.
These LGBTQ groups are frauds and fronts for communism. The moment they seize power, they will flip on LGBTQ just like they flipped on Martina Navratilova and J.K. Rowling over the latest lefty crush, transgendered people.
ITEM 2
:
BBC reported
, "The US has recalled its ambassador to Zambia amid a diplomatic row after he criticised the imprisonment of a gay couple, embassy sources have said."
Zambia's president had declared Ambassador Daniel Lewis Foote a persona non grata. That put a crimp in his diplomatic efforts.
Foote had protested the 15-year prison sentence for 2 men for homosexual activities. He also criticized their political corruption.
We give Zambia millions in aid. After this, we should give these crooks nothing.
ITEM 3
:
American Military News reported
, "The Chinese Communist Party instructed the Bible and other religious texts to be rewritten in an expressly pro-communist perspective that conforms with the party's goals.
"In November, a group of 16 different experts and religious representatives were called on to attend a meeting of the Chinese Committee for Ethnic and Religious Affairs of the National Committee of the Chinese People's Political Consultative Conference. Those religious leaders were then instructed to review their religious texts and reinterpret them to conform with the values of the country's communist party doctrine, according to the Daily Mail."
Rewriting the Bible to fit communism. This looks like a job for Pete Buttigieg.
ITEM 4
: Rob Reiner tweeted, "I'm not a Christian. But I try to live by the teachings of Jesus. There is nothing more morally profound than treating people as you would like to be treated. There is nothing less moral than taking babies from their mothers. As the birth of Jesus is celebrated, consider."
He offered another reason why abortion is immoral. It separates a mother from her child.
ITEM 5
:
The Washington Times reported
, "Former acting FBI Director Andrew McCabe is accusing the Justice Department and FBI of withholding evidence in his lawsuit over his 2018 firing and has asked a federal court in Washington to compel the Justice Department to provide documents related to his termination.
"'To date plaintiff has had no opportunity to take discovery,' Murad Hussain, Mr. McCabe's attorney, wrote in a late-night filing Monday. 'Plaintiff has not and cannot learn of all the relevant facts and present them in an admissible form without discovery.'
"A Justice Department spokeswoman did not respond to a request for comment Tuesday.
"Mr. Hussain said much of the evidence compiled in the case has been culled from publicly available sources and Mr. McCabe's records. But there is a much longer paper trail that his side cannot access, he continued.
"'Much of the relevant evidence in this case is in defendants' exclusive possession or the possession of current or former government officials,' he wrote.
"The sought-after documents are in possession of the government entities as well as 30 separate individuals, according to the filing. Attorney General William Barr, Justice Department Inspector General Michael E. Horowitz and President Trump were named as those in possession of documents for the case."
Gee, the Trump administration is treating McCabe like McCabe treated the Trump administration.
ITEM 6
:
USA Today reported
, "Each year, Americans spread more than 48 billion pounds of salt on roadways to ward off the effects of winter weather. But it comes at a cost: De-icing salt degrades roads and bridges, contaminates drinking water and harms the environment, according to a slate of scientists expressing growing alarm."
Does it now?
The story said, "While salt helps keep roads clear in winter, it doesn't just disappear with the snow. Some melts into rivers, lakes and even water supplies. The portion that remains on roadways eats away at pavement and bridges. It does the same to pipes that carry drinking water, causing lead contamination in some places. Too much salt in the environment can kill small organisms and change the sex of frogs."
They had me going until those last five words. Everything changes the sex of frogs.
ITEM 7
:
The Associated Press reported
, "Democratic presidential contender Michael Bloomberg cut ties with a contractor that used prisoners to make calls for his presidential campaign, he said in a statement Tuesday.
"The former New York mayor said that his campaign was unaware of the arrangement until a reporter sought comment. Earlier Tuesday, online news site The Intercept reported that Bloomberg's campaign contracted a New Jersey-based call center company that, in at least one instance, used Oklahoma inmates to make calls on behalf of the billionaire's campaign."
I am not offended. Sorry. A call center in a prison is nowhere near forced labor on a chain gang. If the inmates get compensation, then I support it as a rehabilitation.
But of course Mini Mike axed the company. He would be crazy to do otherwise. He is running for president, not prison warden.
ITEM 8
:
John Hinderaker wrote
, "The liberal press likes to portray President Trump as a troglodyte protectionist, but that was never Trump's position on trade. As we are now seeing, Trump wanted to renegotiate several trade agreements to make them more favorable to to the U.S., and he also has been willing, in the case of China, to use trade as a lever to obtain other concessions. But the bottom line of his efforts has been freer and fairer trade.
"To this point, not much attention has been paid to Trump's backing off on a threat to impose tariffs on Brazil (and, likely, Argentina).
"Most important, of course, is the fact that Trump's policies have promoted economic growth, job growth and higher wages. Over a year ago, I testified before the Joint Economic Committee of Congress that the Tax Cuts and Jobs Act was already producing measurable results in Minnesota. Today, those consequences are even clearer."
As a candidate, Donald John Trump promised this.
As president, he delivered.
Politics would be boring right now if Democrats were sane and The Donald were Calvin Coolidge. Thankfully, we get a pretty entertaining floor show from Washington.
ITEM 9
:
The Washington Examiner reported
, "In the summer of 1962, when Biden was 19, he took a job as the only white lifeguard at the pool in a predominantly black neighborhood in order to learn more about the black community. 'Most of the people I got to know there had literally never talked to a white person,' Biden wrote in his 2007 book, Promises to Keep.
"The city renamed the pool the Joseph R. Biden Jr. Aquatic Center in recognition of how Biden's career accomplishments 'can all be traced back to his time as a lifeguard at Price's Run pool — a period during which a young man began to learn about people and about how to lead and serve.'"
Naming the pool after Biden does not bother me. I live in a state with two Robert Byrd courthouses.
But why are we calling a swimming pool an aquatic center?
ITEM 10
:
The Daily Caller reported
, "The man arrested for a deadly hit-and-run accident in Colorado is not only living in the United States illegally, but has been deported six different times in the past two decades.
"Immigration and Customs Enforcement (ICE) has revealed that Juan Sanchez — a Mexican national who was recently charged for fleeing the scene of a fatal car accident — is an illegal alien and a repeat violator of U.S. immigration law, according to local reports. The victim's family members say she was just days away from her 52nd birthday.
"Annette Conquering Bear, who was running an errand at a nearby Walgreens in the Denver area, was struck by a vehicle while she was crossing an intersection on December 17. The SUV that hit her never stopped, according to a statement from the Denver Police Department. A witness was able to flag down a nearby ambulance, but Conquering Bear was pronounced dead at the scene."
I am surprised more Indians are not supportive of the president, given their experience with both legal and illegal aliens over the centuries.
ITEM 11
:
Axios reported
, "In 2010, the U.S. Energy Information Administration projected that in 2019, the U.S. would be producing about six million barrels of oil a day. The reality? We're now producing 12 million barrels of oil a day.
"Meanwhile, EIA projected oil prices would be more than $100 a barrel. They're currently hovering around $60 a barrel.
"What's happening: A pair of extraction methods — horizontal drilling and hydraulic fracturing — have unlocked far more oil and gas than experts had predicted, and companies have gotten hyper-efficient extracting more oil from each well."
The government never thought capitalists could figure out a way to get oil locked away in shale a mile below the surface. And even after George Phydias Mitchell showed the way in 1998, the government did not believe capitalists could do it. Yet, here we are, exporting oil for the first time in 70 years.
ITEM 12
:
The local newspaper said in an editorial
, "A legislative audit released Monday suggests setting up an online repository for legal ads, rather than require state, county and city agencies to run such ads in local newspapers of record. In the coming year, it's estimated the effort would save government agencies a combined $4.6 million.
"That's not the whole story, but before getting into that, it's important to offer full transparency. Newspapers like the Gazette-Mail, and others across the state, receive money from legal ads. One of the reasons the West Virginia Press Association weighed in on the issue Monday is that it's important for newspapers to keep their revenue sources where they can.
"It would be dishonest to suggest newspapers aren't concerned about that aspect of the issue. Of course, it's also important to note that revenue from legal ads helps newspapers to continue to operate, and bring state and local news to their readers.
"Money aside, though, some other problems with this proposal are worth discussing. For instance, leaving the responsibility for posting legal ads to a government agency isn't the best way forward."
It is sad to see a once thriving enterprise reduced to begging for these scraps. If newspapers were so vital to the community, government accountability, and democracy, they would run these as for free.
I do not expect them to. They may even have a point. I am just sad to see the grubbing.
ITEM 13
:
Agence France Presse reported
, "Glittering symbol of press, Newseum set to close its doors."
Well, why not? So many of the newspapers it symbolized are.
The story said, "The museum, with exhibits covering the September 11 attacks and the Berlin Wall as well as a daily display of front pages from around the world, announced earlier this year it would sell its building designed by architect James Polshek to Johns Hopkins University for $372.5 million.
"The Freedom Forum, a nonprofit group created by USA Today founder Al Neuharth which operates the facility, has pledged to continue its mission of educating the public about the importance of a free press, but has not indicated if it will open a new public exhibit space."
Horse and buggies once were important to transportation.
ITEM 14
: The Washington Post reported, "When Syracuse University freshmen walk into professor Jeff Rubin's Introduction to Information Technologies class, seven small Bluetooth beacons hidden around the Grant Auditorium lecture hall connect with an app on their smartphones and boost their attendance points.
"And when they skip class? The SpotterEDU app sees that, too, logging their absence into a campus database that tracks them over time and can sink their grade. It also alerts Rubin, who later contacts students to ask where they've been. His 340-person lecture has never been so full.
"'They want those points,' he said. 'They know I'm watching and acting on it. So, behaviorally, they change.'
"Short-range phone sensors and campuswide WiFi networks are empowering colleges across the United States to track hundreds of thousands of students more precisely than ever before. Dozens of schools now use such technology to monitor students' academic performance, analyze their conduct or assess their mental health."
People who borrow $100,000 to attend indoctrination camp really do not deserve any privacy.
ITEM 15
:
The Atlantic reported
, "Why hasn't the term Latinx caught on the way African American did in the late 1980s?
"African American became a cherished replacement for black right around when Jesse Jackson embraced it at a news conference, in 1988. Latinx, fashioned to get past the gender distinction encoded in Latino and Latina, has not replicated that success since its introduction, in 2014. It has been celebrated by intellectuals, journalists, and university officials, and even used by Senator and presidential candidate Elizabeth Warren. But in one poll, only 2 percent of America's Latinos said they preferred the term.
"The reason for the difference is familiar to linguists who study how languages change. Although it may seem that new elements of a language settle in when regular people imitate famous or prestigious people, more generally, new language comes from below. That is, tomorrow's words and constructions are ones that even today feel not swanky but ordinary, like us. One used to say that a house 'was building.' Being built began as a neologism associated with people of lesser education, but was eventually adopted by everyone else."
African American never really caught on. The TV show is not called African American-ish
And it is not African American Entertainment Television.
ITEM 16
:
The Daily Mail reported
, "Donald Trump got up from his family Christmas Eve dinner at Mar-a-Lago to greet Alan Dershowitz amid reports the famed attorney could join the president's impeachment team.
"Trump got up from his table, where he was seated next to first lady Melania Trump, to walk over and talk to Dershowitz after reports his legal team has discussed bringing Dershowitz on board to help with the president's impeachment trial in the Senate."
Democrats impeached more than they can masticate.
ITEM 17
:
Ace of Spades HQ reported
, "If Donald Trump wants to ensure he recaptures the 2020 electoral votes in the Great Lakes states he won in 2016 -- and possibly add Minnesota, New Hampshire, and Maine -- there is one simple thing he could do that would make him a hero to every snow-blowing American -- issue an executive order to restore functioning gas cans.
"To be clear, this would also make him a hero to tens of millions of other Americans throughout the country who use lawn mowers, power tools, etc around their homes or in their jobs. In 2009 the EPA banned the sale of gas cans that functionally pour gas. To be specific, the scientifically illiterate bureaucrats at the EPA outlawed gas cans with vents, mandating that all new gas cans must have crazy contraptions that require three hands to operate. Unlike the old gas cans, the new ones spill gas all over the user and onto the ground. The result of the EPA's incompetence is a new gas can that is much worse for the environment than the one it replaced. The incompetent regulators at the EPA are so scientifically illiterate that they honestly believed that the vents on gas cans were there to allow gas fumes to escape, rather than the actual purpose of allowing air to flow in to the can so that gas can be poured out. Having received their science education in Oppression Studies classes at Grievance State University, these morons making rules for how we gas up our power tools have likely never handled a tool more powerful than their own personal groomers.
"The government-mandated non-functioning gas can may be the most unpopular government-imposed regulatory rule since the 55 mile per hour speed limit. If you don't know someone who mocks and despises these stupid red canisters, then you are living a very sheltered urban or upscale lifestyle. Most all working-class and middle-class Americans deal with these awful containers, and they mock the government for imposing them on us."
I am not going to pretend to know what he is talking about.
But if the federal government did it in 2009 -- the beginning of the Obama Era -- then by all means it was probably the exact opposite if what should have been done, and should be repealed.